AtlanticU23 #021 - Mike Van Der Poel (Nova Scotia)
Posted 5 months ago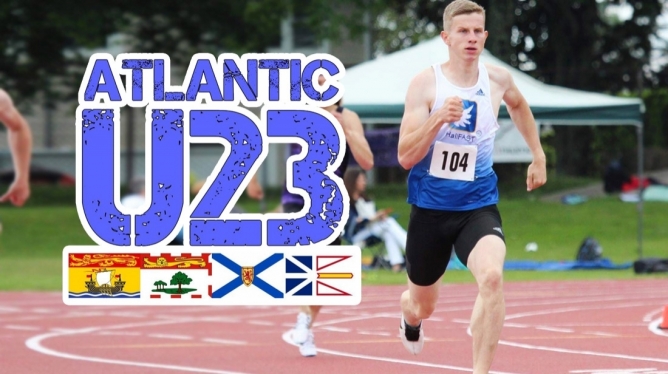 AtlanticU23 #021 - Mike Van Der Poel (Nova Scotia)
Hometown: Kerpen, Germany
Birth Year:1996 (Senior age class)
Club: Halifast Athletics
Coach: Mike Bawol
Personal Bests (as of December 9th, 2018): 60m: 6.89, 100m: 10.81, 200m: 21.35, 300m: 34.10, 400m: 47.14
5 quick questions with Mike:
Favourite Disney character? Mike Wazowski
Coffee or energy drinks? Coffee 
What do you miss most about being a kid? Falling asleep on the couch and being teleported to bed
Would you rather go six months without spellcheck, or six months without using emojis? I would rather go without spellcheck
If you lived in a virtual reality world of your own creation, what would it look like? A world in which climate change is reversible and everyone is aware of their ecological footprint (my studies in civil engineering made me more aware of how important it is to be environmentally aware on a daily basis).
Born in Kerpen, Germany, your family later settled in Nova Scotia. Tell us about your migration to Canada. Why did your family choose to settle in Truro?
My father has been a licensed pastry chef and passionate cook for the past 30 years and met my mother through the passion of cooking. They wanted to start their own business and Canada provided a great opportunity for that. We chose Truro because it's central in Nova Scotia and the people of Truro made us feel very welcome.
How did you first get involved in track and field? 
I started a year after I moved to Canada when the 4x400m relay team at Truro Junior High School needed an additional member. I don't think I would be doing track and field if I still lived in Germany. I'm very grateful for the people who introduced me to the sport.
You had a number of notable performances during your years competing at the Nova Scotia School Athletic Federation (NSSAF) Track and Field Championships. Take us through your early years in the sport and competing at the NSSAF Championships. What are some of your most memorable experiences?
The most memorable moment was in my grade 11 year, 2 years after I started track and field. I won gold medals in the 200m (21.72s), 4x100m (42.26s) and 4x400m (3:26.09s); all were provincial records at the time. All of these happened in the same day. It gave me a lot of momentum to keep moving forward.
During your high school years, you regularly competed alongside now-teammates Josh Lunda and Matt Coolen, even sharing the 100m podium with both at the 2014 NSSAF Championships. Did you know that you would all be teammates at Dalhousie? How is it training with these two?
It's always a great honour to train alongside Matt and Josh. We push each other in practice and are always there for each other when times get though. It makes a big difference!
In your first couple years in the sport, you focused more on the 100m and 200m, rather than the 300m/400m. What motivated you to tryout and pursue the longer sprints?
My high school coach, Patrick Legge, who owns his own Legge Health Clinic in Truro, convinced me to move up to the 400m in my grade 11 year. He saw my potential in the longer sprint distances and I stuck with it ever since.
In your first season with Dalhousie University, you were the AUS leader in the 300m and ranked 4thin U SPORTS, but only competed in the 60m at the AUS Track & Field Championships. Why was this?
I hurt my hamstring a few weeks prior to the AUS Championships. My Dalhousie coach (Mike Bawol) and I decided that I shouldn't run and focus on recovering instead.
At the 2017 Canada Games, you qualified for the 400m finals with the second fastest time (48.34), but did not start in the finals. What went wrong?
I tweaked my hamstring in my warm-up for the final. I decided not to run and rest up for the upcoming university season. My injuries helped me grow as an athlete.
At the 2017 edition of the AUS Championships, you won gold in the 300m with a time of 34.96, breaking the AUS and Stadium records by almost a full second. For those who don't know, the host CEPS track has the tightest turns of any competition track in the country. How did you manage to navigate around those turns?
I accelerated on the straights and focused on maintaining my speed on the turns. The tight turns can take away your speed if you don't focus. I was surprised with my time but my plan worked.
At the 2017 U SPORTS Track & Field Championships, you won bronze in the 300m with a personal best time of 34.10. Takes us through the competition. How was your first experience at the U SPORTS Championships experience?
I remember being ranked 9thbefore travelling to the U SPORTS Championships and I just wanted to try my best and see what happens. I advanced to the final and just went as hard as I possibly could. It was a great experience!

Video of the race can be seen here: https://www.youtube.com/watch?v=o59Unhki5XI
At the 2018 edition of the U SPORTS Championships, you qualified for the 300m finals with the second fastest time (34.25), but finished 5th in the finals with a time of 34.61. Take us through the competition. How did the Championships compare to the year prior?
In the 2018 season we trained really hard and I felt good going into the U SPORTS Championships. Even though we trained very hard that season, I felt quite fatigued going into the final. It showed me that not everything is linear and that we had to fine-tune my training.
You competed at the Nova Scotia Last Chance Meet two weeks ago, running the 300m in a time of 34.68. How did the season opener feel? What are your goals for the indoor season?
It felt like a good season opener, but I know it can be much better.
Under Sprints Coach Mike Bawol, the Dalhousie sprint program has made great strides, producing sprinters such as yourself, Maya Reynolds, Matt Coolen, and Josh Lunda, among others. Take us through a typical day in the life of a Dalhousie sprinter. How does the program help you achieve your athletic goals?
We communicate openly with each other and share our thoughts and opinions. We are friends off the track but take things seriously when it comes to competing and training. The Dalhousie Athletics program has helped me grow as a student as well as an athlete on many levels. I'm proud to represent Dalhousie.
Aside from running, what are some of your other hobbies?
I help my parents at Vanderpoel's Pastry, enjoy spending time with my girlfriend, and I read books.
 
---

Hosted by New Brunswick-born track runner, administrator, and coach Brandon Scott LeBlanc, AtlanticU23 is an interview series with upcoming Atlantic Canada track and field athletes under the age of 23.
Twitter: @AtlanticU23