2019 U Sports XC Prediction Contest! Win an iPad Mini
Posted 1 year ago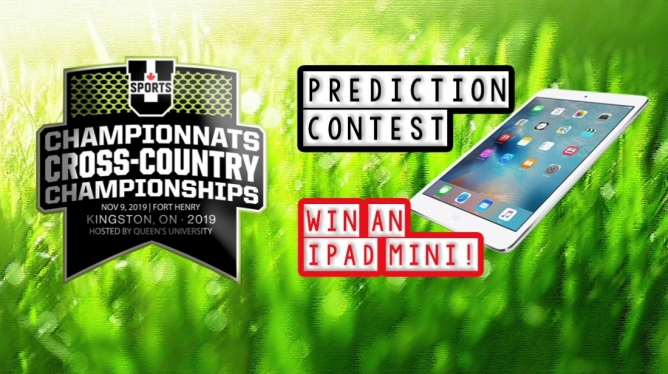 OTHER IMPORTANT LINKS
LIVE STREAM | SCHEDULE | FACEBOOK EVENT PAGE
CONTEST RULES & CRITERIA
There are 14 groups of runners (7 Male & 7 Female), you must choose ONE RUNNER FROM EACH GROUP, to make your team of 7 runners--only your top 5 in the actual race will count towards your team score. If there is a tie, it will come down to the 6th and if needed 7th runner. If there is still a tie the winner will be the one who entered the contest first! Limited one entry per person.
PRIZES
1st Place - Apple iPad Mini & Bragging Rights!
IMPORTANT: We can only ship the iPad Mini to a Canadian address
* Bragging rights can be shipped world-wide!.
FINAL STANDINGS
A perfect score would have been 85 pts if one picked:
WOMEN - 50pts (top 5 count)
GROUP A: STAFFORD, Lucia Toronto 1st
Group B: BLAIR, Kara Queens 4th
Group C: CURRENT, Kate Western 5th
Group D: BECKETT, Marley Queens 16th
Group E: BOUCK, Tori Queens 24th
Group F: Macarthur, Sarah UBCT 26th
Group G: CATTELL, Remy Western 31st
MEN - 35 pts (top 5 count)
Group A: UBENE, Mitchell Guelph 2nd
Group B: Lumb, Kieran UBCT 1st
Group C: DROVER, Alex McMaster 5th
Group D: MARTIN, Joshua Windsor 7th
Group E: Lutz, Eric Calgary 20th
Group F: UBENE, Evan McMaster 35th
Group G: PASSI, Liam Laurentian 36th
| | | | | |
| --- | --- | --- | --- | --- |
| Pos. | Name | TOTAL SCORE | Men | Women |
| 1 | Dylan "The Real Man" Kiesler | 98 | 47 | 51 |
| 2 | Guelph dub | 108 | 57 | 51 |
| 3 | CarterW | 111 | 58 | 53 |
| 4 | Kathleen hogan | 111 | 57 | 54 |
| 5 | Erin Adam | 114 | 48 | 66 |
| 6 | Paul Sagriff | 117 | 64 | 53 |
| 7 | Zack Jones | 118 | 52 | 66 |
| 8 | Tanner Sleep | 118 | 60 | 58 |
| 9 | Shotz down baby | 118 | 57 | 61 |
| 10 | Cameron Bates | 119 | 40 | 79 |
| 11 | Jcbarask | 119 | 49 | 70 |
| 12 | Not NotTrackie | 123 | 72 | 51 |
| 13 | Nolanjoe | 124 | 57 | 67 |
| 14 | Silverback Gorilla | 124 | 55 | 69 |
| 15 | R | 125 | 53 | 72 |
| 16 | Rob Kanko | 126 | 60 | 66 |
| 17 | Hillrunner | 127 | 41 | 86 |
| 18 | Blair Morgan | 127 | 72 | 55 |
| 19 | Ryan Davies | 128 | 64 | 64 |
| 20 | Kieran McDonald | 128 | 65 | 63 |
| 21 | ShaynaG | 128 | 76 | 52 |
| 22 | Divya Biswal | 130 | 74 | 56 |
| 23 | Nick Neri, Kevin O'Leary | 132 | 62 | 70 |
| 24 | Mike | 132 | 57 | 75 |
| 25 | Cole Hannam | 133 | 74 | 59 |
| 26 | Copter | 134 | 68 | 66 |
| 27 | Noah Costa | 134 | 48 | 86 |
| 28 | Mantis | 135 | 51 | 84 |
| 29 | Shaneen Kennedy | 136 | 59 | 77 |
| 30 | Jeff lapierre | 137 | 60 | 77 |
| 31 | Paul R | 137 | 63 | 74 |
| 32 | Hof Daddy and Jeremy Deere | 138 | 69 | 69 |
| 33 | LWK | 138 | 77 | 61 |
| 34 | JB | 138 | 75 | 63 |
| 35 | Old boi | 139 | 59 | 80 |
| 36 | Sweet Lou | 139 | 66 | 73 |
| 37 | Simon | 139 | 67 | 72 |
| 38 | GRC | 139 | 48 | 91 |
| 39 | Liyang | 141 | 65 | 76 |
| 40 | Meghan Sippel | 142 | 89 | 53 |
| 41 | Cal McCal | 142 | 53 | 89 |
| 42 | Oddish | 142 | 72 | 70 |
| 43 | A. Freeman | 142 | 61 | 81 |
| 44 | Mr. Trackie | 142 | 78 | 64 |
| 45 | Greg Hetterley | 143 | 60 | 83 |
| 46 | Amanda | 144 | 93 | 51 |
| 47 | Old man | 144 | 66 | 78 |
| 48 | mr. creumon | 144 | 61 | 83 |
| 49 | Tim Logan | 144 | 59 | 85 |
| 50 | Brent Workman | 144 | 60 | 84 |
| 51 | Andrew Davies | 145 | 79 | 66 |
| 52 | Hunter Andrin | 145 | 94 | 51 |
| 53 | Greg Martin | 145 | 76 | 69 |
| 54 | Eric Leishman | 146 | 74 | 72 |
| 55 | Maverick | 146 | 80 | 66 |
| 56 | Avery | 146 | 62 | 84 |
| 57 | Mitch Heyink | 146 | 71 | 75 |
| 58 | Jack | 147 | 64 | 83 |
| 59 | Supporter of Older Runners | 147 | 67 | 80 |
| 60 | Bruce W Deacon | 147 | 83 | 64 |
| 61 | Coach Chapps | 147 | 91 | 56 |
| 62 | Max Turrk | 148 | 80 | 68 |
| 63 | Liam | 148 | 72 | 76 |
| 64 | Smitty | 148 | 48 | 100 |
| 65 | Angus | 148 | 48 | 100 |
| 66 | IM THE BEST | 148 | 71 | 77 |
| 67 | WRTC LAKE | 148 | 79 | 69 |
| 68 | Jack Langille | 149 | 57 | 92 |
| 69 | Dan T. | 149 | 77 | 72 |
| 70 | Gavin Hughes | 149 | 51 | 98 |
| 71 | Clancy | 149 | 83 | 66 |
| 72 | Deric K | 150 | 80 | 70 |
| 73 | BRUCE DAVIES | 150 | 96 | 54 |
| 74 | Lecentredexcellence | 150 | 74 | 76 |
| 75 | George Spanos | 150 | 60 | 90 |
| 76 | Elise Laboissonniere | 150 | 74 | 76 |
| 77 | Connor Black | 151 | 85 | 66 |
| 78 | Cameron Linscott | 151 | 63 | 88 |
| 79 | ally oulds | 151 | 96 | 55 |
| 80 | Joe Groeneveld | 151 | 75 | 76 |
| 81 | Juan Ilerbaig | 151 | 68 | 83 |
| 82 | Kevin Montgomery | 151 | 45 | 106 |
| 83 | James King | 152 | 93 | 59 |
| 84 | Shannon Pyke | 152 | 67 | 85 |
| 85 | Matthew T for president | 152 | 67 | 85 |
| 86 | Nicole Durocher | 152 | 60 | 92 |
| 87 | JP | 152 | 79 | 73 |
| 88 | Lauren Perkins | 152 | 77 | 75 |
| 89 | Paul Self | 152 | 87 | 65 |
| 90 | Rob Dods | 152 | 69 | 83 |
| 91 | Kurt Ebeling | 153 | 79 | 74 |
| 92 | MacDougall | 153 | 87 | 66 |
| 93 | Upset City | 153 | 68 | 85 |
| 94 | PRED MASTER 3000 | 153 | 72 | 81 |
| 95 | Erica | 153 | 83 | 70 |
| 96 | SJS | 153 | 98 | 55 |
| 97 | John Gay | 153 | 68 | 85 |
| 98 | Alex Cyr's Tinder Manager | 153 | 36 | 117 |
| 99 | Stike Smate | 153 | 83 | 70 |
| 100 | Les equipes du Quebec | 153 | 73 | 80 |
| 101 | Nrdo | 153 | 72 | 81 |
| 102 | harmil | 153 | 102 | 51 |
| 103 | KinRunner | 154 | 81 | 73 |
| 104 | Danielle Thiel | 155 | 63 | 92 |
| 105 | Riley | 155 | 70 | 85 |
| 106 | Mark Royce | 155 | 87 | 68 |
| 107 | Alexandre Fishbein-Ouimette | 155 | 78 | 77 |
| 108 | Matthew Napier | 156 | 95 | 61 |
| 109 | Marley | 156 | 91 | 65 |
| 110 | Dil | 156 | 60 | 96 |
| 111 | Ryan Cox | 156 | 104 | 52 |
| 112 | Ryan Grieco | 157 | 77 | 80 |
| 113 | SQUAD1BC | 158 | 107 | 51 |
| 114 | Linda | 158 | 78 | 80 |
| 115 | Piss Off | 158 | 83 | 75 |
| 116 | Wanda Patton | 158 | 69 | 89 |
| 117 | Boatsmith | 158 | 84 | 74 |
| 118 | Kirby | 158 | 92 | 66 |
| 119 | Matt S | 159 | 89 | 70 |
| 120 | Jason | 159 | 89 | 70 |
| 121 | Jannes | 159 | 69 | 90 |
| 122 | Jamie | 160 | 63 | 97 |
| 123 | SKD | 160 | 53 | 107 |
| 124 | Quinn | 161 | 85 | 76 |
| 125 | I love old Dinos | 161 | 81 | 80 |
| 126 | Randi-Lee Loshack | 161 | 84 | 77 |
| 127 | Timothy Longley | 161 | 91 | 70 |
| 128 | Addison Derhak | 161 | 83 | 78 |
| 129 | Track West founder | 161 | 46 | 115 |
| 130 | Natalie | 161 | 80 | 81 |
| 131 | Nyack | 161 | 55 | 106 |
| 132 | Eric Lutz | 162 | 63 | 99 |
| 133 | Handle barz | 162 | 102 | 60 |
| 134 | Jared Welsh | 162 | 82 | 80 |
| 135 | Bryan Lambert | 162 | 58 | 104 |
| 136 | Dutch Oven | 163 | 82 | 81 |
| 137 | Ben Richardson | 163 | 86 | 77 |
| 138 | Dirty Dan | 163 | 64 | 99 |
| 139 | Kelly Blair | 163 | 80 | 83 |
| 140 | Not Trackie | 163 | 44 | 119 |
| 141 | Kevin Blackney | 164 | 82 | 82 |
| 142 | Maximilian Sean Leslie Trummer | 164 | 60 | 104 |
| 143 | Erik Ohrling | 164 | 101 | 63 |
| 144 | Fat Pat | 164 | 78 | 86 |
| 145 | Ebube Esinnah | 165 | 78 | 87 |
| 146 | Nikhil Lew | 165 | 80 | 85 |
| 147 | Chris Mackinnon | 165 | 90 | 75 |
| 148 | Hayley | 165 | 82 | 83 |
| 149 | SamKinahan | 166 | 60 | 106 |
| 150 | Jeff Mountjoy | 166 | 71 | 95 |
| 151 | Chewy | 167 | 91 | 76 |
| 152 | Lucas | 167 | 61 | 106 |
| 153 | Owen Harris | 167 | 75 | 92 |
| 154 | JP walker | 167 | 96 | 71 |
| 155 | Caroline Forbes | 168 | 85 | 83 |
| 156 | Ryan Larter | 168 | 100 | 68 |
| 157 | Erin Ingoldsby | 168 | 104 | 64 |
| 158 | Melissa J | 168 | 68 | 100 |
| 159 | Purn Daddy | 168 | 66 | 102 |
| 160 | Matt McNeil | 168 | 61 | 107 |
| 161 | Jonny | 169 | 79 | 90 |
| 162 | Gordon Alkerton | 169 | 88 | 81 |
| 163 | JJ | 169 | 102 | 67 |
| 164 | Calgary is the beat | 169 | 73 | 96 |
| 165 | Joseph Smith | 169 | 87 | 82 |
| 166 | Sam Dorosz | 169 | 83 | 86 |
| 167 | Ryan Tyrrell | 169 | 59 | 110 |
| 168 | Esteban | 169 | 115 | 54 |
| 169 | WomensHockeyFan69 | 170 | 79 | 91 |
| 170 | Royden | 170 | 76 | 94 |
| 171 | Ethan Lehman | 170 | 83 | 87 |
| 172 | Qalum | 170 | 93 | 77 |
| 173 | Makenna Fitzgerald | 171 | 88 | 83 |
| 174 | ctcallaghan | 171 | 96 | 75 |
| 175 | Matthew Johnston | 171 | 101 | 70 |
| 176 | Ivan Fernandez | 172 | 96 | 76 |
| 177 | Emma Sylvestre | 172 | 102 | 70 |
| 178 | Matty Ice | 172 | 69 | 103 |
| 179 | Best friend Ann | 172 | 102 | 70 |
| 180 | Olivia Ross | 172 | 70 | 102 |
| 181 | Mr. Sloth | 173 | 69 | 104 |
| 182 | Randy Bobandy | 174 | 87 | 87 |
| 183 | Nathan Alexander Dehghan | 174 | 108 | 66 |
| 184 | BC Bud | 174 | 87 | 87 |
| 185 | ST | 174 | 90 | 84 |
| 186 | CG | 174 | 98 | 76 |
| 187 | Seeram Alick | 175 | 93 | 82 |
| 188 | Bag Back | 175 | 74 | 101 |
| 189 | AGordocity | 175 | 97 | 78 |
| 190 | Miguel Macedo Teran | 175 | 78 | 97 |
| 191 | Alex Cyr | 176 | 85 | 91 |
| 192 | autopilot | 176 | 88 | 88 |
| 193 | Yaegs | 176 | 91 | 85 |
| 194 | Dean Morisseau | 176 | 91 | 85 |
| 195 | seven | 176 | 71 | 105 |
| 196 | Bill Hamilton | 176 | 96 | 80 |
| 197 | Gustav | 176 | 82 | 94 |
| 198 | Matt Mason | 176 | 82 | 94 |
| 199 | JR | 177 | 85 | 92 |
| 200 | Rhys Kramer | 177 | 93 | 84 |
| 201 | Pierre-Luc Blais | 177 | 74 | 103 |
| 202 | Riley Stuermer | 177 | 81 | 96 |
| 203 | James Redmond | 177 | 98 | 79 |
| 204 | Connor | 177 | 109 | 68 |
| 205 | Tanner Geary | 178 | 93 | 85 |
| 206 | Anton | 178 | 76 | 102 |
| 207 | Tim | 178 | 69 | 109 |
| 208 | Matthew is not old Alex | 179 | 93 | 86 |
| 209 | JDM | 179 | 71 | 108 |
| 210 | Dean | 179 | 107 | 72 |
| 211 | Nat | 179 | 53 | 126 |
| 212 | Ian Shaink | 180 | 100 | 80 |
| 213 | Jeremy Walker | 181 | 114 | 67 |
| 214 | Older USport Runners Rule | 181 | 67 | 114 |
| 215 | Heik | 181 | 83 | 98 |
| 216 | Claire Colleen | 182 | 93 | 89 |
| 217 | Jacob H | 182 | 95 | 87 |
| 218 | Liam Stiles | 182 | 63 | 119 |
| 219 | Chad | 183 | 101 | 82 |
| 220 | Brendan Simone | 183 | 59 | 124 |
| 221 | Eric Thompson | 184 | 100 | 84 |
| 222 | brands | 184 | 98 | 86 |
| 223 | Dave Korell | 184 | 112 | 72 |
| 224 | Brendan Masters | 184 | 121 | 63 |
| 225 | Felix A Lapointe | 184 | 88 | 96 |
| 226 | Mav | 184 | 99 | 85 |
| 227 | Lrrr, ruler of the Planet Omicron Persei 8! | 184 | 119 | 65 |
| 228 | Alex Laro | 184 | 103 | 81 |
| 229 | Dank. | 185 | 93 | 92 |
| 230 | Patrick Dean | 185 | 83 | 102 |
| 231 | Shovel | 185 | 89 | 96 |
| 232 | Sandy | 185 | 104 | 81 |
| 233 | Poher sam | 185 | 86 | 99 |
| 234 | Tim Longley | 185 | 91 | 94 |
| 235 | Ahad Naim | 186 | 116 | 70 |
| 236 | Luke Phillips | 186 | 103 | 83 |
| 237 | Tianna Dodds | 186 | 104 | 82 |
| 238 | Catherine Gagne | 186 | 78 | 108 |
| 239 | John Fish | 186 | 101 | 85 |
| 240 | cheeks | 186 | 107 | 79 |
| 241 | Itajuv10 | 186 | 74 | 112 |
| 242 | Tracy Logan | 186 | 95 | 91 |
| 243 | Riley Miller | 186 | 90 | 96 |
| 244 | Delilah | 186 | 68 | 118 |
| 245 | Jeremy | 186 | 67 | 119 |
| 246 | Natalia Bidulka | 187 | 106 | 81 |
| 247 | Billie | 187 | 75 | 112 |
| 248 | Matt Scace | 188 | 112 | 76 |
| 249 | Michael Mitchell | 188 | 62 | 126 |
| 250 | Jonathan Peverill | 188 | 92 | 96 |
| 251 | Marley | 188 | 110 | 78 |
| 252 | Trackmama | 188 | 90 | 98 |
| 253 | NC Blogger | 188 | 79 | 109 |
| 254 | CPT | 188 | 72 | 116 |
| 255 | Jason D | 188 | 73 | 115 |
| 256 | Adrien Jean-Pierre | 189 | 82 | 107 |
| 257 | Liam Dwyer | 189 | 75 | 114 |
| 258 | Andy H | 189 | 105 | 84 |
| 259 | Ben Beuttenmiller | 189 | 111 | 78 |
| 260 | Kate | 190 | 109 | 81 |
| 261 | Derk | 190 | 80 | 110 |
| 262 | Jacques Tiessen | 190 | 84 | 106 |
| 263 | Cliff | 190 | 76 | 114 |
| 264 | Ryan Mutuchky | 190 | 122 | 68 |
| 265 | Aiden | 191 | 109 | 82 |
| 266 | Bradley Shepherd | 191 | 119 | 72 |
| 267 | Marcus Fogh | 191 | 89 | 102 |
| 268 | Emma | 192 | 99 | 93 |
| 269 | Rome | 192 | 104 | 88 |
| 270 | emmmnics | 192 | 103 | 89 |
| 271 | Icarus | 192 | 98 | 94 |
| 272 | Bob Sacamano | 192 | 94 | 98 |
| 273 | Sam | 193 | 100 | 93 |
| 274 | I hope all teams have fun | 193 | 91 | 102 |
| 275 | Maria Sandor | 193 | 78 | 115 |
| 276 | Erin Vringer | 194 | 103 | 91 |
| 277 | Sue Daniel | 194 | 138 | 56 |
| 278 | I know nothing | 194 | 110 | 84 |
| 279 | Derek Van Schepen | 194 | 82 | 112 |
| 280 | Matthew Corolis | 194 | 87 | 107 |
| 281 | K-Dazzle | 194 | 112 | 82 |
| 282 | Rock you like a Schnurricane | 194 | 79 | 115 |
| 283 | Ronald Shoub | 195 | 102 | 93 |
| 284 | Robert Hammer | 195 | 93 | 102 |
| 285 | Robert Chauvet | 195 | 87 | 108 |
| 286 | Real Rookie Dan | 195 | 89 | 106 |
| 287 | Priya Bhutani | 195 | 86 | 109 |
| 288 | KAMAZO | 196 | 119 | 77 |
| 289 | Meghan Lamers | 196 | 95 | 101 |
| 290 | Benjamin Congram | 196 | 90 | 106 |
| 291 | YAAAAAP | 196 | 106 | 90 |
| 292 | Mascot | 196 | 77 | 119 |
| 293 | Ryan Were | 196 | 103 | 93 |
| 294 | J Windybutt | 196 | 83 | 113 |
| 295 | Oriana | 196 | 92 | 104 |
| 296 | Banana Bread | 196 | 59 | 137 |
| 297 | Sylvain Cloutier | 197 | 79 | 118 |
| 298 | D'Ali | 197 | 83 | 114 |
| 299 | Sean Luke | 198 | 139 | 59 |
| 300 | St. Paul | 198 | 113 | 85 |
| 301 | UBCGOLDENBOY | 198 | 89 | 109 |
| 302 | Letterkennyirish | 198 | 61 | 137 |
| 303 | Jake Carroll | 198 | 120 | 78 |
| 304 | Paul T | 198 | 62 | 136 |
| 305 | Al Yarr | 199 | 103 | 96 |
| 306 | Stuart York | 199 | 69 | 130 |
| 307 | Dawson N | 199 | 98 | 101 |
| 308 | Braedy | 199 | 52 | 147 |
| 309 | Alex Neuffer | 200 | 119 | 81 |
| 310 | Jessie Ogden | 200 | 104 | 96 |
| 311 | Aivar Koppel | 200 | 117 | 83 |
| 312 | Brian Carruthers | 200 | 137 | 63 |
| 313 | Lee | 201 | 111 | 90 |
| 314 | Ian O | 201 | 99 | 102 |
| 315 | BigDickNick | 201 | 90 | 111 |
| 316 | Tyler Kiyonaga | 202 | 103 | 99 |
| 317 | Evan Elderado | 202 | 93 | 109 |
| 318 | Alec royce | 203 | 120 | 83 |
| 319 | Alexis Lavoie-Gilbert | 203 | 125 | 78 |
| 320 | Ben | 203 | 108 | 95 |
| 321 | Logan M | 203 | 83 | 120 |
| 322 | Adam | 204 | 69 | 135 |
| 323 | Shy | 204 | 70 | 134 |
| 324 | cpete | 205 | 96 | 109 |
| 325 | Liam Hamilton | 205 | 120 | 85 |
| 326 | Jeff Doleweerd | 205 | 93 | 112 |
| 327 | Nick Xie | 206 | 106 | 100 |
| 328 | I. M. Rogers | 206 | 125 | 81 |
| 329 | Go Laval Tabarnak | 206 | 96 | 110 |
| 330 | Matt | 206 | 82 | 124 |
| 331 | Hailee Morisseau | 206 | 105 | 101 |
| 332 | NR | 206 | 113 | 93 |
| 333 | GuillaumeOuellet | 207 | 98 | 109 |
| 334 | Cameron Dean | 208 | 117 | 91 |
| 335 | Ian MacDonald | 208 | 128 | 80 |
| 336 | Half-Marathons | 208 | 115 | 93 |
| 337 | Alex Nemethy | 208 | 98 | 110 |
| 338 | Benjamin Weir | 208 | 78 | 130 |
| 339 | Kevin K. Smith | 208 | 79 | 129 |
| 340 | Lowly the Worm | 209 | 86 | 123 |
| 341 | Katie S | 209 | 116 | 93 |
| 342 | JJ Doleweerd | 209 | 122 | 87 |
| 343 | Jane Hergett | 210 | 157 | 53 |
| 344 | DR | 210 | 71 | 139 |
| 345 | Deryk theodore | 210 | 123 | 87 |
| 346 | Jack Black | 211 | 102 | 109 |
| 347 | Mitchell Kean | 211 | 84 | 127 |
| 348 | Laurianne Lepine | 211 | 109 | 102 |
| 349 | Terry Lee Vringer | 212 | 127 | 85 |
| 350 | Nassim | 212 | 97 | 115 |
| 351 | Marcus Noble | 212 | 99 | 113 |
| 352 | Brandon Vail | 213 | 82 | 131 |
| 353 | Meredith Chambers | 213 | 104 | 109 |
| 354 | RunJaySned | 213 | 98 | 115 |
| 355 | chris | 213 | 93 | 120 |
| 356 | Julia | 213 | 94 | 119 |
| 357 | Eric Hill | 214 | 108 | 106 |
| 358 | Guillaume Ouellet | 214 | 121 | 93 |
| 359 | MilesDavisAndTheCool | 214 | 105 | 109 |
| 360 | Kim maser | 214 | 78 | 136 |
| 361 | 4 Night lamps | 215 | 83 | 132 |
| 362 | Simon | 215 | 87 | 128 |
| 363 | Hana Marmura | 216 | 155 | 61 |
| 364 | Christian Daniel | 216 | 116 | 100 |
| 365 | SittingOut | 216 | 92 | 124 |
| 366 | trey95 | 216 | 79 | 137 |
| 367 | Bikes | 216 | 134 | 82 |
| 368 | dopey | 216 | 62 | 154 |
| 369 | Wiggy | 217 | 110 | 107 |
| 370 | Elodie De Coene | 218 | 108 | 110 |
| 371 | Kevin Robertson | 218 | 90 | 128 |
| 372 | Ben Preisner | 218 | 54 | 164 |
| 373 | Anna | 218 | 109 | 109 |
| 374 | Jacob Smith | 219 | 134 | 85 |
| 375 | Tim Green | 219 | 99 | 120 |
| 376 | KN | 220 | 100 | 120 |
| 377 | vanessexit ivexit | 220 | 105 | 115 |
| 378 | Alex Hadlaw | 221 | 109 | 112 |
| 379 | John Woolgar | 221 | 102 | 119 |
| 380 | Brad MacNeill | 222 | 113 | 109 |
| 381 | Mike Parker | 222 | 119 | 103 |
| 382 | Some guy who is good | 222 | 111 | 111 |
| 383 | Emma | 222 | 98 | 124 |
| 384 | Steve Weiler | 222 | 138 | 84 |
| 385 | El Hopkins | 223 | 87 | 136 |
| 386 | Simon Fortin | 224 | 126 | 98 |
| 387 | Stephanie Johnston | 224 | 120 | 104 |
| 388 | Cameron Cook | 225 | 95 | 130 |
| 389 | Derk | 225 | 82 | 143 |
| 390 | Ali Barwick | 225 | 113 | 112 |
| 391 | Joshua Kozelj | 226 | 113 | 113 |
| 392 | Alex Bussieres | 226 | 102 | 124 |
| 393 | rochebobois | 226 | 62 | 164 |
| 394 | Claudia Hebert | 226 | 130 | 96 |
| 395 | jomny | 227 | 107 | 120 |
| 396 | Camille Riopel | 227 | 109 | 118 |
| 397 | Meaghan | 227 | 138 | 89 |
| 398 | I'm pretty good at predicting thangs | 227 | 98 | 129 |
| 399 | Norm Tinkham | 228 | 92 | 136 |
| 400 | Toby | 228 | 98 | 130 |
| 401 | Justin Lalanne | 228 | 125 | 103 |
| 402 | Darcy McCardle | 228 | 97 | 131 |
| 403 | Bob martens | 229 | 118 | 111 |
| 404 | Joe S | 229 | 89 | 140 |
| 405 | Nick wood | 230 | 94 | 136 |
| 406 | Madelyn | 231 | 114 | 117 |
| 407 | Ryan Merrett | 231 | 101 | 130 |
| 408 | Brayden DeGrace | 232 | 149 | 83 |
| 409 | Nick Robertson | 233 | 97 | 136 |
| 410 | Seanold | 234 | 144 | 90 |
| 411 | Ben Cornell | 234 | 75 | 159 |
| 412 | Nicile Larue's pacer this season | 234 | 76 | 158 |
| 413 | AJ | 235 | 118 | 117 |
| 414 | Cutebeer dynasty | 235 | 124 | 111 |
| 415 | Cassian Murray-White | 235 | 98 | 137 |
| 416 | Brandon LeBlanc | 236 | 123 | 113 |
| 417 | Guillaume Lessard | 236 | 117 | 119 |
| 418 | Ronan Tunney | 237 | 100 | 137 |
| 419 | Martin Angel | 237 | 126 | 111 |
| 420 | Chase Canty | 237 | 111 | 126 |
| 421 | Joe Dufour | 238 | 104 | 134 |
| 422 | Bracon melvyn | 238 | 116 | 122 |
| 423 | AWong | 238 | 103 | 135 |
| 424 | Mr S | 239 | 104 | 135 |
| 425 | Jasmine Feddema | 240 | 109 | 131 |
| 426 | Nick Lee | 241 | 167 | 74 |
| 427 | Marc Sicova | 241 | 101 | 140 |
| 428 | Glip glop | 242 | 92 | 150 |
| 429 | Abby Woods | 243 | 107 | 136 |
| 430 | John Plenos | 243 | 68 | 175 |
| 431 | bear running | 245 | 55 | 190 |
| 432 | EJB | 245 | 106 | 139 |
| 433 | Ct | 246 | 159 | 87 |
| 434 | Kevin J Smith | 246 | 123 | 123 |
| 435 | Christoph Caddey | 247 | 79 | 168 |
| 436 | Sarah Brown | 249 | 77 | 172 |
| 437 | Shari | 250 | 93 | 157 |
| 438 | Callum McNeice | 252 | 101 | 151 |
| 439 | TPain | 253 | 133 | 120 |
| 440 | Reaper | 254 | 122 | 132 |
| 441 | Louis Moreau | 254 | 117 | 137 |
| 442 | Paige Bastien | 256 | 110 | 146 |
| 443 | IM THE WYNER | 258 | 142 | 116 |
| 444 | Sam Cumming | 259 | 144 | 115 |
| 445 | James | 259 | 111 | 148 |
| 446 | Eric B | 259 | 85 | 174 |
| 447 | Adrian Christ | 260 | 94 | 166 |
| 448 | Thomas D | 263 | 78 | 185 |
| 449 | Stephen Andersen | 264 | 126 | 138 |
| 450 | Kendall | 266 | 107 | 159 |
| 451 | katrina-lynn picco | 268 | 146 | 122 |
| 452 | Jesse Bauer | 270 | 96 | 174 |
| 453 | the peloton | 276 | 119 | 157 |
| 454 | TarynH3 | 279 | 148 | 131 |
| 455 | Mick Philips | 280 | 91 | 189 |
| 456 | Thomas | 280 | 102 | 178 |
| 457 | Whitney Motkoski | 280 | 101 | 179 |
| 458 | Shawn G | 286 | 181 | 105 |
| 459 | Sarah Forman | 289 | 113 | 176 |
| 460 | Zach Wilson | 290 | 126 | 164 |
| 461 | Mike Colford | 306 | 85 | 221 |
| 462 | GFT33 | 306 | 105 | 201 |
| 463 | Hannah Lehman | 310 | 112 | 198 |
| 464 | Brenda Tree | 313 | 141 | 172 |
| 465 | Wayne huskins | 322 | 141 | 181 |
| 466 | Biggie Medium | 323 | 78 | 245 |
| 467 | NoTalentOrGrind | 344 | 188 | 156 |
| 468 | Sydney | 400 | 183 | 217 |
| 469 | Aidan MacDonald | 409 | 194 | 215 |
| 470 | AUS All Stars | 432 | 206 | 226 |