2018 U Sports Fantasy Team Contest
Posted 4 months ago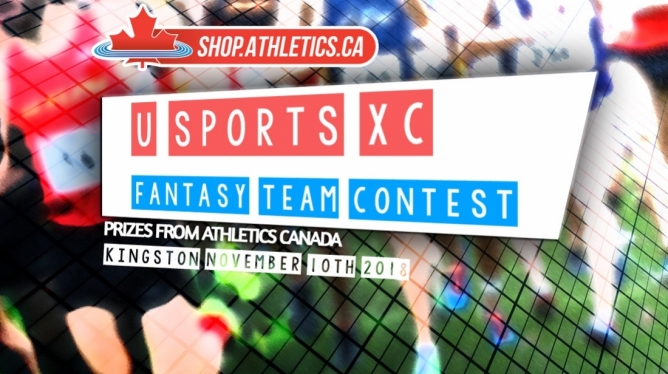 This contest is not affiliated with U Sports or the Event Organizing Committee. For information regarding the 2018 U Sports XC Championships (live stream, live results, schedule and entries: Visit here
CONTEST RULES & CRITERIA
There are 14 groups of runners (7 Male & 7 Female), you must choose ONE RUNNER FROM EACH GROUP, to make your team of 7 runners--only your top 5 in the actual race will count towards your team score. If there is a tie, it will come down to the 6th and if needed 7th runner. If there is still a tie the winner will be the one who entered the contest first! Limited one entry per person.
PRIZES
We'd like to thank Athletics Canada for donating some awesome prizes!
1st - $200 to be used at shop.athletics.ca
2nd - $100 to be used at shop.athletics.ca
3rd - $50 to be used at shop.athletics.ca
Top 3 will also receive a signed piece of apparel from an athlete of their choice. (Shawn Barber, Aaron Brown, Andre De Grasse, Derek Drouin, Brendon Rodney, Damian Warner, Melissa Bishop, Liz Gleadle, Phylicia George, Christabel Nettey, or Brianne Theisen-Eaton).
FINAL STANDINGS
| | | | | |
| --- | --- | --- | --- | --- |
| Pos. | Name | TOTAL SCORE | Men | Women |
| 1 | Riley | 136 | 78 | 58 |
| 2 | Andrew Davies | 143 | 86 | 57 |
| 3 | NOT TRACKIE | 144 | 76 | 68 |
| 4 | Superfast | 149 | 90 | 59 |
| 5 | Kieran McDonald | 150 | 103 | 47 |
| 6 | Timothy | 153 | 103 | 50 |
| 7 | Yaegs | 153 | 106 | 47 |
| 8 | Matt McNeil | 154 | 77 | 77 |
| 9 | Robert Hammer | 154 | 97 | 57 |
| 10 | Alex C | 156 | 114 | 42 |
| 11 | DR | 157 | 97 | 60 |
| 12 | Tanner Geary | 163 | 106 | 57 |
| 13 | Mackenzie Wong | 164 | 106 | 58 |
| 14 | Johann Daniel | 164 | 98 | 66 |
| 15 | Winehands | 165 | 105 | 60 |
| 16 | Felix A Lapointe | 166 | 114 | 52 |
| 17 | Sylvain Cloutier | 167 | 115 | 52 |
| 18 | Stephen G | 167 | 98 | 69 |
| 19 | Track West founder | 167 | 120 | 47 |
| 20 | François Jarry | 168 | 118 | 50 |
| 21 | Dragonslayer_69 | 170 | 79 | 91 |
| 22 | Chris & Jules | 170 | 83 | 87 |
| 23 | Danielle Thiel | 171 | 121 | 50 |
| 24 | Ryan Grieco | 171 | 103 | 68 |
| 25 | PRED MASTER 3000 | 173 | 108 | 65 |
| 26 | NoseDr | 174 | 111 | 63 |
| 27 | Jon Bunn | 174 | 99 | 75 |
| 28 | speedgoggles | 175 | 99 | 76 |
| 29 | anonymous | 175 | 93 | 82 |
| 30 | Guillaume Lessard | 175 | 99 | 76 |
| 31 | Noah Costa | 178 | 93 | 85 |
| 32 | Kathleen | 178 | 111 | 67 |
| 33 | Matt | 178 | 101 | 77 |
| 34 | ZeroNames | 179 | 89 | 90 |
| 35 | M4ttyb0y | 180 | 99 | 81 |
| 36 | LJ\thefourth the 5th | 181 | 116 | 65 |
| 37 | Sam Dorosz | 181 | 107 | 74 |
| 38 | Cleves | 182 | 98 | 84 |
| 39 | Adrian Kinney | 182 | 113 | 69 |
| 40 | Leggo | 183 | 133 | 50 |
| 41 | Alberto Charizard | 183 | 131 | 52 |
| 42 | Jeremy Walker | 184 | 99 | 85 |
| 43 | Dave Korell | 185 | 95 | 90 |
| 44 | GEE | 186 | 111 | 75 |
| 45 | Jacob Halloran | 186 | 79 | 107 |
| 46 | Rome | 187 | 94 | 93 |
| 47 | Japuss | 187 | 141 | 46 |
| 48 | Michael Harrison Rogers | 187 | 132 | 55 |
| 49 | Sean Vander Glas | 188 | 89 | 99 |
| 50 | Kristian biela | 189 | 104 | 85 |
| 51 | James Lam | 189 | 122 | 67 |
| 52 | Incognito | 189 | 102 | 87 |
| 53 | Shari Boyle | 191 | 131 | 60 |
| 54 | Eric B | 191 | 119 | 72 |
| 55 | Ryan Were | 192 | 121 | 71 |
| 56 | John | 192 | 90 | 102 |
| 57 | Dr. D | 192 | 107 | 85 |
| 58 | Joé Dufour | 192 | 140 | 52 |
| 59 | xray | 192 | 125 | 67 |
| 60 | Dil | 192 | 123 | 69 |
| 61 | Kristian biela | 193 | 110 | 83 |
| 62 | This is Not Brunos | 193 | 100 | 93 |
| 63 | Dean Morisseau | 193 | 138 | 55 |
| 64 | Alex Neuffer | 194 | 115 | 79 |
| 65 | Camille Riopel | 194 | 135 | 59 |
| 66 | Cal DeWolfe | 195 | 106 | 89 |
| 67 | Hot Toddy | 195 | 104 | 91 |
| 68 | Mattchew | 196 | 127 | 69 |
| 69 | Arielle Sadaka | 197 | 127 | 70 |
| 70 | Cameron Bates | 198 | 113 | 85 |
| 71 | Jerry | 198 | 98 | 100 |
| 72 | KMC | 198 | 95 | 103 |
| 73 | Caroline Forbes | 198 | 124 | 74 |
| 74 | Ben Forestell | 199 | 114 | 85 |
| 75 | Timothy Longley | 199 | 112 | 87 |
| 76 | Tianna Dodds | 200 | 107 | 93 |
| 77 | Madelyn Huston | 200 | 130 | 70 |
| 78 | chic | 200 | 98 | 102 |
| 79 | CarterW | 200 | 95 | 105 |
| 80 | SF | 200 | 129 | 71 |
| 81 | J-Money | 200 | 115 | 85 |
| 82 | Mathieu Gauthier | 200 | 102 | 98 |
| 83 | Sean Luke | 201 | 94 | 107 |
| 84 | Big Dog | 201 | 115 | 86 |
| 85 | Sidney Crosby | 201 | 104 | 97 |
| 86 | Gavin Hughes | 201 | 107 | 94 |
| 87 | TEDDAY BAAAARRRR! | 201 | 118 | 83 |
| 88 | MSN | 201 | 99 | 102 |
| 89 | JP | 202 | 123 | 79 |
| 90 | Jannes | 203 | 128 | 75 |
| 91 | AP | 203 | 146 | 57 |
| 92 | Mateo Labelle Cossios | 204 | 102 | 102 |
| 93 | William Stewart | 204 | 125 | 79 |
| 94 | William Simoneau | 204 | 138 | 66 |
| 95 | Jeff Mountjoy | 204 | 99 | 105 |
| 96 | wmw | 205 | 115 | 90 |
| 97 | Caitlin LeBlanc | 206 | 140 | 66 |
| 98 | Simon Berube | 206 | 88 | 118 |
| 99 | Knob Kranko | 206 | 131 | 75 |
| 100 | Nick Bannon | 206 | 124 | 82 |
| 101 | 4 Night Lamps | 206 | 121 | 85 |
| 102 | Trackmama | 206 | 111 | 95 |
| 103 | James Cromack | 207 | 108 | 99 |
| 104 | Corey Gallagher | 207 | 111 | 96 |
| 105 | Chris MacKinnon | 207 | 125 | 82 |
| 106 | Quinn Middleton | 207 | 108 | 99 |
| 107 | Sophie Gelineau | 210 | 107 | 103 |
| 108 | Megs | 211 | 106 | 105 |
| 109 | Kyle Madden | 211 | 146 | 65 |
| 110 | Claire Murchison | 211 | 135 | 76 |
| 111 | Blair | 211 | 106 | 105 |
| 112 | Elaine Ethier | 211 | 140 | 71 |
| 113 | Suda | 212 | 129 | 83 |
| 114 | Stink Boi 420 | 212 | 109 | 103 |
| 115 | Kyle Grieve | 212 | 133 | 79 |
| 116 | Its akay | 212 | 130 | 82 |
| 117 | Sadie-Jane Hickson | 213 | 99 | 114 |
| 118 | Jonathan Peverill | 213 | 116 | 97 |
| 119 | Angus R | 213 | 139 | 74 |
| 120 | Ben Congram | 213 | 120 | 93 |
| 121 | Snorkel King | 213 | 94 | 119 |
| 122 | Matt Smith | 213 | 112 | 101 |
| 123 | Jamie | 214 | 107 | 107 |
| 124 | JBurrows | 214 | 96 | 118 |
| 125 | John Perrier | 214 | 115 | 99 |
| 126 | Martin Guyon | 214 | 155 | 59 |
| 127 | Ruben Sansom | 214 | 107 | 107 |
| 128 | Jeremy Hick | 215 | 93 | 122 |
| 129 | Felix Deschenes | 216 | 126 | 90 |
| 130 | Tiffany Butterface | 216 | 114 | 102 |
| 131 | Joel grieco | 217 | 120 | 97 |
| 132 | Blair | 218 | 77 | 141 |
| 133 | Anthony Dionne | 218 | 153 | 65 |
| 134 | Michael | 219 | 128 | 91 |
| 135 | A Freeman | 219 | 114 | 105 |
| 136 | CPT | 220 | 96 | 124 |
| 137 | Toucan Sam | 221 | 99 | 122 |
| 138 | Katelynn | 223 | 110 | 113 |
| 139 | Billie | 223 | 170 | 53 |
| 140 | Tyler de Jong | 224 | 103 | 121 |
| 141 | lukas J | 224 | 144 | 80 |
| 142 | Shayna Giesbrecht | 225 | 112 | 113 |
| 143 | BP | 225 | 82 | 143 |
| 144 | Jason | 225 | 130 | 95 |
| 145 | Alison Thompson | 225 | 127 | 98 |
| 146 | Jan Fiedler | 226 | 115 | 111 |
| 147 | Jared Welsh | 226 | 144 | 82 |
| 148 | Aanika Roy | 226 | 130 | 96 |
| 149 | Darren Mancini | 226 | 136 | 90 |
| 150 | Maxine Gravina | 226 | 122 | 104 |
| 151 | Clifford C Childs | 228 | 144 | 84 |
| 152 | Jeff lapierre | 228 | 178 | 50 |
| 153 | Heidi Tuszkiewicz | 228 | 129 | 99 |
| 154 | dave cashin | 228 | 106 | 122 |
| 155 | Crazy Joe Mixon 9-0 | 228 | 126 | 102 |
| 156 | Ronald Loewen | 229 | 145 | 84 |
| 157 | Nassim Bousmaha | 229 | 161 | 68 |
| 158 | Akiva | 229 | 111 | 118 |
| 159 | Em Nowak | 229 | 164 | 65 |
| 160 | Alexandre Fishbein-Ouimette | 231 | 130 | 101 |
| 161 | Aidan | 231 | 167 | 64 |
| 162 | Chris Caddey | 232 | 127 | 105 |
| 163 | High Mileage | 232 | 115 | 117 |
| 164 | Moist | 233 | 108 | 125 |
| 165 | Greg Hetterley | 233 | 122 | 111 |
| 166 | The Lost Dreams of the Banana Man | 233 | 143 | 90 |
| 167 | Matthew Corolis | 233 | 116 | 117 |
| 168 | I know nothing | 233 | 87 | 146 |
| 169 | Laurencect | 234 | 157 | 77 |
| 170 | hillrunner | 234 | 169 | 65 |
| 171 | Dirk | 234 | 127 | 107 |
| 172 | Jonathan | 235 | 123 | 112 |
| 173 | Hector Barbosa | 235 | 139 | 96 |
| 174 | Kendall Hupp | 235 | 174 | 61 |
| 175 | Ian | 235 | 150 | 85 |
| 176 | Big dog gotta eat | 236 | 155 | 81 |
| 177 | Ryan Larter | 236 | 102 | 134 |
| 178 | Joe Groeneveld | 236 | 182 | 54 |
| 179 | Emma | 237 | 151 | 86 |
| 180 | Meredith Leitch | 237 | 110 | 127 |
| 181 | Bad teammate | 238 | 94 | 144 |
| 182 | Francis Marie | 238 | 148 | 90 |
| 183 | Meghan Manor | 238 | 142 | 96 |
| 184 | Maddie | 238 | 121 | 117 |
| 185 | Rusty | 238 | 143 | 95 |
| 186 | Joe Stewart | 238 | 158 | 80 |
| 187 | Bruce Davies | 238 | 142 | 96 |
| 188 | Danielle Nardi | 238 | 145 | 93 |
| 189 | Ian | 238 | 143 | 95 |
| 190 | AJ | 239 | 115 | 124 |
| 191 | Liz Stratton | 240 | 150 | 90 |
| 192 | Aiden Miller | 240 | 124 | 116 |
| 193 | Guillaume oo | 241 | 173 | 68 |
| 194 | Jason Bamford | 242 | 142 | 100 |
| 195 | Rachel Beckett | 242 | 140 | 102 |
| 196 | Kevin M | 242 | 113 | 129 |
| 197 | Deryk | 242 | 127 | 115 |
| 198 | Amanda | 242 | 124 | 118 |
| 199 | OR | 243 | 96 | 147 |
| 200 | Nasal Strip | 243 | 131 | 112 |
| 201 | Dos SENDtos | 244 | 138 | 106 |
| 202 | Martin A. | 245 | 107 | 138 |
| 203 | Erik Ohrling | 246 | 111 | 135 |
| 204 | Varsity whos | 246 | 156 | 90 |
| 205 | Grant | 246 | 148 | 98 |
| 206 | ian gallagher | 247 | 136 | 111 |
| 207 | Wyynnyyy | 247 | 119 | 128 |
| 208 | Paul R | 248 | 134 | 114 |
| 209 | Luc Gallant | 248 | 131 | 117 |
| 210 | How it's done | 248 | 128 | 120 |
| 211 | Aivar Koppel | 248 | 112 | 136 |
| 212 | Saed Griffith | 249 | 130 | 119 |
| 213 | Oddish | 249 | 124 | 125 |
| 214 | Paul Self | 249 | 111 | 138 |
| 215 | Adam Woehl | 250 | 126 | 124 |
| 216 | Mitch Heyink | 250 | 94 | 156 |
| 217 | Paul T | 251 | 134 | 117 |
| 218 | Clancy | 251 | 116 | 135 |
| 219 | Liam Murray | 253 | 133 | 120 |
| 220 | Max Turek | 255 | 127 | 128 |
| 221 | Shawn G | 255 | 159 | 96 |
| 222 | Dirty Dan | 255 | 142 | 113 |
| 223 | Scott Kirby | 256 | 143 | 113 |
| 224 | Marcus Fogh | 257 | 153 | 104 |
| 225 | Fooking Allstar #50in08 | 258 | 188 | 70 |
| 226 | tanya | 258 | 142 | 116 |
| 227 | Nathan Flach | 259 | 116 | 143 |
| 228 | Aiden Good | 260 | 148 | 112 |
| 229 | Will | 260 | 157 | 103 |
| 230 | #FREEJESSE | 260 | 158 | 102 |
| 231 | Upset City | 261 | 189 | 72 |
| 232 | James Redmond | 261 | 161 | 100 |
| 233 | Gabrielle kim | 262 | 158 | 104 |
| 234 | Cameron Linscott | 262 | 121 | 141 |
| 235 | Mr. Trackie | 262 | 102 | 160 |
| 236 | Robbie Cumming | 263 | 143 | 120 |
| 237 | Jess Baraskewich | 263 | 161 | 102 |
| 238 | Liyang | 263 | 101 | 162 |
| 239 | Brendan Simone | 263 | 136 | 127 |
| 240 | FxbC | 263 | 130 | 133 |
| 241 | Nolan White | 263 | 206 | 57 |
| 242 | Louis Moreau | 264 | 179 | 85 |
| 243 | Wade J Huber | 265 | 154 | 111 |
| 244 | Kristin Looby | 265 | 144 | 121 |
| 245 | Molly Miller | 265 | 174 | 91 |
| 246 | My guyyyyy | 267 | 166 | 101 |
| 247 | Rachel Mortimer | 268 | 157 | 111 |
| 248 | Sean Vander Glas | 269 | 162 | 107 |
| 249 | Adam Strueby | 270 | 127 | 143 |
| 250 | Jules Burnotte | 270 | 177 | 93 |
| 251 | Evan Elder | 270 | 199 | 71 |
| 252 | Jouen Chang | 271 | 161 | 110 |
| 253 | Mike Backx | 273 | 128 | 145 |
| 254 | Nick Neri | 274 | 118 | 156 |
| 255 | Ryan Tyrrell | 274 | 130 | 144 |
| 256 | ctcallaghan | 274 | 158 | 116 |
| 257 | Alec Purnell | 275 | 122 | 153 |
| 258 | Ahad Naim | 275 | 183 | 92 |
| 259 | Mr. Sloth | 277 | 75 | 202 |
| 260 | Madison Greenough | 277 | 192 | 85 |
| 261 | Brian Newlove | 278 | 156 | 122 |
| 262 | Elrutes | 278 | 137 | 141 |
| 263 | Aryou Manousi | 279 | 166 | 113 |
| 264 | Matt Murphy | 281 | 159 | 122 |
| 265 | michel legault | 282 | 189 | 93 |
| 266 | Masamichi Shibata | 283 | 186 | 97 |
| 267 | Eric Sutton | 283 | 176 | 107 |
| 268 | TwoLegsButOnePant | 284 | 100 | 184 |
| 269 | Dawson Nancekievill | 284 | 160 | 124 |
| 270 | kaylee white | 285 | 193 | 92 |
| 271 | The Reaper | 285 | 145 | 140 |
| 272 | Kirk | 285 | 128 | 157 |
| 273 | Mrs. Sloth | 286 | 151 | 135 |
| 274 | Henry Bustard | 286 | 83 | 203 |
| 275 | nick xie | 286 | 172 | 114 |
| 276 | Mikaela Ahloy | 287 | 139 | 148 |
| 277 | Hannah Lehman | 287 | 156 | 131 |
| 278 | Coming out of my cage And I've been doing just fine Gotta gotta be down Because I want it all | 287 | 160 | 127 |
| 279 | Adam Kalab | 288 | 194 | 94 |
| 280 | V Nasty | 288 | 192 | 96 |
| 281 | Guesses from a field coach | 290 | 154 | 136 |
| 282 | Darryl Wood | 290 | 174 | 116 |
| 283 | $@r@h | 291 | 153 | 138 |
| 284 | Ryan C | 291 | 196 | 95 |
| 285 | Brandon Scott LeBlanc | 292 | 148 | 144 |
| 286 | Darcy Mccardle | 295 | 175 | 120 |
| 287 | Jill Delane | 297 | 201 | 96 |
| 288 | Ian Barrett | 298 | 202 | 96 |
| 289 | Brant | 298 | 130 | 168 |
| 290 | CIS > U Sports | 298 | 199 | 99 |
| 291 | Warren Ferguson | 299 | 202 | 97 |
| 292 | Julianna Manserra | 299 | 158 | 141 |
| 293 | Deric Kornelson | 300 | 114 | 186 |
| 294 | Yuel Abraha | 300 | 204 | 96 |
| 295 | Electric City TC | 301 | 168 | 133 |
| 296 | Nish Runner (Basically all the AUS runners) | 301 | 209 | 92 |
| 297 | trackboss | 301 | 153 | 148 |
| 298 | Dutch Oven | 302 | 91 | 211 |
| 299 | Natalie | 303 | 231 | 72 |
| 300 | Kristin Groeneveld | 303 | 189 | 114 |
| 301 | Mo Bamba | 304 | 196 | 108 |
| 302 | Callum | 304 | 94 | 210 |
| 303 | I am the BEST guesser | 305 | 208 | 97 |
| 304 | Heather :) | 308 | 229 | 79 |
| 305 | Sue Zajac | 309 | 149 | 160 |
| 306 | SDSS COACH | 309 | 173 | 136 |
| 307 | Aidan Doherty | 310 | 151 | 159 |
| 308 | C.C. | 311 | 106 | 205 |
| 309 | Lee Wesselius | 311 | 106 | 205 |
| 310 | Tim | 312 | 152 | 160 |
| 311 | Mitchell Kean | 312 | 246 | 66 |
| 312 | Gryphon | 312 | 102 | 210 |
| 313 | Colin Cranmer-Byng | 313 | 237 | 76 |
| 314 | snakerjaker | 313 | 151 | 162 |
| 315 | Jérôme Cassan | 315 | 255 | 60 |
| 316 | Jérôme Cassan | 315 | 255 | 60 |
| 317 | Erin Ingoldsby | 315 | 170 | 145 |
| 318 | Linden | 315 | 155 | 160 |
| 319 | Matthew Houlzet | 315 | 194 | 121 |
| 320 | Michael Bergeron | 315 | 209 | 106 |
| 321 | sMiles | 315 | 163 | 152 |
| 322 | Evan | 317 | 85 | 232 |
| 323 | The Mantis | 317 | 90 | 227 |
| 324 | Timothy | 318 | 158 | 160 |
| 325 | Nick Kondrat | 319 | 98 | 221 |
| 326 | Qalum | 319 | 108 | 211 |
| 327 | DP | 319 | 99 | 220 |
| 328 | Trayan Voicu | 320 | 171 | 149 |
| 329 | Esteban clavijo | 320 | 100 | 220 |
| 330 | Sofie Mayer-lackey | 320 | 219 | 101 |
| 331 | Bob Sacamano | 321 | 140 | 181 |
| 332 | SamiS | 321 | 195 | 126 |
| 333 | Norm Milford | 321 | 190 | 131 |
| 334 | Ryan Heney | 322 | 170 | 152 |
| 335 | Alex Larochelle | 323 | 236 | 87 |
| 336 | Matthew Butler | 323 | 198 | 125 |
| 337 | Katie | 324 | 219 | 105 |
| 338 | EmmaT | 324 | 89 | 235 |
| 339 | I WIN! | 324 | 81 | 243 |
| 340 | Cara LeBlanc | 325 | 144 | 181 |
| 341 | cam | 325 | 93 | 232 |
| 342 | Ezana Wossen | 325 | 155 | 170 |
| 343 | Raiders | 327 | 170 | 157 |
| 344 | Addison Derhak | 327 | 236 | 91 |
| 345 | Brendan Masters | 327 | 106 | 221 |
| 346 | Freddie and Eddie | 327 | 227 | 100 |
| 347 | SB | 329 | 122 | 207 |
| 348 | Kellyb | 329 | 220 | 109 |
| 349 | Mark Chisholm | 329 | 238 | 91 |
| 350 | Nina | 330 | 190 | 140 |
| 351 | Christeena Caines | 331 | 177 | 154 |
| 352 | Simon Delisle | 331 | 190 | 141 |
| 353 | Daniel Turco | 332 | 95 | 237 |
| 354 | Connor Rimkey | 332 | 89 | 243 |
| 355 | Sean S | 333 | 76 | 257 |
| 356 | Jerapooopooo | 333 | 105 | 228 |
| 357 | SP | 333 | 91 | 242 |
| 358 | Ali Barwick | 334 | 164 | 170 |
| 359 | Muell64 | 334 | 228 | 106 |
| 360 | Patrick Deane | 334 | 102 | 232 |
| 361 | Sandy | 334 | 196 | 138 |
| 362 | Jake Wing | 337 | 231 | 106 |
| 363 | Papi | 338 | 108 | 230 |
| 364 | DVS | 339 | 118 | 221 |
| 365 | Michael Styba | 339 | 131 | 208 |
| 366 | KevinS | 339 | 128 | 211 |
| 367 | Curtis Rimkey | 340 | 108 | 232 |
| 368 | Napes | 341 | 130 | 211 |
| 369 | Brooke | 341 | 120 | 221 |
| 370 | Rookie Dan | 342 | 89 | 253 |
| 371 | JB | 343 | 119 | 224 |
| 372 | I'm not giving my name to a computer | 344 | 96 | 248 |
| 373 | Alex Cyr | 345 | 92 | 253 |
| 374 | Zack Jones | 345 | 110 | 235 |
| 375 | Spencer Ferbers | 345 | 126 | 219 |
| 376 | Smith | 345 | 123 | 222 |
| 377 | Wanda Patton | 346 | 114 | 232 |
| 378 | Emmy | 346 | 101 | 245 |
| 379 | Gavin Hatheway | 346 | 214 | 132 |
| 380 | CB | 347 | 114 | 233 |
| 381 | KTay | 348 | 228 | 120 |
| 382 | Sarah Cranmer-Byng | 348 | 117 | 231 |
| 383 | Ben Paterson | 349 | 98 | 251 |
| 384 | Nicholas Scali | 349 | 219 | 130 |
| 385 | Keithan Sivapragasam | 350 | 104 | 246 |
| 386 | Andrew | 350 | 92 | 258 |
| 387 | Chapps | 351 | 119 | 232 |
| 388 | brandey | 351 | 110 | 241 |
| 389 | Dean VanHerpe | 351 | 117 | 234 |
| 390 | Lamchops | 352 | 139 | 213 |
| 391 | Audrey Giles | 352 | 126 | 226 |
| 392 | Jean-Marc Doiron | 352 | 264 | 88 |
| 393 | Nick Robertson | 352 | 209 | 143 |
| 394 | cleeve t | 352 | 286 | 66 |
| 395 | Kyle Irvine | 353 | 126 | 227 |
| 396 | NinJade | 354 | 118 | 236 |
| 397 | AGORDOCITY | 356 | 138 | 218 |
| 398 | Brian Ingoldsby | 356 | 128 | 228 |
| 399 | Oi | 356 | 124 | 232 |
| 400 | Hutt | 356 | 84 | 272 |
| 401 | Braeden Brown | 356 | 102 | 254 |
| 402 | I don't know anything about XC | 357 | 137 | 220 |
| 403 | Mike Pesce | 357 | 110 | 247 |
| 404 | devo cee | 357 | 216 | 141 |
| 405 | Timmy t | 358 | 119 | 239 |
| 406 | Nickolas Kosmenko | 358 | 104 | 254 |
| 407 | Adam Andrecyk | 359 | 199 | 160 |
| 408 | Andy Hahn | 360 | 108 | 252 |
| 409 | Janine Zajac | 361 | 143 | 218 |
| 410 | K-Dazzle | 361 | 131 | 230 |
| 411 | Lucas Harrison | 362 | 100 | 262 |
| 412 | Billy | 363 | 122 | 241 |
| 413 | RunJaySned | 363 | 180 | 183 |
| 414 | Aaron Bruyns | 363 | 207 | 156 |
| 415 | George Costanza | 364 | 207 | 157 |
| 416 | boom | 365 | 135 | 230 |
| 417 | Katie Stringham | 367 | 147 | 220 |
| 418 | Mj | 367 | 124 | 243 |
| 419 | Jordan deBoer | 368 | 104 | 264 |
| 420 | Milesdavisandthecool | 369 | 148 | 221 |
| 421 | Nolanjoe | 369 | 166 | 203 |
| 422 | Madison | 371 | 231 | 140 |
| 423 | I have no idea what I am doing | 372 | 126 | 246 |
| 424 | Brendan | 373 | 130 | 243 |
| 425 | COLE HANNAM | 374 | 234 | 140 |
| 426 | Jeff Dill | 376 | 142 | 234 |
| 427 | Seeram Alick | 376 | 120 | 256 |
| 428 | Ronan | 376 | 204 | 172 |
| 429 | Jennifer Power | 379 | 147 | 232 |
| 430 | Matthew Exner | 379 | 121 | 258 |
| 431 | Dylan "The Real Man" Kiesler | 380 | 108 | 272 |
| 432 | Patrick Marlow | 381 | 254 | 127 |
| 433 | Tammy Sheffar | 381 | 138 | 243 |
| 434 | Arnold Davies | 381 | 144 | 237 |
| 435 | plumlover69 | 382 | 180 | 202 |
| 436 | Look If you had One shot Or one opportunity To seize everything you ever wanted In one moment Would you capture it Or just let it slip? Yo His palms are sweaty, knees weak, arms are heavy There's vomit on his sweater already, mom's spaghetti He's nervous, | 383 | 131 | 252 |
| 437 | Luca Geiser | 383 | 111 | 272 |
| 438 | Rebecca Hillis | 383 | 142 | 241 |
| 439 | CG | 384 | 140 | 244 |
| 440 | Riley Miller | 388 | 146 | 242 |
| 441 | c | 389 | 139 | 250 |
| 442 | Marie Boddington | 390 | 130 | 260 |
| 443 | karen shannon | 391 | 185 | 206 |
| 444 | Stephen Andersen | 391 | 167 | 224 |
| 445 | Kenny B | 393 | 142 | 251 |
| 446 | Brenda Tree | 394 | 177 | 217 |
| 447 | Nolanjoe2 | 394 | 148 | 246 |
| 448 | Alexander Hansen | 395 | 176 | 219 |
| 449 | Mirelle Martens | 396 | 116 | 280 |
| 450 | Show me the money | 396 | 144 | 252 |
| 451 | BrockMartin95 | 398 | 161 | 237 |
| 452 | bb | 399 | 148 | 251 |
| 453 | AMG | 402 | 188 | 214 |
| 454 | Michael Wood | 403 | 164 | 239 |
| 455 | Hannah Milic | 403 | 289 | 114 |
| 456 | MacDougsll | 403 | 192 | 211 |
| 457 | Sydney | 405 | 178 | 227 |
| 458 | Birdoooooooo | 407 | 205 | 202 |
| 459 | Trey95 | 410 | 133 | 277 |
| 460 | Alexander Cooper | 410 | 166 | 244 |
| 461 | Allison Quinn | 411 | 154 | 257 |
| 462 | Caleb Trotter | 413 | 129 | 284 |
| 463 | Daniel Heschuk | 414 | 86 | 328 |
| 464 | Matt Norminton | 414 | 120 | 294 |
| 465 | Asap Rocky | 420 | 123 | 297 |
| 466 | Jianping Xu | 420 | 112 | 308 |
| 467 | Simon Boudreau | 421 | 160 | 261 |
| 468 | alexis LG | 421 | 166 | 255 |
| 469 | Adrian Christ | 422 | 99 | 323 |
| 470 | YaBoi | 427 | 168 | 259 |
| 471 | CT | 429 | 155 | 274 |
| 472 | Sheldon | 430 | 180 | 250 |
| 473 | Mitch Long | 432 | 148 | 284 |
| 474 | TRaaske | 434 | 135 | 299 |
| 475 | Mitch Gardiner | 434 | 160 | 274 |
| 476 | Noah Defreyne | 438 | 144 | 294 |
| 477 | HILTOWN | 442 | 157 | 285 |
| 478 | Delilah | 444 | 169 | 275 |
| 479 | Phil | 445 | 160 | 285 |
| 480 | SethMarcaccio | 446 | 190 | 256 |
| 481 | Smiley | 446 | 169 | 277 |
| 482 | Danny Webster | 447 | 189 | 258 |
| 483 | Brenda Gillan | 448 | 327 | 121 |
| 484 | Tibo58 | 449 | 166 | 283 |
| 485 | Adrienne | 450 | 197 | 253 |
| 486 | J Windybutt | 450 | 207 | 243 |
| 487 | Skeet | 451 | 196 | 255 |
| 488 | Marley Beckett | 458 | 169 | 289 |
| 489 | Notasha Wodok | 458 | 186 | 272 |
| 490 | Noel Kendle | 460 | 151 | 309 |
| 491 | Alex Mason | 476 | 84 | 392 |
| 492 | Reid Palmer | 496 | 98 | 398 |
| 493 | Caleb | 507 | 108 | 399 |
| 494 | Doug Zajac | 507 | 201 | 306 |
| 495 | Shane the Train | 555 | 157 | 398 |
| 496 | Allan Faulds | 555 | 123 | 432 |
| 497 | leo | 576 | 176 | 400 |
User

Comments
Anonymous

---

Posts: 49346

Anonymous said 4 months ago

You guys should really double check stuff! How in the world do you miss Danielle Jossinet who's probably gonna be too 10???

Quote comment

User since:
Jul 26th, 2002

---

Posts: 2213

Trackie said 4 months ago

Quoting: Anonymous
"You guys should really double check stuff! How in the world do you miss Danielle Jossinet who's probably gonna be too 10???"

Keep in mind we didn't just pick all the top runners. We tried to put groups of runners together of similar calibre (based on conference champ results) but there are many runners we didn't include in the contest. We simply can't list every runner because it would take too much time to tabulate contest results. I agree though Danielle Jossinet would have been a good one to include in the Women's Group B.

Quote comment

Anonymous

---

Posts: 49346

Anonymous said 4 months ago

Quoting: Trackie
"Keep in mind we didn't just pick all the top runners. We tried to put groups of runners together of similar calibre (based on conference champ results) but there are many runners we didn't include in the contest. We simply can't list every runner because it would take too much time to tabulate contest results. I agree though Danielle Jossinet would have been a good one to include in the Women's Group B."

Totally agree in regards with cant have all runners in. But that's a definite miss with Danielle

Quote comment

Anonymous

---

Posts: 49346

Anonymous said 4 months ago

Dutch Oven's predictions are going to blow everyone away once again this year (if you catch my drift)

Quote comment

Anonymous

---

Posts: 49346

Anonymous said 4 months ago

how did hecy joey get on here and not dad or fingers or soy onion or sploog

Quote comment

Anonymous

---

Posts: 49346

Anonymous said 4 months ago

thank you for allowing me to pick sheffar in group B.. it's always nice when you can pick the eventual champ at a discounted price

Quote comment

Anonymous

---

Posts: 49346

Where the Goats at? said 4 months ago

Where's my prediction option for Dylan O'Sullivan?

Quote comment

Anonymous

---

Posts: 49346

Juan Gay said 4 months ago

Has anyone ever won BCHS and USports in the same year? Asking for a friend.

Quote comment

Anonymous

---

Posts: 49346

NoNutNovember said 4 months ago

I feel my inner spirituality is slowly peaking as i near day 8 of this virtually hallucinogenic excursion. But as i fill out my predictions, I know each choice will be a winner, win or lose. At this inconceivable rate, by saturday im certain the results will come through not just for me, but also myself and I.

Quote comment

Anonymous

---

Posts: 49346

Anonymous said 4 months ago

money's on a big upset from UBCO. Heard they're bring the heat...

Quote comment

Anonymous

---

Posts: 49346

Anonymous said 4 months ago

Okay I don't think you all understand - Dutch Oven is going to stifle the competition with his picks.

Quote comment

Anonymous

---

Posts: 49346

Anonymous said 4 months ago

Quoting: Anonymous
"money's on a big upset from UBCO. Heard they're bring the heat..."

Also where's Mike Mitchell for a group G pick? Pretty sure he smoked that TRU kid at provs... just saying...

Quote comment

Anonymous

---

Posts: 49346

Anonymous said 4 months ago

When does the contest close

Quote comment

Anonymous

---

Posts: 49346

Anonymous said 4 months ago

Quoting: Anonymous
"how did hecy joey get on here and not dad or fingers or soy onion or sploog"

Cujo has somehow beaten me to Cis without even racing...

Quote comment

User since:
Jul 26th, 2002

---

Posts: 2213

Trackie said 4 months ago

Quoting: Anonymous
"When does the contest close"

We will close it before the Women's race gets started.

Quote comment

Anonymous

---

Posts: 49346

Di-no-degree said 4 months ago

I predict 1/7 Calgary guys finish with a degree.

Quote comment

Anonymous

---

Posts: 49346
User since:
Jul 26th, 2002

---

Posts: 2213

Trackie said 4 months ago

Quoting: Anonymous
"Results?"

Contest rankings have now been posted. Thanks for everyone who entered! We will be reaching out to the top three for their prizes shortly.

Quote comment

User since:
Oct 30th, 2016

---

Posts: 36

OutEastFan said 4 months ago

Quoting: Trackie
"Contest rankings have now been posted. Thanks for everyone who entered! We will be reaching out to the top three for their prizes shortly."

Thanks. Fun contest!

Just curious, what could've been the lowest possible score?

Quote comment