2020 in Review
Posted 3 weeks ago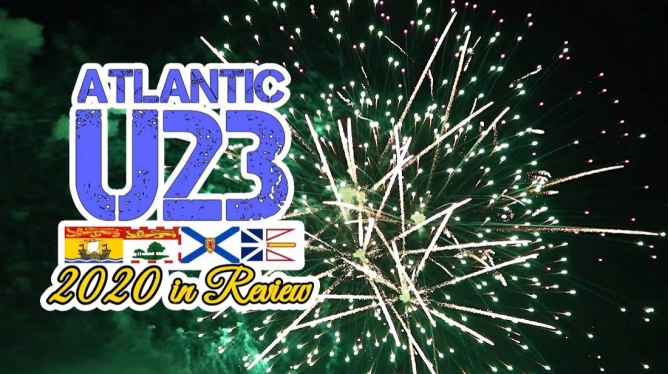 2020 in Review
2020 is a year that very few could have predicted, and a year in which sports – as well as much of regular day-to-day life – took a seat on the backbench. Opportunities to compete were scarce, training facilities were closed or offered limited access, and for much of the year team practices were outlawed. But despite all the setbacks, Atlantic Canada pulled-through particularly well, and sports were able to return to a sense of normalcy unseen in many other regions of North America.
Due to a lack of opportunities for athletes to perform in safe and sanctioned competitions this year, AtlanticU23 has chosen not to follow tradition in recognizing twenty-three athletes with an Outstanding Performer Award, but to instead recognize the top twenty-three moments in Atlantic Canada athletics this year.
Top 23 Moments in Atlantic Canada Athletics
Any happenings related to the sport of athletics in the provinces of Atlantic Canada during the calendar year were considered for this recognition, including performances, accomplishments, opportunities, announcements, and milestones.

Athletics Nova Scotia Unveils Safe Sport Initiatives
The 'safety first' motto rang especially true in Nova Scotia this year, as the provincial sport organization rolled-out a series of initiatives designed to keep stakeholders safe. As of the program's launch in April, Athletics Nova Scotia requires – among other things – that those in designated positions of authority (including coaches, officials, staff, and members of the Association's Board of Directors) complete vulnerable sector and child abuse registry checks, and successfully complete a safe sport training module offered by the Coaching Association of Canada. While policies designed to foster safe sporting environments have long been around, the recent implementations by Athletics NS are first-of-a-kind for the Atlantic region.
Athlétisme Sud-Est / South-East Athletics Hosts Hub City Classic
After nearly six months of inactivity, competition finally resumed in the region when Athlétisme Sud-Est / South-East Athletics' (ASEA) hosted the 11th Annual Hub City Classic. The Moncton-based high performance club offered a series of sprint and mid-distance events at its August 8th competition, which served as Atlantic Canada's first – and one of the nation's first – since the virus' arrival in the region. The meet was the first in a set of three hosted by the club over a three-week period, which also included the Codiac Achilles Throws Meet and the Sunshine Twilight Meet.
Cape Breton University Competes in their First AUS Track and Field Championships
An emerging varsity athletics program made a major step forward this year, as Cape Breton University in Sydney, NS competed in their first AUS Track and Field Championships in February. While the school has operated a club program for several years, this year's Championships marked the first time that athletes could represent the Capers in league competition. Although the ten athlete contingent did not capture any medals or score points towards the team banners, the Capers have made the necessary first steps towards developing a competitive program.
Chris Belof Appointed to Team Canada
A man of many hats, Chris Belof of Saint John, NB put on a particularly significant one this year when he was appointed Coach of Athletics Canada's team for the World Athletics Half Marathon Championships. The Championships, which took place in Gdynia, Poland in October, were the first global championships to take place since the beginning of the COVID-19 pandemic. Although a sudden resurgence of the virus caused Canada to withdraw from the Championships just four days prior to its start, Belof's designation was impressive all the same. Additional hats worn by the Regina, SK native include Head Coach of the University of New Brunswick Reds, Endurance / Speed Power Coach with Saint John Track Club, and High Performance Coach with Athletics New Brunswick.
Craig Thorne Breaks Eight Second Barrier in 60mh
The heightened hurdles were no match for Craig Thorne of Quispamsis, who broke the elusive eight second barrier in the 60mh over senior-height hurdles. At just 18 years of age, the Guelph Gryphon clocked a personal best time of 7.99 over 42" hurdles at the Can Am Track Classic in January. The sub-eight clocking made Thorne the U Sports leader, the 12thfastest performer in U Sports history, and one of only four Canadian men to dip under the mark this year. Although he fell short of a medal at the U Sports Track and Field Championships, placing 5th with a time of 8.18, Thorne has nonetheless cemented himself as one of the best sprint hurdlers in league history.
Demi Marathon de l'Acadie Maintains its Streak
Not even a global pandemic could break the stride of the Demi Marathon de l'Acadie, as the New Brunswick running event continued uninterrupted this year. Rain, shine, snow, or pandemic, the Tracadie-Sheila half marathon has been hosted on the first Sunday of each and every month since November of 1987. While the vast majority of running events needed time to configure virtual options, the small-scale and close-knit nature of the Acadian event allowed organizers to switch on a moment's notice, going from in-person in March to virtual in April. The event shows no signs of slowing down, and will celebrate its 400th running in February of 2021.
Erin Vringer Takes the Win at McGill Team Challenge
One of the highest performing age class stars in Atlantic Canada history, Erin Vringer of Saint John, NB reached new heights at the esteemed McGill Team Challenge in January. At just 16 years of age, the grade 10 student bested a field comprised of 44 mostly varsity women of up to 21 years her senior, taking the win in the women's 3,000m and stopping the clock in 9:53.03, a personal best. On the second day of the meet, Vringer battled 59 other women in the 1500m, placing 3rd with a personal best time of 4:36.09. Achieving such placements when competing against varsity athletes, one can only imagine how much Vringer's talents shine when racing against competitors her own age.
Geneviève Lalonde Strikes Gold at Pan American Cross Country Cup
Although best known for her world class steeplechasing, Geneviève Lalonde of Victoria, BC further proved herself capable of elite cross country running this year. At February's racing of the Pan American Cross Country Cup – which took place on home soil in Lalonde's city of residence – the Moncton, NB native captured gold in the senior women's 10km race, completing the challenging course in a time of 37:37 and recording a 32 second margin of victory. Beyond capturing the individual title, the Rio Olympian's efforts led the Canadian senior women's contingent to a single point victory over the United States in the team standings.
Irving Oil Field House Hosts AUS Track and Field Championships
Opening its doors to Atlantic Canada's top varsity athletes, the newly constructed Irving Oil Field House in Saint John, NB hosted its first AUS Track and Field Championships in February. The Ellis-MacMackin Track – comprised of a 200m blue-surface track with dedicated space for field events – witnessed a series of outstanding performances, including Championships records in the women's 60m, 4x200m, long jump, triple jump, and the men's 1,000m and 4x200m. The state of the art facility is expected to play host to numerous regional, national, and perhaps international events in the years to come, and has already been designated the host-site for the U Sports Track and Field Championships, the Canadian Indoor Championships, and the Canadian Masters Indoor Track & Field Championships.
Jack Berkshire Captures U Sports Silver and Bronze
In his fifth and final year as a varsity athlete, Jack Berkshire of Fredericton, NB added another two U Sports medals to his collection. At the U Sports Track and Field Championships in March, the Toronto Varsity Blue captured bronze in the 600m with a time of 1:19.54, and silver as a member of the University of Toronto's 4x400m team, which crossed the line in 3:16.56. Alongside his medal performances, Berkshire placed 6th in the 300m with a time of 34.36.
Josh Hamilton Captures Double Gold in U Sports Relays
The top of the podium was a familiar place for Josh Hamilton of St. John's, NL, who proved to be an invaluable asset for the Guelph Gryphons' sprint relay teams this year. The native of Portmore, Jamaica served on the Gryphons' 4x200m and 4x400m relay quartets at the U Sports Track and Field Championships in March, storming to decisive victories with times of 1:26.24 and 3:13.40, respectively. Alongside his relay golds, Hamilton placed 5th in the 300m with a time of 34.29.
Lorena Heubach Wins U Sports Gold in Women's Long Jump
Despite a disappointing turn of events in her primary event of the pentathlon, Lorena Heubach of Annapolis Royal, NS still returned home from March's U Sports Track and Field Championships with a medal around her neck. Following a poor performance in the first of five events – the 60mh – the Dalhousie Tiger dropped out of the pentathlon and set her sights on the individual long jump. The move paid off, as Heubach captured her first U Sports medal, edging out her closest competitor by just a single centimeter to take gold with a jump of 5.90m. Alongside her long jump gold, Heubach placed 10th in the high jump with a clearance of 1.64m.
Matt Coolen Wins U Sports Gold in Men's 60mh
Despite coming up short in his attempt to capture a third consecutive gold in the 60m at March's U Sports Track and Field Championships, Matt Coolen of Halifax, NS did not walk away empty handed. Attempting to defend his 2019 gold medal and achieve a three-peat in the 60m event, the Dalhousie Tiger athlete finished 5th in a particularly fast final. But on the next day, Coolen collected his first U Sports medal in the 60mh, capturing gold with a personal best time of 8.02.
Michael-Lucien Bergeron Breaks Joggling World Record
It was another record setting year for Michael-Lucien Bergeron of Stanley Bridge, PEI, who broke the 5,000m three-ball joggling world record in July. Joggling to a time of 16:50 on the École Évangéline track in Wellington, PEI, Bergeron dipped under the former record by just one second, never dropping a ball while on-route. Bergeron now holds three joggling world records: the 5,000m, 10km (35:36), and half marathon (1:17:09).
Moncton Named Host of Canadian 5km Championships
Another national championships was announced to take place in Atlantic Canada, as Moncton, NB was named host of the 2020 and 2021 Canadian 5km Championships. The Championships will form part of the Medavie Moncton Running Festival, a partnership between Athletics New Brunswick, Run New Brunswick, and the Greater Moncton Running Club, and sponsored by the Moncton-headquartered Medavie Blue Cross. Moncton is no stranger to national sporting events, and hosted the Canadian Track and Field Championships in 2013 and 2014. The Festival, including the Championships portion of it, have been rescheduled to September of 2021 and 2022.
Maya Reynolds Breaks AUS Women's 60m Record
February's AUS Track and Field Championships saw unprecedented speed when Maya Reynolds of Halifax, NS broke one of the conference's strongest records. The Markham, ON native sprinted to a time of 7.56 to break the former record by two one-hundredths of a second. The performance is particularly noteworthy due to the record's historical progression – Adrienne Power set the record at 7.59 at the 2004 edition of the Championships, and Bailey Smith dipped under it fifteen years later with a 7.58 clocking. All three record holders have landed upon the podium at the national university championships, and Power went on to compete for Canada at the 2008 Olympic Games.
New Athletics Facility Opens in Bridgetown, NS
Atlantic Canada's newest athletics facility has provided endless possibilities for Nova Scotia's west coast, as Bridgetown celebrated the opening of the Bridgetown Regional Outdoor Sport Hub Park in September. The state-of-the-art facility includes a synthetic eight lane running track with dedicated space for field events, one natural grass and one artificial turf soccer field, several resurfaced tennis courts, and LED stadium lighting. The grand opening included a ceremonial first lap by athletes from Annapolis County Athletics Club and a speech by Stephen McNeil, Premier of Nova Scotia and MLA for the Annapolis electoral district, where the facility is located. The $3.9 million project was a joint initiative between the Government of Canada and the Government of Nova Scotia, and is owned and operated by the Municipality of the County of Annapolis.
New Athletics Facility to be Constructed in Gander, NL
The Newfoundland and Labrador athletics community received exciting news in October, as funding for a new sport multiplex facility in the Town of Gander was announced. The facility will include a FIFA regulation-sized outdoor soccer field and an eight lane 400-metre rubberized athletics track. To be constructed in the province's Central Region, the facility will be only the second synthetic-surface track in the province's history, and the first ever off the Avalon Peninsula. The multi-million dollar project is a joint initiative between the Government of Canada, the Government of Newfoundland and Labrador, and the Town of Gander.
Sarah MacPherson Runs World Indoor Standard
Though the World Indoor Championships would become the first global sporting event to fall victim to COVID-19, Sarah MacPherson of Keswick Ridge, NB made significant headway towards competing at the Championships by achieving Athletics Canada's qualification standard. At the Dr. Sander Invitational in New York City, United States, MacPherson ran to a mile time of 4:33.36, dipping under the standard by over half-a-second. The World Indoor Championships – which were initially scheduled to take place in Nanjing, China in mid-March – were postponed in late-January, and Athletics Canada never selected a team. But the Championships were just not meant to be for MacPherson, who announced her retirement from competitive running in November, capping off a career that included countless personal bests, multiple national medals, and once representing Canada on the world stage.
Sarah Mitton Throws Olympic Standard
Despite the one-year postponement of the Olympic Games, Sarah Mitton of Toronto, ON inched ever closer to her Olympic dreams. The Brooklyn, NS native topped the podium at the Sir Graeme Douglas International in Auckland, New Zealand, throwing a personal best of 18.84m in the shot put and exceeding the Olympic qualification standard of 18.50m. Particularly noteworthy is who Mitton edged out to take the win at the February event: two-time Olympic gold medalist Valerie Adams and Canadian record holder Brittany Crew. While Athletics Canada will only select athletes to the team in the summer of 2021, Mitton stands in an excellent position to compete at her first Olympic Games.
Sydney Legion Nationals Named PRESTIGE Finalist
While Sydney, NS' hosting of the Royal Canadian Legion National Youth Track and Field Championships occurred well over a year ago in August of 2019, its legacy remains the talk of the town. The Local Arrangements Committee's hosting of the Championships were widely-praised, and were highlighted by a series of strong performances by Atlantic athletes, who collectively captured 3 golds, 1 silver, and 5 bronze. The Cape Breton Island community's hosting of the Legion Nationals has been named a finalist of the Canadian Sport Tourism Alliance's PRESTIGE Award for Canadian Sport Event of the Year in the Group B category (for events with a budget of less than one million dollars). While the winner was scheduled to be announced at the 2020 Sport Events Congress, the announcement has been postponed until the Congress' event can safely take place, expected in April of 2021.
The Tely10 Goes Virtual
Things looked a little different for the 93rd annual edition of one of the East Coast's most popular running events, as the Tely10 switched to a virtual format. While many annual road races switched to virtual formats this year, the St. John's, NL event did so in a particularly inspirational manner. Event organizers chose not to allow participants to upload their individual results – as most other virtual races have allowed – but to instead allow participants to simply indicate whether or not they completed the challenge that they set out to do. This format took finishing times and placements out of consideration, and placed additional emphasis on individual goals and the healthy activity that is central to the sport. Between the four challenge offerings, 1342 individuals marked theirs complete during the September to November event period.
YHZ Track and Field Club Hosts Indoor Tetrathlon
While it was a small competition open to U12 participants only, YHZ Track and Field Club's hosting of a tetrathlon in mid-November demonstrated the potential for a safe and successful hosting of this winter's indoor season. The Halifax-based all-ages club hosted Atlantic Canada's first – and so far only – indoor meet of the season at Canada Games Centre, where ten young athletes contested the tetrathlon, a multi-event comprised of the 60m, 600m, long jump, and shot put. Although the tetrathlon went off without a hitch, it was only one week later that a series of virus outbreaks occurred around the Atlantic provinces, causing the cancellation of two other meets: the Red and Black Open in Saint John and the Athletics NS Last Chance Meet in Halifax.
"While COVID-19 may have ripped through our sport with postponements, cancellations, and missed opportunities, these twenty-three moments make clear that 2020 was not a stagnant year for the Atlantic region," said Brandon Scott LeBlanc, Director of AtlanticU23. "Between much of this winter's indoor season being cancelled and the postponement of the Niagara Canada Summer Games to 2022, the pandemic has already impacted the possibilities for our sport in 2021, but the distribution of vaccines brings hope for the athletics community to see a progressive return to normalcy over the course of the year," LeBlanc added.
Finally, we wish to acknowledge the many volunteers for their tireless dedication towards supporting the continuance of sport in Atlantic Canada this year. The extraordinary efforts of coaches and sport administrators, who have gone above-and-beyond this year, have allowed training and competition opportunities to continue safely. One can only imagine how stagnant our sport would be – this year and any other – without the efforts of volunteers.
2020 was a strange year – here's hoping for much better in 2021!
---
Hosted by New Brunswick-born track runner, administrator, and coach Brandon Scott LeBlanc, AtlanticU23 is an interview series with upcoming Atlantic Canada track and field athletes under the age of 23.
Facebook: @AtlanticU23
Twitter: @AtlanticU23
User

Comments
Currently, there are no comments.