ACXC Prediction Contest!
Posted 6 months ago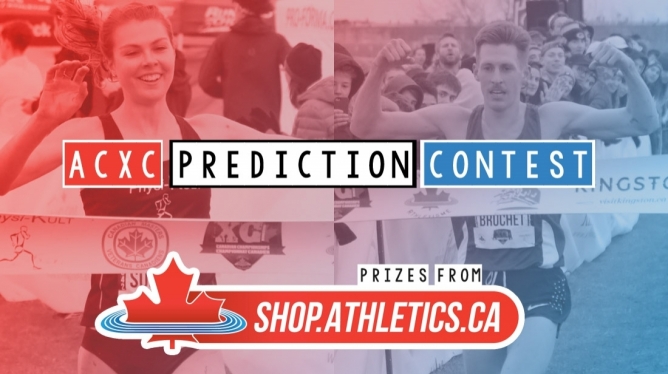 IMPORTANT ACXC LINKS
LIVE STREAM | LIVE RESULTS | MEET INFO | ENTRIES
CONTEST RULES & CRITERIA
There are 6 groups of runners (3 Male & 3 Female), you must choose ONE RUNNER FROM EACH GROUP, to make your team of 6 runners (all six runners will count towards your team score - lowest score wins). If your choose DNF or DNS they will be placed last place runner+1. If there is a tie the winner will be the one who entered the contest first! Limited one entry per person.
PRIZES
We'd like to thank Athletics Canada for donating some awesome prizes!
1st - $200 to be used at shop.athletics.ca
2nd - $100 to be used at shop.athletics.ca
3rd - $50 to be used at shop.athletics.ca
Top 3 will also receive a signed piece of apparel from an athlete of their choice. (Shawn Barber, Aaron Brown, Andre De Grasse, Derek Drouin, Brendon Rodney, Damian Warner, Melissa Bishop, Liz Gleadle, Phylicia George, Christabel Nettey, or Brianne Theisen-Eaton).
| | | | | |
| --- | --- | --- | --- | --- |
| Pos. | Name | TOTAL SCORE | Men | Women |
| 1 | BC Bud | 8 | 3 | 5 |
| 2 | Karen | 8 | 4 | 4 |
| 3 | Aiden Miller | 8 | 4 | 4 |
| 4 | Jacob Bonikowsky | 8 | 4 | 4 |
| 5 | Clifton Cunningham | 8 | 4 | 4 |
| 6 | John | 9 | 4 | 5 |
| 7 | Oksana | 9 | 4 | 5 |
| 8 | Rachel Mortimer | 9 | 5 | 4 |
| 9 | Buddy | 9 | 5 | 4 |
| 10 | Nolanjoe | 10 | 5 | 5 |
| 11 | Runner of the Nish | 10 | 6 | 4 |
| 12 | Kathleen | 10 | 4 | 6 |
| 13 | Mathieu Marillier | 10 | 5 | 5 |
| 14 | Francisco C | 10 | 5 | 5 |
| 15 | Cathy Tulkens | 10 | 6 | 4 |
| 16 | ACXCPredictionWinner | 10 | 5 | 5 |
| 17 | Zoe Burke | 10 | 6 | 4 |
| 18 | Kathleen Lewis | 10 | 6 | 4 |
| 19 | Paul Self | 11 | 7 | 4 |
| 20 | Greg Medwid | 11 | 6 | 5 |
| 21 | Dawson Nancekievill | 11 | 6 | 5 |
| 22 | Mathieu Richard | 11 | 6 | 5 |
| 23 | Eric Lutz | 11 | 5 | 6 |
| 24 | Andrew Cassidy | 11 | 7 | 4 |
| 25 | lukas jarron | 11 | 5 | 6 |
| 26 | Arielle | 11 | 5 | 6 |
| 27 | Avery Richards | 11 | 6 | 5 |
| 28 | Jeremy Hick | 12 | 7 | 5 |
| 29 | Catherine Watkins | 12 | 5 | 7 |
| 30 | Alex Cyr | 12 | 7 | 5 |
| 31 | Owen lockyer | 12 | 6 | 6 |
| 32 | Andy Hahn | 12 | 6 | 6 |
| 33 | CT | 12 | 7 | 5 |
| 34 | Shep | 12 | 6 | 6 |
| 35 | Andrew Davies | 12 | 8 | 4 |
| 36 | Gavin Hughes | 13 | 7 | 6 |
| 37 | Moist | 13 | 7 | 6 |
| 38 | Matt Norminton | 13 | 7 | 6 |
| 39 | Deryk | 13 | 7 | 6 |
| 40 | Kevin WM | 13 | 7 | 6 |
| 41 | Aurélie | 13 | 10 | 3 |
| 42 | Mid Dis Dad | 13 | 8 | 5 |
| 43 | Will Stewart | 13 | 8 | 5 |
| 44 | Zach Staffell | 13 | 4 | 9 |
| 45 | Dylan " The Real Man" Kiesler | 15 | 10 | 5 |
| 46 | trackboss | 15 | 11 | 4 |
| 47 | Tim Delcourt | 15 | 10 | 5 |
| 48 | Sarah | 15 | 4 | 11 |
| 49 | Miles Brackenbury | 15 | 8 | 7 |
| 50 | Sandy | 15 | 9 | 6 |
| 51 | Stephen Andersen | 16 | 13 | 3 |
| 52 | Alex Neuffer | 16 | 10 | 6 |
| 53 | Ivan Fernandez | 16 | 12 | 4 |
| 54 | Jacob Harris | 16 | 10 | 6 |
| 55 | Graeme Wells | 16 | 12 | 4 |
| 56 | Riordan Miya | 16 | 9 | 7 |
| 57 | Tyson Baker | 16 | 12 | 4 |
| 58 | Judith M Brain | 16 | 11 | 5 |
| 59 | Ammad Hussain | 16 | 7 | 9 |
| 60 | M4ttyb0y | 17 | 10 | 7 |
| 61 | Liam | 17 | 14 | 3 |
| 62 | Scott MacDonald | 17 | 8 | 9 |
| 63 | Andrew Lupenette | 17 | 5 | 12 |
| 64 | Jeff Lockyer | 17 | 12 | 5 |
| 65 | Anna Banana | 18 | 14 | 4 |
| 66 | Henry Bustard | 18 | 13 | 5 |
| 67 | Kyle Koyanagi | 18 | 13 | 5 |
| 68 | evan smith | 18 | 13 | 5 |
| 69 | Karen Thompson | 18 | 13 | 5 |
| 70 | Paul Sagriff | 18 | 14 | 4 |
| 71 | Peake71 | 18 | 11 | 7 |
| 72 | Ryan Davies | 18 | 13 | 5 |
| 73 | wmw | 18 | 14 | 4 |
| 74 | Ann chisholm | 18 | 9 | 9 |
| 75 | Mr. Trackie | 19 | 14 | 5 |
| 76 | Why not me ! | 19 | 14 | 5 |
| 77 | Varsity whos | 19 | 13 | 6 |
| 78 | Trixie Butterface | 19 | 14 | 5 |
| 79 | Lroots | 19 | 13 | 6 |
| 80 | CarterW | 19 | 14 | 5 |
| 81 | Caroline Forbes | 19 | 13 | 6 |
| 82 | Ben Richardson | 19 | 14 | 5 |
| 83 | Leo Papail | 19 | 14 | 5 |
| 84 | Ahad Naim | 19 | 14 | 5 |
| 85 | ToiletJoe | 19 | 14 | 5 |
| 86 | K Dazzle | 19 | 14 | 5 |
| 87 | Riordan | 19 | 15 | 4 |
| 88 | Josh | 20 | 14 | 6 |
| 89 | RunJaySned | 20 | 15 | 5 |
| 90 | Ron and Don | 20 | 13 | 7 |
| 91 | Ryan Were | 20 | 15 | 5 |
| 92 | Marcus Fogh | 20 | 13 | 7 |
| 93 | Mj | 20 | 15 | 5 |
| 94 | Delilah | 20 | 16 | 4 |
| 95 | String | 20 | 13 | 7 |
| 96 | AC Predictor | 20 | 14 | 6 |
| 97 | Anton Kuipers | 20 | 13 | 7 |
| 98 | john zelek | 20 | 15 | 5 |
| 99 | Aryou Manousi | 20 | 14 | 6 |
| 100 | Max Cornblum | 20 | 14 | 6 |
| 101 | Eric Hill | 20 | 14 | 6 |
| 102 | KML | 20 | 15 | 5 |
| 103 | Mikey Mather | 20 | 15 | 5 |
| 104 | Jonathan Peverill | 20 | 16 | 4 |
| 105 | Hiltown | 20 | 13 | 7 |
| 106 | All about the TOP FINISHER OUTSIDE | 21 | 10 | 11 |
| 107 | The Reaper | 21 | 14 | 7 |
| 108 | Keito Newman | 21 | 15 | 6 |
| 109 | Low key just picked "Top Finisher outside of the above listed athletes" every time | 21 | 10 | 11 |
| 110 | Robbie C | 21 | 15 | 6 |
| 111 | Mike Karn | 21 | 12 | 9 |
| 112 | Craig Pellerin | 21 | 15 | 6 |
| 113 | Track West founder | 21 | 15 | 6 |
| 114 | Skye pellerin | 21 | 15 | 6 |
| 115 | Scooter87 | 21 | 14 | 7 |
| 116 | AP @ the AP | 21 | 16 | 5 |
| 117 | TimL | 22 | 13 | 9 |
| 118 | Félix Bélanger-Cloutier | 22 | 17 | 5 |
| 119 | Tianna Dodds | 22 | 17 | 5 |
| 120 | Kyle Irvine | 23 | 17 | 6 |
| 121 | Mikenna Vanderheyden | 23 | 18 | 5 |
| 122 | Winner winner | 23 | 18 | 5 |
| 123 | aanika | 24 | 18 | 6 |
| 124 | Ali Barwick | 24 | 19 | 5 |
| 125 | Mikaela Ahloy | 24 | 18 | 6 |
| 126 | Adrienne | 25 | 9 | 16 |
| 127 | Treyton Pernitsky | 25 | 5 | 20 |
| 128 | Jack Adams | 25 | 18 | 7 |
| 129 | Ray | 26 | 21 | 5 |
| 130 | Cassie Vogt | 26 | 4 | 22 |
| 131 | Josh Lumani | 27 | 18 | 9 |
| 132 | Kevin J Smith | 27 | 19 | 8 |
| 133 | Bruce Davies | 28 | 11 | 17 |
| 134 | Julia Nikonorova | 28 | 23 | 5 |
| 135 | Tim Lewis | 28 | 17 | 11 |
| 136 | Matthew mason | 29 | 18 | 11 |
| 137 | Jody | 30 | 13 | 17 |
| 138 | Audrey Giles | 30 | 25 | 5 |
| 139 | Corey Gallagher | 31 | 25 | 6 |
| 140 | Emma | 31 | 27 | 4 |
| 141 | connor | 31 | 26 | 5 |
| 142 | Phil Dalton | 31 | 13 | 18 |
| 143 | Greg Westover | 32 | 27 | 5 |
| 144 | Kempertoo | 32 | 27 | 5 |
| 145 | Darcie Montgomery | 34 | 30 | 4 |
| 146 | Jeremy Walker | 34 | 26 | 8 |
| 147 | Sheldonk | 36 | 30 | 6 |
| 148 | Aiden | 36 | 13 | 23 |
| 149 | Kim Maser | 36 | 13 | 23 |
| 150 | Mark Duff | 37 | 32 | 5 |
| 151 | Akiva | 37 | 32 | 5 |
| 152 | Sebastian Saville | 39 | 21 | 18 |
| 153 | Maddison Stapleton | 39 | 33 | 6 |
| 154 | awong | 39 | 33 | 6 |
| 155 | Adam Strueby | 41 | 3 | 38 |
| 156 | Kyle Desormeaux | 41 | 3 | 38 |
| 157 | Addison Derhak | 43 | 5 | 38 |
| 158 | Not the winner of this race, but the winner of the AP | 47 | 10 | 37 |
| 159 | Will Riley | 48 | 44 | 4 |
| 160 | Madelyn Bonikowsky | 48 | 44 | 4 |
| 161 | Robert Hammer | 49 | 46 | 3 |
| 162 | Natalie | 49 | 44 | 5 |
| 163 | Zack J | 50 | 45 | 5 |
| 164 | M | 50 | 45 | 5 |
| 165 | I know nothing | 50 | 12 | 38 |
| 166 | Hugh Langley | 50 | 44 | 6 |
| 167 | hillrunner | 50 | 46 | 4 |
| 168 | Matthew Houlzet | 51 | 46 | 5 |
| 169 | Billy | 51 | 13 | 38 |
| 170 | cc | 51 | 46 | 5 |
| 171 | Tony Noble | 52 | 46 | 6 |
| 172 | Zachary | 52 | 10 | 42 |
| 173 | Mark Miller | 53 | 15 | 38 |
| 174 | jack cooper | 54 | 46 | 8 |
| 175 | Bryan Versteeg | 54 | 4 | 50 |
| 176 | plumlover69 | 55 | 46 | 9 |
| 177 | Ryan Larter | 55 | 11 | 44 |
| 178 | Kat Ali | 55 | 46 | 9 |
| 179 | Hamda Youssef | 56 | 14 | 42 |
| 180 | Reid Coolsaet | 56 | 11 | 45 |
| 181 | WRTC | 57 | 15 | 42 |
| 182 | National Chumpion | 57 | 53 | 4 |
| 183 | Cwg | 57 | 54 | 3 |
| 184 | hannah carley | 57 | 8 | 49 |
| 185 | Esteban Clavijo cat | 58 | 54 | 4 |
| 186 | Dean VanHerpe | 58 | 54 | 4 |
| 187 | Asad | 58 | 53 | 5 |
| 188 | Ronan Tunney | 58 | 53 | 5 |
| 189 | Chappell | 58 | 54 | 4 |
| 190 | EmmaT | 58 | 18 | 40 |
| 191 | David Afelskie | 58 | 46 | 12 |
| 192 | jonathanbender | 59 | 54 | 5 |
| 193 | Ryan Fraccaro | 59 | 53 | 6 |
| 194 | Brendan Carpenter | 59 | 54 | 5 |
| 195 | Pat Bailey | 59 | 14 | 45 |
| 196 | BDE | 59 | 54 | 5 |
| 197 | canadianrunner | 60 | 10 | 50 |
| 198 | Jensen Lau | 60 | 13 | 47 |
| 199 | Nooooo ....!! | 60 | 53 | 7 |
| 200 | Matt Sheeler | 60 | 54 | 6 |
| 201 | Cam | 60 | 45 | 15 |
| 202 | Cam Schmidt | 60 | 45 | 15 |
| 203 | Alec Purnell | 61 | 54 | 7 |
| 204 | Alex Mason | 61 | 10 | 51 |
| 205 | Huw Morgan | 61 | 13 | 48 |
| 206 | Katrina Allison | 61 | 55 | 6 |
| 207 | Jonathan Desouza | 61 | 50 | 11 |
| 208 | Adam Leroux | 62 | 54 | 8 |
| 209 | Mark Giddens | 63 | 14 | 49 |
| 210 | mr.creumon | 63 | 47 | 16 |
| 211 | Jonah Lee | 63 | 24 | 39 |
| 212 | Aaron Muhwinnie | 63 | 58 | 5 |
| 213 | Michael Doyle | 63 | 14 | 49 |
| 214 | David Tepper | 63 | 15 | 48 |
| 215 | Owen Johnstone | 64 | 14 | 50 |
| 216 | Cassian Murray-White | 66 | 54 | 12 |
| 217 | Jamie-Lee Eckert | 66 | 14 | 52 |
| 218 | Emily | 66 | 58 | 8 |
| 219 | Alex Hansen | 67 | 8 | 59 |
| 220 | Shawn Master | 67 | 8 | 59 |
| 221 | Lori Costa | 67 | 14 | 53 |
| 222 | Joey Bear | 67 | 7 | 60 |
| 223 | Scott Skimming | 68 | 54 | 14 |
| 224 | Josh | 68 | 13 | 55 |
| 225 | SB | 68 | 8 | 60 |
| 226 | Upset City | 69 | 9 | 60 |
| 227 | James | 69 | 54 | 15 |
| 228 | Alex Larochelle | 70 | 10 | 60 |
| 229 | Santy | 70 | 10 | 60 |
| 230 | Alexander Megas | 70 | 20 | 50 |
| 231 | anonymous | 71 | 33 | 38 |
| 232 | Phil PM | 71 | 15 | 56 |
| 233 | Patrick Dean | 72 | 12 | 60 |
| 234 | Dean Morisseau | 73 | 12 | 61 |
| 235 | Juul Muulon | 73 | 13 | 60 |
| 236 | Brian Lovshin | 73 | 13 | 60 |
| 237 | Liana | 74 | 13 | 61 |
| 238 | Tommy Hong | 74 | 18 | 56 |
| 239 | Guess who just got back today Them wild-eyed boys that had been away... | 74 | 25 | 49 |
| 240 | Félix Quirion | 75 | 4 | 71 |
| 241 | Brant | 75 | 15 | 60 |
| 242 | Carolyn Daubeny | 75 | 5 | 70 |
| 243 | Natasha Iwuc | 76 | 53 | 23 |
| 244 | Pauline Hamilton | 76 | 47 | 29 |
| 245 | Chris Taylor | 76 | 15 | 61 |
| 246 | One Two Three | 77 | 19 | 58 |
| 247 | Meredith Chambers | 77 | 17 | 60 |
| 248 | Amélie Cormier | 77 | 31 | 46 |
| 249 | Dale Lapham | 77 | 27 | 50 |
| 250 | Laura McLean | 78 | 33 | 45 |
| 251 | Craig | 79 | 30 | 49 |
| 252 | Tara Thompson | 80 | 23 | 57 |
| 253 | Robin Richard | 80 | 21 | 59 |
| 254 | Track mama | 81 | 21 | 60 |
| 255 | Tanner Sleep | 82 | 15 | 67 |
| 256 | Isaiah frielink | 85 | 47 | 38 |
| 257 | Ian MacDonald | 86 | 48 | 38 |
| 258 | Alexandre Huot | 86 | 16 | 70 |
| 259 | Paul Kemp | 87 | 26 | 61 |
| 260 | chris | 88 | 45 | 43 |
| 261 | Annika | 89 | 28 | 61 |
| 262 | Jburrows | 90 | 48 | 42 |
| 263 | devo | 90 | 24 | 66 |
| 264 | Aline hache | 91 | 13 | 78 |
| 265 | Shawn G | 92 | 39 | 53 |
| 266 | Bruce Waite | 96 | 11 | 85 |
| 267 | Joshua Zelek | 97 | 54 | 43 |
| 268 | Peter Groeneveld | 99 | 8 | 91 |
| 269 | M. Amine Kourouss | 100 | 54 | 46 |
| 270 | Mitch Heyink | 100 | 7 | 93 |
| 271 | Andrew | 100 | 17 | 83 |
| 272 | Suda | 102 | 54 | 48 |
| 273 | Stephen Robinson | 103 | 16 | 87 |
| 274 | Sydney Hawkins | 103 | 52 | 51 |
| 275 | Kevin Blackney | 103 | 52 | 51 |
| 276 | GG | 103 | 54 | 49 |
| 277 | Brenda gillan | 104 | 37 | 67 |
| 278 | Marcel Scheele | 105 | 45 | 60 |
| 279 | Alena Ivanov | 105 | 54 | 51 |
| 280 | Katie | 105 | 46 | 59 |
| 281 | Brandon Scott LeBlanc | 106 | 46 | 60 |
| 282 | Raider | 112 | 108 | 4 |
| 283 | Matt McNeil | 112 | 108 | 4 |
| 284 | Jonathan | 112 | 108 | 4 |
| 285 | Dawson N | 112 | 108 | 4 |
| 286 | mark royce | 112 | 18 | 94 |
| 287 | speedgoggles | 113 | 109 | 4 |
| 288 | Michael Smith | 113 | 108 | 5 |
| 289 | Yaegs | 113 | 109 | 4 |
| 290 | Aivar Koppel | 113 | 108 | 5 |
| 291 | Clancy | 113 | 108 | 5 |
| 292 | Adrian Christ | 113 | 108 | 5 |
| 293 | Rookie Dan | 114 | 108 | 6 |
| 294 | NC Blogger | 114 | 110 | 4 |
| 295 | Cheese | 114 | 110 | 4 |
| 296 | DR | 114 | 108 | 6 |
| 297 | xray | 114 | 110 | 4 |
| 298 | AGordocity | 114 | 109 | 5 |
| 299 | Blair Morgan | 114 | 109 | 5 |
| 300 | Nick Scali | 114 | 111 | 3 |
| 301 | Dan Heschuk | 114 | 108 | 6 |
| 302 | Graeme | 114 | 109 | 5 |
| 303 | mattchew | 114 | 108 | 6 |
| 304 | Tenny G Mckenzie | 114 | 54 | 60 |
| 305 | Nick Scali | 114 | 111 | 3 |
| 306 | oh no, where did the groove go? | 114 | 109 | 5 |
| 307 | Luc Gallant | 115 | 109 | 6 |
| 308 | AP | 115 | 110 | 5 |
| 309 | Jess Baraskewich | 115 | 109 | 6 |
| 310 | DVS | 115 | 110 | 5 |
| 311 | DP | 115 | 110 | 5 |
| 312 | Alexander McBride | 115 | 110 | 5 |
| 313 | Dilly | 115 | 109 | 6 |
| 314 | Matthew Thibodeau | 115 | 110 | 5 |
| 315 | Michael Styba | 115 | 110 | 5 |
| 316 | MB | 115 | 109 | 6 |
| 317 | 9er | 115 | 110 | 5 |
| 318 | NoseDr | 115 | 109 | 6 |
| 319 | Cameron Dean | 115 | 109 | 6 |
| 320 | Madelyn Huston | 115 | 110 | 5 |
| 321 | ColeThePole | 115 | 110 | 5 |
| 322 | Oriana | 115 | 109 | 6 |
| 323 | Nicole W | 115 | 109 | 6 |
| 324 | PRED MASTER 3000 | 116 | 111 | 5 |
| 325 | Brandon Vail | 116 | 110 | 6 |
| 326 | Matt Smith | 116 | 55 | 61 |
| 327 | Milesdavisandthecool | 116 | 110 | 6 |
| 328 | Joe Groeneveld | 116 | 109 | 7 |
| 329 | Clive | 116 | 110 | 6 |
| 330 | Michael Huber | 116 | 54 | 62 |
| 331 | TBirdoooooooo | 116 | 109 | 7 |
| 332 | Alex Warren | 116 | 26 | 90 |
| 333 | James Redmond | 116 | 112 | 4 |
| 334 | William Simoneau | 117 | 112 | 5 |
| 335 | Lee | 117 | 109 | 8 |
| 336 | Eric B | 118 | 109 | 9 |
| 337 | Gullaume Lessard | 118 | 58 | 60 |
| 338 | Brendan Simone | 118 | 114 | 4 |
| 339 | HOF DADDY | 118 | 113 | 5 |
| 340 | Rod | 118 | 113 | 5 |
| 341 | Ryan Mutuchky | 118 | 14 | 104 |
| 342 | CB | 119 | 114 | 5 |
| 343 | Chris Daniel | 119 | 113 | 6 |
| 344 | Dirty Dan | 119 | 113 | 6 |
| 345 | Sam Dorosz | 119 | 114 | 5 |
| 346 | Jarry | 120 | 111 | 9 |
| 347 | Derek Snider | 120 | 115 | 5 |
| 348 | Martin A. | 120 | 114 | 6 |
| 349 | JR | 121 | 116 | 5 |
| 350 | Kieran McDonald | 121 | 116 | 5 |
| 351 | Alberto Charizard | 121 | 116 | 5 |
| 352 | Jeff lapierre | 121 | 116 | 5 |
| 353 | Jake Wing | 121 | 113 | 8 |
| 354 | John Jelaca | 121 | 112 | 9 |
| 355 | MacDaddy | 121 | 116 | 5 |
| 356 | GFT | 121 | 116 | 5 |
| 357 | Winehands | 121 | 117 | 4 |
| 358 | Oddish | 122 | 117 | 5 |
| 359 | Micharl the Joggler Bergeron | 122 | 118 | 4 |
| 360 | Jannes | 122 | 118 | 4 |
| 361 | Kenny Bekele | 122 | 117 | 5 |
| 362 | (NOT NOT NOT NOT) NOT TRACKIE: AKA NOT TRACKIE IF YOU CANCEL OUT THE QUINTUPLE NEGATIVE | 122 | 117 | 5 |
| 363 | Tyrone Traher II | 122 | 18 | 104 |
| 364 | Saed Griffith | 122 | 117 | 5 |
| 365 | Dawn Burke | 122 | 118 | 4 |
| 366 | Alex Clemis | 122 | 116 | 6 |
| 367 | Jamie | 122 | 116 | 6 |
| 368 | Riley Miller | 122 | 118 | 4 |
| 369 | Julia | 122 | 117 | 5 |
| 370 | Danielle T | 123 | 118 | 5 |
| 371 | ctcallaghan | 123 | 117 | 6 |
| 372 | Jamille Flores | 123 | 30 | 93 |
| 373 | Bill Hopton | 123 | 117 | 6 |
| 374 | david cashin | 123 | 117 | 6 |
| 375 | Bruchet's Third Leg | 123 | 118 | 5 |
| 376 | Brendan Masters | 123 | 116 | 7 |
| 377 | Maverick | 123 | 117 | 6 |
| 378 | Kristin Groeneveld | 123 | 117 | 6 |
| 379 | Marie Soehl | 123 | 117 | 6 |
| 380 | Aaron Bruyns | 124 | 118 | 6 |
| 381 | Will | 124 | 117 | 7 |
| 382 | Dave Korell | 124 | 118 | 6 |
| 383 | Mitch Kirby | 124 | 118 | 6 |
| 384 | Wyynnyyy | 124 | 118 | 6 |
| 385 | Molly | 124 | 118 | 6 |
| 386 | Hana Marmura | 124 | 119 | 5 |
| 387 | Tyler dj | 125 | 110 | 15 |
| 388 | Nicholas D'Alessandro | 125 | 110 | 15 |
| 389 | Kenny B | 125 | 117 | 8 |
| 390 | Whereismymom? | 125 | 121 | 4 |
| 391 | Liv | 125 | 117 | 8 |
| 392 | Matt | 125 | 117 | 8 |
| 393 | liyang | 126 | 121 | 5 |
| 394 | Patrick MacKinnon | 127 | 118 | 9 |
| 395 | Danielle keefe | 127 | 117 | 10 |
| 396 | Sofia kov | 127 | 50 | 77 |
| 397 | Sean Ibbott | 127 | 121 | 6 |
| 398 | Tyler Jones | 127 | 110 | 17 |
| 399 | Zach Quevillon | 128 | 117 | 11 |
| 400 | Luca Geiser | 129 | 117 | 12 |
| 401 | Jeff Mountjoy | 129 | 117 | 12 |
| 402 | Skrt | 130 | 70 | 60 |
| 403 | Billie | 132 | 128 | 4 |
| 404 | Sue Dujmovic | 132 | 128 | 4 |
| 405 | Bill Hamilton | 132 | 128 | 4 |
| 406 | Lamchops | 133 | 118 | 15 |
| 407 | Sadie Hickson | 133 | 128 | 5 |
| 408 | Owen Johnstone | 133 | 54 | 79 |
| 409 | Mitch Ubene | 134 | 129 | 5 |
| 410 | Paul R | 134 | 117 | 17 |
| 411 | timbo | 134 | 128 | 6 |
| 412 | Ryan May | 134 | 54 | 80 |
| 413 | Alex Ull-mans | 134 | 128 | 6 |
| 414 | Tyler Cassidy | 138 | 130 | 8 |
| 415 | Scotty | 139 | 46 | 93 |
| 416 | MacDougsll | 140 | 132 | 8 |
| 417 | Rob Kank | 141 | 135 | 6 |
| 418 | Alison Hansen | 141 | 54 | 87 |
| 419 | Annika | 141 | 47 | 94 |
| 420 | 14k | 142 | 136 | 6 |
| 421 | Mathew Butler | 142 | 136 | 6 |
| 422 | John Arih | 144 | 67 | 77 |
| 423 | Reid Palmer | 146 | 108 | 38 |
| 424 | Mike Juurlink | 146 | 136 | 10 |
| 425 | Dylan | 147 | 56 | 91 |
| 426 | Claire Murchison | 147 | 134 | 13 |
| 427 | Katie Stringham | 148 | 136 | 12 |
| 428 | Joé Dufour | 148 | 110 | 38 |
| 429 | Running is hard | 150 | 136 | 14 |
| 430 | Richard Sontz | 151 | 144 | 7 |
| 431 | Jarry | 152 | 113 | 39 |
| 432 | Marc-André Raiche | 152 | 30 | 122 |
| 433 | Manon Plouvjer | 153 | 149 | 4 |
| 434 | Andrew Jones | 153 | 136 | 17 |
| 435 | Daniel Turco | 154 | 149 | 5 |
| 436 | Nick Xie | 154 | 149 | 5 |
| 437 | Jared Welsh | 154 | 149 | 5 |
| 438 | Amanda | 154 | 149 | 5 |
| 439 | Kate | 154 | 149 | 5 |
| 440 | Brent meidinger | 154 | 117 | 37 |
| 441 | BP | 154 | 149 | 5 |
| 442 | Grapes | 154 | 116 | 38 |
| 443 | Jordan Langridge | 155 | 149 | 6 |
| 444 | chic | 155 | 149 | 6 |
| 445 | Meghan Manor | 155 | 149 | 6 |
| 446 | Mark Duff | 155 | 149 | 6 |
| 447 | Laura Dickinson | 155 | 150 | 5 |
| 448 | Cameron Bates | 156 | 150 | 6 |
| 449 | Andrew | 156 | 149 | 7 |
| 450 | Cameryn Griffiths | 157 | 118 | 39 |
| 451 | jamille | 157 | 53 | 104 |
| 452 | The Psychic | 157 | 152 | 5 |
| 453 | ryguy | 158 | 116 | 42 |
| 454 | Heidi | 159 | 155 | 4 |
| 455 | The Mantis | 159 | 121 | 38 |
| 456 | Samantha Radowits | 160 | 155 | 5 |
| 457 | Christie Hamilton | 160 | 121 | 39 |
| 458 | Charlotte Giddens | 161 | 155 | 6 |
| 459 | Adam Marshall | 161 | 157 | 4 |
| 460 | Caleb Trotter | 161 | 157 | 4 |
| 461 | Felix A Lapointe | 162 | 157 | 5 |
| 462 | XCRunner | 162 | 157 | 5 |
| 463 | Bob Sacamano | 162 | 157 | 5 |
| 464 | John Lofranco | 162 | 157 | 5 |
| 465 | Claire Sumner | 162 | 157 | 5 |
| 466 | chris moore | 163 | 118 | 45 |
| 467 | High Mileage | 163 | 157 | 6 |
| 468 | Alternative Alec | 163 | 157 | 6 |
| 469 | Jim Graham | 163 | 157 | 6 |
| 470 | Neel | 163 | 157 | 6 |
| 471 | SP | 165 | 149 | 16 |
| 472 | Camille Riopel | 166 | 157 | 9 |
| 473 | Jordan | 166 | 129 | 37 |
| 474 | Keegan Gaunt | 166 | 118 | 48 |
| 475 | Sydney | 167 | 150 | 17 |
| 476 | Jon | 167 | 149 | 18 |
| 477 | Tyler | 167 | 118 | 49 |
| 478 | spike | 168 | 108 | 60 |
| 479 | Brady Graves | 168 | 118 | 50 |
| 480 | Timothy Longley | 168 | 108 | 60 |
| 481 | Justin Spalvieri | 169 | 108 | 61 |
| 482 | Mathieu Gauthier | 169 | 109 | 60 |
| 483 | Aaron Cooper | 170 | 110 | 60 |
| 484 | Riley | 170 | 109 | 61 |
| 485 | Aidan Bridger | 170 | 116 | 54 |
| 486 | J-Mac | 170 | 109 | 61 |
| 487 | Derrick Evans | 170 | 110 | 60 |
| 488 | Show me the money | 171 | 121 | 50 |
| 489 | Maxine Gravina | 172 | 157 | 15 |
| 490 | Kevin Falk | 173 | 124 | 49 |
| 491 | Nick Kondrat | 176 | 116 | 60 |
| 492 | Elderado | 176 | 116 | 60 |
| 493 | Jeremy | 176 | 116 | 60 |
| 494 | Nickolas Kosmenko | 178 | 118 | 60 |
| 495 | Jack Emo | 178 | 117 | 61 |
| 496 | Galen Rupp | 179 | 119 | 60 |
| 497 | Foot in the crease | 179 | 129 | 50 |
| 498 | Mateo Labelle Cossios | 182 | 143 | 39 |
| 499 | Nicholas Neri | 188 | 150 | 38 |
| 500 | Owen Harris | 188 | 128 | 60 |
| 501 | Christian Weber | 188 | 184 | 4 |
| 502 | Michaela Wilson | 190 | 184 | 6 |
| 503 | Jason Lawes | 190 | 175 | 15 |
| 504 | SebOuel | 191 | 185 | 6 |
| 505 | Michaela | 192 | 185 | 7 |
| 506 | Deborah Kerr | 192 | 136 | 56 |
| 507 | Lindsay Furtado | 194 | 157 | 37 |
| 508 | Meaghan Boatsmith | 195 | 125 | 70 |
| 509 | Nathan Flach | 195 | 157 | 38 |
| 510 | Nassim | 196 | 146 | 50 |
| 511 | DP | 196 | 148 | 48 |
| 512 | Steve McGrail | 197 | 182 | 15 |
| 513 | Jean-Pierre Morin | 200 | 150 | 50 |
| 514 | Alexa C | 202 | 157 | 45 |
| 515 | Colin Traher | 202 | 149 | 53 |
| 516 | KristianB | 206 | 157 | 49 |
| 517 | Alectra Blue | 206 | 157 | 49 |
| 518 | Derek Hick | 206 | 155 | 51 |
| 519 | Stef Smith | 206 | 155 | 51 |
| 520 | Simon Fortin | 206 | 118 | 88 |
| 521 | Shawn Master | 208 | 157 | 51 |
| 522 | reilly mccann | 209 | 149 | 60 |
| 523 | Dayton Bath | 209 | 149 | 60 |
| 524 | James King | 209 | 159 | 50 |
| 525 | Distanceraymond | 209 | 109 | 100 |
| 526 | Running by Design | 209 | 149 | 60 |
| 527 | George Costanza | 210 | 108 | 102 |
| 528 | DT19 | 213 | 163 | 50 |
| 529 | David Hopton | 214 | 121 | 93 |
| 530 | Matthew Wahl | 216 | 161 | 55 |
| 531 | Nick Falk | 217 | 165 | 52 |
| 532 | Kendall | 221 | 182 | 39 |
| 533 | Ryan Grieco | 225 | 182 | 43 |
| 534 | Matthew Corolis | 234 | 174 | 60 |
| 535 | Keithan Sivapragasam | 234 | 184 | 50 |
| 536 | I just guessed everyone! | 236 | 130 | 106 |
| 537 | John Cannon | 242 | 182 | 60 |
| 538 | Darcy Mccardle | 244 | 184 | 60 |
| 539 | Brenda | 244 | 183 | 61 |
| 540 | Geeeeeeeeeeeeeeeee | 253 | 149 | 104 |
| 541 | Mcskillz | 270 | 136 | 134 |
| 542 | Olivia Roussel | 272 | 266 | 6 |
| 543 | Timmy t | 275 | 182 | 93 |
| 544 | Jason Doetsch | 293 | 287 | 6 |
| 545 | SJS | 296 | 196 | 100 |
| 546 | Kathy Masters | 346 | 287 | 59 |
| 547 | Tricia Brisebois | 350 | 287 | 63 |
User

Comments
Anonymous

---

Posts: 50168

Anonymous said 6 months ago

Your selection for U18 girls could have been better. No Sophie Coutts or Cassandra Williamson but you have Elissa Frielink. No Anna Workman in U20 either. Not entering this one.

This post was edited by a Moderator [Issues] 6 months ago .

Message from Moderator:

As mentioned in the previous contest, we can't put everyone in the contest. We try to make it balanced so people have options at similar levels to choose from. Sorry to hear you won't be participating.

If you have issues/questions please contact moderator@trackie.com.

Quote comment

Anonymous

---

Posts: 50168

Actually said 6 months ago

Quoting: Anonymous
"Your selection for U18 girls could have been better. No Sophie Coutts or Cassandra Williamson but you have Elissa Frielink. No Anna Workman in U20 either. Not entering this one."

Actually, they are in it. Just choose the "other" option.

Quote comment

User since:
Oct 11th, 2013

---

Posts: 312
Anonymous

---

Posts: 50168

Anonymous said 6 months ago

Quoting: Anonymous
"Your selection for U18 girls could have been better. No Sophie Coutts or Cassandra Williamson but you have Elissa Frielink. No Anna Workman in U20 either. Not entering this one."

Where did this idea of Anna Workman being a threat come from? Very good runner, but didn't even medal at OFSAA and the winner of that race has zero shot at winning the U20 race.

Workman will be 8th at best, and likely 3rd or 4th on her own team!

You're being asked to pick the WINNER only. Workman will be lucky to beat any of the following, let alone all of them:

Forsyth

Brogan

Chau

Ormond

O'Neil

Fitzgerald

Smith

McCulloch

Ford

Quote comment

User since:
Jun 8th, 2015

---

Posts: 1314

Buddy said 6 months ago

Based on the U18 options, I'm out as well.
See you next time.

Quote comment

Anonymous

---

Posts: 50168

trackie fan said 6 months ago

moderators: don't be sorry!

Quote comment

Anonymous

---

Posts: 50168

Anonymous said 6 months ago

Quoting: Anonymous
"Your selection for U18 girls could have been better. No Sophie Coutts or Cassandra Williamson but you have Elissa Frielink. No Anna Workman in U20 either. Not entering this one."

Please provide the link to the contest you are hosting, and let us know the prizes.

Glad you are not entering - easier for me, but my the looks of things, you are not that smart anyway, as the contest clearly allowed for people they did not list to be selected.

This post was edited by a Moderator [Issues] 6 months ago .

Quote comment

Anonymous

---

Posts: 50168

Anonymous said 6 months ago

Quoting: Buddy
"Based on the U18 options, I'm out as well.
See you next time."

literally no one cares.

Quote comment

User since:
Sep 25th, 2014

---

Posts: 109

cooperaa said 6 months ago

Quoting: Buddy
"Based on the U18 options, I'm out as well.
See you next time."

You could have used your knowledge of the U18 categories to your advantage but instead you decided this (a meaningless prediction contest) was a cause worthy of raising a stink. Your loss, I guess.

Quote comment

User since:
Jun 8th, 2015

---

Posts: 1314

Buddy said 6 months ago

Your mother does.



Quoting: Anonymous
"literally no one cares."

Quote comment

User since:
Jun 8th, 2015

---

Posts: 1314

Buddy said 6 months ago

What about reply #1?
Give them some love too.



Quoting: Anonymous
"Please provide the link to the contest you are hosting, and let us know the prizes.

Glad you are not entering - easier for me, but my the looks of things, you are not that smart anyway, as the contest clearly allowed for people they did not list to be selected."

Quote comment

Anonymous

---

Posts: 50168

Anonymous said 6 months ago

Quoting: Buddy
"Based on the U18 options, I'm out as well.
See you next time."

Feels so entitled that he has to comment just to say that he's not entering the contest. You're like that customer at a restaurant who verbally announces to everyone that they'll never eat there again and all the people who work there are like "Thank god"

Quote comment

Anonymous

---

Posts: 50168

Anonymous said 5 months ago

LIVE STREAM NOT WORKING!!!! SAYS LINK DOESNT WORK!!!! FIX NOW PLEASE!!!

Quote comment

User since:
Oct 8th, 2014

---

Posts: 35
User since:
Jul 26th, 2002

---

Posts: 2213

Trackie said 5 months ago

Quoting: Anonymous
"LIVE STREAM NOT WORKING!!!! SAYS LINK DOESNT WORK!!!! FIX NOW PLEASE!!!"

It appears

www.athleticscanada.tv

has an issue. I am sure they are working on fixing it so hopefully the link works again shortly.

Quote comment

User since:
Nov 24th, 2018

---

Posts: 1
Anonymous

---

Posts: 50168

Anonymous said 5 months ago

Thank you "The Hacker", Seems to be an issue every year on this annual event. Missed my son's race years ago and "had to buy the video". Maybe that is the intention all along ???

Quote comment

Anonymous

---

Posts: 50168

Anonymous said 5 months ago

Quoting: Anonymous
"Thank you "The Hacker", Seems to be an issue every year on this annual event. Missed my son's race years ago and "had to buy the video". Maybe that is the intention all along ???"

I don't think there would be that kind of conspiracy theory. If you watch other live streams it seems to be a problem with many live streams and not just ACXC...

Quote comment

Anonymous

---

Posts: 50168

Anonymous said 5 months ago

Sorry that I cannot send you the bill to reimburse me for that "video". To send my son to Vancouver using my Air Miles and mooching my cousin to put up my son for 2 nights. Oh yea and the rides to and from the race site and the airport. Never got to see him race & finishing in the top 10 that year. Did you know there is a hotel right across the street, but it is closed from Sept. - March each year. What is with that ?

Quote comment

Anonymous

---

Posts: 50168

Anonymous said 5 months ago

Quoting: Anonymous
"Sorry that I cannot send you the bill to reimburse me for that "video". To send my son to Vancouver using my Air Miles and mooching my cousin to put up my son for 2 nights. Oh yea and the rides to and from the race site and the airport. Never got to see him race & finishing in the top 10 that year. Did you know there is a hotel right across the street, but it is closed from Sept. - March each year. What is with that ?"

I get the feeling you think that Trackie runs the video ...

Quote comment

Anonymous

---

Posts: 50168

Anonymous said 5 months ago

Quoting: Anonymous
"I get the feeling you think that Trackie runs the video ..."

It certainly is not trackie nor you.

Quote comment

Anonymous

---

Posts: 50168

TheChamp said 5 months ago

(1) Who actually believed Aysia Maurice, Anna Workman, Claire Sumner and Branna MacDougall were going to win their races???

(2) Note who took the Uni coaches win?

Quote comment

Anonymous

---

Posts: 50168

Anonymous said 5 months ago

ok...how on earth do you hurt yourself doing chin ups!! Curse you (you know who I mean). I could have tied for first...

Quote comment

User since:
May 3rd, 2018

---

Posts: 26

BCBud said 5 months ago

Can anyone from the top 3 in the last prediction contest tell me when they were contacted? Still waiting on an email to at least confirm the W

Quote comment

Anonymous

---

Posts: 50168

Anonymous said 5 months ago

What's up with the Senior men's team results? Will it be fixed?

Quote comment