Athletics Canada names team for 2015 Panamerican Juniors
Posted 3 years ago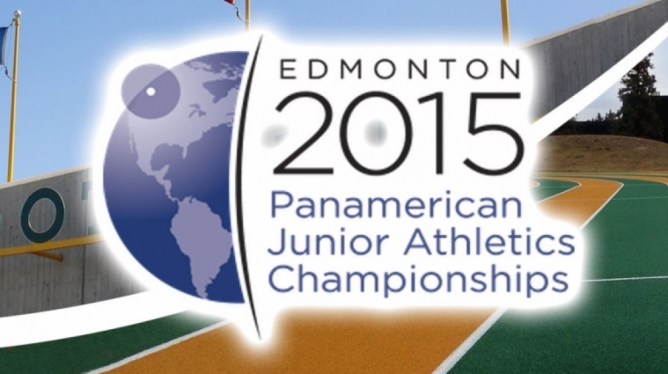 Athletics Canada is proud to name today a roster of 63 athletes to compete at the 2015 Panamerican Junior Championships (18-19 years of age). The competition takes place July 31 to August 2 in Edmonton, Alta.
"The Pan Am Junior Championships are an excellent opportunity for young upcoming athletes. Competing at home against the best from the pan am region in this age group should elevate their performances and provide them with an excellent learning opportunity," said Canadian Pan Am Juniors Head Coach Les Gramantik.
Canadian medallists at the last edition of the Panamerican Junior Championships included new Canadian record holders Shawn Barber (pole vault) and Andre De Grasse (200m). Overall Canada ranked second in total medal count collecting 19 medals (6 gold, 6 silver, 7 bronze) and third in gold medals.
This will be the third major event hosted in Edmonton this summer by TrackTown Canada after the Canadian Track and Field Championships and the National Track League's TrackTown Classic.
Relay teams will be chosen by the coaching staff from the pool of athletes already named to the team.
Female athletes
Name, Event, Hometown, Coach, Club
Leya Buchanan, 100m/200m, Mississauga, ON, Tony Sharpe, The Speed Academy
Maya Stephens, 100m, Toronto, ON, Tony Sharpe, The Speed Academy
Kendra Clarke, 200m/400m, Edmonton, AB, Dwight Francis, Voléo Athletics
Taylor Sharpe, 400m, Pickering, ON, Tony Sharpe, The Speed Academy
Evelyne Guay, 800m, Oakville, ON, Andrea Grove, Harbour Track
Erinn Stenman-Fahey, 800m, Ottawa, ON, Lorraine McKenzie, Ottawa Lions
Alexandra Lucki, 1500m, Toronto, ON, Gary Westgate, Etobicoke Track and Field
Nicole Hutchinson, 1500m, Vancouver, BC, Cindy O'Krane, Hershey Harriers Athletics Club
Claire Smith, 3000m, Ottawa, ON, Kirk Dillabaugh, Ottawa Lions
Mirelle Martens, 3000m, Grande Prairie, AB, Bill Corcoran, Wolves Athletics Club
Anne-Marie Comeau, 5000m, Quebec, QC, Felix-Antoine Lapointe, Université Laval
Aurélie Dube-Lavoie, 5000m, Quebec, QC, Philippe Larochelle, Lavironde
Alexandra Aitken, 100mH, Clinton, ON, Sandy Cooper Ryder, London Legion TFC
Jaymie O'Connor, 100mH, Chateauguay, QC, Iouri Zrajevski, Athletica
Taysia Radoslav, 400mH, Stoney Creek, ON, Tom Bereza, Monte Cristo Track Club
Mariam Abdul-Rashid, 400mH, Oshawa, ON, Tony Sharpe, The Speed Academy
Jessy Lacourse, 3000m SC, Victoriaville, QC, Jacques Hince, Kalenjins
Charlotte Prouse, 3000m SC, London, ON, Janet Takahashi, London Legion Track Alliance
Noocile Jean, High Jump, Montreal, QC, Daniel St-Hilaire, Vainqueurs Plus
Madison Evans, Pole Vault, Calgary, AB, John Cannon, Calgary International Track Club
Magali Roche, Long Jump, Montreal, QC, Bogdan Tarus Vainqueurs Plus
Angela Mercurio, Triple Jump, Kitchener, ON, Gary Pepin, Supreme Athletics
Sarah Mitton, Shot Put, Brooklyn, NS, Tammy Gaudet, Bluenose Athletics
Obeng Marfo, Shot Put/Discus, Etobicoke, ON, Jack Harkness, York University TFC
Haylea Salamon, Discus, Saskatoon, SK, Vince Salamon, Saskatoon Track and Field Club
Natasha Akbarizadeh, Hammer, Maple Ridge, BC, Brad Graham, Unattached
Cyerra Cassell, Hammer, Toronto, ON, Marie-Josee LeJour, Unattached
Ashley Pryke, Javelin, Peterborough, ON, Richard Parkinson, Toronto Track and Field Club
Teagan Rasche, Javelin , Port Coquitlam, BC, Tom Nielsen, Langley Mustangs
Sarah Villani, Heptathalon, Brampton, ON, Vicky Croley, London Western Track Club
Allison Frantz, Heptathalon, Pointe-Claire, QC, Alfredo Villar-Sbaffi, St-Laurent Selects
Mandy Roach, 10,000 RW, Greenfield Park, QC, Robert Bonenberg, Club Athlétisme Rive-Sud
Male athletes
Name, Event, Hometown, Coach, Club
Evan Ratzlaff, 100m/200m, Gretna, MB, Alex Gardiner, Bison Athletic Club
Matthew Leliever, 400m, Mississauga, ON, Tony Sharpe, The Speed Academy
Ramzi Abdullahi, 400m, Toronto, ON, Adrian Roberts, Nemean Lion Athletics Club
Robert Heppenstall, 800m, Hamilton, ON, Philip Steel, Monte Cristo
Shane Dillon, 800m, Winnipeg, MB, Andy Tough, Stride Ahead Tough Track
Brayden Rennie, 1500m, Mississauga, ON, Adam Hortian, Mississauga Track & Field
Alexander James, 1500m, Calgary, AB, Christine Laverty, Calgary Track & Field Club
Connor Black, 5000m, Guelph, ON, Jeff Haller, Speed River TFC
Royden Radowits, 5000m, Drayton Valley, AB, Sean Baynton, Legacy Athletics
Ehab El-Sandali, 10,000m, Toronto, ON , Gary Westgate, Etobicoke Track & Field Club
Matthew Coolen, 110mH, Halifax, NS, Mike Bawol, Halifast
Jackson Cheung, 110mH, Vancouver, BC, Jason Kerr, Vancouver Thunderbirds
Daniel Brady, 400mH, Toronto, ON, Stewart Stanford, Unattached
Matthew Bedard, 400mH, Kemptville, ON, Sasha Cesaratto, Ottawa Lions
Caleb DeJong, 3000m SC, Winnipeg, MB, Mark Bomba, Unattached
John Gay, 3000m SC, Kelowna, BC, Nathan Reiter, Okanagan Athletics Club
Steve Nkusi, High Jump, Ottawa, ON, Andy McInnis, Ottawa Lions
Hans Lafleur, High Jump, Ottawa, ON, Lotfi Khaida, C.A.N.I.
Tristan Slater, Pole Vault, North Bay, ON, Tracy Bailey, Project Athletics
Samuel Burton, Pole Vault, Ormstown, QC, Tony Salmon, Montreal International
Brian Obonna, Triple Jump, Brampton, ON, Frank Bucca, Brampton Track Club
Patrick Hanna, Triple Jump, Roxboro, QC, Louri Zrajevski, Athletica
Andrew Martin, Shot Put, Strathroy, ON, John Allan, London Western
Ezana Debalkew, Discus, Toronto, ON, Kaitlyn Andrews, University of Toronto Track Club
Aaron Stroda, Hammer, Kelowna, BC, Verena Stroda, UNBC
Sam Coulson-Willett, Hammer, Victoria, BC, Sheldon Gmitroski, Pacific Athletics
Tyler Kostiuk, Javelin, Comox, BC, Graham Morfott, Comox Valley Cougars
Brent Reston, Javelin, Cloverdale, BC, Tom Nielsen, Langley Mustangs
Nathaniel Mechler, Decathalon, Goldstone, ON, Dermott Smith, First Attempt Jumps Academy
Kayden Johnson, Decathalon, Kerrobert, SK, Todd Johnston, Saskatoon Track & Field Club
Marek Adamowicz, 10,000 RW, St-Bruno, QC, Robert Bonenberg, Club d'Athlétisme Rive-Sud
Staff
Les Gramantik, Head Coach
Nick Stoffberg, Team Coach
Charles Allen, Team Coach
Tanya Daniels, Team Coach
Patrick Russell, Team Coach
Sheldon Gmitroski, Team Coach
Kurt Downes, Team Coach
Alison Beaton, Integrated Support Team
Trevor Adamus, Integrated Support Team
Alvin Bodnarchuk, Integrated Support Team
Ingrid Ruys-George, Team Leader
Alison Legenza, Team Manager