AtlanticU23 #002 - Shelby MacIsaac (New Brunswick)
Posted 1 year ago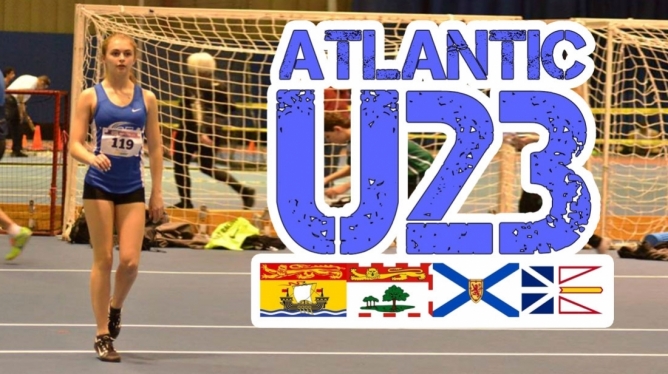 Hometown:  Riverview, New Brunswick
Birth Year: 2003 (Midget age class)
Club: Athlétisme Sud-Est / South-East Athletics
Coach: Peter Stuart
Personal Bests (as of March 18th, 2018): 100m: 12.41, 200m: 25.52, 400: 58.02, 600m: 1:35.79, High Jump: 1.57m
5 quick questions with Shelby:
Favourite animal? Probably dogs or ferrets.
Scariest movie you've ever seen? I've tried but I don't think I've made it through a full one before, so I don't really know.
What place would you most like to visit? There's so many places I'd like to travel to, but if I had to choose one I'd really like to go to Iceland.
Would you rather have hands for feet or feet for hands?  Well if I had hands for feet I'd be really good at rock climbing, but I sorta need my feet to run, so I'd rather have feet for hands.
If you didn't have to sleep, what would you do with the extra time? Maybe train more, or eat, or start a new hobby. There would be so much to do!
You started in the Run, Jump, Throw, Wheel programs in 2012, and instantly became a top competitor when you began competing as a bantam athlete in 2015. How do you feel your years in these early programs helped you in your development?
RJTW helped me with getting comfortable on the track. It also got me to try out all the events that without the program I never would have tried.
What has been your most memorable experience so far in your running career?
I would have to say the Legion Nationals last summer. It was my first time really having a medal opportunity at a national meet, which was a really big deal to me. I got 4thin both my runs and even though I'm very proud of how I did, that meet stays in my mind every practice and pushes me harder to hopefully bring home a medal this year.
Who has been your biggest inspiration as a track competitor?
Some of my biggest track inspirations would have to be Jesse Owens, Genevieve Lalonde, and Mutaz Essa Barshim. Jesse Owens had to overcome so many obstacles to get what he wanted. Genevieve is one of the best New Brunswick athletes ever; she shows that even from a small place you can make it to the world stage. Mutaz is an amazing high jumper and I believe he will soon break the world record.
You had a very impressive showing at the Canadian Indoor Track and Field Championships, winning gold in the youth 200m, silver in the youth 400m, and silver in the midget 60m. Most incredibly, you're a second year midget athlete and are able to top the podium when competing against 16 and 17 year olds. How does it feel to place so highly competing against girls who are several years older?
I'm very proud of my performance, some of the runs were definitely a little short of perfect but it was a really good experience getting to run against such good competitors.
What are your plans/goals for the upcoming outdoor season?
My goals are like every runner's, trying to drop my times from the previous season. But I especially want to focus on giving everything in every workout I do, then I'll get to see my performance improve.
You have long been a 60m, 100m, and 200m runner, but recently made very successful debuts in the 400m and 600m events, smashing longstanding provincial records and setting an unofficial Canadian record in the latter event. Can we expect to see you add these longer distances to your main events?
It's hard to say right now, I'm definitely going to do more of the mid-distance/longer sprints, but we'll see what the summer holds.
At the Atlantic Track & Field Championships you tried out the pentathlon for the first time scoring 3032 points and breaking the provincial record by a large margin. How did you enjoy competing in the multi-event?
It was fun getting to compete with all the other girls and it's an event like no other, but it's also very tiring. Before this I thought after I finished one 200m I was ready to fall asleep, but the pentathlon is a different level of tiredness that lasts the whole day. I think ever track athlete should give it a try at least once!
During the pentathlon you got a taste of the 800m. Any plans to take on this event in the future?
I maybe give it a few more tries but I'm not sure if it will become one of my feature events
You recently started grade 9 at Riverview High School and are set to compete in your first NBIAA Championships this June. Do you have your eyes set on any of the longstanding championship records?(Records are 12.48 100m, 25.63 200m, 58.67 400m)
I'm very excited to get to compete at my first NBIAA championship and I hope to perform well and maybe even get a couple records. It will be a fun experience to get to compete for my school.
Aside from running, what are some of your other hobbies?
Mostly just hanging out with friends!
Hosted by New Brunswick-born track runner, administrator, and coach Brandon Scott LeBlanc, AtlanticU23 is an interview series with upcoming Atlantic Canada track and field athletes under the age of 23.
Twitter: @AtlanticU23
User

Comments
User since:
Mar 17th, 2014

---

Posts: 1117

Lobster said 11 months ago

Shelby sounds like a very talented and bright young woman. I personaly I would like to see Shelby pursue the Heptathlon. She seems to have good quicks and hops, and judging by her 400, & 600 times, the ability to run a decent 800. We must identify talent like her's, and with the athlete, her family, her coaches, and her club and provincial programs, help her reach her goals. Best of luck, Shelby. It is a great sport.

Quote comment