AtlanticU23 #003 - Bailey Smith (Prince Edward Island)
Posted 11 months ago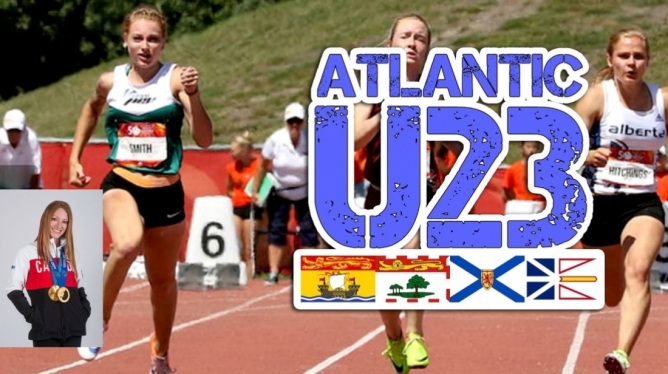 AtlanticU23 #003 – Bailey Smith (Prince Edward Island)
Hometown: Ten Mile House,PEI
Birth Year: 1996 (Senior age class)
Club: Islanders Track & Field Club
Coach: Colin MacAdam
Personal Bests (as of March 3rd, 2018): 60m: 7.63, 100m: 12.27, 200m: 24.77
5 quick questions with Bailey:
Favourite TV show? Game of Thrones (just started watching about a week ago and I'm already on season 4!)
Song you always have stuck in your head? Always changing but currently it's Feeling Whitney by Post Malone
What is the most annoying question that people ask you? "Isn't running easy?"
Would you rather run a marathon or swim across the Northumberland Strait? Considering I can't swim my only other option would be the marathon. I'm not thrilled about either!
What would be the most annoying thing about having yourself as a roommate? The copious amount of time I spend in the bathroom getting ready.
In your early years, you were a regular competitor for PEI at the Canadian Legion Track & Field Championships. How do you feel these team experiences helped you become successful at the higher levels of competition?
Competing at high level meets from a young age has definitively helped me with my nerves as I've aged. I'm a very anxious person, but when it came to bigger meets like the Canada Games I didn't find myself very nervous. I knew I wasn't going to win, so all I could do was my best and hope that resulted in personal bests and high rankings! For the first time since I had started competing, when I was at my first Canada Games in 2013 and I actually stepped on the track before my race, I wasn't nervous. I find myself more nervous at smaller meets involving the Atlantic provinces compared to national meets.
You've listed fellow Islanders Heather Moyse and Jared Connaughton as being your role models. What in particular do you find inspirational about these two athletes?
Coming from PEI often comes with limitations in sport, especially for track. Jared has taken what little he had to work with, facility-wise, and proved that it doesn't always matter what you do or don't have, it comes down to the amount of work and dedication you put into wanting to achieve your goals. Heather Moyse inspires me for very similar reasons, although she didn't compete specifically for track in the Olympics, she is known within multiple sports on the Island. Her strength and hard work has opened the eyes of many young female athletes that we too can become athletic powerhouses!
At the 2017 Canada Games, you were the highest placing member of the PEI athletics contingent, finishing 9thin the 200m and 10thin the 100m. Take us through your Canada Games experience, what were the highs and the lows? How did the 2017 Games compare to your experience at the 2013 Games?
Both of my Canada Games experiences have been nothing less than amazing. In 2013, I was one of the youngest members on the team, which made me very nervous leading up to the games. Fortunately, I was able to share the experience with my older brother (Spencer Smith) which made my time at the Games more memorable. These past games, I had the advantage of already competing at the 2013 edition and had more confidence. I had a very successful meet regarding my times, getting big personal bests in each race. There were also disappointments however, as I had missed the A finals in both the 100m and 200m, and by very small amounts, which annoyingly seems to happen to me at every big event I compete at! Honestly, this was devastating for me, but I got over it and focused on my performance for the B finals! Overall I've had incredible experiences at both the Games and have met and competed against a lot of great people!
In your rookie year at UPEI, you shocked the conference by winning gold in the 60m at the 2017 AUS Championships. How did it feel to top the podium at your very first conference championships?
It was very surreal and I shocked myself too honestly! I knew I wasn't ranked at the top and had incredible competition, but I really wanted to get there to prove to the university that they made the right choice in adding a track and field team to their athletics program (The 2017 AUS Championships was the first for UPEI). My coach had confidence in me and told me numerous times that he knew I had it in me, so that's what I kept telling myself that day, that I could do it. I don't really know if I truly believed it or not, but then I did it!
At this year's AUS Championships, you retained your 60m title with a blistering time of 7.63. Most notably, your time put you just 0.04 of a second off the championship record held by future-Olympian Adrienne Power. Is this a record you can see yourself taking down in the coming years?
I find myself not paying attention to the rankings or the records, they tend to make me more anxious than I need to be. I didn't even realize I was close to the record! If I continue working hard and training with coach Colin, I don't doubt it's something I can accomplish, I guess that's my next indoor season goal!
At the 2018 U SPORTS Championships, you made the finals and finished 7thoverall. Take us through your experience competing against Canada's top university students. How did it feel to make the national final?
The overall experience was really great, although I wasn't very happy with either of my performances despite my overall placing. In the heats I didn't have the best start and I didn't think I'd make the finals, even after Colin telling me multiple people had told him that I did. After finally seeing that I made finals I was hopeful to get a better start which hopefully would result in a personal best, but that wasn't the case, leaving me disappointed with my performances. I have been able to realize how big of an accomplishment this is for me however and I'm very happy to have finally made a national final!
In the outdoor season, you run both the 100m and 200m, but only race the 60m indoor. Thoughts on taking up the 300m during the indoor season?
I have thought many times about doing the 300m, but, seeing how competing in the 60m takes the toll it does on my body, I don't know if I have the endurance or the strength. I think about how I feel after a 200m and then see how others look after the 300m, and I don't even wanna think about it! But also the more I see others do it, the more I start thinking about pushing myself to do one, so we'll see what next year brings!
Unfortunately for your age group there is no Legion Championships or Canada Games to compete in this year. What are your plans/goals for the upcoming outdoor season? Do you have your eyes set on any particular competitions?
This outdoor season will still be a big one, I have some smaller Atlantic meets and then the Canadian Track & Field Championships again this year. Depending on how all of those go, my coach and I have our eyes on the NACAC U23 team - specifically the 4x100m relay team, which would be huge for me!
Being a high level athlete living in PEI, what are some of the challenges you face in your training?
The biggest challenge in PEI would be the facilities, or lack thereof. We are fortunate enough to have a great outdoor facility, but we don't have any indoor facility. This leaves us with the option of using either a gymnasium, which is difficult to find booking times, or, what we've used this year, the indoor walking track at the university. The walking track itself is small, consists of two small lanes, has very sharp corners, and, because it's open to the community, you have to dodge other walkers or runners. I think if we were able to get the funding to have even a small indoor facility, the results would be huge, for myself and all athletes.
Aside from running, what are some of your other hobbies?
Outside of track I have a number of things I love and enjoy. Spending time with my loving and supportive family and friends of course, as well as my love for music, hair and makeup, and the less forgiving on my bank account: getting tattoos and shopping. Coach doesn't call me princess for nothing!
AtlanticU23 reached out to one of Bailey's biggest inspirations, two-time Olympic gold medalist and World Rugby Hall of inductee Heather Moyse, and received the following comment:
"Bailey has a strength of mind that will get her far in whatever she chooses to pursue. She knows what it means to embrace challenges. She is pursuing her passion in track, and is doing so in a way that is inspiring people around her by showing them that you can come from a small place and still go off to do big things. Bailey, I am so excited for you! I wish you all the best!"

Hosted by New Brunswick-born track runner, administrator, and coach Brandon Scott LeBlanc, AtlanticU23 is an interview series with upcoming Atlantic Canada track and field athletes under the age of 23.
Twitter: @AtlanticU23
User

Comments