AtlanticU23 #004 - Matt Coolen (Nova Scotia)
Posted 9 months ago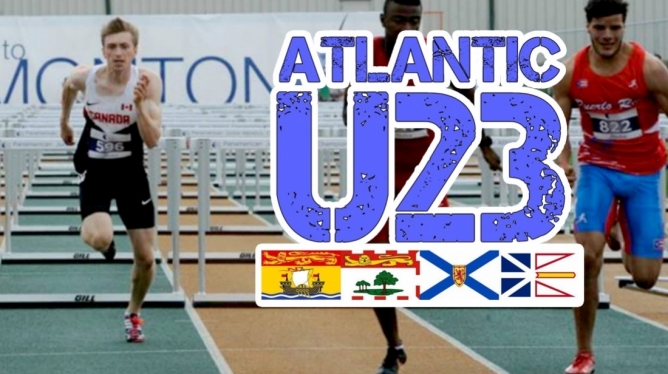 AtlanticU23 #004 - Matt Coolen (Nova Scotia)
Hometown: Halifax, NS
Birth Year: 1996 (Senior age class)
Club: Halifast Athletics
Coach:  Mike Bawol and Andrew Conrad
Personal Bests (as of April 15th, 2018): 60m: 6.82, 60mh (42 inch): 8.32, 100m: 10.55, 110mh (42 inch): 15.00, 200m: 21.58
5 quick questions with Matt:
Favourite board game? Monopoly
What movie title best describes your life? Perfect Storm (this year was a combination of illness and injury but somehow it all seemed to work out in the end).
What's the worst advice you've ever received? Hmmmm, not actually sure.
Who would you rather narrate your life, Morgan Freeman or the Flotrack commentators? Anything narrated by Morgan Freeman is sure to be a hit. I think his voice is amazing.
Should women's hurdles be raised, men's lowered, or should hurdle heights stay the same? I think the hurdles heights should stay the same.
How did you first get involved in track and field?
I started track when I was in grade 8. I was always an athletic kid growing up, playing a variety of sports, such as hockey, soccer, lacrosse, etc. One day in junior high, over lunch hour, I went back to the gym to pick up something that I had forgotten earlier. The gym was empty except for a few hurdles that were set up. My gym teacher, Peter Gallagher, asked me if I wanted to try the hurdles since I was there already and there was no one else trying them, so I decided to give them a try. I was able to get over them without falling so he thought that was a success. I then ended up trying some sprinting and jumps and I enjoyed all of them. I ended up competing at the NSSAF meet and was introduced to Kevin Bourgeois, a coach at HaliFast, which I joined in the summer of grade 9. Kevin helped me with hurdles and introduced me to Mike Bawol. Mike really helped me with my speed and my sprints started to come along; he's been my coach ever since.
What are your plans for the upcoming outdoor season?
This summer I plan to focus on the 110m hurdles and the 100m. I'm planning to do all the local meets in Nova Scotia and New Brunswick, and hoping to be in Ottawa for Nationals this summer.
In 2015 you were named to Team Canada for the Pan American Junior Athletics Championships, where you finished 11thin the 110mh with a personal best time of 14.21. How was your first national team experience?
Being a part of a national team has always been a dream of mine. To wear the maple leaf on my chest was an unforgettable experience and I really hope to do it again. It was amazing running against other countries and seeing the different cultures. To make the team I ran a 13.81 (+2.1 wind) at junior nationals in Edmonton and bought home the gold medal. Although it was wind aided, it was a huge time for me. I was really pumped because I knew that if I could replicate that time again at Junior Pan Ams, I'd have a good shot at making the final, and anything can happen in the final. Unfortunately, the day of the race at Junior Pan Ams, I wasn't feeling the greatest and wasn't able to get another sub 14 time. All in all, the experience was amazing and Athletics Canada treated us very well.
In the month prior to becoming a senior athlete, you ran a time of 7.83 in the 60m hurdles (39 inches) to become the second fastest Canadian all-time in the event, and one of only a handful of juniors to run under 8 seconds. How did it feel going from a top ranked athlete that year, to a top ranked athlete all-time?
It felt awesome. It made me realize that I had a lot of potential in hurdling and really inspired me to try and go further. I was going after the National record of 7.78; I got really close a few times but couldn't get any better than 7.83.
The jump from 39 inch hurdles (junior height) to 42 inch hurdles (senior height) is often considered a struggle. What has been your experience with the height increase?
The 39-42 jump was a huge struggle for me and in a way I'm still working at it. It's definitely been a work in progress but I am now getting my times back down to 8.3X. I would say my speed has been my strong suit for the hurdles, so for the 39s I could get away with the discrepancies in my hurdle form. But now with the 42s things are becoming a lot more technical so this summer I will be working closely with my hurdles coach, Andrew Conrad, to fix up my hurdle technique.
Coming out of high school, numerous universities had their eyes on your talent. Aside from sticking close to home, what made you choose Dalhousie?
It was very challenging choosing schools and I was very lucky to have the options. Like you said, sticking close to home was definitely a huge factor when it came to choosing. I was planning on doing engineering and Dalhousie was very reputable for their engineering school. The coaches at Dal have been my coaches since I started the sport and so they knew me and made the transition into university, from a track perspective, very seamless.
At the 2017 Canada Games, you had a disappointing result, pulling up early in the 100m and barely able to finish. Seven months later you were a U SPORTS gold medalist in the 60m. Take us through the successful recovery process between these two events.
I think I just needed a break. I basically didn't stop training all summer and the summer seasons was very prolonged. I was training and competing through an injured quad, which in hindsight was a mistake. Taking some time off after the Games to refocus definitely helped me and I set new goals for myself to medal at U SPORTS 2018.
In both cross country and track and field, among other sports, Dalhousie University stands out from other Atlantic schools. Take us through a typical day in the life of a Dalhousie sprinter.
Being a student-athlete is a challenge, and I'm sure any student athlete would agree that being tired all the time is a given. That being said, I wouldn't change it for the world. Being a part of a varsity team is an amazing experience. I have met lifelong friends and made amazing memories. A typical day starts with waking up at 7:00am (I'm not a morning person so I'm lucky practices are in the evening). Classes usual go from 8:30am to 5:30pm; any break I have in between is usually spent eating food and working on assignments. Practice is usually around 5:30pm so I'm usually tight for time leaving class and starting practice. A typical practice is a few flys or some sleds and then some weights after. Practice is usually around two hours, which takes until 7:30pm or so. The rest of the night is usually spent on assignments. I like to take the weekends off from school and hangout with my friends and girlfriend.
In 2013 you tried out the 300m, 300mh, and the 400m. Thoughts on taking up any of the longer sprint events in your senior career?
I've always considered trying the 400mh but I think I will stick with the 100m and 110mh for now. Maybe after I'm finished my undergrad I'll give it a try. As for the 300m, I don't plan on running them in university. I've ran it once in my first year but it was more for a speed-endurance practice for 4X200m.
Do you have any set plans for when you finish your engineering degree? How about your post-university athletics career? 
I'm not really sure what I plan on doing after my undergrad. I'll be taking five years to finish my program due to being in Co-op so I plan on using all of my athletic eligibility. As for after school, I definitely plan on sticking with track and field. Track is my passion and I love being out on the track.
Aside from running, what are some of your other hobbies?
I love being outdoors and travelling. During the summer I spend most of my time at my cottage on the South Shore of Nova Scotia. I really love spending time on the water, snorkeling, kayaking and fishing. I also really enjoy camping and hiking with my friends. When I get free time I enjoy travelling: last summer after Canada Games, a few friends and I spent three weeks traveling through Portugal, Spain, and Morocco.
 
---

Hosted by New Brunswick-born track runner, administrator, and coach Brandon Scott LeBlanc, AtlanticU23 is an interview series with upcoming Atlantic Canada track and field athletes under the age of 23.
Twitter: @AtlanticU23