AtlanticU23 #005 - Jordan Henri (New Brunswick)
Posted 10 months ago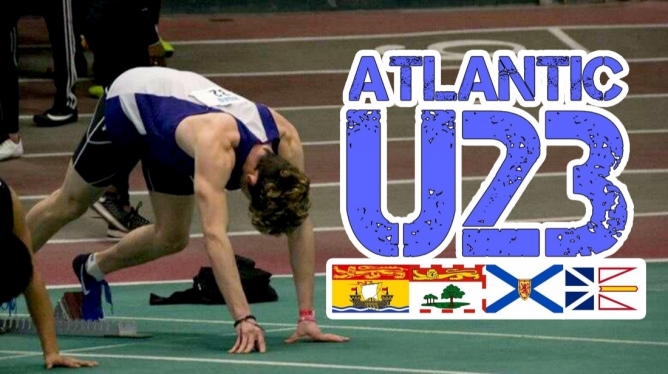 AtlanticU23 #005 – Jordan Henri (New Brunswick)
Hometown: Moncton, New Brunswick
Birth Year: 2001 (Youth age class)
Club: Athlétisme Sud-Est / South-East Athletics
Coach: Steve LeBlanc
Personal Bests (as of April 29th, 2018): 60m: 6.87, 100m: 11.02, 200m: 22.05, 300m: 34.90
5 random facts with Jordan:
Favourite warm-up song? Better Off (Dying) by Lil Peep
Most romantic film couple? Rose and Jack from Titanic
Are you a morning person or a nighthawk? Definitely a nighthawk
What is the first thing you would do if you won a million dollars? Buy my family there dream car
If you could add one new event to the Olympic Games, what would it be? There's not really any new event I would add
You started the sport in the spring of 2016 and were instantly a top competitor. What got you involved in the sport? What has made you so keen to stick with it?
I actually used to do track back in grade four, I started track because I got to miss a day of school for the championships. I continued until high school where I found a club and started running competitively in 2016. I stuck to running because it's a sport I've always loved.
What has been your most memorable experience so far in your running career?
Competing in the 60m final at the Hershey Championships this year, because I ended up running a big PB and winning gold. Also when I went to the US for the New Balance Indoor Nationals earlier this year, it was my first race out of Canada and was definitely something I will remember for the rest of my life.
Who has been the biggest influence on your career thus far?
My family and friends. My dad because he's always pushed me go the extra mile and not to care who I'm racing against, and my sister because she has made me the man I am today, by always telling me to be myself no matter what I do. I consider her to be one of my best friends along with my parents.
The Canadian sprint scene has received great attention lately with the emergence of sprinters such as Andre De Grasse and Brendon Rodney, among others. Who has been your biggest inspiration in continuing along this path as a top sprinter?
Like most people Usain Bolt has been the biggest impression to me. I remember when I was much younger watching him win gold at the Beijing Olympics. He always said to never give up and I guess that stuck with me all this time.
At the Gagetown Indoor Open in November, you became the first (and so far only) Atlantic youth athlete to break 7 seconds in the 60, recording a time of 6.96 in the heats, and 6.98 in the finals. Since then you've broken the barrier an additional seven times. How did it feel to become the first to achieve this feat?
It's special feeling knowing you're the only one in Atlantic Canada who has achieved that, it also makes me want to continue pushing the barrier to see what I can do.
You had a very impressive showing at the Canadian Indoor Track and Field Championships, winning gold in both the 60m and 200m with championship records. Your time of 6.87 in the 60m ties you for 29thin the world. How does it feel to be ranked so highly internationally, especially this early in your career?
It's an unreal experience, going from a small town to being ranked top in the world. It's an amazing feeling. This just makes me want to work harder for years to come to try and climb even higher up the rankings.
At the Championships, you were invited to race in the 60m of the Montreal Grand Prix among a number of top sprinters, including professional football player and Olympian Jeff Demps, and sub 10 second runner Bryce Robinson. What was it like to get your first taste of international experience?
Intimidating, it's much different from regular competition. You're going against people much bigger and much faster than you, but it also gave me a taste of what's to come in the future.
You have long been a 60m, 100m, and 200m runner, but made a phenomenal debut in the 300m during the indoor season, recording a time of 34.90 and becoming the first New Brunswicker ever under 35 seconds. Can we expect to see you add the 300m to your main events?
Probably not, I always wanted to try and see what I could do in that event, and having ran it twice I now know. I'll probably only be running it a few more times and will likely drop it afterwards.
What are your plans/goals for the upcoming outdoor season?
A few of my goals this year is to make Team Canada for NACAC U18 Championships in Nicaragua, World Juniors in Finland, and/or World Youth Olympics in Argentina, and to compete in international events all over. I also want to drop some really fast times to get universities looking at me.
Any plans to try out the 400m this summer?
As of now no, I think 300m is the limit for me. I don't feel like I would have enough energy for that event but I might be trying some long jump in the future.
What are your plans after high school? Are you looking to stay in Canada or go elsewhere with athletics?
I always wanted to go to the US for track because there is much better opportunity there and universities pay much more there than Canadian ones.
Aside from running, what are some of your other hobbies?
Don't have many hobbies but video games are a big one in my life, they helps me relax and give me something to do when I'm done both training and homework.
---

Hosted by New Brunswick-born track runner, administrator, and coach Brandon Scott LeBlanc, AtlanticU23 is an interview series with upcoming Atlantic Canada track and field athletes under the age of 23.
Twitter: @AtlanticU23