AtlanticU23 #006 - Camryn Bonia (Newfoundland and Labrador)
Posted 8 months ago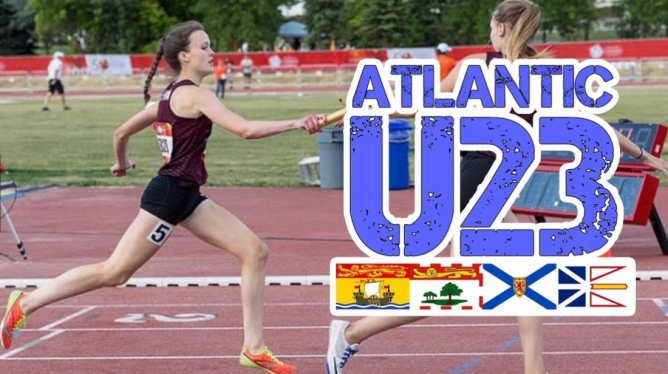 AtlanticU23 #006 – Camryn Bonia (Newfoundland and Labrador)
Hometown: St. John's, Newfoundland and Labrador
Birth Year: 2002 (Youth age class)
Club: Pearlgate Track and Field Club
Coach: Mark Miller
Personal Bests (as of May 13th, 2018): 400m: 58.81, 800m: 2:12.40, 1200m: 3:33.27
5 quick questions with Camryn:
Favourite colour? Matte black
What song can you not tolerate? Look What You Made Me Do by Taylor Swift
What's the farthest place you have ever travelled? Dominican Republic
Would you rather race in the wind or the rain? The Rain
If you could be a professional athlete in any winter sport, which sport would it be? Snowboarding
How did you first get started in the sport?
I first got started with track and field about five years ago, when I reached the fifth grade, however, it all really began years before that. Growing up, I loved watching my older siblings run in the cross-country races every fall. Seeing the hundreds of boys and girls stampeding each other when the gun went off fired me up and made me so eager to reach the fourth grade, because that's when I would be old enough to compete. When that time finally rolled around, and it was my turn to compete, I couldn't wait. There was a series of three races every fall, and in my first three races, I unexpectedly came first in all. This motivated me to get involved with a running club because I found it a lot of fun and I wanted to get faster. At the beginning of the fifth grade, I joined Pearlgate Track and Field Club and I was further introduced to the sport and coached by Mark Miller. Five years later, nothing has changed, except for the fact that I've been given so many amazing opportunities and experiences that I will continue to use as motivation for my future years in track and field.
Newfoundland has had much difficulty with track and field in recent decades, but is well known on the road running side of the sport. What has been your experience growing up as a distance runner in the province?
I wouldn't exactly refer to myself as a distance runner, considering I've previously only ran in three road races, and I use cross-country as endurance training for my track season. I don't have much experience with the road running side of the sport because I focus on the middle distances. Growing up as a mid-distance runner, it has definitely helped me and has been a huge part of my soccer success throughout the years, in regard to my fitness and speed. I think that the combination of track and soccer really make a positive impact on one another and generate positive results and success.
You won gold in the midget girl's 800m, and silver in the 1200m, at the 2017 Canadian Legion Track & Field Championships with personal best times of 2:12.40 and 3:33.27. How did it feel to top the podium for the Newfoundland and Labrador team?
Topping the podium for my team this past summer at Legion Nationals has been one of my biggest accomplishments thus far in track and field, and it felt amazing. Every season, my coach and I decide a goal time for each of my main events, which consist of the 400m, 800m, and 1200m. While we were discussing my goals, the thought of reaching the podium at Legions occurred. We both knew that this was going to be difficult to achieve, but possible if the right work was put in. After training long and hard all summer, I felt more than ready to compete. After obtaining a silver in the 1200m and a gold in the 800m, I was thrilled with my performances and results. It was definitely a moment I'll remember forever.
This past indoor season you got the chance to compete in the New Balance Indoor Nationals at the Armory in New York City. Tell us about your experience.
My experience at the New Balance Indoor Nationals at the Armoury in New York City was incredible. It was different from the regular meets that I normally travel to for many reasons. It was further away, the caliber of athletes was higher than I'm used to, and I traveled there individually. The atmosphere at the track, along with competing against elite athletes was an exhilarating feeling and experience as well., I would definitely return to this meet in the future because now that I've competed in a meet like this, I know what to expect and I can physically and mentally prepare for what's to come.
Your primary event has long been the 800m, but you've also had great success in the 400m and 1200m. What are your thoughts on jumping up to the 1500m distance now that you're in the Youth category?
I am unsure as to if I want to compete in the 1500m because I am more comfortable racing in faster, shorter distances such as the 400m and 800m. However, the 1500m steeplechase interests me and I would want to do it for fun, rather than competitively.
What are your plans/goals for the upcoming outdoor season?
My plans for the upcoming outdoor season consist of competing at the Legion Nationals in Brandon, Manitoba, and potentially being a part of the Summer Youth Olympics team competing in Buenos Aires, Argentina in October; I've recently received notification that I've been identified, and I am on the list of potential athletes for this team.
With your time of 2:12.40 in the 800m last year, you dipped under the time standard for the 2018 NACAC U18 Championships (2:13.50). Is this a team you have your eyes set on?
Yes, it is a team I have my eyes set on, along with the Summer Youth Olympics.
Aside from running, you're also a high level soccer player, having represented Newfoundland and Labrador at multiple national championships. Tell us about your experience playing two sports at the national level? Do you find these sports work well with one another?
My experience playing two sports at the national level has been very positive. I think these two sports work well with one another because they both involve speed endurance and a lot of fitness. By playing these two sports at once, I think they have made me an overall better athlete and performer.
What are some of the challenges of being a track and field athlete in Newfoundland?
There are many challenges involved with being a track and field competitor in Newfoundland. The three major challenges are the weather, our geographical location, and the situation of our training facilities. The weather is a challenge because of the wind, rain, and cold temperatures; this disrupts our training days and makes our outdoor track season start very late. Our location is also a big challenge because we are constantly travelling off the island for competition and that can be very costly at times. Lastly, the situation of both our indoor and outdoor tracks isn't the best. Our outdoor track sits upon the highest peak in the city, making it extremely windy and cold, while our indoor track is open to the public and we are constantly having to adjust our workouts and training because of this. It is sometimes very difficult to have a beneficial practice with these conditions.
Aside from running, what are some of your other hobbies?
Aside from running, my hobbies consist of playing soccer, hiking with my sister, hanging out with my friends, and travelling.
---
Hosted by New Brunswick-born track runner, administrator, and coach Brandon Scott LeBlanc, AtlanticU23 is an interview series with upcoming Atlantic Canada track and field athletes under the age of 23.
Twitter: @AtlanticU23