AtlanticU23 #007 - Malcolm Gilman (Prince Edward Island)
Posted 7 months ago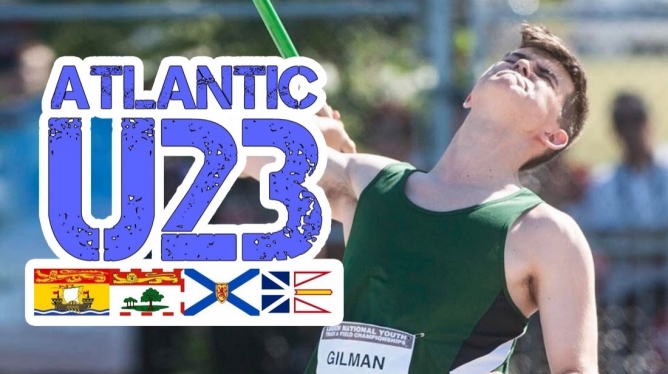 AtlanticU23 #007 – Malcolm Gilman (Prince Edward Island)
Hometown: Brackley Beach, PEI
Birth Year: 2000 (Junior age class)
Club: Islanders Track & Field Club
Coach: Self-coached
Personal Bests (as of May 27th, 2018): Javelin (700g): 54.24m, Javelin (800g): 48.25m, Discus (1kg): 38.28m, Shot Put (5kg): 12.90m, Hammer (6kg): 44.25m, Weight Throw (9.07kg): 16.78m
5 quick questions with Malcolm:
Favourite restaurant? Wendy's
Pineapple on pizza, yay or nay? Nay
What track/field event have you never done, but would most like to try? Pole vault
Would you rather live in a big city or a small town? Big city
If you could have an official theme song, which song would it be? Homecoming by Kanye West
You come from a family that is very active within the sport in PEI. Where was it that you first became interested in throwing competitively?
During the 2011 Jeux de l'Acadieregional competition in which I lost. That's also what motivated me the most to get into track and field.
Your older sister (Constance) is also a thrower and competed alongside you at multiple Canadian Legion Track & Field Championships and last year's Canada Games. Any friendly competition between brother and sister?
For sure. We are always comparing numbers, but at the end of the day we are always there to help each other in and out of competition and try to improve one another.
At a 2013 indoor competition in New Brunswick, you tried out the long jump for the first time, jumping 4.25m. How did you enjoy the event? Any interest in trying out other non-throwing events in the future?
Not likely. After that event I realised that I was truly a thrower and will be sticking with throwing for a while.
Competing at the Canadian Legion Track & Field Championships for four consecutive years, you made big improvements in your javelin throws at each edition. What do you attribute to your consistent improvement?
Training hard and being dedicated. I have learned that if you want to be the best you need to practice like you are the best, that means going to the track four times each week and in the gym getting stronger three times each week
You competed at the 2017 Canadian Indoor Track & Field Championships in Montreal, winning silver in the weight throw and placing 4thin the shot put. How did you enjoy the indoor championships? Do you think the championships are a worthy addition despite the low number of competitors?
I do believe they are a worthy addition. Winning silver at the championships pushed me harder because I was already at a high level and wanted to try and carry that into the outdoor season.
At the 2017 Canada Games, you finished 11thoverall in the javelin. Take us through your Canada Games experience.
The Canada Games were amazing but very stressful. I had so much fun competing at this level but was stressed out by the fact that all the work I did that summer needed to come out in just three throws. Being under-aged and going to the Games, I was thrilled that I made the finals and am excited for next time, hopefully competing for the gold.
At eighteen years of age this year, you are still eligible for the next Canada Games in 2021, taking place in the Niagara Region of Ontario. Having competed in an edition of the Games already, what goals do you have in mind for the next edition?
My goal is plain and simple, I'm going for the gold.
After throwing the 800g javelin throughout the 2017 season to prepare for the Canada Games, you threw the 700g while competing at the Canadian Legion Track & Field Championships, finishing 7thoverall. How was throwing the lighter javelin after having trained on the heavier one all season?
It felt very bizarre. With the additional flex the javelin had it made it much harder to adapt to the throwing rate.
Unfortunately for your age group there is no Legion Championships or Canada Games to compete in this year. What are your plans/goals for the upcoming outdoor season? Do you have your eyes set on any particular competitions?
I'm hoping to be able to compete at the Canadian Junior Track & Field Championships in Ottawa, and I'm hoping to medal at the event.
With no indoor athletics facility to train at in PEI, what do you primarily do for training during the winter months?
Throughout the winter I'm in the gym basically every day just trying to get stronger and more explosive in my movements.
Aside from running, what are some of your other hobbies?
I enjoy video games, working out, and playing other sports such as basketball.

Hosted by New Brunswick-born track runner, administrator, and coach Brandon Scott LeBlanc, AtlanticU23 is an interview series with upcoming Atlantic Canada track and field athletes under the age of 23.
Twitter: @AtlanticU23