AtlanticU23 #009 - Andrew LeBlanc (New Brunswick)
Posted 8 months ago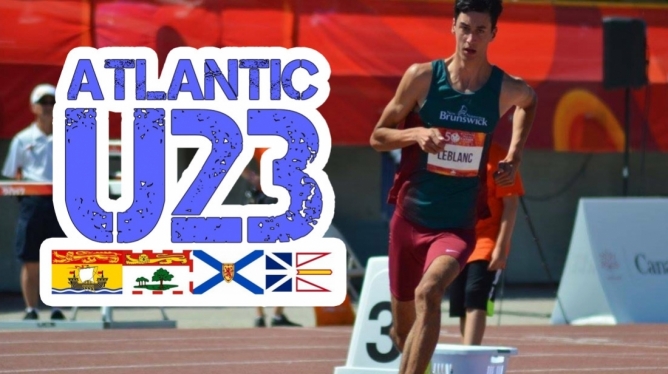 AtlanticU23 #009 – Andrew LeBlanc (New Brunswick)
Hometown: Fredericton, New Brunswick
Birth Year:1998 (Senior age class)
Club:Speed River Track & Field Club
Coach:Dave Scott-Thomas
Personal Bests (as of June 24th, 2018):400m: 50.50, 600m: 1:19.06, 800m: 1:50.27, 1500m: 3:48.87
5 quick questions with Andrew:
Favourite Disney movie? Big Hero 6
Dairy Queen or Burger King? Dairy Queen
What musician do you secretly enjoy listening to? Michael Bublé, specifically and exclusively his Christmas album
Would you rather have free Wi-Fi wherever you go or have free coffee where/whenever you want? Definitely free coffee
If you could enact any single law, what would it be? You can't pay for something with only nickels if it's over $5
How did you first get involved in track and field?
I first got involved in track and field at regional meets during elementary school, but I really picked up an interest in the sport in grade 6 when I met my longtime coach Greg Allan.
From 2012 through to 2015, you competed at four consecutive Canadian Legion Track & Field Championships. Take us through your years in the Legion program. What were the highs and the lows?
I always had great experiences competing at the Canadian Legion Championships. As a developing athlete it was a special opportunity to travel across Canada while representing New Brunswick. When I look back at my experiences now, what I'm most grateful for is the friends that I made every year and remembering all of the stupid stuff that we got up to. I met one of my best friends, Brady Graves, at the 2012 Championships and I've now been unfortunate enough to have lived with him for the past two years…not quite sure if that's considered a high or a low. The lows of every year at Legions was probably getting spanked in competition, but as annoying as losing was it also taught me valuable lessons!
In your final NBIAA Track and Field Championships in 2016, you (along with teammates Matthew Butler, Michael Colford, and Jack Berkshire) broke a 45 year old record in the 4x400m, running 3:29.74 to take almost six seconds off the championship record. How did it feel to take down this longstanding record?
Taking down that record was honestly the perfect way to cap off our high school careers. We narrowly missed the record the year before while we were in grade 11, so it was definitely a goal of ours to come back and beat it. What made it even better was the fact that we're all close friends outside of track, so to take down a 45 year old record with my best friends in our last high school race was pretty special. We'll see how long it stands for!
After graduating high school in 2016, you moved from Fredericton, New Brunswick to Guelph, Ontario to pursue post-secondary education at University of Guelph. How did you find the transition?
I found the transition to be great! The training took a step or two up in intensity and volume, but my coach in Fredericton prepared me well for it and I got through the transition phase with nothing more than bumps and bruises. This is also thanks to my coach Dave Scott-Thomas for understanding that for many rookies the transition from high school to university can be a difficult one, and supporting us through the changes.
At the 2017 Canada Games, you ran a personal best of 50.50 in the 400m and finished 7thin the B final and 18thoverall, but had a disappointing showing in the 800m, finishing 3rdin the B final and 11thoverall. What went wrong in the 800m, and how have you used this experience in your racing ever since?
Until now I had blocked Canada Games from my mind, so thanks for bringing it back up! I think Canada Games was the culmination of a tough summer – leaving Guelph and the training group that we have here and going back home to train in solitude for 4 months was difficult. As hard as I was training, it just suits me much better to be surrounded by guys who are pushing each other day in and day out. At the Games I had an off-day in the 800 prelim and ran a little better in the B final, so it didn't end on a completely horrible note. But yet again I'll chalk this one up as a great learning experience and move on from it.
At the 2018 U SPORTS Track & Field Championships, you won bronze in the 1000m with a time of 2:28.66, the only individual medal by a New Brunswick athlete, and the first individual medal for a New Brunswick male since Adam Gaudes' silver in 2012. Take us through your U SPORTS experience.
The U SPORTS Championships was an exhausting and thrilling weekend. I was lucky enough to race five times throughout the three days: the 600m heats and finals, 1000m, 4x400, and 4x800 races. The 1000m was slow and tactical which I felt suited my strengths, and as you said I was able to kick my way to the bronze. As excited as I was about that result we had more to accomplish and I quickly switched gears to prepare to run the anchor leg of the 4x800. We were resting our top guy, Tommy Land, so a couple boys stepped up huge for us and gave me the stick in perfect position, I then squeezed out the gold for us. The 600m final and 4x400 didn't quite go our way but the Guelph Gryphons got it done on both the men's and women's side, and celebrating national titles as an entire team was something to remember. Hopefully we recreate that in the coming years!
Speed River Track and Field Club has long been known as a powerhouse in Canadian distance running, and its reputation has only continued to excel in recent years. Take us through a typical day in the life of a Speed River mid-distance runner.
During the school year a typical day would be waking up and first thing having oatmeal and coffee for breakfast. Afterwards I head to morning classes until lunch time, grab a bite somewhere on campus, and continue classes until practice at 3:30pm. Depending on the day the workout could end anywhere between 4:30pm and 6:00pm. From there I go eat some supper and catch up on school work in the evening.
Championship racing in the mid-distance events can largely be tactical, with competitors purposely slowing down and picking up the pace in hopes of making the field play to their strengths. How has your tactics evolved while training in Ontario?
My tactics have certainly evolved quite a bit. Training in such a large group of guys I rarely hit the front in workouts. Normally there's somebody who's quicker than me in short speed, or who's better at the long tempo, so I'm always improving on my weaknesses. Both my strength and finishing speed have improved since I've been training in Guelph so I feel confident in myself no matter how the race may unfold. One thing I've learned since training under Dave is the importance of being adaptable in circumstances that may not be ideal, and this has definitely helped me in racing.
In your younger years you focused on both the 800m and 1200m/1500m events, but in more recent years focused on the 400m and 800m events. What was the reason for focusing on the shorter events?
When I was younger I had some early success in the longer distances so I was just riding that progression path, but once I shot up to well above six feet tall my coach and I both felt that it would be beneficial to develop some speed so that I would be able to translate it to an 800m or 1500m later on.
Very recently you gave the 1500m another shot, running an astonishing time of 3:48.87. Where do you see the 1500m event in your future?
I can certainly see the 1500m becoming my main focus some day in the future. I think that my natural strengths are geared towards it, but that day won't come until I've maxed out at the 800m. There is still so much room for growth in the 800m, so for now I will continue training for that and occasionally pop up to the 1500m.
While focusing mostly on track, you also ran cross country all through high school. What made you decide not to run cross country with the Guelph Gryphons?
In Guelph, the mid-distance crew uses the fall to build a strong base and get to indoors healthy and itching to race. That, and the fact that I am nowhere near the top seven on our team over 10km. We have guys that run far under 15 minutes for 5k that are battling for spots on the cross country team, so it isn't as much my decision as it is the team just doesn't need me. In high school I had a blast because the distance was only 5k and I was able to get away with it in a weaker field.
Aside from running, what are some of your other hobbies?
I enjoy hiking and camping, listening to music, hanging out with friends, and playing basketball!
Hosted by New Brunswick-born track runner, administrator, and coach Brandon Scott LeBlanc, AtlanticU23 is an interview series with upcoming Atlantic Canada track and field athletes under the age of 23.
Twitter: @AtlanticU23
User

Comments