AtlanticU23 #010 - Ryan Evans (New Brunswick)
Posted 7 months ago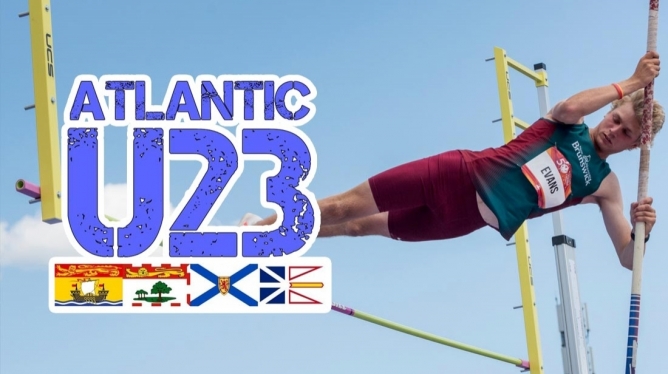 AtlanticU23 #010 - Ryan Evans (New Brunswick)
Hometown: Saint John, New Brunswick
Birth Year:1999 (Junior age class)
Club:Saint John Track Club
Coach:Vickie Croley
Personal Bests (as of July 8th, 2018):Pentathlon (junior specs): 3303, Heptathlon: 4527, Decathlon: 6204 (junior specs)
5 quick questions with Ryan:
Favourite video game? I don't play video games
Are you a morning person or a nighthawk? Nighthawk
What accent can you best mimic? Australian
Would you rather your shirts be always two sizes too big or one size too small? One size too small
If you had to add one event to the decathlon, which event would it be? The 200m
You first participated in track and field as a bantam athlete in 2011, but didn't compete between 2013 and 2015. How did you first get involved in track and field? What made you take a break from the sport for three years?
I first got involved in track and field as a bantam athlete as from a young age my parents introduced me to all sports. Both my parents were multi-sport athletes and wanted to give me the opportunity to play everything I wanted. Track happened to be one of those sports that at a young age I did not enjoy as much as others, so I stopped to play others instead. I came back to the sport once I was in high school and didn't begin to train until a coach told me that it was a sport I could excel in and should take seriously, which was in grade 11. I then trained for the 400mh for a little before switching to the decathlon when I got to university.
Saint John features an excellent outdoor training centre at the 1985 Canada Games Stadium, but currently has no indoor centre (an indoor fieldhouse is expected to open in the fall of 2019), with athletes training on basketball courts through the winter months. Tell us about your time training in Saint John.
Training during the winter months in Saint John is tough. With no indoor track, training is very difficult, especially for those that are looking to do field events. Luckily we had an artificial surface that we were able to roll out, giving us about 50m of track so that we could at least use spikes one or two days a week. We would have one lane and lay a high jump matt against the wall at the end to run into when slowing down. We had enough room for one set of blocks and three hurdles at most for the short sprint workouts. For long sprint workouts, we had a mat on each end of the gym and would run back and forth without spikes. The other days of the week consisted more of drills and medicine ball type workouts. Also, with the only time we were able to get the full gym being from 5:30am to 8:00am, it becomes a little more difficult right before school. We have been fortunate that we have had such great coaches that have been able to help us perform under these types of training conditions. With the new fieldhouse construction underway it will greatly help the sport within the city and the province.
You tried out the multi-event for the first time in 2016 and quickly made it your main focus the following year. What made you interested in the multi-event?
I did try multi-events for the first time in 2016, however I only competed in the multi-events indoors for the pentathlon as my main event at the time was the 400mh. I didn't begin training for the multi full-time until my first-year of university. What made me interested in combined events was the idea that you get to cover all areas of the sport. You compete against others, but also compete against yourself to try to push your own limits. It is an amazing test of speed, strength, and endurance - an overall athleticism. For me, it is the constant challenge to try and better yourself that attracts me the most.
You competed in your first decathlon at the New Brunswick Canada Games Team Trails in June, 2017, and was named to the provincial team for the event in August. Take us through your experience of competing in the decathlon for the first time and competing in it for only the second time ever at the Canada Games just a month later.
My first decathlon was tough. For some events, it was my first ever time competing in them and so I was not sure what to expect as a result. I remember how sore I was feeling towards the end of the second day and immediately afterwards, as I did not have much decathlon training to prepare me for a two-day competition. Leading into Canada Games was a little easier; I now knew what to expect with how I would be feeling, what I could do to improve, and had some goals in mind. However I now had to do this on a much bigger stage. I tried to focus more on learning and gaining the experience of each event so that I could use it to improve future competitions.
At nineteen years of age this year, you are still eligible for the next Canada Games in 2021, taking place in the Niagara Region of Ontario. Having competed in an edition of the Games already, what goals do you have in mind for the next edition?
For the next Canada Games, my goal is the gold medal. Having competed in the Games before, I know what to expect as I have been through it all before. This time around, I will be more experienced and more prepared so that I can represent New Brunswick well. Hopefully bringing home a medal.
After graduating high school in 2017, you had the difficult choice of deciding where to pursue post-secondary education. Among a number of options was University of New Brunswick - Saint John to stay close to home, and University of Saskatchewan to continue training with longtime coach Jason Reindl. What made you choose University of Western Ontario?
Western University stood out in all aspects: I felt the school fit everything I wanted both academically and athletically. Western has a terrific team with many talented and friendly athletes who are great to practice with each day. The team aspect here is simply amazing and I am very happy and proud to be a part of it. The coaching staff is second to none, especially as a decathlete. Getting to train with head coach Vickie Croley, as well as all of our individual event coaches who specialise in each event and have coached many outstanding athletes in their time, was something that I found extremely hard to pass up on. With a top team, great coaching, nice facility, and an amazing school, I felt that it was a perfect fit for me to further my career.
Through 2017 and 2018, you frequently jumped between competing at junior specs and senior specs. What did you find to be most difficult about the change in hurdle heights and implement weights?
Changing from junior specs to senior specs for my events was difficult. Still being in the junior age category, I had to compete out of my age group as a senior for Canada Games and my school season. When I first had to start with senior implements it was very difficult as I had just finished my second year as a youth athlete and basically had to skip over the junior implements and go straight to senior. Once I had some time, I felt as though I adjusted well and it was not a problem for me. This being something I could not change I tried more to embrace it as a challenge rather than over think and worry about it.
You just came off competing for Team Canada at the Pan American Combined Events Cup/Canadian Track and Field Championships, where you finished 5thin Canada and 6thoverall with a personal best score of 6204. Take us through your first national team experience.
It was a great experience with many ups and downs. Making my first national team and wearing the Canada flag is something that a lot of people dream of doing, and it is such a great feeling knowing that you can proudly represent your country while doing what you love. Battling the heat conditions, along with the news I received that my family was in a serious car accident back home, made it tough, but everyone will always face some adversity in life and it is something that will only make you stronger as an athlete in the long run. Although it was not the result I wanted, I had a lot of great things that I can take away from the competition and it is something I will grow from and use to help improve in the future.
The final distance event is typically considered the most gruelling for multi-event athletes, but for you it has proved a strength. What do you attribute to your 1000m/1500m speed?
The distance event in a multi is usually the one hated by most. Personally, I enjoy it; I think it is the true icing on the cake in a multi-event. After completing all the other events and showing your speed, power, and strength, you now need to show your endurance. It is the true test of a decathlete's mental strength and is often where some can win or lose. I believe my success in the event comes from having natural endurance, working hard at it in practice, and from being a multi-sport athlete growing up. It is an event that I do not want to dread or fear like most, but rather embrace. I think that having an excited mindset and wanting to go out on the track and run the race rather than avoid it is the biggest key. If you go out not wanting to do something, chances are you will not do your best at it.
Prior to becoming a multi-event athlete, you focused on the hurdle events, where you had success (57.20 in the 400mh (33" inches)). Being a multi-event athlete you still focus on the short hurdles, but how about the long hurdles? Any thoughts on taking on the 400mh again in the future?
Doing the 400mh in the future is definitely something I would consider. At this time, it would be more for training purposes or for fun as I see myself having more success and enjoyment in being a decathlete. However, I am one to never completely close a door on something so if the time ever came where I felt I would switch events, then I would be open to the possibility of going back to the event.
Aside from running, what are some of your other hobbies?
Aside from running, my hobbies consist of other sports. I love being active and it is something that I have done my entire life and would never change. I find that playing as many different sports as you can will help you develop as an athlete and makes it easier to learn new sports. Athletic ability is something you cannot teach, but learn over time by being active. It is something I find key in any sport for any athlete.
---
Hosted by New Brunswick-born track runner, administrator, and coach Brandon Scott LeBlanc, AtlanticU23 is an interview series with upcoming Atlantic Canada track and field athletes under the age of 23.
Twitter: @AtlanticU23
User

Comments