AtlanticU23 #012 - Francois Richard (New Brunswick)
Posted 7 months ago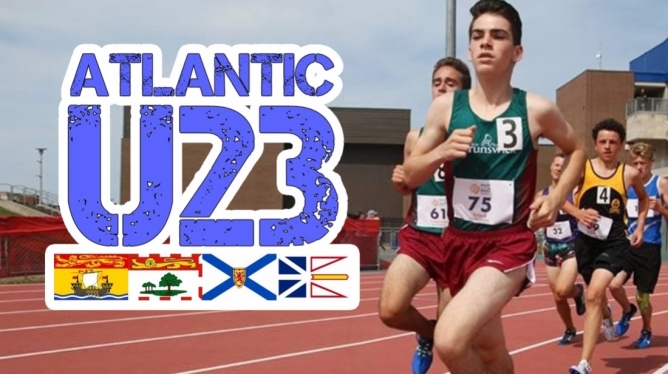 AtlanticU23 #012 - Francois Richard (New Brunswick)
Hometown: Dieppe, New Brunswick
Birth Year: 2003 (Midget age class)
Club: Athlétisme Sud-Est / South-East Athletics
Coach: Peter Stuart
Personal Bests (as of August 2nd, 2018): 1500m steeplechase: 4:29.70, 2000m: 5:58.96
5 quick questions with Francois:
Favourite TV show? Master Chef, but I'm still a terrible cook
Cats or dogs? Dogs
What is your least favourite subject in school? Music
What title would you give a book written about your life? If It Weren't For Me, Nike Would be Bankrupt (thanks to Grant for the idea)
If you could only eat one food for the rest of your life, what would it be? Cereal
How did you first get involved in track and field?
When you're French it's a pretty big deal in middle school to take part in the Acadian Games (basically the Atlantic Championships for French people only). Like every other kid I tried to find a sport I'd be good enough in to qualify, so I thought of track. But the first year I tried out I didn't make it, this motivated me to start training in advance for the next year to have a better chance at qualifying. The following year, after joining ASEA, I qualified and won both my events, I've never looked back since.
At the 2017 NBIAA Cross Country Championships you won gold in the junior boys' 4km race, finishing over 30 seconds ahead of your next closest competitor. How do you enjoy cross country running compared to track racing?
Personally I like the fact that in XC you can have multiple 4k races where the courses are completely different so you never get bored, whilst one track race in Moncton and one in Saint John will be the exact same thing.
At this year's NBIAA Track and Field Championships, you captured silver behind school and club teammate Tristan Morneault in what proved to be a tight 1500m. Take us through the race.
Even before the race started I knew it would be tough because the shorter/quicker races get a bit out of my comfort zone. I knew Tristan was quicker than me since he always beats me in the 200m intervals at practice, so at the start line I knew I had to set an aggressive pace and hope he couldn't hold on so it would be hard for him to come back and beat me. During the race I tried to create a gap, but was unsuccessful. When we hit bell lap, I knew he would have no trouble outkicking me and that's exactly what happened.
You are set to compete at the 2018 Canadian Legion Track & Field Championships next weekend, where you are ranked 2ndin the 1500m steeplechase and 4thin the 2000m. What are your goals for the championships?
I'd really just like to medal in one of my two events.
Trying out the steeplechase event for the first time this year, you quickly proved competent in the event, breaking the provincial midget record in the event with a time of 4:29.70. What are your plans for the steeplechase event from here forward?
After having tried it out this year, I'll definitely keep it as a main event from now on. I also can't wait to jump in the water pit next year (the 1500m steeplechase has no water pit).
Next year you become a youth age class athlete and move from the 1200m to the 1500m, the 2000m to the 3000m, and the 1500m steeplechase to the 2000m steeplechase. What are your thoughts on moving up to the longer distances?
I can't wait! The longer the better for me!
What are your thoughts on the distances contended at the NBIAA cross country championships? Do you think the 4km is too short, too far, or just right for the age group?
I think it is overall better for the sport if they make it a shorter distance like 4K because it gets more people that that don't usually run to try it out. But personally I like the 5k distance more for any type of race.
You train and compete as a member of Moncton-based Athlétisme Sud-Est / South-East Athletics, coached by Peter Stuart. Take us through a typical day in the life of an ASEA distance runner.
Well first of all it's pretty lonely at practice sometimes since we're only a few distance runners. Typically practice starts at 4:45pm and finishes around 7:00pm. Depending on the day we'll either do speed work, intervals, or work on our steeple. I love training with ASEA because Peter gives us great workouts, Alex Stuart for inspiring us with his quotes (such as "run fast turn left"), and Grant…well for being Grant!
Compared to sprinters and field event athletes, distance runners often compete all year round, racing the outdoor, indoor, road, and cross country seasons. How do you stay fresh and injury free whilst competing year-round?
I try to stretch and roll as much as I can and I try to keep the hard days hard and the easy days easy.
Aside from running, what are some of your other hobbies?
I like to spend time with family and friends. I guess I also like to collect shoes.
---
Hosted by New Brunswick-born track runner, administrator, and coach Brandon Scott LeBlanc, AtlanticU23 is an interview series with upcoming Atlantic Canada track and field athletes under the age of 23.
Twitter: @AtlanticU23