AtlanticU23 #013 - Shae Ledévéhat (Newfoundland and Labrador)
Posted 9 months ago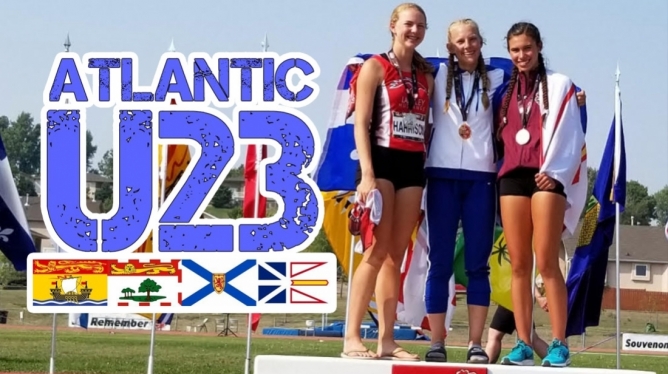 AtlanticU23 #013 – Shae Ledévéhat (Newfoundland and Labrador)
Hometown: Mount Pearl, Newfoundland and Labrador
Birth Year: 2001 (Youth age class)
Club: Pearlgate Track and Field Club
Coach: Mark Miller and John Gamble
Personal Bests (as of August 19th, 2018): Heptathlon (youth specs): 4278, Javelin (500g): 40.86m
5 quick questions with Shae:
Favourite Disney princess? Ariel
McDonald's or Subway? Subway
What accent would you most like to acquire? Australian
Would you rather compete in the 3000m steeplechase or the pole vault? Pole vault
If you could have the power to fly or breath underwater, which would you choose and why? Fly – would make for a super pole vaulter!!!
How did you first get started in the sport?
I was first introduced to track and field when I was 7 years old when I attended a track and field summer camp sponsored by my track and field club, Pearlgate. That camp really gave me the exposure to all the different events that the sport has to offer. I returned to the summer camp the four years that followed until I joined Pearlgate at the age of 11. Ever since then I've been training with Pearlgate.
As a first year youth athlete, you competed in the heptathlon at last year's Canada Games. How did you adjust to the senior hurdle heights and implement weights?
During the indoor season while I was still competing in meets as a youth athlete, I mostly trained with the lower hurdles and the lighter throwing implements. Once moving into the outdoor season, I did a lot of work with the higher hurdles and with the heavier throwing implements. The biggest adjustments was definitely throwing the 4kg shot. Between Canada Games and Legions, I returned to the youth classifications. Having hurdles at 33" made the 30" hurdles seem super low and gave me more confidence running through them. Returning to the 3kg shot felt great and the same for javelin since they felt lighter than whatI was used to.
At this year's Canadian Track & Feld Championships, you placed first in the youth girl's heptathlon (non-championship event) with a personal best score of 4226. Most astonishing, you achieved a personal best in every single event. Take us through the competition and your lead up in training for the event.
Going into the first event I was both nervous and excited. I had always wanted to compete at the Canadian Track and Field Championships at the Terry Fox Stadium so it was super exciting that I finally had the chance. I had only ever competed in three youth heptathlons and two senior ones (for Canada Games), so being in Ottawa was an opportunity that I was very grateful for. Training-wise I knew I had worked hard and really just wanted to do my best whatever that might be. So, for the competition itself I really wanted to just have fun and enjoy the experience hoping that my training would pay off.
The Canadian Track & Feld Championships in Ottawa were a hot one, with record-setting temperatures reaching near 35 degrees Celsius. How did you adjust to the heat and push through in your seven events?
Firstly, I drank a lot of water prior to and during the competition especially after hearing about all of the heat warnings. It was also very important to keep cool and limit exposure to the sun during and between events. I would only go in the sun when required to take attempts at an event or to race. Between events, I stayed in a shaded area and drank lots of water. When warming up, I wore a hat and didn't do as long of a warm-up as I would usually do; since it was so warm my muscles warmed up faster than usual. I had a cooler full of ice and cold water to keep myself refreshed and had a towel for my face to cool off. It was a lot different than being in Newfoundland!
At the recent Canadian Legion Track & Field Championships, you achieved a personal best in four events (and near personal bests in the other three), to win bronze in the heptathlon with a personal best score of 4278, also a personal best. Take us through the competition.
I was eager to start the competition. All started well with hurdles, though I stumbled on a hurdle; I managed to quickly recover and ended up getting a personal best in the event. Moving on to high jump, I felt a little under prepared and was slightly more nervous. Our Newfoundland weather makes it difficult to take the high jump mats out so I hadn't done as much preparation as I would have liked to. For shot put, I had just come off a huge personal best from Ottawa which I didn't throw close to at Legions. This was discouraging but thanks to my coaches, I turned the negative energy into motivation to have a better 200m. This worked and my time improved in comparison to Ottawa and that put me ahead of my first day score from the meet in Ottawa. The second day of competition started out with long jump followed by javelin. I was happy with both. Before the 800m I was sitting in third place, 20 points behind second. I needed to beat the competitor in second by 1.8s to move up however, I beat her by 1.3s, half a second short of moving into the silver position. All in all, the meet was good and even though it was frustrating at first to only be 6 points shy of silver, I couldn't have asked for a better meet. In hindsight, I know where I need to improve...this gives me a lot of motivation for the coming year. I am hoping to incorporate increased flexibility and hurdle work into my training schedule.
Your seasonal best of 40.86m in the javelin throw (500g) ranks you 11thin Canada among U18 female athletes, while your shot put best also ranks you rather highly nationally. What do you see for your future in the throwing events?
I certainly do see a future for me in the throwing events. Javelin is without a doubt my favourite event in the heptathlon. Given Newfoundland's limitations with regards to facilities and weather, I do not throw much javelin in the winter season – I mostly focus on shot put. In the coming years I would like to put a bit more time into javelin year round to work on my technique with the hope of throwing 50+ metres in the years to come.
Your javelin performance at the Canadian Legion Track & Field Championships would have placed you 8th in the individual javelin event. What made you choose not to compete in the individual event?
Although I love javelin and may choose to pursue it as an individual event later on, I enjoy the challenges that the heptathlon presents – it is both physical and mental. Also, the camaraderie in the heptathlon is unlike any other sport. Since spending two full days with co-competitors, you really get to know them and you want to see everyone do well. Everyone wishes the best for one another and the group always supports and encourages each other.
You achieved personal bests in over 80% of all events you competed in during the outdoor season. What training led to such successful performances?
During the indoor season, I primarily focused on strength and speed work. Taking advanced gym class at school also helped with my fitness. With the start of the outdoor season and warmer weather I was able to further my jumping and hurdling outside, along with more speed endurance work. My little sister Brooke, who also does track, was a good motivator!
In July of this year, a multi-event meet in Grass Valley, California hosted an unofficial national championships for the women's decathlon. What are your thoughts on women competing in the decathlon?
I am all for women doing decathlon, although that would require that I learn how to pole vault. I think it's great that there are more steps being taken towards gender equality in sport, however knowing the commitment of training for 7 events, personally, I think it would be hard to adjust and find time for another 3, especially considering the technical skills required for pole vault.
The current state of sport in Newfoundland & Labrador is best described as unstable, with a lack of funding, facilities, and opportunities, especially outside of the Avalon Peninsula. What are some of the challenges of being an athlete in Newfoundland, and how might the sport culture be improved?
The first challenge is facilities. The indoor track is a public facility and does not permit our track club to rent out lanes, so we share the track with a lot of other runners and walkers at various speeds, which is sometimes hard to work around. Our outdoor track is built at high altitude which makes it feel like there's a head wind at every part of the track; it also hasn't been resurfaced in a while so it gets pretty slippery when it's wet. Although we do not have great facilities, I feel very fortunate that we do have places to train year round since many places in the province outside the metro area do not have such opportunities. This year, Pearlgate started up a Run, Jump, Throw program and I personally think its' a good way to improve the sport culture in track and field. This gives more children exposure to the sport at a young age. By sparking this interest at a young age, more children are likely to get involved as they get older which will hopefully lead to more funding.
Aside from running, what are some of your other hobbies?
Aside from running, I play ultimate frisbee on the provincial team and I play piano. I also like to hike and am a lifeguard, teaching adapted aquatics to kids with special needs.
---
Hosted by New Brunswick-born track runner, administrator, and coach Brandon Scott LeBlanc, AtlanticU23 is an interview series with upcoming Atlantic Canada track and field athletes under the age of 23.
Twitter: @AtlanticU23