AtlanticU23 #014 - Matthew Tanton (Prince Edward Island)
Posted 8 months ago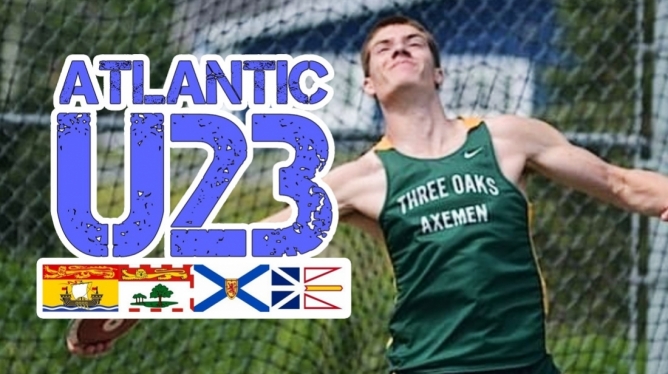 AtlanticU23 #014 – Matthew Tanton (Prince Edward Island)
Hometown: Summerside, PEI
Birth Year: 1998 (Senior age class)
Club: Islanders Track & Field Club
Coach: Keith Tanton
Personal Bests (as of September 2nd, 2018): Discus (2kg): 40.42m
5 quick questions with Matthew:
Favourite kid's movie? The Lion King
PC or Mac? PC, always
What odd claim to fame do you have? I have the innate ability to learn the full lyrics of a song within 1-2 times of hearing it
Would you rather spend a week in Las Vegas or Cancún? Cancún
If you could choose any actor to star in a movie about your life, who would you choose? Dwayne "The Rock" Johnson
How did you first get started in the sport?
I was always around track and field before I started in school, as my father is a coach and my mother was a Phys. Ed teacher, I was going to the school meets as long as I could remember. My first competitions would have been in grade four, but to be honest I wasn't very good. The trouble was that in track and field, the age cut-off while I was in school was February 1st, and my birthday was January 25th. This caused me to be competing against guys who were always at least a year older than me, and sometimes two years older. In the early ages, discus wasn't even an option, so I started that when I was in 6thgrade. It wasn't until later that my work ethic started to catch up to the physical advantage that older kids had over me. IN respect to starting discus, it was the track event that my father grew up doing, and he was a throws coach, so he coached me through what he learned.
You come from a primarily multi-sport background, having played basketball, rugby, and football, among others, all while throwing discus as well. How has coming from a multi-sport background helped you succeed in the sport?
As mentioned earlier, my family has always been heavily involved in sport, and I was no different. As a multi-sport athlete, you gain a lot of different perspectives on sport and start to understand the motion and mechanics that are similar between sports. Even more than that though, is the mental strength that you develop while playing different sports. The discipline and work ethic are things that transfer across all sports. Some people believe these things aren't teachable, but they are. In team sports, those mental skills help you compete against other teams, but they also help you compete against your teammates. In track and field, much of the sport is solitary, so that mental strength is what carries you through. In practice, there is nobody to compete against except yourself, which is why it is so important to keep that discipline. Of course there is competition to measure yourself against other athletes, but there aren't always those athletes to push you to your best, especially in Atlantic Canada. I think more than anything else, the mindset of "I'm going to improve myself, and the rest will handle itself" is something that can be carried in all sports, especially in track and field.
You competed at the 2012 Canadian Legion Track & Field Championships in Charlottetown, achieving a then-personal best in the discus to finish 12th. How was competing at a national championships in front of a home crowd?
Honestly, I was a bit shell-shocked. I was only 14 or 15 at the time and never really took track and field seriously before that summer. At that time, every other meet was a personal best. The Atlantic outdoor season is so unpredictable and can be very short, so it wasn't unexpected. Definitely though, that competition hooked me on the atmosphere that national competition brings, as well as the pressure.
A year later, you competed at the 2013 edition of the Legion Championships, surpassing your 2012 mark in the discus by over 10 metres to finish 5th. How did this experience compare to the year prior? What training led to such growth in just one year?
I was certainly pleased with my year, but at the same time I came in ranked 3rdin the country so I was a bit disappointed. There were many guys within a metre of each other, so it was really whoever could PB would likely take the bronze medal. In respect to the growth that happened, I also saw a lot of growth myself. I started to lift weights, I probably grew another couple inches from the year prior, but most importantly I was starting to grow into my own body, and had started to gain the coordination and balance that discus takes. My training regimen was much stricter as well, as I was practicing a lot more than the year previously.
You competed in the discus for Team PEI at the 2017 Canada Games, but the competition did not go quite as expected. Take us through your Canada Games experience.
Well, it went pretty terribly, to say the least. Men's discus was one of the last athletics events at the Canada Games, so I had two or three practices going into competition. I had to throw the 2kg disc even though I was a junior at the time (the Junior category throws the 1.75kg disc), which was an adjustment to make. Despite this, my training leading up to Canada Games went really well. I never thought it was a possibility to miss finals, but obviously that's what happened. Even in the practice right before competition, I was staying in the circle and throwing exceptionally, but once competition came it just fell apart. I faulted all three throws. Two for going out the front of the circle, and the third I partly disagreed with, but I guess my foot was on the half-circle line so they called it a fault; at that point I was so disappointed with myself that I never thought to challenge it. Later looking at the numbers, I probably could have qualified on a standing throw alone, but as it is in sport, things don't always go according to plan. Flying to Winnipeg, a week of preparation (not including the whole season leading up to it), just to fault three throws and place last, when if I threw well I could have been competitive, it was devastating. It was one of the most disappointing moments in my life, not only to disappoint yourself, but your coach and your team. Competition is always a learning experience, but that one hurt.
Prior to graduating high school, you focused on both discus and long jump, achieving great distances in both. What made you choose to focus on the discus opposed to the long jump?
Well, there were a few reasons. First, access to a pit. There is no place to jump in my town, so there's a 1-hour drive to Charlottetown. It may not seem like much, but when it's a 4 hour trip (as I'd also practice discus while there) at least 3 times a week it begins to take up a lot of time, especially when I was still playing basketball and trying to lift. This also lends to the second issue, which was time commitment. With everything else going on, it was just tough to handle. Additionally, I didn't really have the coaching access that I would need if I wanted to take my jumping to the next level. I was a very powerful jumper, but that also leads to being inconsistent, and without proper coaching that inconsistency hurt me in the long run. Finally, it was starting to damage my foot and ankle. I'm not exactly a "jumper" build, and it started to take a toll on my body. I valued basketball more than long jump, and I was seeing progress in discus, which is why I decided to let it go.
Unlike the shot put and the hammer throw, discus is an event that does not have an indoor equivalent. What do you do for competition during the indoor season?
Some all-year track athletes would probably scoff, but I do next to nothing until the outdoor season. Mount Allison University (which I attend) doesn't have a track and field team. In addition to this, I'm a member of their varsity basketball team, and I would never have enough time to train even if I wanted to. Besides lifting when I can, I don't have much time to dedicate to discus during the winter.
You have competed in the discus event since starting the sport in 2012, but haven't competed in other throwing events (shot put, hammer throw, weight throw, javelin). What has made you so interested in focusing solely on the discus?
Honestly, it is my schedule: if I had the time to focus on track and field as my only sport, I think decathlon is something I would consider. I've practiced both shot put and javelin, and understand many of the mechanics, but I'd really either be my best at one event, or be not so good in two or three. Because of this, as well as my father/coach's expertise in discus, that is what I chose to specialize in.
PEI is rather limited for its athletic facilities, with few places to train, and those that exist mostly being located in Charlottetown. With no indoor athletics facility to train at in PEI, what do you do for sport-specific training during the winter months?
As mentioned earlier, I really don't train track and field in the winter. So, considering that I compete four months of the year (on a good year) and there are guys who compete year-round, there is obviously a disadvantage. I know other athletes in PEI who make the trip to Moncton's indoor facility, which would also be an option for me at Mount Allison if I didn't have as much going on. But until my other things are finished, discus isn't a winter priority.
On top of the sport of track and field, you also excel in basketball, playing for the Mount Allison Mounties, and are pursuing a Bachelor of Sciences degree at the university. How do you balance sports alongside school work?
To be quite honest with you, balancing basketball itself is challenging enough. It's at least two hours out of your day, and most weekends can be written off. Especially in such a lab-heavy degree, you definitely need to be on top of time management to excel.
Aside from throwing, what are some of your other hobbies?
As we discussed, I play basketball. That was four times a week this summer, so a lot of my free time was spent doing that. Besides that, skiing/snowboarding are passions as mine, as well as reading (although you read so much at university you rarely have the desire to read for pleasure). I'm also a bit of a gamer, so if I need to just relax and not think too hard that is a go-to.
---
Hosted by New Brunswick-born track runner, administrator, and coach Brandon Scott LeBlanc, AtlanticU23 is an interview series with upcoming Atlantic Canada track and field athletes under the age of 23.
Twitter: @AtlanticU23