AtlanticU23 #016 - Constance Gilman (Prince Edward Island)
Posted 4 months ago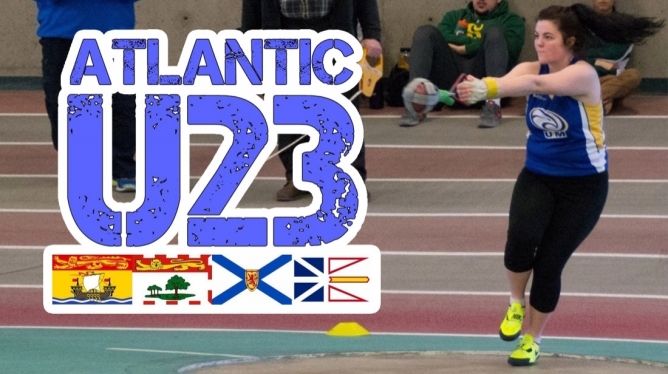 AtlanticU23 #016 – Constance Gilman (Prince Edward Island)
Hometown: Brackley Beach, PEI
Birth Year: 1997 (Senior age class)
Club: Islanders Track & Field Club
Coach: Earl Church
Personal Bests (as of September 30th, 2018): Shot Put (4kg): 11.69m, Hammer (4kg): 37.43m, Weight Throw (9.07kg): 12.72m
5 quick questions with Constance:
Favourite musician? Shawn Mendes
Coffee or tea? Coffee
What was your favorite childhood toy? Mickey Mouse computer game
Would you rather always be in a crowd, or be the only person on Earth? Be the only person on Earth
If you could be invisible for a day, what would you do? Mess with my roommates
You come from a family that is very active within the sport in PEI. Where was it that you first became interested in throwing competitively?
I was first introduced to throws in 2009 through the Jeux de l'Acadie. Before I became a thrower I started in sprints and javelin. I did that for a couple of years, then I dropped the sprints and switched it out with the discus. One summer before the Games I told my coach I didn't want to do javelin anymore and he told me that I had to find another event to be able to participate. We tried everything: long distance, long jump, and even high jump…at no surprise to the people who know me, I was no good at any of them and so we finally tried shot put and it just worked. Those Games were the first games I had medalled at and that was also my first real shot put competition. After the competition my coach kept telling my dad I should try out for the provincial Legion team, and my dad finally gave in. I went to my first practice with my parents, met with the throws coach for that team, and showed the coach what I could do and that was it, I was hooked.
You competed at the 2012 Canadian Legion Track & Field Championships in Charlottetown, placing 8thin the shot put. How was competing at a national championships in front of a home crowd?
That was my first national championships for track and field and the fact that it was at home and my family could be there to support me made the experience that much better. It was incredible, I've been hooked ever since.
You represented Team PEI at the 2017 Canada Games, finishing 16thand 17thoverall in the hammer throw and shot put, respectively. Take us through your Canada Games experience.
My Canada Games experience was interesting, that school year and the months leading up to the games I was in a major slump throw-wise for the shot put, and because of that I had not set my goals very high, I was just hoping to hit 10m. Unfortunately, I was not able to achieve my goal, which was very disappointing and, if I'm being honest, I felt embarrassed of that performance. For the hammer throw my goal was very simple: I didn't want to come last, and I didn't so I was pretty pleased. Even though my numbers may not have been where I would have liked, I found myself still having fun with the other girls while we were throwing, everyone was so nice and supportive it was as though we had all known each other for years. It was really a surreal experience.
At the 2018 AUS Track and Field Championships, you captured gold in the shot put and silver in the weight throw, achieving personal bests in both events. Take us through the training that led to such successful performances.
My teammates really made all the difference in the training that year. Every practice me and the other girls (my teammates) just had fun, there was always laughter coming from the circle. They also pushed me to be the best that I could: one of them in particular, who was at the same level as I, was constantly someone to chase, we had a friendly competition between the two of us, which has always helped my performance. I also went into AUS not feeling much pressure for shot put for the simple fact that it was a very strong group of girls and I didn't even think I was going to see the podium. Because of that I went in the event with the mind set of "I'm just going to have fun and hopefully get a new PB."
Your gold medal performance in the shot put qualified you for the U SPORTS Track & Field Championships, where you finished 13thoverall. How was your first U SPORTS experience? What are your goals for future editions of the championships?
It was amazing! I never thought I would make it to U SPORTS, especially not for shot put, so it's definitely not something I will forget anytime soon. I was able to see some of the girls from Canada Games, make new friends, and see some of the best athletes that universities across Canada have to offer. I hope to be able to compete again in U SPORTS, but this year the competition to get there will be even stronger than last year, so I'm just going to try and do last year and have fun and hopefully hit new PB's; it worked last year so maybe it'll work for me again.
You had an off year in 2017, only twice throwing over 10m in the shot put, but bounced back in 2018 to set personal bests in each of your throwing events. What explains the disappointing results in 2017, and your bounce back the next year?
I was over-trained, I hadn't really stopped since I started university in 2015. I was going from indoor season to outdoor and back to indoor and my body had enough, I had nothing left to give. After Canada Games I stopped all forms of training for two months and that made all the difference in the world, I came back stronger than ever.
There are two dominant styles in throwing shot put: the glide and the spin. Which technique do you utilize?
I use the glide. I once tried to do the spin technique and it was a disaster; I have no intention on learning that technique one day. There are some people, in my opinion, that are rotational athletes, they just pick it up easier and it makes more sense to them…I am not one of those athletes. That is the main reason I quit discus: I could throw standing still, and I know the fundamentals of the rotation, but I can't apply them to save my life…my coach tried for 6 years and nothing. I wouldn't say I am totally comfortable with the glide because I still have a lot of work to do on my technique, but the fundamentals of the technique just make more sense to me. I think beginner shot put throwers, once they have passed the stand still throws, should start with the glide; some move on from glide to rotational and some don't, it all depends on the athlete and the coach.
You started school at the Université de Moncton in 2015, joining the Aigles Bleus track and field team. What made you choose to attend UdeM? How has your university experience been thus far?
I chose UdeM for three reasons: first, I did all my education in French and I was worried that if I chose an English university it would be too much, I was already going to adjust to university life and I didn't want to add the stress of having to relearn the terms. Second, I was drawn to the small class sizes…I mean I had been in the same school since kindergarten and I graduated with fourteen people. Lastly, my coach Earl Church. I had met him a couple times before university and I found myself always wanting to impress him with my throws during competitions, I just respect his opinion so much and wanted him to be my coach. It also helped that when I got my acceptance letter to UdeM I was more excited about it than my other acceptance letters. My university experience thus far has been hard but fun and I know that in the long run it'll be worth it.
While the CEPS facility on the UdeM campus serves as your primary training centre during the school year, there is no indoor athletics facility to train at in PEI. What do you primarily do for training during the winter break?
During my winter break I mostly concentrate on technique and conditioning, it's a lot of gym time and rotations/glides in my shed at home. One winter my dad had blown out a circle and a spot for the implements to land in the snow in our front yard and my brother and I went out in our snow gear and threw, it wasn't easy or necessarily pretty, but it was better than nothing.
Aside from throwing, what are some of your other hobbies?
Just watching movies or TV. With my track schedule and school schedule I enjoy the time where I can just veg out.
---
Hosted by New Brunswick-born track runner, administrator, and coach Brandon Scott LeBlanc, AtlanticU23 is an interview series with upcoming Atlantic Canada track and field athletes under the age of 23.
Twitter: @AtlanticU23