AtlanticU23 #019 - Andrew Peverill (Nova Scotia)
Posted 6 months ago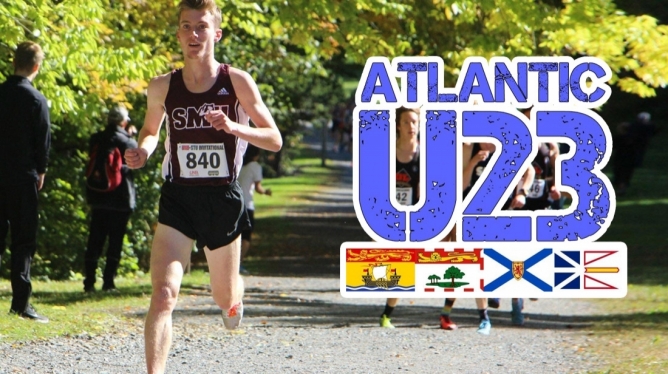 AtlanticU23 #019 – Andrew Peverill (Nova Scotia)
Hometown: Lower Sackville, NS
Birth Year:1999 (Junior age class)
Club: Chebucto Athletics
Coach: Kevin Heisler
Personal Bests (as of November 11th, 2018): 800m: 1:56.89, 1000m: 2:27.28, 1500m: 3:49.07, 3000m: 8:28.06, 5000m: 14:54.62
5 quick questions with Andrew:
Favourite ice cream flavour? Mint Chocolate Chip
Cross Country or track? Track
What TV game show would you most like to be on? Match Game
Would you rather live one life that lasts 1,000 years or live 10 lives that last 100 years each? 10 lives that last 100 years each
If you owned a restaurant, what kind of food would it serve? A buffet of foods from different continents.
How did you first get started in the sport of track and field?
I did track and field just as another school sport in junior high, and gradually as I got older I realized I could be competitive in distance events, so I decided to start training with my local club, Chebucto Athletics.
You competed at your first Canadian Legion Track & Field Championships in 2014, representing Team Nova Scotia/Nunavut, finishing 14thin the 1200m with a time of 3:22.34, and 6thin the 2000m with a time of 6:00.27. How was competing at your first Legion Championships?
Up to that point, I had never made a provincial team in any of the other sports I played, so to attend a national championship for the first time was an amazing experience. Until that year I had never considered track as something more than another sport to do in the summer, but I believe it was at this championship that I really started to appreciate and fall in love with the sport.
The level of competitiveness in the Youth boys distance events were drastically different between the 2015 and 2016 editions Legion Championships. At the 2015 Championships, you placed 12thin the 3000m with a time of 8:50.29, and 20thin the 1500m with a time of 4:05.31. At the 2016 Championships, you placed 6thin the 3000m with a time of 8:51.62, and 10thin the 1500m with a time of 4:05.99. How did these races compare for you? Why do you believe the performance times were so different from one year to the next?
While I wasn't overly happy with either performances, the 2016 Championships were definitely a much bigger disappointment. Because of the small population in the Maritimes, it's rare that you get a single meet that is very competitive, so I took 2015 as more of learning curve, whereas in 2016 I had expected myself to medal in the 1500m and challenge for a medal in the 3000m. I think the performance times were so different because in 2016 the races were extremely tactical due to very hot and windy conditions.
At the Nova Scotia Canada Games Team Trials, you contested the 5000m but not your other primary event, the 1500m. What was the reason for this?
One of the main reasons for this was because at that point, I was not sure what my primary event was, and I was still trying different events to see which ones worked best for me. On top of that, some of the guys that year had run huge PB's in the 1500m which were quite a bit under my best and had gone well under the standard. I figured that doing the 5000m, I could still hit standard and be one of the top two to qualify.
At the 2017 Canada Games, you finished 7thin the 5000m in a time of 14:56.92, just narrowly missing a personal best. Take us through your Canada Games experience. Were you happy with your performance?
It really was like nothing I had experienced before. The Games in Winnipeg were so well run and organized, it made it easy to have fun and enjoy the whole experience. As far as the race, I wasn't overly happy as I had hoped to PB since it was a much faster field, but I was happy with how I executed my race plan on the day and like many of the other athletes from the Maritimes, the heat had a big effect on the race for me so I also wasn't too upset with it either.
At nineteen years of age this year, you are still eligible for the next Canada Games in 2021, taking place in the Niagara Region of Ontario. Having competed in an edition of the Games already, what goals do you have in mind for the next edition?
The goals I have in mind are pretty simple, win the 1500m and challenge for the 5000m.
During the 2017 cross country season, you quickly shot up the rankings and became a favourite to watch when you topped the AUS field at the AUS-RSEQ Interlock Meet in Quebec City, finishing 4thoverall. Take us through the race that put you on everybody's radar.
It honestly was a blur. We all started out and I knew the fitness that the other guys had, so I decided to hang back a bit more than I normally would. Eventually, I noticed that guys were starting to drop and I just decided to go for it. It turned out to be the right move as I think the other guys went out a little quicker than they usually would.
While Angus Rawling of St. FX was considered the favourite to win the 2017 AUS Cross Country Championships, close results throughout the season suggested that it was no sure thing, and that there would be a close race for the medal positions. You finished 4thin the race, just 13 seconds outside of the bronze medal position. How did you feel about your first AUS Championships?
I felt pretty content because even though I was looking for a medal, it was a brutal course and I knew that Angus, Alex Neuffer, and Cal Dewolfe all had a lot of experience racing in championship races and that it was still a learning process for me that year.
You competed in your second AUS Cross Country Championships two weeks ago, finishing 2ndto stop the St. FX team from capturing all three medal positions. Take us through the race. Compared to your 2017 result, how did you feel about this AUS Championships?
I felt a lot more confident going into this year's AUS Championships. While I knew that Angus was the overall favourite due to how strong he had gotten in the distance events, I still figured I had to try and stay with him because Alex Neuffer was also a large threat to steal that 2ndposition. I was definitely surprised about the times coming off that course since it is a tough, slower one.
At this past weekend's U SPORTS Cross Country Championships, you finished 19th overall and 2nd among AUS athletes. Take us through the race. Were you happy with the result?
I didn't quite follow my race plan, as I hadn't intended on being as high up in the pack during the first half of the race, so that was a big factor heading into the later stages of the race. I wasn't upset with the results as it was a big jump from last year, and I'm still learning how to race a 10km!
There was a long series of close finishes between 7th and 25th place, with just 38 seconds separating these positions. What were the last kilometers of the race like with everybody fighting for positions?
You always want to be the person catching others near the end of the race and like I said before, due to my first half of the race, I was unfortunately not one of those people! It definitely is gruelling, especially at the end of a 10km race.
One of your teammates at St. Mary's University is your older brother, Jonathan Peverill. How do you two enjoy practicing and competing together? Is there a friendly rivalry between brothers?
It has been an awesome experience. Getting to travel the country and race with him have made some of the best memories, one of which being our 4x800m team winning in an upset at the 2017 AUS Track and Field Championships. While there is a friendly (and sometimes not-so) rivalry between us, we try to help each other as much as possible when it comes to track, pacing each other in workouts and meets.
Aside from running, what are some of your other hobbies?
I really enjoy getting outdoors as much as possible and doing things such as hiking, camping, travelling, etc. Luckily these go well with my sport!

---

Hosted by New Brunswick-born track runner, administrator, and coach Brandon Scott LeBlanc, AtlanticU23 is an interview series with upcoming Atlantic Canada track and field athletes under the age of 23.
Twitter: @AtlanticU23