AtlanticU23 #020 - Owen Enstrom (New Brunswick)
Posted 5 months ago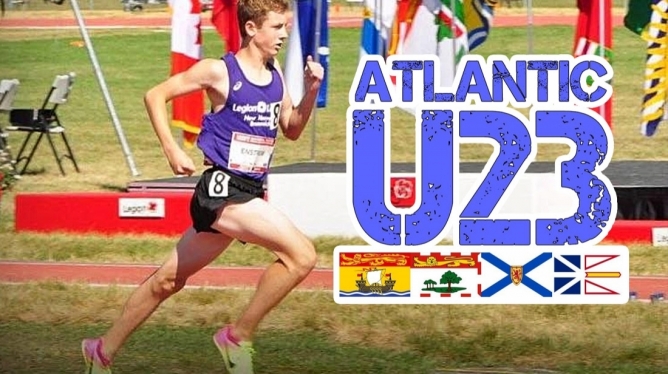 AtlanticU23 #020 – Owen Enstrom (New Brunswick)
Hometown: Upper Coverdale, New Brunswick
Birth Year: 2003 (Midget age class)
Club: Athlétisme Sud-Est / South-East Athletics
Coach: Peter Stuart
Personal Bests (as of November 25th, 2018): 300m: 37.49, 400m: 52.19, 600m: 1:28.37, 800m: 2:00.32
5 quick questions with Owen:
Favourite music genre? Rap or R&B
1% or 2% milk? 2%
What famous person would you most like to meet? David Rudisha
Would you rather change the past or be able to see into the future? Seeing into the future would be pretty cool!
If a genie granted you three wishes, what would the three wishes be? Happiness for everyone, more speed for races, and to be able to train with a professional athletes for a day
How did you first get involved in track and field?
I first got involved with track and field in elementary school, there were sign-ups for track and I thought to myself "hmm I'm fast, I should try it!" My coach (Jocelyn Cliff) saw that I had some raw talent and suggested I join ASEA in the 6thgrade.
Living in Upper Coverdale, you travel into Salisbury to attend J.M.A. Armstrong High School, and travel into Moncton to train with Athlétisme Sud-Est / South-East Athletics. Take us through a typical day in the life of Owen Enstrom.
My typical day during the week is to get up at 6:40am, go to school till 2:35pm, and then my mom will drive me to Université de Moncton for track at 4:10pm usually (getting there for 4:45pm) and I usually stay till 7:00pm, and get home around 7:30pm.
In 2017 you started racing some of the longer distances (1500m, 1500m steeplechase, 3000m), but in 2018 dropped back down to the long sprint and 800m events. What made you decide to try out longer distances, and what made you jump back down?
I always wanted to run the longer distances because I had been following a runner named Mo Farah, and he ran the 5,000 and 10,000m, so that influenced me to run long distances. My coach Peter had noticed during practice that my speed was unmatched in the final metres of intervals at practice, and suggested I try running the 800m again, and then a bit later in the year I convinced myself to try running a 400m. It went well, so I continued into running the 300m, as that is the distance for midget athletes instead of the 400m (I'll also reveal a secret by saying that I am working on the 400m hurdles too).
You've competed at two consecutive Canadian Legion Track & Feld Championships for Team New Brunswick, in 2017 and 2018. How has your experience been at these Championships? How do you feel these team experiences have helped you become a better athlete?
My experiences at legions were great! I still haven't gotten the race results I'm looking for, but the team experience and the experience of running with the best athletes in the country is definitely an eye opener, and gives me the motivation to improve each year and become a better athlete.
2018 was a breakthrough year for you, with your 800m time dropping from 2:07.20 in 2017, to 2:00.32. What do you attribute to such growth in just one year?
2018 was definitely one of my best years of improvement, and I'll have to say that one of the big factors for my 800m time dropping so much is the fact that in 2017 I was focusing mainly on endurance, but when I switched to the faster races, I started working a lot more in speed, which has helped me a lot! The other factor is the fact that throughout the year I've grown a lot, and I had more 800m racing experience too!
After racing the 800m and long sprint events throughout the outdoor season, you ran cross country where your division's race distance is 4km. How did the season go?
Cross country is definitely a good way to gain endurance for the indoor season, and during the season I always look to go faster in each race, but I also am just trying to survive the 4km course.
While predominantly being a mid-distance track runner, you have competed in the 10km event at the last three editions of the popular Moncton road race, Legs For Literacy. How do you enjoy the annual road race? How does the 10km compare to the 800m?
Legs For Literacy is a really fun road race, and I always run the 10km distance to try something new I guess, I never thought of going longer than that and I don't particularly like the 5k.
You have proven yourself to be competitive over the mid-long distances, have shown your ability to hurdle, and have tried out the steeplechase a few times during the 2017 season. What does your future in the steeplechase look like?
I used to run the steeplechase, but I decided to let that race go because of the fact that training for the steeplechase and an event like the 400m is quite challenging. I will now be working towards the 400m hurdle.
You dabbled in the high jump a bit during the recent indoor and outdoor seasons…was this just for fun or is this something we can expect to see you take up?
Yes high jump was just something I did for fun last indoor season and I was not very good, so I probably won't be doing that again.
Compared to other mid-distance athletes of your age, you compete more frequently (in 2018, 13 events indoors, 18 outdoors, 4 cross country races, and 1 road race). How do you stay fresh and injury free whilst competing year-round?
Well I make sure to always warm-up well, and stretch after the workouts to stay away from injuries as much as possible. I listen very well to my body and when something doesn't feel right, I communicate with my coach to modify things during training if needed.
You raced the 600m for the first time this weekend, how did you enjoy the distance? Is the event more like the 400m or the 800m?
The 600m was great! I knew I would like it since it combines both of my major distances into one, but it definitely isn't any easier! It feels like a long 400m more than an 800m.
What are your goals for this indoor season?
My goals for this indoor season are to get a good preparation for the outdoor season, and to try some new events, the 600m for example.
You just narrowly missed the sub-2 minute mark in the 800m this past outdoor season. Will this be your primary goal for 2019?
Yes last outdoor season I came so close and that was kind of annoying, but it just gave me the motivation to do it early in the season this year!
Aside from running, what are some of your other hobbies?
I am a pianist! Music is a popular hobby of mine aside of running.

---

Hosted by New Brunswick-born track runner, administrator, and coach Brandon Scott LeBlanc, AtlanticU23 is an interview series with upcoming Atlantic Canada track and field athletes under the age of 23.
Twitter: @AtlanticU23