AtlanticU23 #022 - Julia Howley (Newfoundland and Labrador)
Posted 4 months ago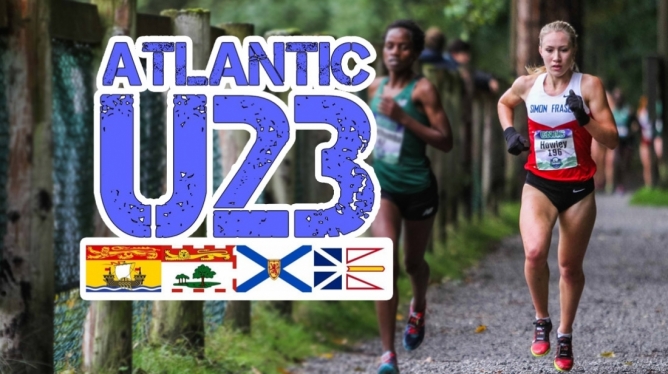 AtlanticU23 #022 - Julia Howley (Newfoundland and Labrador)
Hometown: St. John's, Newfoundland and Labrador
Birth Year: 1996 (Senior age class)
Club: Unattached
Coach: Brit Townsend
Personal Bests (as of December 23rd, 2018): 800m: 2:13.07, 1500m: 4:24.57, 3000m: 9:32, 3000m steeplechase: 10:01.88
5 quick questions with Julia:
Favourite Disney song? Not necessarily my favourite, but my roommates can definitely confirm that I know every single lyric to Let It Go.
Facebook, Twitter, or Instagram? Instagram for the inspiration and Twitter for the track memes (@DumbFlotrack speaks to me on a spiritual level).
How do you take your coffee? With a little cream, and ASAP.
Would you rather be able to detect any lie you hear or get away with any lie you tell? Detect any lie!
If you had one song to play at your wedding what would it be?
Don't even ask me such a question for at least ten years...
How did you first get started in the sport?
I pretty much played every sport growing up. From figure skating and soccer, to volleyball and a brief stint on my high school rugby team, I did it all! Like every other athletic kid, I participated in Saturday morning cross country races and school track meets, but I did not train for track until high school. Despite a lack of training, I was always one of the top finishers in the cross-country races and track meets. After 'retiring' from figure skating, I decided to try and tap into my running potential and joined Pearlgate Track & Field Club. I haven't stopped since!
The Newfoundland-to-Burnaby Mountain pipeline, as it has humorously been called, refers to the flow of high-class Newfoundland athletes to the Simon Fraser University athletics program. How has the Newfoundland-SFU relationship helped you find your way to SFU, and find great success there?
New to the sport, I was not a top recruit in high school: I was recruited based on potential and trust. Over the years, Ray Will, my high school coach, has developed a trusting relationship with Brit Townsend, my current coach and Head Coach of SFU. The opportunities for competition in Newfoundland are limited, so many athletes do not reach their potential until they leave. Over the years, several Newfoundland athletes have made their way to Burnaby Mountain on the basis of potential, budding into national champions and Team Canada members. My SFU journey is a result of this success.
At the 2017 Canada Games, you finished 9thin the 1500m. Take us through the race. Were you happy with the result?
The 2017 Canada Games came at the end of a very long 2016-2017 NCAA season. By August, I had already competed in the NCAA Cross Country, Indoor, and Outdoor Championships, and the Canadian Outdoor Championships; needless to say, I was exhausted. I would have loved to compete at the Canada Games in peak form, but approached the meet with reasonable expectations, knowing my peak season was long over. Instead, I treated the Canada Games as an opportunity to experience a multi-sport 'games', represent my province, and have fun!
The 1500m event at the Games was odd in that, due to the number of competitors (17 women, 21 women), the men had qualifying heats while the women went straight to finals. Would you have preferred to run a qualifying race, or go straight to finals?
I would have preferred to run the qualifying race and the finals. Watching my teammates and friends compete all week made me eager for my turn. The heats would have provided an extra opportunity to don the Team NL uniform and get in on the action!
At the 2016 NCAA Division II Cross Country Championships, you placed 29thindividually and helped the SFU women to a 6thplace team finish, while at the 2017 Championships, you placed 15thindividually and led the SFU women to a top-10 team finish. For both you and the overall team, how did these results compare? Were you happy with the performances?
2016 was a breakthrough season for me. After two years of not even scoring for SFU, I finally 'figured out' cross country. I was improving every race, quickly becoming a leader on a strong, competitive team. My first NCAA Championships racing experience, I approached the 2016 nationals without expectation. I wanted to run hard and help our team; finishing as an All-American was an unexpected bonus! My 2016 success fuelled my senior year cross country campaign. I had a new confidence in my ability to compete with the top NCAA D2 runners. Prior to the start of the 2017 season, I set a goal of a top-15 individual finish (I really wanted one of those NCAA trophies!). Mixing it up with the frontrunners, I ran hard and held on for a 15th place finish. I ended my college cross country career proud of the progress I'd made since my first few seasons, and satisfied with my end result. Unfortunately, a late-season injury derailed the team's ability to finish as high as we could have. Remaining in the top-10, despite missing a key player, was an accomplishment in itself!
At the 2018 NCAA Division II Indoor Track and Field Championships, the SFU women captured bronze in a very close distance medley relay. Take us through the event. How did it feel for you and your teammates to capture a medal in your final season?
The NCAA D2 distance medley relay championship race is a highlight from my collegiate career thus far. We had a strong team, and we knew it; we approached nationals with high hopes of a top-three finish. I was running the final leg (mile), and felt confident that if my teammates could get me the baton within striking distance, I could finish the job. My girls did an amazing job setting me up for a successful finish. I patiently reeled in competitors, setting myself up for a hard finish into third place. Crossing the finish line and running to my celebrating teammates was a feeling I'll never forget!
You debuted in the 3000m steeplechase this year and have had instant success, achieving a top ten ranking nationally and approaching the sub 10 minute mark. What inspired you to take up the event?
There were a few factors contributing to my decision to try the steeplechase. I taught myself to hurdle while working at my home track one summer. Hurdling came naturally to me (I used to be a figure skater, I'm not afraid of jumping!), so I knew I would be able to navigate the steeple barriers. While I love running the 1500m/mile, my success in cross country made me think I might be better suited for the longer track events. The 3000m seemed like a natural progression into the longer races. A big breakthrough in the indoor 3000m last winter sealed the deal ? steeplechase seemed like the perfect fit!
Coming from a predominantly 1500m background on the track, you had to effectively double your race distance. How have you adapted to this longer race?
My successful cross country campaign made me realize that I might be better suited to the longer track events. After the 2017 cross country season, my coach and I decided to focus on the indoor 3000m, rather than the usual mile. With a solid base from cross country, I continued to build my strength, maintaining the volume in workouts. I responded well to the longer, strength-based training, lowering my 3000m time by nearly 30 seconds!
How about the barriers and the water jump, how have you adapted to them?
All my time spent teaching myself to hurdle paid off! I've had a relatively smooth transition to the barriers ? they make practices more grueling, but races more fun! The water jump is a whole other beast, it's definitely gotten the best of me on occasion. You can't overthink the water jump. My smoothest races have been when I focused on running with the pack, which just so happens to involve navigating a water jump, rather than on the jump itself. Focusing on the jump usually ends up with a two-footed landing (or a swim!).
What are your goals for this indoor season?
I'm ready for another big breakthrough in the indoor 3000m. I'll get to mix it up in some fast heats at the University of Washington, so hopefully I can get pulled to a fast time! I'm still a miler at heart, so hopefully I'll get the chance to try and lower my indoor mile PB. I'm out of indoor eligibility, so my primary goal is to set myself up for a successful final NCAA outdoor season.
Still a number of months away, but how about goals for next year's outdoor season?
After sitting out of the NCAA action for a year, I'm eager to put on my SFU singlet and make the most of my final collegiate season! There are some big things I still want to accomplish as a collegiate athlete. I'm excited to make my NCAA steeplechase debut, and hope to finish on top of the podium at the D2 Championships. It's a big goal, but so was running for SFU - anything's possible! SFU provides ample high-quality race opportunities, so I'm eager to run some fast 1500m's, 3000m SC, and maybe even a 5000m! I'm hoping to break 9:50 in the steeplechase; hopefully fast enough to make my first national team and qualify for FISU!
Competing in the NCAA Division II has allowed you a number of experiences that the vast majority of Canadian university students have missed out on. What have been some of the benefits and highlights of competing in the NCAA compared to U SPORTS?
Two words: outdoor track. I have the opportunity to travel and compete in outdoor track meets in sunny, warm California every other weekend while Canada is still defrosting from the winter!
Is there anything you feel you've missed out on by not competing in U SPORTS?
Honestly, no. I still get to compete against all the Canadian athletes at the Athletics Canada Championships!
Growing up in St. John's, Newfoundland, and more recently having lived and trained in Burnaby, British Columbia, you have experienced the sport on both sides of the country. What has been some of the most substantial differences of training in these cities/provinces?
The weather, the access to facilities, and the access to high quality competitions. Training and competing at a high level in Newfoundland is a challenge. High winds and cold winters make outdoor training a challenge, forcing athletes onto a public, 200m flat indoor track for most of the year. Burnaby's mild weather is a distance runners dream (as long as you're not afraid of a little rain). The ability to train outdoor, year-round is a game changer! The track community in Newfoundland is small, and there are limited opportunities for high-quality competition. SFU is a 40-minute drive from the US border - the opportunities for fast races are endless!
Aside from running, what are some of your other hobbies?
I love traveling and visiting new places. I always make an effort to explore on every track-trip (turns out there is more to Seattle than just the UW Dempsey Indoor Track Centre). I'm also interested in cooking and baking! I love making myself (and sometimes my roommates) creative, nutritious food to fuel my training (or my cravings ? big chocolate fan!).
---
Hosted by New Brunswick-born track runner, administrator, and coach Brandon Scott LeBlanc, AtlanticU23 is an interview series with upcoming Atlantic Canada track and field athletes under the age of 23.
Twitter: @AtlanticU23
User

Comments