AtlanticU23 #023 - Erin Vringer (New Brunswick)
Posted 2 months ago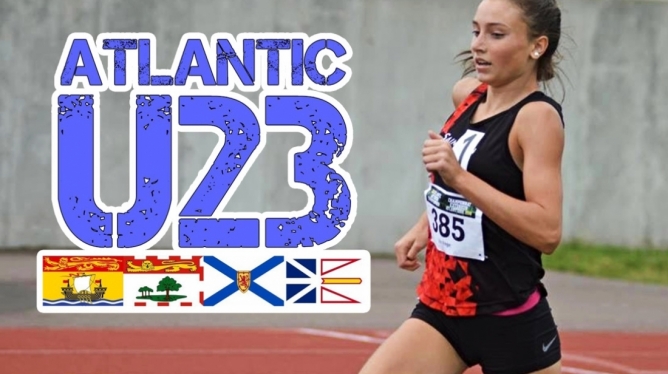 AtlanticU23 #023 - Erin Vringer (New Brunswick)
Hometown: Saint John, New Brunswick
Birth Year:2004 (U16 age class)
Club: Saint John Track Club
Coach: Bill MacMackin
Personal Bests (as of January 6th, 2018): 800m: 2:17.56, 1000m: 3:02.32, 1200m: 3:32.93, 2000m: 6:22.34, 1500m steeplechase: 4:56.59
5 quick questions with Erin:
Favourite movie genre? Drama
Scariest nightmare? Definitely something involving snakes
Which holiday do you most look forward to each year? Christmas, because I get to spend time with all my family
Would you rather be uncomfortably cold or uncomfortably warm? Uncomfortably cold
If you had the chance to compete in the Winter Olympic Games, which sport would you compete in? I think alpine skiing would be fun
How did you first get involved in track and field?
I first started running cross country with my elementary school in grade 3. I always did really well and enjoyed running in the races. I come from a track family so they encouraged me to join the club. I joined Saint John Track Club and started training with Coach Bill MacMackin in grade 6, and it all started from there!
You come from a predominantly multi-sport background, playing soccer and volleyball in addition to athletics. How has your participation in multiple sports helped you become a better athlete on the track?
Soccer and track are the two sports that I train and compete in at a competitive level. These two sports work well together. Soccer helps me with speed, agility, and handling pressure, which supports my running. Being a multi-sport athlete has kept me balanced and has helped prevent injuries by not using all the same muscle groups. I'm thankful to have two coaches who support me and work together so that I can play both sports.
You've had success in every distance you've attempted, from the 600m to the 10km. Which range of distance running do you enjoy most?
I like being able to run a wide range of distances because it's always fun to change it up. My favourite distances would be the 1200m and 1500m; they are faster races but they also require endurance. My favourite road distance is the 5km, but I also look forward to running the Hampton 5 Miler every fall!
Likewise, you've had success in each area of the sport: indoor and outdoor track, cross country, and road racing. Which side of the sport do you enjoy most?
I enjoy outdoor track the most, but cross country is a close second. Because Saint John doesn't have an indoor track I find it hard to get the feel for my pace during my races on the indoor track. I use road races in the spring to get prepared for the outdoor track season. I like running a few road races because the road running community is always so supportive.
At this year's Canadian Legion Track & Field Championships, you won gold in the 1200m, and bronze in both the 2000m and 1500m steeplechase. Take us through your week in Brandon, Manitoba. What were your goals going into the competition?
Having competed at Legions in 2017 I knew I would be running against some fast runners and would have the opportunity to run some fast times. I had a great summer of training and racing so I felt ready and my goal was three podium finishes. I knew it would be hard but I also knew I was prepared for the events, and I thought my goal was achievable. Going into the weekend I focused a lot on the 1200m because I knew it was probably my best chance at a gold medal. I executed my race plan perfectly and improved my personal best by five seconds. The next day, in the 2000m, my plan was to stay with the leader but I wasn't able to keep the pace. I ended up finishing third but was happy with my race and time. On the last day I was physically and mentally tired and was starting to understand how taxing three races in three days was. It was my first steeplechase at a big championship and also one of the hottest days in the history of Brandon, Manitoba. My coach Bill told me to stay positive and that I had more left in the tank than I thought. I gave it everything I had and won another bronze medal and ran another PB. I'm really happy with my results in Brandon and look forward to representing my province again this year in Cape Breton. Legions is such a great experience, getting to know people and making friends with different athletes from around the province.
You tried out the steeplechase event this year and had instance success, capturing bronze in the event at the Canadian Legion Track & Field Championships. What made you interested in trying out the event?
Steeplechase had always been an interesting event to watch and I had always thought it would be fun to try. It adds an extra challenge to the race. I had done some hurdle drills before but the technique was mostly new to me. I think the steeplechase is a really fun event and I have a lot of room for improvement.
How have you adjusted to the barriers?
At times it's hard for me to time my jump with my stride, but as I practice and race more it will improve and become more natural.
Are you looking forward to the addition of the water jump when entering the U18 age category?
I've never tried the water jump before but I think it will be fun. It will be a good way to cool off on those hot days!
Possibly your most impressive performance to date was your 5th place finish in the U18 race at the Canadian Cross Country Championships. Take us through the race. Considering the significant age-gap between you and your competitors, what was your goal going into the race?
My goal going into the race was a top ten finish. I had never been to a Canadian Cross Country Championship before and didn't know what to expect. Before the race started it was an intense atmosphere with so many runners at the start line. I knew I had to be aggressive and get out fast to get up with the lead runners. The first part of the race I was in a big pack which is something I'm not used to. I kept working my way up throughout the race and had a strong finish. I was really excited about finishing 5th but I'm motivated to improve on that performance next year at the championships in Abbotsford, British Columbia.
Now in your final year of the U16 age category, what are your goals for the new year?
This year I want to use the indoor season to improve my speed and strength by racing some shorter distances. I plan to race in the Hershey Canadian Indoor Championships again this year. This summer my focus will be on getting ready for Legions in Cape Breton. I want to keep trying to improve my personal bests every race.
Saint John features an excellent outdoor training centre at the 1985 Canada Games Stadium, but currently has no indoor centre (an indoor fieldhouse is expected to open in the fall of 2019), with most athletes training on basketball courts. Tell us about your experience training in Saint John?
In the summer months our outdoor stadium is a great training facility and there are lots of trails to train on during cross country season, but indoor season is difficult. I run outside a couple times a week and train on the basketball courts for the winter, which is not ideal. I can't wait for next indoor season when we will have our new field house. I know Bill has worked so hard to build this fieldhouse and it will make indoor training a lot easier!
Aside from running, what are some of your other hobbies?
When I'm not running I like to play soccer, travel, hike, and spend time with my friends.

---

Hosted by New Brunswick-born track runner, administrator, and coach Brandon Scott LeBlanc, AtlanticU23 is an interview series with upcoming Atlantic Canada track and field athletes under the age of 23.
Facebook: @AtlanticU23
Twitter: @AtlanticU23