AtlanticU23 #027 - Hudson Grimshaw-Surette (Nova Scotia)
Posted 11 months ago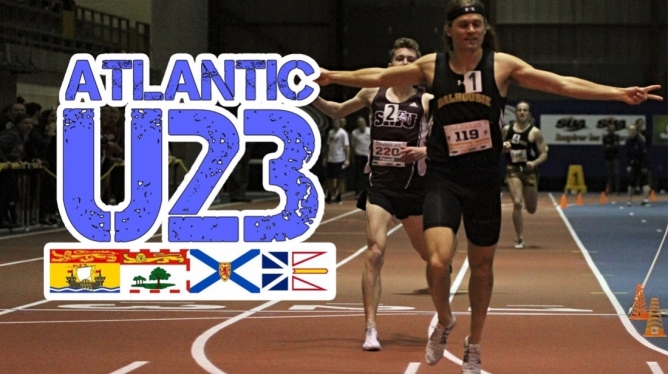 Hometown: Yarmouth, NS
Birth Year: 1998 (Senior age class)
Club: Southwest Nova Athletics
Coach: Rich Lehman
Personal Bests (as of March 3rd, 2019): 400m: 50.16, 600m: 1:20.96, 800m: 1:51.44, 1000m: 2:25.52, 1500m: 3:56.89
5 quick questions with Hudson:

Favourite novel? Can't remember the last book I read to be honest
Split shorts or tights? Half tights
What's the best thing about Dalhousie University? Dalplex
Would you rather be locked in an amusement park or a library? Amusement Park
If you could have been born anywhere else in the world, where would you have chosen? Australia for the weather and accent
How did you first get involved in track and field?
Running has always been a big part of my family (younger brother Harmon also runs for Dalhousie), but I started running with the Doctors Nova Scotia Kids Run Club in primary school.
From your first years in the sport, you were instantly drawn towards the mid-distance events. What made you so keen on racing these distances?
In the early years, I actually ran anything from the 4x100m to cross country and even threw discus. This provided some good opportunity to try different events, but the middle-distances really caught my attention because of the hard work and grit required for these events.
At the 2017 Canada Games, you finished 5thin the 800m and 6thas a member of the province's 4x400m team. Take us through your Canada Games experience. Were you happy with your performance?
The Canada Games experience was one of the best experiences I've ever had, and I fully recommend for anyone to take advantage of the opportunity. As for my performances, I was pretty happy with 5thand 6th.
Racing the 1000m at the SMU Open on February 10th, both you and St. Mary's athlete Andrew Peverill achieved the U SPORTS Auto Standard performance time of 2:23.85 (based on conversion). What was the plan going into the race? Was an auto qualifying time the target?
The plan going into the race was to basically run a good race and to have some fun with it. Auto qualification was in my head and I knew my fitness was the best it ever had been going into the meet. I also knew a bunch of guys ran fast that weekend so that motivated me.
At last weekend's AUS Track and Field Championships, you edged out Andrew Peverill to capture the gold medal in what turned out to be a strategic 1000m. Take us through the race.
Right off the gun I knew it was going to be tactical and I spent a lot of time wondering when, as well as who, was going to make the first move. I'm not actually sure who made the moves, I kind of forgot a lot of it already. It was a fun race to run.
The following day you took silver behind St. FX's Tim Brennan in what turned out to be a two-man sprint. Take us through the race. Did the CEP's tight turns make it difficult to attempt moving ahead of Brennan?
The tight turns are always hard, but I do not contribute the turns to losing to Tim. Tim is a good runner and he has had a great season. I respect him making it an honest race and on that day, he ran better.
The Dalhousie men faced unusually fierce competition in the relay events at this year's championships, taking silver in each event. As a member of the 4x400m and 4x800m teams, take us through the relay events. From your university experience to date, does the depth of the relay events appear to be increasing?
The relays were fun: it's always fun to have four guys on each team close enough that you don't actually know what's going to happen. In the AUS it seems teams are increasing in depth, and I like that. It is definitely a good thing to see the Conference's depth increasing, providing a little more rivalry between schools.
Heading into the U SPORTS Track & Field Championships, what are your goals for the Championships?
For me this year it is about the experience: getting in a race, having a good race, and having fun; if that means a medal than that's great. There are so many variables that can change each day.
This year's U SPORTS rankings includes a number of entries based on time conversions from non-championship events, including conversions from the 400m to 300m and 600m, 800m to 600m and 1000m, and mile to 1500m. What are your thoughts on non-championship distances being converted for qualifying/ranking purposes?
I think the non-university distance conversions are relatively fair for the rankings. They are pretty close in distance, and when it comes down to it we all have to run the same distance at U SPORTS.
Likewise, an athlete can compete at the U SPORTS Championships if they achieve a qualifying standard from a non-championship event, even if the athlete has never contested the actual championship event. What are your thoughts on this policy?
Again, same thoughts for this situation because at U SPORTS we all run the same distance and are on an equal playing field.
In the past you've described your participation in cross country in recreational-competitive terms, and as being a lower priority compared to your mid-distance track specialties. How do you use the cross country season in the buildup for indoor season each year? How do you balance the two seasons to ensure you don't enter indoors with too much fatigue?
This year I learned there is a strong team component to cross country and I loved it. This lead to a greater interest in the sport for me which allows me to get my mind off the middle-distance stuff for a bit and build a good base for the indoor season. Fatigue is mainly prevented by allowing a couple weeks of downtime between seasons to have some fun.
From 1998 to 2006, the IAAF World Cross Country Championships additionally featured a short race measuring 4 kilometers. Is this shorter distance of cross country something you would be more interested in contesting?
I think something like this could be more interesting compared to the longer distances.
As a mid-distance runner who specializes in the 800m, you often jump down to the 600m and up to the 1000m during the indoor season, but how about the 1500m? You only raced the distance once last season, with your personal best of 3:56.89 dating back to 2016. Any plans to contest the 1500m distance this year?
This summer I will probably jump up to the 1500m for a few races and see if I can lower that PB from almost 3 years ago.
Born and raised in Yarmouth, you now live and train in Halifax throughout the academic year. How would you compare and contrast your training environment in these two locations?
The training environments are completely different. At home, there was a lot of community support which was very nice. I also spent many workouts just working one-on-one with my mom (who was my coach at the time) or with maybe a couple athletes. Now I have a team of sometimes up to 10-15 guys who are all there working out with each other, which really makes practice much more enjoyable. Training facilities have also changed a lot. At home, I trained in a high school hallway in the winters and on a dirt track of roughly 400m, whereas I now train on the Dalplex track in the winters and a real synthetic track in the summer, which is also much more enjoyable.
Still months away, but what are your goals for the upcoming outdoor season?
I would love to break the 1:50 barrier this summer in the 800m as well as drop below the 3:50 barrier in the 1500m.
Aside from running, what are some of your other hobbies?
Not a lot to be honest. I spend a lot of my time in class or playing Xbox, but will sometimes do some painting or bring out the guitar.
---
Hosted by New Brunswick-born track runner, administrator, and coach Brandon Scott LeBlanc, AtlanticU23 is an interview series with upcoming Atlantic Canada track and field athletes under the age of 23.
Facebook: @AtlanticU23
Twitter: @AtlanticU23