AtlanticU23 #031 - Michael Rogers (Prince Edward Island)
Posted 3 weeks ago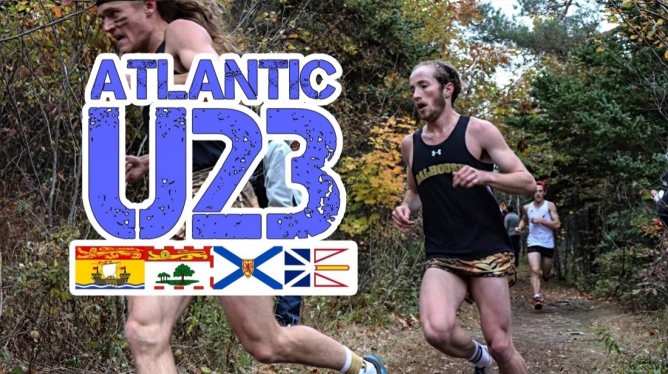 Photo Courtesy: Michael Bergeron
AtlanticU23 #031 – Micahel Rogers (Prince Edward Island)
Hometown: Charlottetown, PEI
Birth Year: 1997 (Senior age class)
Club: Islanders Track and Field Club
Coach: Rich Lehman
Personal Bests (as of April 29th, 2019): 600m: 1:27.02, 800m: 1:58.58, 1000m: 2:29.71, 1500m: 4:01.97, 3000m Steeplechase: 10:24.07, 5000m: 15:50.54
5 quick questions with Michael:
Favourite Netflix series? Suits
Who can you best impersonate? I do a mean Cal Dewolfe
What do you enjoy most about being an adult? I enjoy the freedom and the ability to take my life into my own hands
Would you rather have free Wi-Fi wherever you go or have free coffee where/whenever you want? Definitely coffee, I have a severe addiction
If you could add one new event to the Olympic Games, what would it be? I think it would be cool if they added cross country to either the Summer or Winter Games
How did you first get involved in track and field?
I first got involved in track and field through elementary school track meets, but I'd say I first really started taking it seriously during high school. My former coach Michael Peterson built a very strong track and field program at my high school and I owe a lot to him for introducing me to the sport and inspiring me to pursue it at the next level.
You come from a predominantlymulti-sport background, having competed in baseball, cross country, track and field, and short track speed skating. How do you find these sports, and the skills used within them, have worked with one another, and have contributed to your success in our sport?
I think growing up playing a multitude of sports was pivotal in my development. I'm really glad I did not specialize too early, as I believe this may have caused me to burnout in track and field early on. I think a multi-sport background is the best approach for long term athlete development.
While a student at Colonel Gray High School, you had the opportunity to compete at the now-defunct Nike High School Grand Prix in 2013. What was your experience at the event? What are your thoughts on a nation-wide high school championships in Canada?
Overall, I had a great experience at the event. Being exposed to competitors from all across Canada inspired me to pursue the sport at a higher level. It was my first national level track and field competition and being surrounded by teammates made it all the more special. I think introducing a nation-wide high school championship would help built comradery within in the sport and help inspire the next generation of athletes.
Graduating from Colonel Gray in 2015, you had many options for post-secondary education. What contributed to your decision to attend Dalhousie?
Coming out of high school I did not have much experience in the sport and had not run very fast. What contributed to my decision to attend Dalhousie was a combination of athletics, academics, and the ability to stay relatively close to home. With Dalhousie I felt like I had the best opportunity to grow as both an athlete and a student. The improvements I've seen over my time at Dalhousie is a testament to my coach Rich Lehman's training plan and the team environment he has built.
At the 2017 Canada Games, you finished 18thin the 1500m, and had some difficulties in the 5000m. Take us through your races and your Canada Games experience. What were the highs and the lows?
Although I did not have the Canada Games I would have liked to from a competition perspective, I really enjoyed my experience. Many of my teammates at Dal were competing for their respective provinces and it was great to experience the Games together as a team. Being exposed to top level national competition was inspiring.
You are one of a small number of athletes to have competed at both the Winter and Summer versions of the Canada Games – short track speed skating in 2015, and track and field in 2017. How did your experiences compare between the Winter and Summer versions of the Games?
Being from a small province I was lucky enough to compete at two separate Canada Games. My experiences from my two Canada Games practically mirror one another. I really enjoyed the comradery of the Games and having the chance to be exposed to a high level of competition. I enjoy the multisport aspect of the Games and the ability to support teammates in their respective sports. I must say however, I enjoyed the weather at the Summer Games a lot more.
You competed for Dalhousie at the 2016 and 2017 editions of the U SPORTS Cross Country Championships. Take us through your experiences at these championships. How do the nation-wide championships compare to the conference championships?
I've really enjoyed my experiences at the U SPORTS Cross Country championships competing for Dalhousie. Competing on the U SPORTS stage you are exposed to a whole new level of competition. What I noticed, compared to the AUS conference championships, was the level of depth in competition. It is great to see how you stack up against the best in the country and it makes you that much hungrier to improve.
Whereas track and field is almost wholly comprised of individual events, cross country is both equally a team sport and an individual sport. How do you and the Dalhousie team prepare for major championships with this individual/team component in mind?
Our coach Rich Lehman really preaches the team component of the sport. I believe our team as a whole is much more concerned about winning team championships than individuals having individual success. When you realize you're not only competing for yourself but for your teammates as well, I find it much easier to push yourself to a higher level of competition.
In the last two editions of the AUS Track and Field Championships, the Dalhousie 4x800m men's team has faced strong competition against Saint Mary's University, with Dalhousie narrowly taking silver both years. As a member of the 4x800m team, take us through the close competition that has emerged in the event.
Having competed on our AUS 4x800m team for the past three seasons, winning in 2017 and placing second in 2018 and 2019, I really enjoy the competition we face from Saint Mary's on a year to year basis. They definitely push us to be better and I believe they would say the same thing about us. Hopefully we will come out on the winning end of things next year.
In what was a very odd year for the 600m at the recent AUS Championships, you narrowly missed out on a bronze medal despite running in the slowest of three heats. What was your strategy going into the race?
Despite the 600m not being an event I compete in regularly, I decided to race it at the AUS Championships this year because we were in a tight team competition and I wanted to help score points for my team in any way possible. Having little experience with the event and not much competition in the slow heat, I decided to basically time trial it and try to put some pressure on the "fast heat". Unfortunately, I merely missed out on a medal.
You tried out the 3000m steeplechase in 2017, achieving a best time of 10:24.07 in the event. Do you plan to make this one of your main events on the track?
I don't think so. I mainly tried steeplechase to see how I would like it. I didn't do any specific hurdle work before jumping into the event, and if I were to do it again I would definitely focus on that component.
Born and raised in Charlottetown, you have lived and trained in Halifax throughout the academic year. How would you compare and contrast your training environment in these two locations?
I find Halifax to be a lot hillier than Charlottetown. Other than that, I find the big difference would be the access to tracks. PEI only has one synthetic track in the whole province, while Halifax has several indoor and outdoor tracks, making it much easier to train. I'm lucky to have great people to run with in both locations however.
What are your goals for the upcoming outdoor season?
This outdoor season I would like to improve on my 1500m and 5000m PBs and hopefully crack the 4-minute barrier in the 1500m for the first time.
Returning to Dalhousie next year to complete your Honours in Economics, and for your final year as a Dalhousie Tiger, what are some of your goals for cross country and indoor track seasons?
I'd like to help contribute to another AUS team championship in both cross country and track and field. Individually, I'd like to try and earn AUS all-star status in cross country and medal individually for the first time in track.
Aside from running, what are some of your other hobbies?
I like spending time outdoors and hanging with friends.

---

Hosted by New Brunswick-born track runner, administrator, and coach Brandon Scott LeBlanc, AtlanticU23 is an interview series with upcoming Atlantic Canada track and field athletes under the age of 23.
Facebook: @AtlanticU23
Twitter: @AtlanticU23