AtlanticU23 #032 - Peter Collier (Nova Scotia)
Posted 1 year ago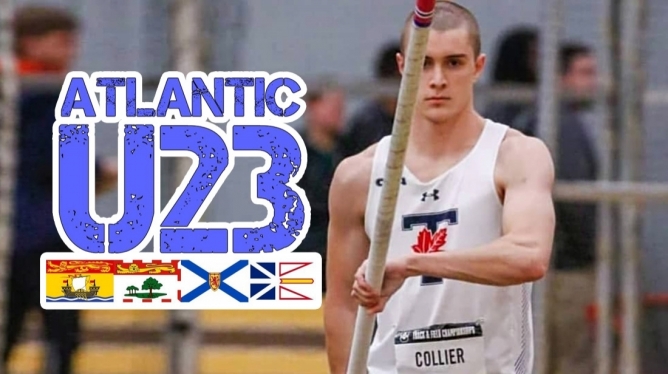 AtlanticU23 #032 – Peter Collier (Nova Scotia)
Hometown: Lower Sackville, NS
Birth Year: 1997 (Senior age class)
Club: Chebucto Athletics
Coach: Doug Mitchell and Carl Georgievski
Personal Bests (as of May 12th, 2019): 60m: 6.91, 60mh (42 inch): 8.58, 100m: 10.87, 400m: 51.12, Long Jump: 7.24m, High Jump: 1.91m, Heptathlon (Senior specs): 4985, Decathlon (Senior specs): 6116
5 quick questions with Peter:
Favourite TV show when you were a kid? The Simpsons
Career aspirations? Undecided
What is the most annoying question that people ask you? "How fast are you?"
Would you rather be a carnivore or a vegetarian? Carnivore
If you could choose the next flavour of Lays chips, what would that flavour be? They've already perfected the formula with Ketchup chips
How did you first get involved in track and field?
In grade 8, my friends and I decided to try out for the school's track team in order to get a couple days off school. I ended up doing relatively well and had a lot of fun, so I decided to join Chebucto Athletics to see if this was something I really wanted to pursue.
You got your first taste of the national scene in 2012, competing at the Canadian Legion Track & Field Championships. Along with your participation in the 2014 edition of the Championships, take us through these early opportunities to experience national-level competition?
Legions was always such a fun experience. It was really exciting to see the best athletes from across the country coming together for a big championship competition, and I think it really brought out the best in me. The competition itself was great, because it was the end of the season, and you knew that everyone was going to leave it all on the track. No one had any reason to hold back, so the energy was always really high. On top of that, being there with the team made the experience unlike any other. The comradery and friendship amongst all the athletes was what really set this experience apart.
Despite being just 15 years old and still quite new to the sport, you qualified to compete for Team Nova Scotia at the 2013 Canada Games, placing 10thin both the long jump and high jump. Take us through your first Canada Games experience.
My first Canada Games experience was pretty unique, I think, to most. Because I was up to seven years younger than some of the other competitors, I found it very easy to not worry about how they were doing, stay relaxed, and focus on myself. This has always been my ideal performance state, and on this occasion, I managed to get about a 20cm PB in long jump, and just missed a PB in high jump. I was so happy and surprised to make the team in the first place, that when I got there, I was able to remain totally relaxed and enjoy the experience to the fullest.
At the 2017 Canada Games, you achieved a 700 point personal best to place 4thin the decathlon. While 4thplace will always be disappointing in some sense, all things considered were you happy with the result?
Yeah, fourth place will always be at least a bit disappointing, and I have my fair share of fourth place finishes at national championships, but there are some competitions that you know that you did absolutely everything you could on the day. This Canada Games was one of those competitions. Over both days I had a lot of success and many personal bests, it was the best competition I had ever had. I pushed myself as far as I possibly could, left everything I had on the track at the end, and came out of it with a huge improvement on my decathlon score. Even though it wasn't quite enough for a medal on that day, I knew I had done my absolute best and had no regrets coming out of it. So yes, all things considered, I was very happy with the result.
How did your second Canada Games experience compare to your first? Do you feel that your experience at the 2013 Games helped you prepare for a much stronger and more successful performance at the 2017 Games?
It's hard to compare the two experiences. The first, I was a young, inexperienced rookie in every sense of the word, and the second, I was a veteran and a leader for those there for their first time. I do believe that competing in the 2013 Games helped give me the comfort and confidence to compete at my best in 2017.
At this year's U SPORTS Track and Field Championships, you achieved a personal best score of 4985 to win silver in the heptathlon. Consisting of seven events over two days, take us through the competition you faced at the Championships.
The weekend started with the 60m, in which I had a great race and ran a personal best, so it was a great start to the competition. Next was long jump, which started out a bit shaky: I was having trouble getting my approach right, but managed to find the board on my last jump and get a solid result in. After that was shot put, my weakest event, but I was able to get another personal best there. I then ended off the first day with a decent high jump performance. The second day began with hurdles, which have improved a lot this year, and I ran my second-best time ever, so another good start to my day. Next was pole vault, where I got yet another personal best before I ran a very tired 1000m, which was enough to get an overall score PB and the silver medal.
Aside from the seven events of the heptathlon, you also contested the long jump and 60m at the Championships, placing 9thand 12th, respectively. The seven events of the heptathlon alone can be tiring to most – how did you manage to stay fresh and energetic while also contesting these events?
Honestly, it was a real challenge. I didn't perform as well as I would have liked in the individual events, and I was very tired by the end of the two days. But I was able to pull out the performances in the heptathlon when I needed them, and that came down to recovery and refueling. During a combined event competition, I am almost constantly eating to maintain the energy levels I need to perform at my best, and whenever I'm not on the track I'm finding somewhere to get off my feet and rest before the next event.
Undoubtedly your best event of the heptathlon was the 60m, where you ran an impressive time of 6.91 to break the championship record (within the heptathlon) and score over 900 points in that event alone. You also achieved multiple other sub-7 performances throughout the season. While certainly a multi-event athlete first, do you perhaps also see a future for yourself in the standalone sprint events?
I definitely do love running the sprint races, especially against the sprint specialists. The energy and the adrenaline are always so high, but it would be hard to give up the other events. I guess what I'm saying is that I'd be open to it, but for now I am still very much enjoying doing the heptathlon.
You missed the 2017-2018 indoor season due to a torn hamstring, but clearly bounced back for the following year. Take us through the successful recovery process. How did you manage to progress from not being able to run at all, to personal bests the following year?
It was a long, slow process. I tore my hamstring in January just before the season started, and because of the severity of the tear, we knew immediately that my season was over. But this also meant that we could take our time and take every precaution in the healing process. I had a great physio team that worked closely with my coaches in order to tailor the best program for my recovery. I gradually worked my way up from walking, to jogging, to running, to sprinting and jumping over about 6 months, going to the clinic at least twice a week. There was a lot of rebuilding, strengthening, and revisiting the basics. Because of all this time and focus on making sure I was doing everything perfectly, once I finally got back onto the track, I felt stronger and more ready to compete than ever before.
You had many options available for post-secondary education, both nearby and far. What contributed to your decision to study mathematics at the University of Toronto?
What it really boiled down to was the school itself. University of Toronto is one of the best schools out there, and the programs here are very challenging and competitive. The Varsity Blues track team and coaching staff are amazing and I'm very honoured that I get to spend my undergraduate degree with them, but I knew that school had to come first, and that had to be the reason I chose where it was I was going to go.
With personal bests of 6.91 in the 60m, 8.58 in the 60m hurdles, and 7.28m in the long jump, the pure-speed events are easily your top point-scoring events of the heptathlon. Take us through what you do to work on speed development while training with the Varsity Blues.
Our speed development training consists of a lot of technical acceleration work, explosive plyometrics, and weight training. We emphasize training power and explosiveness, all while making sure that everything is being done as close to technically perfect as possible.
What are your goals for the upcoming outdoor season?
I don't have any specific goals this summer, I just want to keep training well and compete when I can. I hope to keep improving as I have been this indoor season, and most importantly, have fun doing it.
Having recently added a USPORTS silver medal to an already impressive resumé, what are your goals going into your fourth year at the University of Toronto?
My goals going into fourth year are first and foremost to stay healthy. Additionally, to keep training as I have been this past year, and hopefully at the end of it, get back on the podium at USPORTS.
Aside from running, jumping, and throwing, what are some of your other hobbies?
I enjoy reading, spending time with friends, and sitting back and watching anything on Netflix.

---

Hosted by New Brunswick-born track runner, administrator, and coach Brandon Scott LeBlanc, AtlanticU23 is an interview series with upcoming Atlantic Canada track and field athletes under the age of 23.
Facebook: @AtlanticU23
Twitter: @AtlanticU23
User

Comments
Currently, there are no comments.