AtlanticU23 #033 - Tristan Morneault (New Brunswick)
Posted 2 weeks ago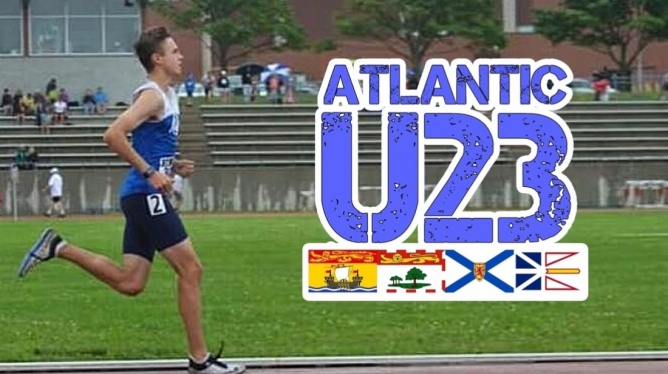 AtlanticU23 #033 – Tristan Morneault (New Brunswick)
Hometown: Dieppe, New Brunswick
Birth Year: 2002 (U18 age class)
Club: Athlétisme Sud-Est / South-East Athletics
Coach: Peter Stuart
Personal Bests (as of May 27, 2019): 800m: 2:11.44, 1500m: 4:22.64, 3000m: 9:31.73, 2000m steeplechase: 6:28.76
5 quick questions with Tristan:
Favourite board game? Rummy-O
Pizza or garlic fingers? Pizza
What fad have you most resented growing up? Becoming a professional soccer player
Would you rather have hiccups for the rest of your life, or always feel like you have to sneeze but never be able to? Sneeze but never be able to
If you could have an endless supply of any food, which food would you choose? Dairy Queen Blizzards
How did you first get involved in track and field?
My dad used to force me to go to small competitions back in the day, but then slowly I was forcing him to sign me up for them and it just took off from there.
Throughout high school you've played various other sports alongside athletics, including soccer and hockey. How has your participation in multiple sports helped you become a better athlete on the track?
My position in soccer is as a midfielder, which forces me to run a lot and be on the field for the whole 90 minutes of play, so that helped me with my endurance at a young age.
At both École Mathieu-Martin and Athlétisme Sud-Est / South-East Athletics, you've had a teammate in your younger brother Andon, who also contests the distance events. What is it like training alongside Andon? Is thereany friendly competition between brothers?
Not really, because he's kind of on-and-off with track and field, so he doesn't put in as much effort as I do. He has different hobbies and things but I really like having him around when he is there.
In 2017, you got your first taste of national experience when representing Team New Brunswick at the Canadian Legion Track & Field Championships, finishing 10thin the 1500m steeplechase and 12thin the 2000m. Take us through your first national experience – were you happy with your performances?
I was really thrilled with my results. I got two PBs, got the chance to be in two relays, and had a great trip in general. For sure something that I will never forget.
At this past weekend's New Brunswick Interscholastic Athletic Association (NBIAA) North East Regional qualifier, you qualified in all three of your events (800m, 1500m, and 3000m). What are your goals for next week's NBIAA Championships?
I would like to win again in all three of my events. Even though I know I will have good competition, in particular Mitchell Kean from Leo Hayes High School, I think I am ready for the challenge.
This year's edition of the Legion Championships, taking place in Sydney, Nova Scotia, will be the last edition that you are eligible for. What are your goals for your final Legion Championships?
I want to finish top 5 in the steeplechase and have a 10 to 15 second PB in the 1500m. Also just enjoy myself to the fullest, as this upcoming national championships is my last one as a youth athlete.
Over the 6km distance, you won both the 2018 NBIAA Cross Country Championships and the Atlantic Cross Country Championships. Between cross country and track and field, which do you prefer?
Although I like cross country so much, I enjoy track and field better because of the different types of training. I think a lot of people can agree on this one. For cross country it's more hill workouts and a whole lot of strength workouts, and almost no track workouts, while track and field is more about speed workouts, pace work, and still some strength stuff. The cross country season is a lot shorter so it's a lot of mileage in a short amount of time – track is longer, so the mileage start slowly, then picks up, and then slows back down.
With such success in cross country, do you have any plans to attend the Canadian Cross Country Championships later this year?
I thought about it a bit, but it is still in a while. We will have to see how training goes from now until then and see how things are going, and then I can make a decision. I think it would be an awesome experience.
Primarily a competitor in the distance events, you've also experimented with several other events including the 300mh, 4x200m and 4x400m relays, and the triple jump. What does the future look like for your participation in these other events?
With the results I had in the 300mh and the triple jump I don't think I'll be doing those ever again. With the two relays I really don't see why not and I believe that the 4x400 is the most exciting race in track in field, so I hope I get the opportunity to do these again.
Aside from running, what are some of your other hobbies?
Playing any kind of sport really, hanging with my friends, watching Netflix, and involving myself with the community, especially in sports.
---
Hosted by New Brunswick-born track runner, administrator, and coach Brandon Scott LeBlanc, AtlanticU23 is an interview series with upcoming Atlantic Canada track and field athletes under the age of 23.
Facebook: @AtlanticU23
Twitter: @AtlanticU23