AtlanticU23 #035 - Luc Gallant (Prince Edward Island)
Posted 11 months ago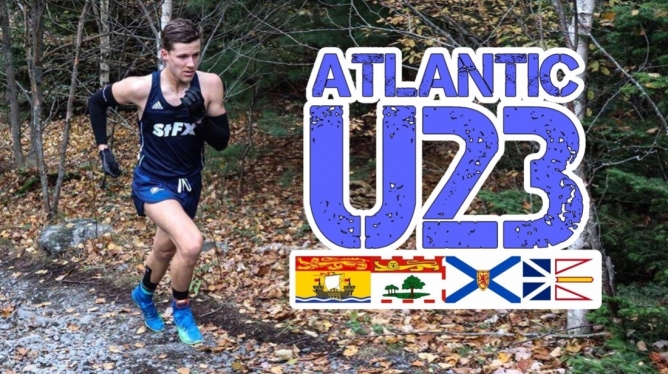 AtlanticU23 #035 – Luc Gallant (Prince Edward Island)
Hometown: Wellington, PEI
Birth Year: 2000 (U20 age class)
Club: StFX Track and Field Club
Coach: Eric Gillis
Personal Bests (as of June 23rd, 2019): 1500m: 4:12.23, 3000m: 9:10.15, 5000m: 16:04
5 quick questions with Luc:
Favourite beverage? Water
Best thing about being bilingual? Being able to switch from one language to another, and confusing people around me
What odd claim to fame do you have? I am good friends with Alex Cyr and some people think we look alike, so we like to say we're brothers.
Would you rather never have to work again or never have to sleep again? Never have to sleep again, imagine how much time I'd have
If you could rid the world of one thing, what would it be? Having to pay for running shoes (my shoe rack is getting pricey)
How did you first get involved in track and field?
I first got into running back in the 4thand 5th grade, as our physical education teacher had us do a 20 minute run as part of our evaluation. This could be done at any pace, and for some reason I was never able to complete it, until the end of the 4thgrade. The following year, I got to run cross country with my friends, and I have been hooked ever since.
Born and raised in one of the few francophone regions of PEI, you were of a small group of Islanders eligible to compete at both the Jeux de l'Acadie and the Jeux de la Francophonie Canadienne, where you were one of the provinces greatest assets and captured medals at multiple editions of the games. Tell us about your experience growing up a francophone athlete in PEI, and competing at these games?
It was a great experience growing up to have the chance to compete against the francophones of the Maritimes, as well as across the country. These experiences allowed me to improve and compete, which was very enjoyable, and I'll forever cherish the memories that were created. The most memorable one for me has to be winning the gold medal in the 2000m at the 2015 Jeux de l'Acadie that were held in Charlottetown.
Graduating from École Évangéline in 2018, you had many options for post-secondary education. What contributed to your decision to attend St. FX?
The history of the St. FX cross country team's success had an impact, as well having Eric Gillis and Angus Rawling as head coach and as teammate to look up to, respectively. Another reason that contributed to my decision to attend St. FX, was that when I went down for my visit, everyone I met was so nice and happy, and I wanted to be part of that. Lastly, hearing great things about Antigonish and X from my coach Alex Cyr also had an impact – by no means did he push me to make this decision though.
Born and raised in Wellington, you now live and train in Antigonish throughout the academic year – two seemingly very different places as far as the sport of athletics goes. How would you compare and contrast the sport environment in these two locations?
One thing that I have noticed here in Antigonish is that there's actually a lot of kids that participate in high school track, compared to home where there was only me and a few others. The facilities are also way different: there's a synthetic track and turf field here in Antigonish, where at home there was a pavement track.
In 2017, St. FX had a new Assistant Coach in Canadian marathoner and X-Men alumni Eric Gillis, who would become Head Coach the following year. What is it like being coached by a three-time Olympian?
It's awesome having Eric as a coach. I have really enjoyed my first year and can't wait to see what we can do together in the next three to five years. He has helped me improve my form by telling me what to focus on, and with the mental aspect of running by using some meditation. Eric is great at keeping the mood light and enjoyable at practice, as well as on team trips. I like how he tells us to "be curious" before our races or workouts, and when I tell him that an interval was slow, he responds by saying, "there's no fast or slow," it's all about effort and being curious. I also really enjoyed how Eric has involved his family with our team, having his kids at practice and on team trips. Along with Gina McGinnis, our assistant coach's kids really made it feel like I was part of the Xavierian family.
The X-Men cross country program has a long history of conference medalists and team banners, and even a handful of U SPORTS First/Second Team All-Canadian honours and medalists, and Team Canada members. Take us through a typical week of training with the X-Men cross country team.
A typical week of training involves two or three workouts, usually three easy runs, and one strength & core session. We work out on Monday, Wednesday, and Saturday (if we don't race). Every training session varies, but we do tempos, fartlek's, or intervals. As for easy runs, we meet as a team Thursday and Friday, and Tuesday is a free day depending on your schedule. Sunday is our day off.
While still the same quality surface, the Oland Stadium track at St. FX just recently received a fresh coat of paint. Tell us about training at Oland Stadium and on the surrounding cross country trails.
The Oland Stadium track is a real treat for me! With the new paint, the surface has actually improved as they added a bit of rubber on top, so it has more bounce to it. I really enjoy being able to spike up when I feel like it, and not having to drive an hour like in PEI (my house in PEI was an hour drive away from the only synthetic track in PEI, located in Charlottetown). It's very cool having the cross country trails right next to the Oland Stadium track, as we can do workouts that alternate between the two.
You tried out steeplechase in 2017, achieving a best time of 6:32.36 in the 2000m event. Now an athlete in the U20 category which races the 3000m steeplechase, do you plan to make this one of your main events on the track?
I wouldn't say I plan on making it my main event, but I will for sure give it another try as I really enjoyed the event. I haven't raced steeple since Legions 2017 in Brandon, Manitoba. On easy runs sometimes, I see barricades and decide to hurdle them, which is so much fun. I can see myself trying it out again next summer, or possibly in two weeks if the schedule for the Legion Trials Open Meet allows me to first focus on the flat 3000m. Now that I actually have a good facility to train at, I hope to see improvement on the water jumps, as well as in my hurdling.
What are your goals for this outdoor season? Do you plan to use the season mostly as a base for the upcoming cross country season?
My goals for this outdoor season are to keep having fun and get some PBs! I am racing a few meets, like the Nova Scotia Provincial Championships, the Legion Trials Open Meet, and the Highland Games. Then I'll probably take a week break, before starting to build up my base for cross country season where the goal will be to help the team perform at the Atlantic University Sport (AUS) Championships. One of my have-fun goals this summer is to run in the sun and get the best watch-tan in the AUS.
While still two years away, what are your thoughts looking towards the 2021 Canada Games?
My thoughts looking towards the 2021 Canada Games are that I will most definitely like to try out (if I'm healthy) for the 1500m, 5000m, or the 3000m steeplechase depending on where my fitness level is at. I've been thinking that it would be cool to double in the 5000m and 3000m steeplechase, but we'll see what the schedule looks like and how my performances are going leading up to the trials.
Aside from running, what are some of your other hobbies?
My hobbies aside from running involve hanging out with my friends, watching Flotrack or any other running videos, buying shoes, helping coach the kids from St. FX Track and Field Club, cooking/eating, and studying during the academic year.
---
Hosted by New Brunswick-born track runner, administrator, and coach Brandon Scott LeBlanc, AtlanticU23 is an interview series with upcoming Atlantic Canada track and field athletes under the age of 23.
Facebook: @AtlanticU23
Twitter: @AtlanticU23
User

Comments
Currently, there are no comments.