AtlanticU23 #036 - Katie Blunden (Nova Scotia)
Posted 2 months ago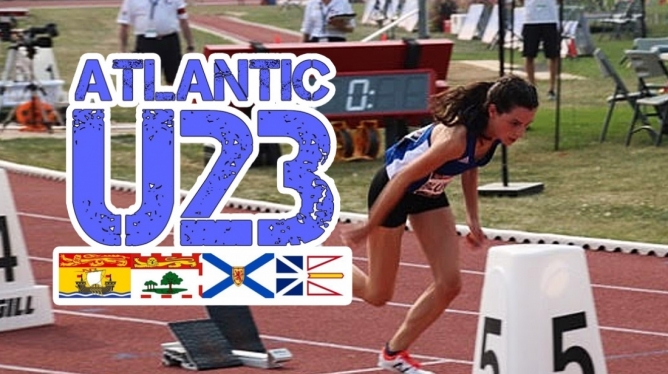 AtlanticU23 #036 - Katie Blunden (Nova Scotia)
Hometown: Halifax, NS
Birth Year: 2001 (U20 age class)
Club: Halifast Athletics
Coach: Rich Lehman
Personal Bests (as of July 8th, 2019): 200m: 26.55, 400m: 58.88, 600m: 1:36.15, 800m: 2:20.37
5 quick questions with Katie:
Favourite season? Spring
1% or 2% milk? I am not much of a milk drinker, but when I do, 1% is definitely the way to go
Which track/field event have you never done, but would most like to try? I am told I have awful coordination, but I would love to try the 400 meter hurdles
Would you rather be able to speak every language, or be able to talk to animals? An easy one for me, talking to animals
If you could meet any historical figure, living or deceased, who would you choose? I am constantly listening to music and although a lot of people are not a huge fan, Cardi B is my jam
How did you first get involved in track and field?
Both my mom and brother always ran longer distances, so growing up running was something that was always on my radar. When I started at Halifax Grammar School in grade 6, I began running in cross country and track races with other schools in Halifax. Shortly after I started training with Halifast, and have been a part of the group since then!
What first attracted you to the long-sprint and mid-distance events?
When I began running with Halifast, I was in a development group which exposes you to all different track events. When I was there I loved the really short sprints, but quickly found out these were not my strongest distances. I then transitioned into the mid-distance group. My sweet spot in workouts is definitely between 200 and 400 meters. As I get older I will probably be running longer events, but have also built a better relationship with longer distances, anywhere from the 600m-1000m. I am content with my race distances now, and enjoy the odd speed workout.
You recently graduated from Halifax Grammar School, a private school offering education programs from Pre-K to Grade 12. Despite a total enrolment of just 530 students, the school produces numerous NSSAF medalists and performs well in the race for team banners. Tell us about your experience as an athlete at Halifax Grammar. 
Throughout my 6 years at Grammar, I was surrounded by many talented athletes, which was a great motivator when balancing school and athletics. Our track and field program is small; however, we do have a lot of school spirit and support from our coaches, which made the track season much more enjoyable.
Over your three years competing at the Nova Scotia School Athletic Federation (NSSAF) Track and Field Championships, you captured one medal of each colour, including gold in the 400m at the recent Championships. Take us through your years competing at the Championships. Aside from medals, what were some of the highlights? 
These school meets are the one time of year I get to represent my school in the sport I love, which results in a very exciting meet. It is always fun competing with my club friends, such as last year when I competed in the 800m with Maggie Smith and Lauren Liem, my close training partners. It is always fun to bring home some medals, but the NSSAF events are also a great opportunity to see our hard work pay off and meet personal goals.
At your finalCanadian Legion Track & Field Championships in 2018, you (along with teammates Mikayla Boucher, Carley Burrell, and Maggie Smith) won bronze in the 4x400m. How did it feel to become a national medalist? 
This experience was very surreal for me. I was lucky enough to have been able to be friends with (let alone train with) those on this relay team, which greatly benefited us. Other provinces may not have had the chance to have a good bond with their teammates, and that is what also made this moment so special to us. The 4x400m has always been my favourite event, and one that I look forward to every year during school track season, so being able to say we are national medalists is a very huge accomplishment that I get to share with these other talented runners.
At the Athletics Nova Scotia Last Chance Meet in November, your time of 1:36.15 in the 600m set a new provincial U18 record, and most notably broke a record that had been held by Olympian Jenna Martin. How did it feel to take down such a longstanding record?
I spent the majority of my fall training for this race, as it was my first crack at a 600m. I was aware I had an opportunity to break the record, but I needed to make sure I was confident going into the race. I was very pleased to get the time, and definitely learned how to step outside of my comfort zone.
At February's AUS Relays, you and teammates Maggie Smith, Carley Burrell, and Cara MacDonaldcaught the nation's attention with a national U20 indoor record in the 4x800m, running a time of 9:16.16. Take us through the race. Did you and your teammates have the Canadian record in mind; was this the goal? 
Going into this race, only Maggie and I knew about the record because of our coach (Rich Lehman) mentioning it. Since we pretty much threw together this team we didn't want to put a ton of pressure on everyone so we didn't mention it. It is really exciting to share this record with the other girls, especially Cara, who is younger than us and already seeing amazing results on the track!
Back in May it was announced that you will be attending the University of Guelph in the fall, and will compete for the Gryphons while studying Marketing Management. What contributed to your decision to attend Guelph? 
I went to visit Guelph in October and fell in love immediately. The program was a perfect fit, and I could see myself thriving on the campus. I am excited to move away next year and see where running with the Gryphons takes me, although I will miss my training partners at home!
Save for Canada Games years, the outdoor season is typically an odd year for Canadian track and field athletes at the age of 18 - high school track has concluded, you are now too old to compete at Legions, and university does not begin until September. What are your plans for this outdoor season? 
After school track was completed, I took a few weeks off running to rest, which is very important for any athlete mentally and physically. My plan is to slowly build and work on my endurance since I will not be competing until I am at Guelph. I chose to prioritize school track and enjoy my summer before all my tough training begins in the fall.
With U SPORTS only offering track and field during the indoor season, distances such as the 400m and 800m are not contested. Is your plan to focus on the 300m, 600m, or perhaps both? 
This past indoor season I ran a 1000m. Although I was intimidated by longer distances, Rich convinced me I would do well. I am not sure how many 300's I will run, but will most likely have fun with the 600m and 1000m in university track.
While a top competitor on the track, you have only contested NSSAF cross country once, finishing 21stin the Senior Girls' 6km in 2017. What are your thoughts on running cross country? Will the 1000m remain your longest event for the foreseeable future? 
If I am being honest, I never have loved cross country. I use it as an endurance base for my track season, which definitely plays a huge role in my on-track training. For now I don't have the same passion towards cross country as I do for track; however, this could change moving forward and I could see myself running longer distances.
Alongside athletics, you have had much success in both the classroom and the community. In 2017, you were awarded a Senate 150th Anniversary Medal for your many years volunteering with Ovarian Cancer Canada, and in your graduating year at Halifax Grammar you were elected Head Girl. Looking towards post-secondary, what are some of your academic goals? 
I would say once I am comfortable around a group, I can very quickly become a leader if necessary. At Grammar, I found myself drawn to the role of Head Girl because I wanted to share my ideas, and spread school spirit. Same goes for volunteering. Once I set my mind to something, I am very committed. This mindset can be translated to the track due to the commitment necessary to pursue sport competitively. Introducing volunteer and leadership positions early in my life has definitely impacted my perseverance and ability to have a balanced life.
Between academics at Halifax Grammar, training at Halifast Athletics, and all in-between, take us through a typical day in the life of a student-athlete.
I thrive off tons of sleep, so that is something that takes priority, whether it is a nap in the afternoon or sleeping a little too close to my first class. People who know me would also say I am not Katie Blunden without my million snacks in my locker or my coffee (espresso to be exact). I always plan my exercising and eating around my school classes, so I will find time in-between classes to go to the gym or run.
In balancing school, athletics, and various other extra-curricular commitments, what has been the most difficult aspect for you? 
Being a student-athlete is something I think alone is impressive for anyone pursuing it. The hardest part for me was constant stress, so I find myself doing things that distract me, such as running or being with friends.
Aside from running, what are some of your other hobbies? 
I spend a lot of time baking (for both myself and others) and am interested in art!
 
---

Hosted by New Brunswick-born track runner, administrator, and coach Brandon Scott LeBlanc, AtlanticU23 is an interview series with upcoming Atlantic Canada track and field athletes under the age of 23.
Facebook: @AtlanticU23
Twitter: @AtlanticU23