AtlanticU23 #037 - Victoria LeBlanc (New Brunswick)
Posted 1 month ago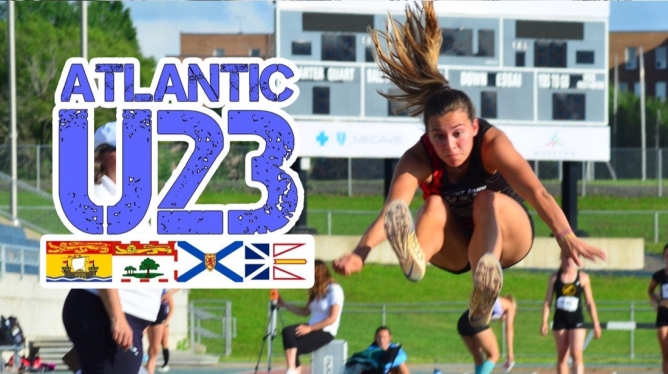 AtlanticU23 #037 – Victoria LeBlanc (New Brunswick)
Hometown: Saint John, NB
Birth Year: 1997 (Senior age class)
Club: Saint John Track Club
Coach: Chris Belof
Personal Bests (as of July 22nd, 2019): Long Jump: 5.60m, Triple Jump: 11.56m
5 quick questions with Victoria:
Favourite workout? Any jump-specific workout
Pineapple on pizza, yay or nay? Nay
What Netflix series have you most recently binge watched? Stranger Things
Would you rather always be thirsty or always be hungry? Thirsty
If you had your own talk show, who would your first three guests be? Ed Sheeran, Brianne Theisen-Eaton, and Simone Biles.
How did you first get involved in track and field?
When I was in grade 3 I ran cross country for my elementary school. I wasn't very good, but my mom encouraged me to finish off the season and I ended up enjoying running so I decided to do track and field for the school as well. In grade 6 I joined Saint John Track Club and the rest is history!
Prior to focusing exclusively in athletics once entering university, you were an accomplished all-around gymnast, competing and often winning titles at the New Brunswick, Atlantic, and Eastern Canadian Championships. How has your gymnast abilities translated to success on the track? What are some of the shared skills between these sports?
Gymnastics helped significantly with my success on the track as it made me very strong and helped me with my coordination. Also I trained 23 hours a week in gymnastics, so early on I learned a lot about dedication, hard work, and discipline, and how those three traits contribute to athletic success. A shared skill between these sports is mental toughness. They are both individual sports where you are going to have bad competitions or a bad practice, but you need to be able to push through those hard times to succeed. Another shared skill between the two sports is coordination. With gymnastics, when you are learning a new skill (especially on a four-inch balance beam) you must be aware of your surroundings and be in control of your body when performing those specific skills. In track and field, the more technical events such as hurdles, jumps, and throws all require the same coordination.
In deciding which sport to focus on exclusively, what contributed to your decision to choose athletics?
I chose athletics because I knew I was never going to compete at the university level for gymnastics. I also believed that I could go further in track and field and achieve more at the national level.
In 2012, you incorporated some of your gymnastics skills to try out the pole vault, an event in which you won the silver medal at the Canadian Legion Track & Field Championships. What inspired you to try out pole vault, and why didn't you keep up with the event following the 2012 season?
My coach at the time wanted me to try it for fun because there was no one else in the province doing it at that time. I didn't keep up with the event following the 2012 season as my coach and I felt like I would have more success in hurdles and long jump in the long run.
At the 2017 Canada Games, you contested the 400mh, 4x400m, and the long jump, making for a busy schedule in which you competed nearly each of the week. How did you manage to stay fresh and energetic throughout each event?
I managed to stay fresh and energetic throughout each event by staying off my feet and staying in air-conditioned rooms when I was not competing. Winnipeg was very hot, so I also made sure I was staying hydrated by drinking lots of water.
In 2017, your longtime coach Jason Reindl moved to Saskatoon to take on the track program at the University of Saskatchewan, and Chris Belof moved from Manitoba to take on the High Performance Coach position in Saint John, becoming your new coach. How has your training and workout structure changed during this coaching transition?
Well with Jason I was focusing on the 400mh and longer sprints, so I was doing more endurance work with longer reps and working on my hurdle technique. When Chris became my new coach, I decided to start focusing more on long and triple jump, so my training has become more short speed focused and I am jumping up to 3 times a week. My workout structure is still the same where I train up to 5-6 days a week and I also lift weights 2-3 times a week.
You recently began competing in the triple jump, an event in which you have had instant success, with a silver medal performance at the AUS Track and Field Championships and a 9thplace finish at the U SPORTS Championships. What inspired you to take up triple jump?
My coach Chris encouraged me to try the event because most long jumpers can usually triple jump. I also love trying new events, so I decided to give it a try to see what I could do.
What has been the most difficult aspect of learning triple jump?
The most difficult aspect of learning triple jump is the individual phases. I am currently working on bettering my second phase and my technique is still far from perfect, but I am enjoying the process as I like to try things that take me out of my comfort zone.
With such success in the event already, can we expect to see the triple jump become one of your primary events?
Yes, I will be competing in triple jump at the Canadian Track and Field Championships in Montréal and I will also continue to triple jump in my fifth and final year at the University of New Brunswick.
Alongside jumping, you have also been a very successful hurdler, setting provincial records over each and every distance of the event and contesting the 400mh at the 2017 Canada Games. What does your future look like in the hurdling events?
I'm not really too sure, I've been mainly focusing on long jump and triple jump lately. I love the 400mh and miss running the event so maybe one day I will start hurdling again.
Despite an excellent training centre at the 1985 Canada Games Stadium, indoor training in Saint John currently takes place on the UNBSJ Seawolves basketball courts. What does a week of training typically look like during the winter months for jumpers at SJTC / UNBSJ?
We train at 6:30am Monday-Friday and we run on a strip of black rubber that is around 60m, so we can run in our spikes and do speed. On speed endurance days we either do treadmill tempo or do 60m repeats with short rests in between. Then on jump days we travel up to Oromocto to see our jumps coach (Carl McIntosh) and to use the track at Base Gagetown to jump.
What are your goals for the upcoming Canadian Track and Field Championships?
My goals for the upcoming Canadian Track and Field Championships are to place top 8 in both events and PB in both events as well.
Going into your fifth and final year at UNB, what are some of your athletic goals?
My goals for my fifth and final year at UNB are to break both school records in the long jump and triple jump. I would also like to qualify for U SPORTS in both long jump and triple jump and place top 5 in both events.
How excited are you for the new Saint John Field House, set to open in in Exhibition Park this September? Have you had the chance check out the inside, and see how the facility is coming along?
I am so excited for the new field house! I am very happy we will no longer have to train at 6:30am and to have a track and a long jump pit with real boards to train on. I got a tour of the new facility in December and it is huge. I have not seen the inside since, but I have driven past the facility and it looks like it is coming along nicely!
Over your many years in the sport, you have tried out many events – sprints, hurdles, relays, horizontal jumps, pole vault, some throws, and even cross country. What has been your least favourite event?
My least favourite event was definitely cross country. I do not enjoy running over 400m.
Aside from running and jumping, what are some of your other hobbies?
I really like to paint!

---

Hosted by New Brunswick-born track runner, administrator, and coach Brandon Scott LeBlanc, AtlanticU23 is an interview series with upcoming Atlantic Canada track and field athletes under the age of 23.
Facebook: @AtlanticU23
Twitter: @AtlanticU23