AtlanticU23 #038 - Noah Berniquer (Nova Scotia)
Posted 2 weeks ago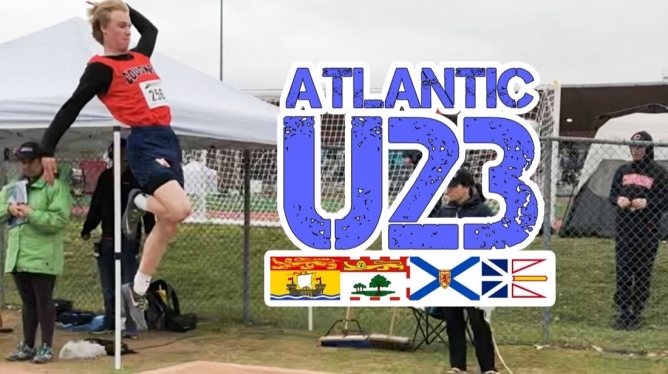 AtlanticU23 #038 – Noah Berniquer (Nova Scotia)
Hometown: North River, NS
Birth Year: 2002 (U18 age class)
Club: Truro Lions
Coaches: Iain LaPointe and Jessica Bartlett (Throws), Dave Galloway and Roger Crowe (Jumps)
Personal Bests (as of August 5th, 2019): Long Jump: 6.11m, Triple Jump: 12.14m, Javelin (700g): 54.19m
5 quick questions with Noah:
Favourite Disney character? Goofy
McDonald's or Subway? McDonald's
What movie have you most recently seen in theatres? Can't remember, it's been too long
Would you rather be without elbows or without knees? Without knees
If you were the last human on Earth, what would you do with your life? I would make an effort to do things I've always wanted to do before but never have
How did you first get involved in track and field?
I would say I first really got involved in track and field when I attended my grade 7 year at Central Colchester Junior High School as I only threw javelin. On the other hand I was first introduced to track and field in elementary school when we had our field day at the end of the school year. That is when I realize I wanted to compete in track and field when I was older.
You have had much success in a rather odd combination of events: long jump, triple jump, and javelin. What led to you taking up these events simultaneously?
When I first joined track and field in grade 7, I only threw javelin. In my grade 8 year I wanted to participate in more than one event but was not willing to run. After considering my options I decided to try long jump, triple jump, and high jump. Enjoying all my events I decided to continue participating in those four the following year. Going into my first year of high school track and field, I was unsure if I wanted to continue high jump because it didn't spark as much interest, so I focussed on the three events I enjoyed most. I will continue to participate in javelin, long jump, and triple jump.
You come from a multi-sport background, competing in track and field, baseball, and hockey. How has playing multiple sports contributed to your success on the track, particularly in your main event of javelin?
I like to stay active all the time and competing on multiple different sports teams does just that. It benefits my track season because my body is used to all the training and hard work I have to put into javelin as well as the different sports keeping me in shape.
Just two months ago, you shocked many in the region when you won gold in the intermediate boys long jump, triple jump, and javelin throw at the Nova Scotia School Athletic Federation (NSSAF) Track and Field Championships, a feat that is perhaps unheard of. Notably, you achieved personal bests in all three events, including a championship record throw of 54.19m in the javelin. Take us through your events at the two-day competition. Were you anticipating to walk away with three gold medals and a championship record?
Going into any important meet I always tell myself to stay calm and relaxed. By doing so I can concentrate and perform at my best. Before taking off down the runway I think about what I have to do to make this jump or throw better than my last. If I mess up I forget about it And think what I can do better on the next one. Going into provincials I told myself I can do it if I set my mind to It, and only focusing on my own performance not what other people are jumping or throwing. Chasing for the provincial record in javelin I had to stay relaxed but the pressure was on during my first few throws. After talking to my coach he told me I had it in me as long as I focused. Before taking my first step down the runway I told myself I can do it. Not once did I think it would be easy to do and it wouldn't of happened without my couch Mr. LaPointe.
Despite being the top ranked U18 long and triple jumper in Nova Scotia this year, you will only be contesting the javelin throw at the Canadian Legion Track & Field Championships. What led you to put aside two of your main events and only contest the javelin?
I decided to only focus on javelin because I felt it was my strongest event and I wanted to compete at my best during the Canadian Legion Track and Field Championships. Training for one event ensured I would gain more technique in my throws, resulting in better performance.
Going into your final Legion Championships, you are ranked 6thin the javelin throw. What are your goals for the championships?
Going into my final legion championship this summer, my goals would be to perform at the best of my abilities and be satisfied with my throws no matter what place I finish in.
This year's Legion Championships are being hosted in Sydney, Nova Scotia. How excited are you to have the opportunity to compete at a national meet in your home province?
Competing at the national level in my home province this summer is an amazing opportunity and I am very excited to have the home advantage during the competition. Performing in front of family and friends at nationals will be an amazing experience, and none other like it.
Training under Throws Coach Iain LaPointe at the Truro Lions Club, what does a typical week of training look like for you at this time of year?
Typically over the summer track season I will throw for one to two hours, three times a week, with the other members of the Truro Lions Club.
Javelin is one of few events that has no indoor equivalent, and is more difficult to practice due to the fact that the implement cannot be thrown indoors. What do you do to train for the javelin event during the indoor/winter months?
During the winter months we typically train inside the Cougar Dome with indoor javelins or weighted balls that we throw into a big net, as well as working on technique and core strength.
With proven skills in both jumping and throwing, combined with a fast approach on the runway, do you have any plans to tryout the combined events?
Although I have never tried anything other than javelin, long jump, triple jump, and high jump I think trying something such as a pentathlon or decathlon would be a fun experience, and I would consider trying it in the near future.
Looking towards the future, what are your plans in regards to both education and athletics?
As I will be attending my grade 11 year at Cobequid Education Centre I am still deciding what I want to do after high school but would like to attend the University of British Columbia, or somewhere in the states where I can pursue my passion for javelin.
Aside from jumping and throwing, what are some of your other hobbies?
When track season is over I am either on the soccer pitch, basketball court, softball field or snowboarding at ski Wentworth.

---

Hosted by New Brunswick-born track runner, administrator, and coach Brandon Scott LeBlanc, AtlanticU23 is an interview series with upcoming Atlantic Canada track and field athletes under the age of 23.
Facebook: @AtlanticU23
Twitter: @AtlanticU23