AtlanticU23 #040 - Caroline Gagnon (New Brunswick)
Posted 2 weeks ago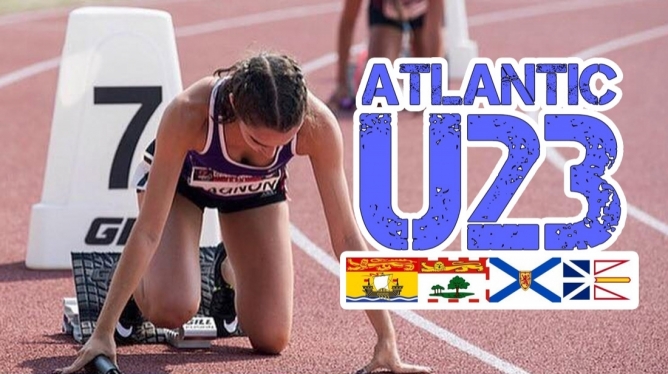 AtlanticU23 #040 – Caroline Gagnon (New Brunswick)
Hometown: Moncton, NB
Birth Year: 2001 (U20 age class)
Club: Athlétisme Sud-Est / South-East Athletics
Coach: Alex Stuart
Personal Bests (as of September 2nd, 2019): 60mh (30 inch): 9.44, 60mh (33 inch): 9.45, 100mh (30 inch): 15.11, 100mh (33 inch): 15.54, 400mh (30 inch): 1:06.19, Long Jump: 5.31m
5 quick questions with Caroline:
Favourite colour? Orange
Ice cream on a cone or in a bowl? Bowl
What was your favourite class in high school? Chemistry
Would you rather never use social media sites/apps again or never watch another movie or TV show? Never use social media
If you could choose any actor to star in a movie about your life, who would you choose? Emma Watson
How did you first get involved in track and field?
Like most of the francophone athletes, my journey in the sport started off with the Jeux de l'Acadie.At the time, I had yet to join the ASEA training group, and that competition acted as my introduction to track & field.
What first sparked your interest in sprinting and hurdling?
It was only once I joined my club that I was introduced to hurdles. I immediately found that having obstacles in your race is a little challenging, but exciting, nonetheless.
In your four years competing at the New Brunswick Interscholastic Athletic Association (NBIAA) Track and Field Championships, you boast an impressive winning rate, capturing nine golds over a total of ten finals, alongside championship records in the junior girl's 300mh and senior girl's 100mh. How have you managed to stay at the top of your game for four consecutive years?
I think that some factors would be dedication and discipline, but mostly the love of the sport, since it would be very hard to put in all that effort if track and field wasn't something that I enjoyed.
At just 16 years of age, you qualified to compete for Team New Brunswick at the 2017 Canada Games, placing 11thin the 100mh. Take us through your Canada Games experience.
Canada Games was, by far, the best track and field championships I've been to. That week was unreal from start to finish. Since the track and field age group was U23, I was definitely one of the youngest track athletes there, which is why I was low-key terrified in the call room; but that whole week was such a great learning experience and encouraged me to get better for the next one.
The following week, you competed for Team New Brunswick at the Canadian Legion Track & Field Championships, placing 16thin the 100mh and 13thin the 400mh, and contributed to Team NB's 4thand 5thplace finishes in the 4x400m and 4x100m relays, respectively. Take us through competing at the 2017 Legion Championships. How did you handle competing at 30 inch hurdles after running over 33 inch hurdles at Canada Games the week prior?
It was definitely a struggle to switch hurdle heights and probably impacted my season best in my age category, but honestly the struggle was mostly mental. However, I had a few days in between the two competitions that were dedicated to get me used to the lower height – and really, competing over 30 inch hurdles versus the 33 inch hurdles is not drastically different.
At 18 years of age this year, you are still eligible for the 2021 Canada Games, taking place in Niagra Region, Ontario. Having competed in an edition of the Games already, what goals do you have in mind for the next edition?
It is definitely my goal to return to Canada Games, and I'm hoping to improve my times in both of my events before trials. It would also be nice to improve upon my ranking at the competition as well.
You train and compete as a member of Moncton-based Athlétisme Sud-Est / South-East Athletics and train under coach Alex Stuart. During the outdoor season, what does a typical day of training look like for an ASEA sprinter/hurdler?
A typical day of hurdle training would include a long warm-up with drills, the workout depends on the day so it can vary from technical clearance work to long hurdle pace work. However, there are days reserved to only flat speed work and intervals without hurdles as well.
Between 30 inch and 33 inch hurdles, your personal best in the 60mh is just 0.01 off, while your bests in the 100mh are off by just 0.43. How have you managed progressing to the higher hurdles?
When the height difference in between both age groups was established, they took into consideration the increase of speed and power that comes with age. So, I think that even if the 33 inch hurdles are technically more challenging, it is still possible for me to run similar times.
You've had impressive results in both the sprint (60m/80m/100m) and long (200m/300m/400m) hurdle events. Do you have a preference towards either distance, or have plans to specialize in one particular event?
Both events are very different, and I like them both, but for different reasons. The 400mh is a very hard race and it has taught me a lot about mental strength, whereas the 100mh is super technical and a muscle memory race. I think that if I had to choose a favorite, I would say the sprint hurdles, because I like that it's very short and fast.
Beyond your main hurdle events, you've also contested the long jump in recent years, boasting an impressive personal best of 5.31m. What does your future look like in this event?
Long jump was a random event that I decided to try, for fun, at high schools two years ago and was pleasantly surprised with my performance. However, I really enjoy it, so I wouldn't mind training a little bit more in the pit.
Alongside athletics, you are also very accomplished in the classroom, having received the Governor General's Academic Medal (Bronze) at this year's École L'Odyssée graduation. What strategies do you use to balance athletics and academics at such a high level?
My best strategy is to focus on the present. When I was training, it acted like this mental break where I tried to not think about school. Then, after a good track practice, I find that it is easier for me to concentrate on my studies. I think that being a student-athlete is a great way to become more disciplined and organized, qualities that help with time management and balancing track and school.
A recipient of a Roméo LeBlanc Excellence Scholarship, you will begin classes at the Université de Moncton next week, and will compete for the Aigles Bleus during the indoor season. What contributed to your decision to attend UdeM?
The biggest reason I've decided to attend Université de Moncton was because of the program called diplôme des sciences de la santé(DSS),which is a two-year diploma in health sciences. Afterwards, I am not entirely sure what postgraduate program I will be applying for, but this diploma is the base for countless professions in the medical department, like medicine, physiotherapy, and pharmacy. Also, last year I took two classes at the university that will be credited.
Looking towards university, what are some of your athletic goals?
I think the main goal is to be able to manage my studies and track, but it would be nice to make it to U SPORTS at least once in my university track and field career.
Aside from running, what are some of your other hobbies?
I like anything that is art related, from painting, to music, to sewing.

---
Hosted by New Brunswick-born track runner, administrator, and coach Brandon Scott LeBlanc, AtlanticU23 is an interview series with upcoming Atlantic Canada track and field athletes under the age of 23.
Facebook: @AtlanticU23
Twitter: @AtlanticU23