AtlanticU23 #042 - Madalyn Higgins (Nova Scotia)
Posted 11 months ago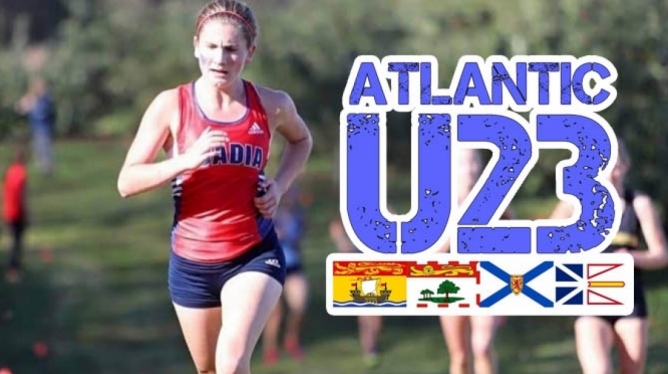 AtlanticU23 #042 - Madalyn Higgins (Nova Scotia)
Hometown: Middle Musquodoboit, NS
Birth Year: 1997 (Senior age class)
Club: Unattached
Coach: Ralph Williams
Personal Bests (as of October 14th, 2019): 1500m: 5:00.49, 3000m: 10:42.09, 5000m: 18:24.83
5 quick questions with Madalyn:
Favourite thing to do while on vacation? Exploring! I really like food so touring and looking for new places to eat is always fun.
Bagels or toast? I like bagels more, but I almost never eat bagels so I will have to say toast. If French toast counts, then I would say that!
What musician do you secretly enjoy listening to? It's not really a secret but I love Linkin Park.
Would you rather have a lifetime subscription to Netflix or an unlimited gift card to Starbucks? Not a huge fan of either of these but since I very rarely watch TV I would have to say Starbucks because who doesn't want free food?
If you could be in any movie, which movie would you choose and which character would you play? I would love to play Russell from Disney Pixar's Up because he gets to travel in a flying house, have a pet golden retriever, and eat chocolate - my dream.
How did you first get involved in track and field?
I never got to run cross country in high school although in elementary school we had an amazing gym teacher (Mr. Coldwell - to this day he is my favorite teacher) who had a running club for grades 4-6 which really sparked my love of running! My coach from elementary school still supports me to this day and even comes to some of my AUS races. In high school I was extremely disappointed to not be able to run cross country but I participated in track and field starting in grade 7. In high school I only really did track as training for my other sports (mainly soccer). I mainly ran the distance races: 800m, 1500m, and 3000m, although at the time I hated the 3000m because it was so far. I continued track throughout high school and eventually learned to not hate the 3000m and it is now my favourite distance on the track.
While attending Musquodoboit Rural High School you played virtually every sport that the school had to offer. How did you narrow your focus down to athletics, and how has your multi-sport background helped you become a better endurance runner?
Because I went to such a small high school, playing every sport that was offered was just the obvious choice for me as it helped me stay active and I liked trying different sports. I didn't narrow my focus until coming to university when I decided to try out for the cross country and track and field teams at Acadia. I decided to try out for the team as I did not want to give up sports, and in the other sports that I played growing up my main strength was my endurance so I figured I would have a good shot at making the team. I definitely think playing soccer my whole life helped me become a better endurance runner as I always played a midfield position which involves a lot of running and always kept me in shape. Also because running is largely a solo sport, playing team sports helped me bring more of a team connectedness to the cross country and track teams.
After graduating high school in 2016, you immediately enrolled in the Bachelor of Science program at Acadia University, concentrating in nutrition studies. What contributed to your decision to attend Acadia?
When applying to university in grade 12 I only applied to Acadia because I knew that was where I wanted to go. My family always used to pick apples in the valley and I loved the area and wanted to go to school there. Growing up in a very small town I also loved the small size of Acadia and the close knit community. When selecting my degree, I wasn't really sure what I wanted to do but I loved food and learning about how it affects our health so I decided nutrition would be the perfect fit. When I learned Acadia had a very good nutrition program the choice was pretty obvious for me.
At the AUS Cross Country Championships, you placed 23rd in 2016, 10th in 2017, and 7th in 2018, and this year have already proven yourself to be a medal contender with a win and two 2nd place finishes at the three league meets this season. What do you attribute to your consistent improvement?
I think what has really helped me is following the program given to me by my coach throughout the summer. Since my first year of university, I have been very consistent and, despite not being able to train with my team, have had a lot of success in my summer running. It is really difficult spending a whole summer running largely by myself but it has really helped in keeping consistent. Being a nutrition student has also helped me a lot as I know how to properly fuel for my running and know what foods sit well with me for races.
While Dalhousie, St. FX, and UNB travelled to an RSEQ meet in Montreal this past weekend, you claimed your first victory at an AUS league meet, and the Acadia women placed first in tram scoring. Knowing that competition would be light, what was the plan for the Acadia women heading into the event?
Knowing the competition, I think our main plan was just to get the experience of running an 8km under our belts as some of our team had never run that far before. We of course also wanted to win, but mainly focused on getting an 8km in.
You competed at your first USPORTS Cross Country Championships in 2017, placing 91st in the women's 8km race. This being your first time competing at the national championships, what were some of the takeaways that helped fuel your future training and motivate you to further develop your abilities?
I really had no expectations going into my first nationals and was really just happy to be there. I think my biggest takeaways were that nationals are a very different ball game compared to the AUS and that if we want to do well nationally it is going to take a lot of hard work. The goal of attending nationals again after 2017 really helped me focus during my summer training especially after weeks of solo running.
Under Coach Ralph Williams, the Acadia women's cross country program has seen substantial improvements in athletic performance, both individually and as a team. What does a typical week of training look for the Acadia program during the cross country season?
We stick to a fairly consistent schedule and although the workouts are always changing typically we do some form of hills or intervals on Mondays and Wednesdays, longer aerobic or tempo runs on Tuesdays and Thursdays, a longer interval workout or race on Saturday, and of course the typical Sunday long run. We get Fridays off most of the time and also incorporate some weight training twice a week.
While women race 6km at AUS league meets, the distance increases to 8km for both the AUS and USPORTS Championships. How is your team preparing to race these additional kilometers at the championships?
Aside from running the 8km at the UPEI meet we have done some longer interval workouts and long runs to keep our endurance up for those additional 2km.
At the 2018 AUS Track and Field Championships, you and fellow Acadia teammates Katie Robinson, Chrissy Smith, and Jessie Armstrong captured bronze in the women's 4x800m, and in 2019 a team consisting of yourself, Nicole Skinner, Sarah Lavallee, and Jessie Armstrong followed this up with another bronze medal performance at the Championships. Take us through the rush of these Championship relays. How does the Acadia team prepare for the relay events?
Our team is largely focused on cross country and the distance events in track and field (1500m and 3000m), although we also participate in the relays. Although they are very different from our usual events the relays are my favourite part of track and field as they are unique in that they are a team event and there is always so much energy during these events. We don't really do much specific preparation for the relays, although we change up our training for track season and have a very strong team bond so we work very well together. Having won bronze in 2018 we really wanted to do so again this year. In 2019 I was our starter and managed to put us in the bronze position after the first leg and my teammates all ran well to maintain that position. Although we had a decent gap built up for our anchor (Jessie), the energy was so high that we were all screaming at her to go faster and telling her that the girl behind her was gaining on her, but she actually had lots of time! I think we stressed her out but she ran really well and secured the bronze for us.
With no synthetic indoor track to train on during the winter months, how does the Acadia team prepare for the indoor season?
At Acadia there is sort of an indoor track which is 250m around. It is only two lanes and has tight corners, but as of last year we have been allowed to book the track twice a week for training which has really helped us prepare. As we only have the track a few times a week, we also do a lot of hill workouts and utilize the outdoor track whenever we can. Coach Ralph has even been known to shovel off the outdoor track when he has a workout planned and it snows! During track season our intensity in our weight training also increases to build our strength for the speed of track.
What is your goal for this year's AUS Cross Country Championships, and subsequent USPORTS Championships?
My main goal is to make the AUS all-star team again and advance to nationals, but this year I am also thinking a bit bigger and am hoping to medal at the AUS Championships. As a team we have been consistently getting bronze the past three years, which we want to maintain but hopefully improve upon this year. For USPORTS I am never quite sure what to expect but knowing the course from last year my goal is to improve on my time and placement from last year and score as high as I can.
Aside from running, what are some of your other hobbies?
Typical of a nutrition student my favourite hobby besides running is baking. I don't bake as much as I would like during school but I love making muffins and energy bites and try to make them to share with my teammates when I can. I also am a member of quite a few volunteer groups including the Nutrition and Dietetics Society, the Sensory Motor Instructional Leadership Experience (SMILE), and I help coach Wolfville School's cross country team.

---
Hosted by New Brunswick-born track runner, administrator, and coach Brandon Scott LeBlanc, AtlanticU23 is an interview series with upcoming Atlantic Canada track and field athletes under the age of 23.
Facebook: @AtlanticU23
Twitter: @AtlanticU23
User

Comments
Currently, there are no comments.