AtlanticU23 #043 and #044 - Evan and Eric Knight (Newfoundland and Labrador)
Posted 10 months ago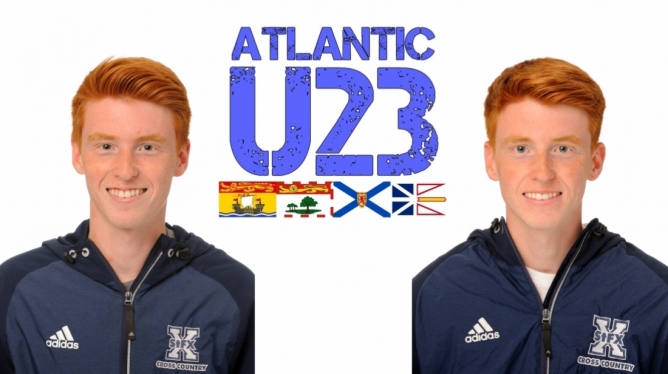 AtlanticU23 #043 and #044 – Evan and Eric Knight (Newfoundland and Labrador)
Hometown: St. John's, Newfoundland and Labrador
Birth Year: 2001 (U20 age class)
Club: Pearlgate Track and Field Club
Coaches: Mark Miller and Eric Gillis
Personal Bests (as of October 28th, 2019): (Evan: 800m: 1:57.77, 1500m: 4:04.76, 3000m: 9:13.32) and (Eric: 400m: 52.27, 800m: 1:59.33, 1500m: 4:22.53)
5 quick questions with Evan and Eric:
Favourite TV game show?
Evan: Family Feud
Eric: Family Feud
Pancakes or waffles?
Evan: Pancakes
Eric: Waffles
What is your happiest memory?
Evan: Winning back-to-back provincial titles with my club soccer team in 2017/2018
Eric: Winning the Confederation Cup in high school hockey in my senior year
Would you rather have to sit all day or stand all day?
Evan: Sit
Eric: Sit
If a genie granted you three wishes, what would they be?
Evan: Have an unlimited number of wishes, have an endless amount of money on my bank card, and attend the soccer World Cup.
Eric: Predict the future, have a money tree in my backyard, and be faster than Usain Bolt
How did you first get involved in track and field?
Evan: I first got involved in running in elementary school. My parents asked me if I wanted to run in the school cross country series when I was in grade 4. I ended up getting 1st place and really liked it. I wanted to learn more about the sport so I signed up as a member of Pearlgate Track and Field Club when I was in grade 5 and started training with Coach Mark Miller.
Eric: I first got involved in track and field by running in the Hershey Track and Field meet for elementary school students, hosted by the Newfoundland and Labrador Athletics Association (NLAA).
Alongside running, both of you also play soccer at a high level. In the scheduling of practices and competitions alongside school and daily life, how do you two manage to compete at such a high level in not just one, but two sports?
Evan: I have been a multi-sport athlete for as long as I can remember so I always had a busy schedule. One of the main reasons that I was able to manage both sports for so long is because of the support of my running coach, Mark Miller. He has always been understanding of me wanting to play soccer and was helpful in me being able to continue to compete in both. Also, our parents are always supportive of everything we do. They put a lot of time and commitment into helping us do well and balance it all. Fortunately, athletics and soccer are sports that work well together and the training involved definitely helped me to become better and stronger in both sports. My training in track and field and cross country has helped me develop my speed on the pitch and it really keeps my fitness level up during the game.
Eric: I have been trying to manage being a multi-sport athlete for as long as I can remember. Over time, we have figured out how to balance training for both sports, along with school. Running and soccer help each other out: when I run, it benefits the fitness I will need in soccer games, and when I play soccer games, the changes of pace on the wing can relate to a workout I would do on the track.
You two made national headlines in 2017 when you both qualified for the Canada Games in not only track and field, but also soccer. Tell us about your unique experience of competing side-by-side during both weeks of the Games.
Evan: Canada Games has been the best experience I've ever had. Being able to have my twin brother with me had a huge impact on my performances. After my races, or after a soccer game, receiving positive feedback from my brother was the greatest feeling. Also, seeing Eric succeed made me want to push myself even more during both weeks. Eric wanted the best out of me, and I wanted the best out of him. No matter the result, we always found a way to make one another feel good and we always helped each other to work hard.
Eric: Canada Games was an amazing experience for sure and it was made even better by being able to do it with Evan. Throughout the two weeks we were there, we pushed each other to compete at our best and to enjoy every part of the experience. It was a great feeling to represent our province in two sports and we made a lot of memories that we still talk about. Competing side-by-side made us better competitors overall because we were able to bring out the best in each other and we always work well together. Being a twin and the connection we have is really hard to explain to other people.
In the Atlantic track and field community, Newfoundland and Labrador has been known as a province with countless limitations – the cold, wind, rain, and snow often limits training outdoors, training facilities are scarce, and the province's separation from the mainland makes for few opportunities to experience quality competition. Growing up in the St. John's area, how did you overcome the challenges of being athletes in Newfoundland?
Evan: Training and competing is Newfoundland and overcoming the issues you mention can be very frustrating, but it has made me push myself harder. I know that there is nothing I can do about the weather I train in, or the fact that I live on an island that often makes travel difficult, so I just try to stay positive and focus on the things that I can control. For example, if it is a very windy day (which happens a lot during the track season), I try to think of the strong winds as helping me to work harder in practices and I know that it will have a positive impact on my races when I compete in other provinces with better weather.
Eric: When it comes to training and competing in track and field in Newfoundland, the weather is always a big challenge. It can get discouraging to go to the track and always be faced with strong wind when you only have a few chances to get fast times. Also, we don't have a lot of competition with regards to numbers of athletes at meets, so we have to travel to bigger meets in other provinces to build on our experience and to try to get some good seed times heading into the bigger competitions. Doing that every year is very expensive, especially since there are two of us. The lack of facilities we have for track and field can also be very frustrating. We only have one outdoor track, and the one indoor track we have is very busy so it can be hard to get good training in during the long winter.
You both competed in the qualifying round of the 800m at the Canadian U20 Track and Field Championships earlier this year, and were assigned to compete in the same heat as each other. Tell us about your race and your experience competing at this national event.
Evan: In our 800m, Eric and I were really happy to be in the same heat because we are so used to running this event together. It's always a good feeling at the start line to know that we will push each other to run faster and it gives both of us a boost of confidence. It was my first time attending Canadian nationals and I gained valuable experience by being there. Since I was running against older, talented athletes, it gave me a good understanding of what competition might be like as I was heading into university competition less than a month later. I was able to watch and meet some of the best track and field athletes in the country. The Championships also gave me the opportunity to see how these athletes get dialed-in before and during a race, which I found helpful for me to reflect on and to try and improve on myself when I am approaching a race.
Eric: The 800m at nationals was a huge experience for me – It was for sure the biggest track and field meet I have ever competed in. Getting a chance to meet and watch some of the best track and field athletes in the country was an amazing opportunity. Before the race, I knew that I shouldn't try and compare myself to any of the other athletes and just focus on doing my best 800m. My goal was to PB, but unfortunately that was not the case. I learned that I need to work on the ending of the race, as the other athletes had another gear left in the last 200m. I am going to work on that this season and try to be more prepared for my next nationals.
After graduating high school this year, you both immediately enrolled in the Bachelor of Business Administration program at St. Francis Xavier University. What contributed to your decision to attend St. FX?
Evan: We didn't decide on attending St. FX until late August. If we were going away, we knew that we wanted somewhere that was close to home and had a great school community. When we visited in January, the team made us feel very welcome and we liked the smaller campus and school spirit. The programs at X are excellent and will push us to work hard and do well in both athletics and academics.
Eric: We visited StFX in January and we both really liked it there, but we didn't make our decision until the end of August. There is a lot of school spirit and we were both really comfortable with the small campus and all the supports there. I knew I would further develop from Eric Gillis's coaching and the training would push me to work really hard.
In choosing a university to attend, did you two have your hearts set on attending the same university, or were you open to attending separate institutions? Did you two have the same first choice, or was there a negotiation process to selecting a school?
Evan: Yes, we had our hearts set on attending the same university no matter what – We never really discussed the possibility of attending different universities. We made the decision together and there was no negotiation process because we both wanted the same things.
Eric: Not everything about us is identical, we have our differences, but we have always had similar goals and interests. We always planned to attend the same university and knew that whatever we ended up deciding, we would stay together.
At both the conference and national level, the X-Men cross country program has a long history of success in cross country, and in recent years has boasted a three-time Olympian as its Head Coach. Take us through a typical week of training with the X-Men cross country team.
Evan: Monday: lighter workout plus strides. Tuesdays: flex day, meaning that we can run individually or with other teammates at any time during the day that works best for us. Wednesday: interval day and hardest workout of the week. Thursdays: easy long run as a team, Friday: easy long run as a team or a shorter run if we have a race the next day. Saturday: high volume workout or a race. Sundays are always a rest day.
Eric: Monday is an easy run plus strides, and after we do strength with Coach Josh Course in The Dungeon (St. FX's strength training centre). Tuesday is a flex day, which means we have the option to run individually whenever we would like during the day. Evan and I run together in the afternoon after our classes. Wednesday is interval day, where most of the workout is done at race pace or faster and adds up to about 10-12k of work – I find this to be the toughest workout of the week! Thursday is core work (we call it a dance) plus a long run with the team. Friday is an easy run with the team. Saturday is race day, or long tempo of 15 to 35 mins total – this is our longest run of the week. Sunday is rest day.
Comparing your training under Coach Mark Miller at Pearlgate Track and Field Club and Coach Eric Gillis at St. FX, what was the most challenging aspect of this transition? What are some of the primary differences in your training?
Evan: The most challenging aspect of this transition was putting in mileage. In high school, being a multi-sport athlete, it was difficult to commit to long runs since I was so busy with other sports. It took a couple of weeks to get comfortable with the long runs with my teammates. Some of the primary differences is that I am now running six times a week, when back home I ran three times a week. Also, I am now training with a full team of ten guys every day, which I enjoy very much.
Eric: With Coach Miller, I focused a lot on speed work and track work. With Coach Gillis, we train with more volume during the week, do longer runs, and he has an obvious focus on cross country. The hardest part of the transition for me has been on building better endurance and gradually building my mileage. The biggest difference in training is that I am now focusing completely on running – I am not playing soccer and hockey so I have more time to work with. For three years, my club soccer team has competed at nationals, so I am used to a long soccer season with most of my focus on that sport. I would have to balance my cross country training with my soccer practices and it was hard to get in some longer runs.
Looking farther into the future, and in regards to both cross country and track and field, what are the goals that you would like to accomplish during your collegiate career?
Evan: Looking into the future, for cross country I would like to be an AUS All-Star and take home a team banner. In regards to track and field, I am going to work towards an individual medal and also a team banner. One of my big goals is to qualify for USPORTS, or maybe even get a St. FX school record.
Eric: When looking into the future, I would love to win AUS titles in both track and field and cross country. I will continue to push for some personal bests and a huge goal of mine would be to win a medal in track.
While the connection is perhaps too deep to fully explain, what is it like training alongside your brother and having him by your side throughout each and every athletic event?
Evan: Training alongside my brother is a very special feeling. We always push each other and want the best possible success during workouts and races. During races, we always have a connection that motivates us to want to run faster. It's hard to explain, but we can almost predict where we are on the track. Also, whichever twin is ahead of the other, we both want the other to do just as well and that feeling pushes us both to the finish line.
Eric: Training alongside Evan is always a great thing. He helps me push myself to be the best athlete I can be, and there's always good brotherly competition. In races, we always do our best to keep up with each other to get the best result possible.
You've both mentioned in the past that your soccer teammates will often confuse you for your twin brother. In either athletics or soccer, tell us about a funny story in which a coach or teammate has made this confusion.
Evan: In soccer, my coach started only one twin, but he started the wrong twin by mistake. When Eric and I are both on the field, we are usually on opposite sides of the field, playing the same position (left wing and right wing). I am usually on the left side while Eric is on the right, but during this game my coach had me on the right side to start. Mid-way through the game I made a missed play and my coach called out "Eric!" When this happened, Eric corrected our coach, so he then realized in embarrassment that he had started the wrong twin and we laughed about it after the game.
Eric: I can never remember a time where a soccer coach has been able to tell us apart the whole season. At first, they have to figure out ways to tell us apart – Most coaches try to tell us apart by looking at our cleats. Our Canada Games coach, Andrew Murphy, could never get us right! With all the different coaches I have had in different sports, he definitely had the most trouble, even though we were training six days each week. Eventually, Evan and I started answering to both names and it's an ongoing joke with our teammates.
Aside from running, what are some of your other hobbies?
Evan: Besides running, I love playing different sports for fun, playing video games, and spending time with my friends and two brothers.
Eric: Spending time with my girlfriend, family, and friends. I also love watching movies and playing videogames. When I have free time, I like to play basketball in the driveway with Evan and our little brother Andy (who could pass as our triplet).
Questions for Evan:
While you both specialize in the 800m distance, you have focused on the 1500m as your secondary event and Eric has focused on the 400m as his. Compared to the 400m, what makes the 1500m appealing to you?
I enjoy the 1500m over the 400m because it gives me a chance to run strategically. I like that I am able to test my speed over a longer distance.
At the 2016 Canadian Legion Track and Field Championships, you achieved personal bests in each event and captured a full set of medals: gold in the 800m, silver in the 2000m, and bronze in the 1200m. What do you remember from each of your races at these Championships? What do you attribute to such successful performances?
I remember approaching each race the same way: to trust in my training and to stay focused. I felt ready for a medal because I knew that I had trained hard. My first event was the 1200m, and when I got bronze, I was excited to show that I could do even better in my other events. I had a lot of confidence going into the races and I remember just wanting to get out there and compete. I attribute my successful performances to believing in myself and believing that all the time and effort that I had put in was for a reason. I didn't have many big races under my belt but I knew I could be successful if I stayed positive. I wanted to take full advantage of this opportunity to compete at a higher level.
At this past weekend's AUS Cross Country Championships, you placed 17th overall while the St.FX men's team placed 2nd. What were your thoughts and takeaways from your first university championships? What are your goals for the USPORTS Championships in two weeks?
My goal going into the AUS Championships was to give my best performance so that I could contribute and have an impact on my team. I was able to get a PB, and overall I was happy with my race. I have a lot to build on going into next year and will be more prepared going into the cross country season. Our senior runners gave me great advice before and after the race and that has given me another level of confidence for future AUS Championships. If I attend USPORTS, my goals would be to try and be the most confident runner I can and to enjoy the experience running against the top schools from across the country. Competing in this Championships as a rookie will help me compete better in future races.
Questions for Eric:
While you both specialize in the 800m distance, you have focused on the 400m as your secondary event and Evan has focused on the 1500m as his. Compared to the 1500m, what makes the 400m appealing to you?
In the last couple of years, I have liked racing in the 400m. I find that my sprint speed from soccer and my experience in running the 800m come together which is why I find it such a good event. I don't mind the 1500m but I have more confidence in the shorter distances compared to the longer ones.
A result of focusing on the 400m as your secondary event, something unique to you is the use of starting blocks. How do you train for the starting phase of this sprint event?
I tend to do my block work after practice. I have found it helpful to record me coming out of the blocks so I can see what I need to work on. The blocks are something I want to work on further since most of my track training thus far has been for the 800m.
Competing for the X-Men in the upcoming indoor season where there is no 400m or 800m, which events will you choose to specialize in?
The 600m and 1000m.

---
Hosted by New Brunswick-born track runner, administrator, and coach Brandon Scott LeBlanc, AtlanticU23 is an interview series with upcoming Atlantic Canada track and field athletes under the age of 23.
Facebook: @AtlanticU23
Twitter: @AtlanticU23
User

Comments
Currently, there are no comments.