AtlanticU23 #045 - Isaac Cull (New Brunswick)
Posted 1 year ago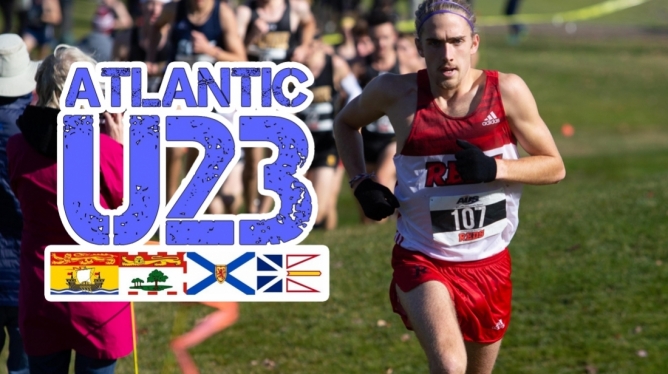 Photo Courtesy: James West for UNB Athletics
AtlanticU23 #045 - Isaac Cull (New Brunswick)
Hometown: Argyle, NS
Birth Year: 1999 (Senior age class)
Club: Saint John Track Club
Coach: Chris Belof
Personal Bests (as of November 12th, 2019): 1500m: 4:01.03, 3000m: 8:30.79, 5000m: 15:32.34, 10000m: 32:38.62, 3000m Steeplechase: 9:54.55
5 quick questions with Isaac:
Favourite Disney movie? Peter Pan
PC or Mac? PC
Which TV show or movie would you most like to see added to Netflix? As long as The Office is on Netflix, I'm happy
Would you rather have to wear formal attire or pajamas every day? Formal attire
If you could be invisible for a day, what would you do? I'd probably travel around the world for free
How did you first get involved in track and field?
A teacher put me on a treadmill at a spring fair in grade 7 and he was surprised at how fast and far I could go. I've been running ever since.
During your high school career, you captured numerous NSSAF medals of all colours and represented Nova Scotia at two Canadian Legion Track & Field Championships. What were some of the highlights of your early years in the sport?
I'd say coming in 8th at Legions in the steeplechase as an open athlete (representing Southwest Nova Athletics) was my highlight, along with my grade 12 season. Prior to grade 11, I didn't have any training partners and was just training on my own. Having a group to train with and joke around with made a huge difference and made the sport much more enjoyable. A huge thank you to Tori Grimshaw for coaching me alongside Hudson and Harmon.
How has opportunities such as the NSSAF and Legion Championships helped you develop as an athlete, and reach the level of competitiveness that you have today?
The NSSAF does a great job of showcasing Nova Scotia's high school talent in the sport and does a lot of things right with track and cross country, starting with hosting meets on school days to increase the participation of the sport. It's always more fun to race against a full field of athletes. The NSSAF also allowed me to be recruited by many universities. My participation at Legion Championships has allowed me to get some national level experience prior to university, which helped prepare me to compete at multiple track and cross country events in Boston and in Pennsylvania.
Throughout your years competing at the NSSAF Championships, you raced alongside various athletes who you now race in the AUS conference, including fellow Nova Scotians Andrew Peverill, Hudson Grimshaw-Surette, and Jacob Benoit. Can you describe to us your experience in competing against so many familiar athletes throughout each stage of your career?
Racing against these guys is always fun, especially because we have been competing ever since high school. It's always nice to see the talent from Nova Scotia grow within the conference.
After graduating from Drumlin Heights Consolidated School in 2017, you immediately enrolled in the Bachelor of Kinesiology program at the University of New Brunswick. What contributed to your decision to attend UNB?
The Kinesiology program and the opportunities for competition with the cross country team were factors in my decision to attend UNB. In the end, I really lucked out with my choice. I've been able to live with my dad and get to know a great group of guys. I believe we can turn the distance program at UNB into a team that could seriously contend at the AUS Championships and eventually into a top 5 USPORTS team.
At the AUS Cross Country Championships two weeks ago, you achieved a historic 4th place finish - the highest placing for a UNB athlete since Matt Pieterson placed 3rd in 2009 - and led the UNB men's team to the bronze medal position. What was your goal heading into the race, and were you satisfied with the result?
The goal was to get the team to USPORTS. I lost my mindset in the last mile and had a rough last kilometer. I'm proud of all the guys who competed that day. We will be back next year and will have a better showing.
This year marked the first time in which Fredericton's Kingswood Golf Course hosted an AUS cross country meet. Compared to UNB's regularly utilized course at O'Dell Park, how did Kingswood fare as the Championship course? Do you expect to see UNB host future meets at Kingswood?
Kingswood is more of a true cross country course, being all grass and having a few hills. I preferred Kingswood over O'Dell Park since O'Dell is mostly gravel and has a lot of narrow trails - at Kingswood there was a lot more room to make moves during the race. I would like to see future championship meets held there, including the national championships.
You placed 66th at this past weekend's USPORTS Cross Country Championships, an improvement on your 96th placement last year. Take us through the race. Having raced against many of these same guys on the Kingston course last year, what did you expect going into the race?
I expected a better result than last year, but was really hoping to break the top 50 this year. I wanted to go out a bit more conservative and work my way up throughout the race. Being the second AUS competitor to cross the finish was something I did not expect, so that was an unexpected bonus. The race was more tactical this year due to the high winds, which led to a huge lead pack and probably had something to do with the reason I wasn't top 50. Not very many people took big risks.
In the AUS conference, the UNB Reds are unique in that they have active training groups at both their main campus in Fredericton and their smaller campus in Saint John, but compete as one united team. With athletes living and training in separate cities, how does the UNB cross country teams foster a one-team culture throughout the school year?
Fostering a team culture goes beyond living in the same cities. Our one-team culture stems from our shared goals, mentality, and over-arching program philosophy. We also happen to meet quite regularly, with the Saint John crew coming to Fredericton for distance workouts. With the opening of the facility in Saint John, the Fredericton program will be spending more time in Saint John.
The Irving Oil Field House recently opened at Saint John's Exhibition Park, boasting a 6-lane 200m track with an 8-lane straightaway, space for field events, a fitness centre, and various other amenities. What training and competition opportunities will this new facility bring to the UNB Reds?
The facility will provide many opportunities to host national level meets in the near future, allowing us to get good competition without travelling. The new track has a wide radius and is much easier on the body, unlike other facilities in the Maritimes. The track surface is also tuned to be fast, so it'll be a good spot to try and hit national standards.
While the 1500m and 3000m have been your primary events on the track, you've also dabbled in the steeplechase and achieved an 8th place finish in the 2000m distance at the 2016 Legion Championships. What does your future look like in the steeplechase? Do you plan to make this one of your main events outdoors?
Due to an injury after my first year I didn't really get an outdoor season in 2018. I've since worked on steeple a bit, and I see it becoming one of my main events leading up to the Canada Summer Games in 2021. I'm looking forward to seeing my progress when I'm rested.
In 2021, you will have the opportunity to tryout for either the New Brunswick or Nova Scotia Canada Summer Games team, but not both. While still over a year-and-a-half away, do you have a preference on the provincial team that you would like to tryout for?
I haven't decided yet, but I'm pretty close with most of the high performance athletes in New Brunswick now and wouldn't know very many people from the Nova Scotia team.
What are your goals for the upcoming indoor season?
My goals are to qualify for USPORTS in the 3000m and help the UNB team get some points at the conference championships. We are looking to make it a tight race for the banner again this year.
Aside from running, what are some of your other hobbies?
Between running and trying to get into a medical program you don't have much time to do anything else, but occasionally I like a good long walk on the beach.
Additional comments:
I would like to thank a few people for their support: my mom, who in high school, trucked me around the province multiple times each week for basketball, soccer, and running, and who has always been there for me. My dad, who's been putting me up in Fredericton the last couple years, and Donna Trites, who has made me a lot of meals. I'd like to thank Caitlin Marshall for keeping me in one piece and dealing with all my injuries. Lastly, I'd like to thank Coach Chris Belof for always believing in and supporting me throughout my first university years.
---
Hosted by New Brunswick-born track runner, administrator, and coach Brandon Scott LeBlanc, AtlanticU23 is an interview series with upcoming Atlantic Canada track and field athletes under the age of 23.
Facebook: @AtlanticU23
Twitter: @AtlanticU23
User

Comments
Currently, there are no comments.