AtlanticU23 #046 - Braden Harrison (New Brunswick)
Posted 1 year ago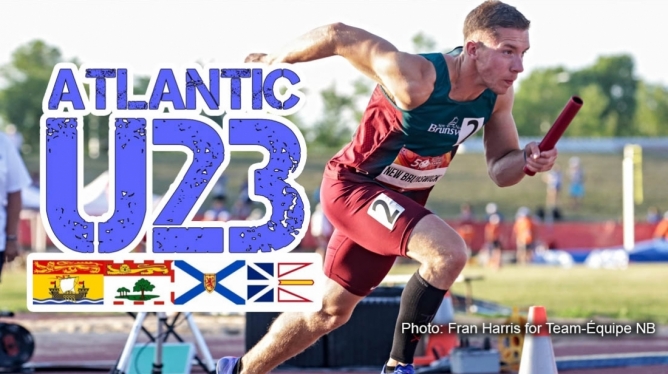 Photo Courtesy: Fran Harris for Team-Équipe NB
AtlanticU23 #046 – Braden Harrison (New Brunswick)
Hometown: Fredericton, NB
Birth Year: 1997 (Senior age class)
Club: Fredericton Legion Track Club
Coach: Yvan Pelletier
Personal Bests (as of November 25th, 2019): 60m: 7.09, 100m: 11.05, 200m: 21.84, 300m: 35.55, 400m: 51.01
5 quick questions with Braden:
Favourite musician? That's a tough one, but I'd say one of my favorite bands at the moment is The Frights
Spring or fall? Spring
What is your dream job? Making a living through track would be a pretty cool gig
Would you rather be alone for the rest of your life or always be surrounded by annoying people? Live alone, easily
If you could choose to stay the same age forever, which age would you choose and why? I guess around 28 or so. It's late enough that I will (hopefully) have more of my life figured out while still being pretty young
How did you first get involved in track and field?
I have actually been involved with Track and Field since I was in early elementary school and I've always competed at the school and city wide events but I didn't start getting serious about it until I joined Fredericton Legion Track Club when I was in grade 10.
Since your start in the sport, you have always pursued the sprint events. What first caught your interest in these events, and what has maintained that interest?
As a child I always liked to run and to run fast. I played numerous different sports growing up and one of the sole reasons I was half-decent at them was because I was quicker than a lot of the other kids. However when I first joined FLTC, my then, and still to this day – Coach Yvan Pelletier had initially planned for me to become a triple jumper. He told me at the time we first had to build speed and learn to sprint. I became enthralled with the sprint events and the idea of giving everything you have for one quick race. We never did get around to triple jump.
Alongside the sprint events, you also competed in the long jump in a few of your early track and field meets. What led you to drop the long jump in favour of focusing fully on the sprints?
I competed in long jump in my early days of track and field before joining my club. At those ages long jump goes hand-in-hand with sprinting so I always did it for fun but I never felt like I was that good at it. After joining FLTC I had become so focused on sprinting that I never really went back to it. Some days I wish I had kept up with long jump because it's one of my favorite events to watch and I feel like I could've ended up succeeding in it.
After graduating from Leo Hayes High School in 2015, you immediately enrolled in the Bachelor of Computer Science program at the University of New Brunswick. Aside from sticking close to home, what contributed to your decision to attend UNB?
I chose to attend UNB because I felt it presented me with the best opportunity to achieve my athletic and academic goals. UNB was in the process of building a competitive team on both the AUS and Usports level and I felt that I could be an immediate contributor to the team's growth. At the time of the decision I had been working with Yvan for about 2 years and had made vast improvements under his coaching. Seeing as he is also the coach of the UNB sprints team it was a very easy to decision to stay and continue working with him as I felt he was the best person to help me get to where I wanted to be.
At the 2016 AUS Track and Field Championships, you captured gold in the 300m, along with a pair of bronze medals in the 4x200m and 4x400m relays. This being your rookie season, what were your goals heading into the Championships, and how happy were you with the outcome?
I remember going into those championships with the goal of coming home with three medals. I was ranked 5th heading into the 300 that weekend but I fully believed I was capable of contending for a top 3 finishing position. At that time, the 300 preliminary race and the finals were on different days. After qualifying with the second seed the night before I remember waking up the morning of the final and saying to myself – "I don't want to lose today." Thankfully that mentality was enough to help me come away with the win. On top of that race our relays performed as we had hoped, resulting in a great first championship meet.
At the 2017 Canada Games, you placed 13th in the 200m and competed on Team New Brunswick's 4x100m and 4x400m relay teams, placing 6th and 7th, respectively. Tell us about your experience competing at the Canada Games. Were you satisfied with your performances?
The 2017 season was a tough season for me. I had sustained a groin injury early in the year that inhibited the majority of my indoor season that year and ended up lingering into part of the outdoor season. At the time of the Canada Games Trials in Saint John I had only had about 3 weeks of training post injury and was left a little less prepared than I would have hoped for such an important meet. During the selection meet I actually ended up straining my calf which made it even harder to perform at the level I knew I could. In the end I was selected to the team and with all things considered I was very happy to still get to compete at Canada Games which I had been looking forward to my entire competitive career.
At the 2018 Boston University John Thomas Terrier Classic, you ran a blistering time of 21.84 in the 200m, becoming the second fastest athlete in Atlantic history in the indoor event. What led to such a phenomenal performance? Were you expecting to see such a fast time at this stage of your career?
The lead up to that Boston race was a bit unorthodox. The Terrier Classic is without a doubt the busiest track and field meet I've ever attended. There were well over 150 entries for the 200m resulting in 24 heats. Just getting in a proper warm up on that track is a task of its own because of how crowded it is. Also, due to a mix up with seeding I ended up being seeded well below what I knew I was capable of running and as a result I wasn't scheduled to run until the 16thheat. The frustration of all of that paired with the fact that I wouldn't be able to use blocks for the race fueled me to run with somewhat of a chip on my shoulder. I tried hard to not let myself get distracted and run my own race. Although I was very confident with the shape I was in, when the time flashed up on the screen I was a little bit surprised because of the circumstances surrounding the race and it was a huge PB at the time.
Due to the absence of starting blocks in your historical performance, Athletics New Brunswick had the difficult decision to make on whether or not to ratify the performance as a provincial record, eventually accepting the performance. What was your take on the situation, and the association's decision to accept the performance?
A few days after the race I was told that ANB wasn't going to accept the performance because of an obscure rule that required blocks in order for a time to be eligible for records. It was pretty disappointing to hear that especially because in my opinion not having blocks was nothing but a hindrance to my performance. Yvan and some other members on the board of ANB pushed hard for the record to be ratified and eventually it was decided that it would be recognized. I was thankful that it was pushed through because it resulted in me being ranked in the top 6 nationally for that year.
For a meet as prestigious and highly-attended as the John Thomas Terrier Classic, do you know why starting blocks were not made available to athletes in the 200m?
I've attended the Terrier Classic for the last two years and both times blocks have only been accessible to those in the first three or four heats. Apparently this is done to save time because there are so many heats that they have to get through. They actually move the heats through so fast that the time from one race ending to the gun of the next is about 25 seconds.
This past summer, you managed a full training schedule while also working a full-time job, something that often poses a challenge to athletes in the senior category. What were some of the challenges you experienced, and how did you manage to balance both of these commitments?
I'd say one of the biggest challenges of balancing a full training schedule with a full time job is scheduling. When you're already working 40 hours a week and then on top of that you're trying to get in 6-7 training sessions it can get a bit overwhelming. It was especially challenging for me this summer because my hours were inconsistent in that some days I would work very early mornings and some days I would work late nights. I had to play with my schedule a lot to make sure that I was still able to get my practice in but this meant I was often left practicing alone because my work schedule conflicted with my regular practice schedule.
What advice would you give to an athlete trying to manage both full-time work and full-time training?
I think the best advice I can give someone trying to balance these two aspects of their life is to learn when and how to rest. It's so easy to overdo it and burn yourself out which can be extremely detrimental to performance. The unique thing about the sport of track and field is that it requires you to perform and compete at 100% at all times. It's so different from other sports where some days you can feel a bit off but still perform reasonably well because it is much more reliant on your skills or the play of your teammates, but with track and field it would almost be a waste of time to show up to a competition only feeling 80%. Sometimes it's better to rest than risk injury by pushing through a workout on a day you feel drained. That's actually something I'm still trying to get better at myself.
The UNB track and field program maintains club affiliations at both of its campuses – Fredericton Legion Track Club at its Fredericton campus, and Saint John Track Club at its Saint John campus – and the entities share a high number of athletes, coaches, and resources. Training under Coach Yvan Pelletier, what does a typical week of indoor training look like for the sprinters at UNBF / FLTC?
Our typical week involves 6-7 training sessions. On Sunday, Tuesday, and Thursday we travel to Oromocto for track workouts. Sunday is usually a speed session and Tuesday-Thursday have more of a speed endurance focus. On Monday Wednesday Friday we train in the High Performance Gym with Ken Morrison. These workouts are supplemental weight sessions focused on building and maintaining strength. This year with the opening of the Irving Oil Field house it presents us with access with a secondary track facility that allows a bit more flexibility in our schedules.
You opened your indoor season at the Red & Black Open at the new Irving Oil Field House in Saint John, racing the 60m and 4x200m relay. Tell us about your races and your experience racing at the new facility.
The facility is great. The track is beautiful and has a really nice surface. One of the most underrated but important factors to me of a track facility is the lighting. I was actually really happy to see how bright it is in there. It was a pretty low-key weekend that ended up mostly being an inter-squad meet for us competing at the senior level, but it was a nice way to open the season. I was able to put up a solid opener in the 60m of 7.17 and actually this happened to be one of my earliest openers in the last few years so I felt pretty good about that, but I'm expecting that time to drop significantly as the season progresses. We did the 4x200m at the end for fun and to test the track for the turns. Our time wasn't as fast as we hope to go later this year but it did happen to be at the end of the meet and we were the only team racing.
Perhaps the most appealing element of the new track at the Irving Oil Field House to both sprinters and mid-distance athletes is its 200m length, as opposed to the 166m length and infamous tight-turns at Moncton's CEPS. Compared to Moncton's CEPS, how were the turns in your relay leg?
Anyone who's ever raced at CEPS knows how difficult those turns are. I'm always hesitate to run the longer sprints on that track because bracing for them actually takes a significant amount of energy, resulting in consistently slower times. The turns at the Irving Oil Field house were fantastic and I'm really looking forward to AUS Championships being hosted there in late February. It'll be a bit strange because AUS has been in Moncton my entire UNB career but I think the change is going to benefit all of the athletes immensely. I'm positive that a lot of the conference and championship records are going to go down now that the meet is being hosted at the Saint John facility.
Despite often competing on 4x400m relay teams, you haven't raced the event individually since 2017. What are your plans for the 400m in the future?
The 400m and I have what you might call a complicated relationship. The grittiness and challenge of running the lap race make it one of the most satisfying and difficult events in track and field. I love running 4x4s but the solo race has never really been a mainstay of mine because my training focus has always been on the 200m. I run the relays because I do really enjoy the event but I just haven't been able to put as much work into as I would want to before racing it for myself. I would eventually like to add the 400m back into my repertoire but for now I'm working hard to continue to improve my shorter sprint races. Stay tuned for some 4x4 action throughout the university season though!
Now into your fifth and final year at UNB, what are your goals for this indoor season?
My number one goal for any season is to stay healthy. I know if I can make that happen then I can put up some good results. Of course I'm also focused on improving my times across the board, and I'd also like to secure a spot to the USPORTS Track and Field Championships in Edmonton. While the 300m is my main race focus, I believe that I'm going to be able to put together a solid 60m season as well. We have a fairly deep sprint crew at UNB this year and we think we can field some relay teams that can compete with the best in country. I won't give any time specific goals here but keep your eyes on the clock throughout this season!
Do you have any set plans for after you graduate from UNB next spring? How about your post-university athletics career?
Yikes. The classic question for every soon-to-be graduate… I don't necessarily have any set plans post-graduation but I do know I will still actively be training and competing in Track and field. I'm still looking forward to competing at nationals next summer in Montreal as well as working towards representing New Brunswick at the 2021 Francophone Games.
Aside from running, what are some of your other hobbies?
When I'm not training for track I still spend a lot of my time outside or being active. I practically live in the weight room in the off season and in the summer I golf a lot. I also really enjoy hiking and rock climbing.

---
Hosted by New Brunswick-born track runner, administrator, and coach Brandon Scott LeBlanc, AtlanticU23 is an interview series with upcoming Atlantic Canada track and field athletes under the age of 23.
Facebook: @AtlanticU23
Twitter: @AtlanticU23
User

Comments
Currently, there are no comments.