AtlanticU23 #047 - Catherine Kennedy (Nova Scotia)
Posted 1 month ago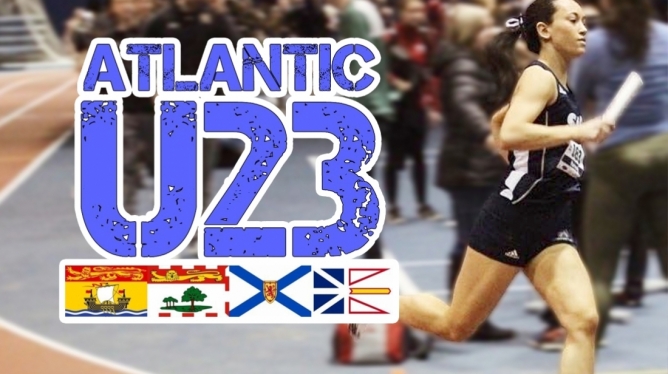 AtlanticU23 #047 - Catherine Kennedy (Nova Scotia)
Hometown: Calgary, AB
Birth Year: 1997 (Senior age class)
Club: StFX Track and Field Club
Coach: Jodi Langley
Personal Bests (as of December 9th, 2019): 60mh (33 inches): 9.30, 100mh (33 inches): 15.39, 200m: 26.57, 300m: 43.14, 400m: 59.59
5 quick questions with Catherine:
Favourite animal? Dog. I'm a fan of whales and elephants too, though
Pizza or garlic fingers? Zaaa
What is your very first memory? I can't recall it, but there's probably a soccer ball nearby
Would you rather live without music or without TV? Definitely TV
If you could bring back any fashion trend what would it be? Snap pants
How did you first get involved in track and field?
I didn't start track and field until I was in Grade 10. Before that, I'd played soccer for most of my life (since I was 4) and gotten into volleyball and rugby in high school. I had always loved to run, but I hadn't been introduced to track until much later on. In retrospect, I think this was a blessing. I think track can often be the kind of sport you can burn out from easily, so looking back, I'm happy that I started when I did. I immediately fell in love with competing. I had a fantastic hurdle coach, Lindsey McKenzie, who introduced me to hurdles as my first track event.
You come from a multi-sport background, having competed in track and field, soccer, and volleyball throughout most of high school. How do you find these sports, and the skills used within them, work with one another?
I definitely believe when it comes to youth athlete development that it's so important to have variety in training. I think competing in multiple sports growing up helped me become a more complete athlete. I've only really begun specializing since my time in university. Although my main focus growing up was always soccer, track quickly became a priority for me in high school. In terms of training, the two complement each other nicely in that soccer season allowed me to keep my aerobic fitness high, which translated nicely into track season. From there, I could focus on speed and anaerobic components, knowing that my aerobic base was strong. Volleyball was such a fun sport to play. It definitely helped improve my jumping mechanics. Unfortunately, I didn't make use of that during my high school track days, however this past summer, I tried long-jump, which I'll be competing in this year.
After graduating from Dr. John Hugh Gillis Regional High School in 2016, you immediately enrolled in the Bachelor of Science in Human Kinetics program at St. Francis Xavier University. Aside from sticking close to home, what contributed to your decision to attend St. FX?
I was quite torn when I think back on making my decision of where to attend university. I had scholarship offers for soccer from a couple of other Canadian schools, one of them being the University of Calgary, which is where I'm from. The idea of going back to Calgary to play for a coach I'd known growing up was intriguing. On the other hand, staying in Antigonish meant I would play for my dad, Graham Kennedy. At the time, both of us were uncertain if this was the best idea. My dad had coached me on-and-off throughout my youth career, but varsity was another story. In the end, I decided to stay. It made the most sense for our family, and although I had wanted to go away for school, the compromise was that I would have more autonomy for graduate school afterward if I stayed at X for my undergrad. I'm glad my parents talked me into this because, in hindsight, it was the best decision. I've met some wonderful people who hold such integral roles in my life and the friendships I've made on my teams is irreplaceable. Playing for my dad has been an invaluable experience. It's something that both of us are lucky to have had as an opportunity and will look back on fondly. He's a phenomenal coach and I'm fortunate to play for him. In terms of my degree, I spent two years in the Human Kinetics program before I switched my major to Sociology. At the time when I started university, kinetics seemed like a natural progression to a dominantly athletic identity. However, I later stumbled upon faculties like Sociology and Philosophy and fell in love. My program has changed my life, and I couldn't be more thankful for the incredible professors and people I've met through the program. I'm looking forward to writing my Honours thesis in the 2020/21 school year.
Whereas most track and field athletes use the fall months as their base season, you spend these months playing as a forward/wing-back for the X-Women's soccer team. How does playing soccer complement your athleticism on the track and act in-place of a base season?
I spend my summer off-season (April to mid-August) each year training in both soccer and track. I play an outdoor soccer season as well as compete in an outdoor track season. It's busy. It's the only time of year where I'm competing in both sports at the same time. But I love it – it's like a hybrid base season for me. My coaches are very accommodating in allowing my training program to incorporate track-specific as well as soccer-specific components. We find ways to adapt workouts so that they're advantageous to me in both sports. In my experience, this has prepared me much for soccer season and come August training camp, I streamline into soccer season at peak fitness. The nature of my position in soccer, as predominantly a wing-back, entails high aerobic demands. I spend most of my time running up and down the flanks of the field – which I'm happy to do. Doing this for 90-minutes each game keeps my fitness high, and come track season I feel prepared to transfer this aerobic capacity onto the track. That's what I did with that 600m two weeks ago. From then on, emphasis on speed and technical training is priority.
With the end of the soccer season and the beginning of the indoor track season being close together in early November, how do you manage the transition from one sport to the other?
I force myself to take two weeks off. There's definitely a need to reflect on the past season and reset for the next one. Most athletes have months to do this, so I really value the two weeks I take to allow for it. By the time two weeks is up, I've licked my wounds from the soccer season and I'm itching to get going again.
An accomplished athlete in both soccer and track, have you begun to prioritize one over the other, or plan to prioritize one in the future?
I grew up playing soccer; it's part of my family. So naturally, I have always gravitated towards it. Soccer and I have a long and deep-seated relationship. That being said, my 18+ years playing soccer means I've had copious years of development, training, competition, etc. Although I'm always aiming for improvement, with soccer, I feel as though I'm closer to maxing out than I am with track. I've only been running track for six years. It's almost like it's still shiny and new, and because I've spent less time with the sport, I feel like I have more to give. That being said, I couldn't choose between the two. This is a question I get all the time, and if I could have chosen, I would have. I'm well aware that it would have been much easier for me. And often, I wonder how things might have fared if I had specialized in one. But at the end of the day, I'm incredibly grateful that the athletics program at St. FX has allowed me to pursue both of the sports that I love. I wouldn't change it. In terms of my future in sport, I don't know how long I'll compete, but I'm sure that wherever I am, I'll be giving back through coaching. Growing up with a father as a coach has taught me the importance of this. I'd love to be that person for kids growing up in sport and help them cultivate the same love that I have.
You were part of both the X-Women's 4x200m and 4x400m relay teams that captured gold by relatively large margins at this year's AUS Track and Field Championships. How does the St. FX team prepare for the relay events and pull off their best performances when it matters most?
To be honest, relay teams are a little bit of a last-minute thing for us. We all do our best individually to have a strong season, and then leading up to AUS, it's up to the coaches to translate those individual achievements into a winning relay team – last year we did a good job at that. Relays are the absolute most fun, I love the way they unite an otherwise individual-centric sport. There's another level of commitment to your relay members that elevates your performance in those races. It's electric. We do our best to put the best team forward, figure out the most strategic arrangement of runners, and practice our exchanges. Then on the day of the race, you grit your teeth and do your best to get the baton around the track from start to finish. Winning a relay is such a great feeling. It's a shared win, and I value that a lot. I think I get that from soccer and growing up playing team sports.
As a member of these two relay teams, you got your first taste of the USPORTS Track and Field Championships, where the X-Women placed 12th in the 4x200m with a time of 1:44.14 and 10th in the 4x400m with a time of 3:53.02. Take us through your experience competing at these national championships.
Apart from competing at USPORTS in soccer, this was the highest calibre competition I'd been a part of. The atmosphere of the track was unreal, and the level of competition was crazy. I loved just being in the arena and getting to watch that level of elite track. It was cool to be a part of. As a smaller school from the AUS, we definitely had some big underdog energy coming into a national-calibre meet. In terms of competing, although the stage was much higher, I felt less pressure and was able to relax a bit more in preparation for the race because of that. We went out to do a job, and we did the best we could. A little exchange fumble between the first and second leg of our 4x200m cost us some time, but overall, we competed well. I split a PB in the 4x400m, so I was pleased with my individual performance and proud of the girls for going out and competing well against those more prominent schools. I look forward to a second chance to compete at USPORTS this season.
The St. FX sprints program has become an emerging power within the AUS, producing medalists such as Allie Flower and Timothy Brennan, and regularly challenging for gold in both the men's and women's relay events. Academically and athletically, what does a typical week look like for a St. FX sprinter at this point in the season?
In season, we train on the track 5 days a week, plus 1-2 weight days, and the occasional pool workout. What that looks like from week-to-week differs depending on our training phase – but you can bank on lots of speed days. Rest time between reps can make for some long practices, and then tack on weights afterward and athletic therapy and you're talking upwards of 3-4 hours a night spent at the Oland Centre. It makes for some late suppers and late nights studying but all the more reason to time manage, which is something we're all quite accustomed to.
With athletes coming from various areas around Nova Scotia and the rest of Canada, how does the St. FX track and field team maintain its training environment throughout the Christmas break when most athletes have gone home for the holidays? Does the regular training schedule continue for those that stay in Antigonish during the break?
This is definitely a challenge, as I'm sure it is with other varsity sports whose season is intersected by the holiday break. Our programming changes to reflect each individual's access to training facilities, which is helpful. A lot of the Christmas break is spent on a high-inclined treadmill for many of us. Some Christmas', my family goes back to Calgary, but we're sticking around this year, so luckily I'll have continued access to the usual facilities and resources we have here. This year the team's doing a mini-training camp at the beginning of January before the semester gets going, which will be great to sharpen-up for the upcoming meets in January.
You tried out pole vault for the first-time last year, achieving best clearances of 2.40m during both the indoor and outdoor seasons. What sparked your interest in the pole vault, and what does your future look like in the event?
It had always been an event that interested me. Unfortunately, I didn't get a chance to learn in high school as pole vault coaches and equipment are somewhat of an anomaly in Atlantic Canada. I went to a clinic with some teammates in my second year and learned some of the basics. The following summer I got a chance to train a little over the summer with Heather Hamilton, one of the coaches from Dalhousie, who introduced me even more. Having a background in gymnastics helped me to pick it up pretty quickly. Still, my experience with the event was minimal. My first time competing in the event was at AUS last year, and it was primarily on a points-basis for the team. Still, it's such a fun event, and I wish we had the resources here so I could commit more time to train for it.
At the Athletics Nova Scotia Last Chance Meet in Halifax two weeks ago, you ran – and won – the 600m, the longest track race of your career thus far. How did you enjoy the distance, and do you plan to add the event to your repertoire for this indoor track season?
In the past, I hadn't competed in the Last Chance Meet as I'm usually right off the heels of the soccer season. I'd been off for two weeks prior and had only had two practices back, and my coach had asked me if I wanted to compete in anything 'for fun' at the meet. She suggested the 60m or the 600m. For some reason, I opted for the 600m. I had always said I wanted to run one once. As it turns out, my anticipation of the race was much worse than the actual race itself. I enjoyed the distance and felt relatively suited to it. In light of my results, I'll be running the event as a focus for the remainder of the season on top of the 300m, 60m hurdles, long jump, and a sprinkle of pole vault.
Now into your fourth and final year at St. FX, what are your goals for this indoor season?
Although this is my fourth year, it thankfully won't be my last. Being a dual-sport athlete and Honours student, I spread my degree out over five years, which also lets me use all five years of eligibility. I have a lot more to do at St. FX so I'm looking forward to another year after this one. In terms of goals for this season, as usual, I'm out there to run PBs one race at a time. I'm running very well right now so I'm excited to see where that mindset will land me this year.
Do you have any set plans for after you graduate from St. FX? How about your post-university athletics / soccer career?
After I graduate, I'd like to take some time to travel for a year or two. I'm studying for the LSAT now, so in anticipation of the craziness of law school in a couple years, I'm looking forward to taking a little time to myself to explore.
Aside from running, what are some of your other hobbies?
I'm an avid yogi! I've been practicing yoga for seven years now. After my undergraduate degree I hope to travel and do my yoga teacher training abroad somewhere in South-Eastern Asia.
---
Hosted by New Brunswick-born track runner, administrator, and coach Brandon Scott LeBlanc, AtlanticU23 is an interview series with upcoming Atlantic Canada track and field athletes under the age of 23.
Facebook: @AtlanticU23
Twitter: @AtlanticU23