AtlanticU23 #048 - Timothy Longley (Nova Scotia)
Posted 3 weeks ago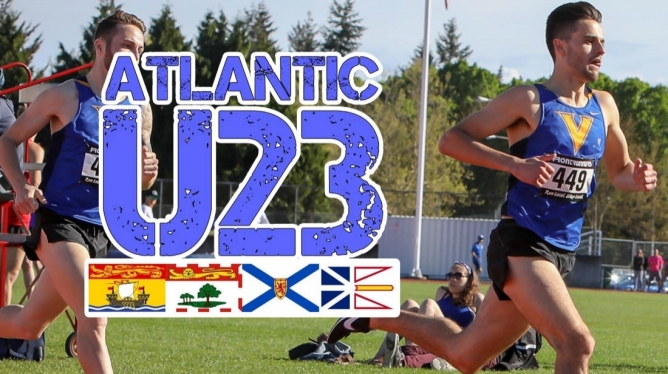 AtlanticU23 #048 - Timothy Longley (Nova Scotia)
Hometown: Kentville, NS
Birth Year: 1997 (Senior age class)
Club: Unattached
Coach: Brent Fougner and Hillary Stellingwerff
Personal Bests (as of December 23rd, 2019): 800m: 1:53.14, 1000m: 2:25.85, 1500m: 3:47.94
5 quick questions with Timothy:
Favourite cereal? Fruit Loops
Libraries or museums? Museums
Who is the most famous person that you have ever met? LaShawn Merritt
Would you rather have a family of twelve children or never have children at all? Never have children
If you were a wrestler what would be your entrance theme song? X Gon' Give It to Ya by DMX
How did you first get involved in track and field?
I started track and field in grade 7 where I competed for my elementary school; I started off running the 800m and 1500m. In grade 8 I medaled in the 800m at provincials without ever training for track, so I decided to try out the sport. I joined a local track club (Valley Athletics) that summer and continued doing races and enjoyed the sport. I was primarily a hockey player and took track as a second priority during the winters until I stopped playing in grade 12.
From 2012 through to 2014, you represented Team Nova Scotia/Nunavut at three consecutive Canadian Legion Track & Field Championships. Take us through your years in the Legion program. How did the Legion program help you develop as an athlete?
The Legion program was pretty crucial to my development as a track athlete. Throughout my early years in track, my goal was always to make the Legion team and participate at Nationals. The program was helpful in funding trips and gave exceptional race experience that I was unable to get on the East Coast. In my first Legion's in 2012, our medley relay team was able to secure a silver medal. This was an eye-opening experience for myself to medal on the national stage with my teammates. In 2013 and 2014 I participated in the 800m, 1500m, and 4x400m relay. The Legion races were always something I looked forward to each year, being able to race athletes from across the country and hoping to improve on my personal best times.
After graduating from Northeast Kings Education Centre in 2015, you immediately enrolled in the Bachelor of Commerce program at the University of Victoria. What contributed to your decision to attend UVic?
I chose UVic for a number of reasons. First, the success of the program was really attractive to myself - seeing so many middle-distance athletes run well over the past few years had a big impact on my decision. As well, there was a great training group when I first joined with many guys that I would be able to run with over the next five years. I really liked Victoria as a city and the weather in British Columbia was optimal for training. Victoria also has great facilities, access to many different sports professionals, and great racing opportunities year-round.
Describing it as a "breakthrough race," you smashed your 1500m personal best at the Aileen Meagher International Track Classic in 2017, running a time of 3:52.95. What was special about this race, and what training led to such a successful performance?
In 2017, I had finally had a solid training period without any injuries or setbacks so heading into the race I was ready to set a big PB. I had great training through the early spring in Victoria, and then was training with Halifast under coach Rich Lehman for the few months prior. The success came due to a solid base training period and having a few good key workouts in the weeks leading up to the race, training with Will Russell. In the race I just tried to hang on as long as possible - the race went out pretty quick and I knew I was set for a PB. In the last lap I had seen the clock and knew that if I could hold pace, I'd have a good race. I think I had a 5 second PB or so, which I was extremely happy with.
You represented Team Nova Scotia the 2017 Canada Games, where you placed 5th in the 1500m. Tell us about your experience competing at the Canada Games. Were you satisfied with your performance?
The Canada Games was a great experience and I'm glad I was able to participate in a multi-sport games. At the meet I only ran the 1500m and was just trying to place as high as possible, I had no real goals for the meet, other than just enjoying the experience and racing as hard as I could. I was pretty surprised to finish 5th in that race and was very satisfied with my performance.
The finals of the 1500m at the Canada Games went out rather tactical - final placements were mostly determined by one's finishing kick, there were few PBs, and the finishing times among medalists were close. Tactically, how did you expect the race to progress, and what was your strategy?
Given the long track season and having ran heats two days prior, I expected a pretty slow and tactical race and was ready for that. My strategy was just to stay in the race and be ready to make moves in the last 500m of the race. There was a lot of fast 800m runners in the race so I figured it could be a fast-last lap, so positioning was pretty key for myself. I just put myself near the front of the race and with a lap to go I was inside the top 3. Unfortunately, in the last 100m a few guys had some leg speed to pass me, but it was a really fun race.
At the 2018 Canada West Track & Field Championships, yourself and teammates Max Serviss, Thomas Oxland, and Tyler Smith broke the Championship record in the 4x800m with a time of 7:34.83, surpassing the previous record of 7:35.64 set by a quartet of UVic runners three years prior. Take us through this race. Going into the event, was a record attempt part of the plan?
This race was one of the more exciting races I have run in my university career. Tyler, Thomas, and I ran the 1000m earlier in the day and decided we were still ready to run a good 800m leg to prepare for USPORTS. Hosted in Manitoba, the Bisons were hoping to upset the Vikes and got a big crowd out for the race. Manitoba led the majority of the race and really pushed all of our athletes to race our best, however, Tyler was able to run a great last leg and win the race for us. Going into the race we had no intention of setting a record, we were just all focused on running a good leg and going for the win.
The UVic men's team has an impressive history of success in the 4x800m, entering a team at each of the past 17 CIS / USPORTS Track and Field Championships (as far back as we found results for), and capturing medals at 14 of them (6 gold, 7 silver, and 1 bronze). How does the men's team train, prepare, and get fired-up for the 4x800m?
The 4x800m at UVic is the focus for each middle-distance athlete each year. Having had so much success in the past, the athletes on the team make it a major goal to medal each year at USPORTS. The historical success plays into each athlete wanting to be a part of the relay team and help contribute to future success. As well, from my experience the relay is one of the most fun races at USPORTS and is something I look forward to running each year. USPORTS is pretty deep in the relay right now so it should be a fun race this year. Coach Brent has done a great job to train the 800m and 1500m athletes each year to prepare us for the event.
While primarily focused on track and field throughout your high school years, you were also an accomplished cross country runner, capturing multiple medals at the NSSAF Cross Country Championships. What lured you away from running cross country in your university years?
My main priority throughout each season was always towards track season. I experienced a little cross-country here-and-there through my first four years but was more focused on establishing a base for indoor season. As well, I had a few injuries during the start of the school year in my second and fourth years so we were always cautious with training to make sure I would be ready for the indoor and outdoor seasons. This past season I did run cross-country with the team through the first meet until CanWest and really enjoyed running it. I was happy to be able to help the team and try out a 10km for the first time.
Growing up in Kentville, Nova Scotia, and more recently having lived and trained in Victoria, British Columbia, you have experienced the sport on both sides of the country. Between these two cities/provinces, what has been some of the most substantial differences in training and competition?
The training culture is pretty different on each coast. In Victoria, there are a lot more training groups and runners in general. The competition is a lot different on the east coast, as there are limited amounts of meets and they are usually pretty small. In Victoria and Vancouver there are always solid events each year, and there are small circuits with access to many meets within the span of a week. Being in British Columbia, we are also very close to Seattle and Portland which host great distance races each year. The weather makes a huge difference. In Victoria, we only have a week or two of snow each year, so it enables us to train on the outdoor track year-round. British Columbia also has a lot of more running trails than out east. The training environment is a lot better because of the weather and being able to run outdoors rather than in the snow or treadmill is beneficial.
Off the track and into the classroom, you are an accomplished academic, securing several highly-regarded internships and achieving Academic All-Canadian status each year thus far. How do you balance both athleticism and academia at such a high level, and what has been the most challenging aspect of this balancing act?
My main focus has always been on academics since attending university, and I take pride in maintaining high grades to achieve Academic All-Canadian status each year. For myself, setting goals to achieve both athletic and academic success has been crucial to this aspect of my life, as well as establishing time-management skills. The most challenging aspect of balancing is during track season when we travel most weekends. I have to try and get ahead of school prior to attending meets so I can maintain focus towards racing once we get to the meet. For the most part it is attainable, however, when having to write midterms on the road it can get tricky.
Now into your fifth and final year at UVic, what are your goals for this indoor season? Is there anything in particular that you would like to accomplish before your athletic eligibility runs out?
As this is my final year, I am really hoping to enjoy the experience of racing for UVic and having fun travelling across the country for my last few indoor meets. My goal is to qualify for USPORTS in both the 1000m and 1500m individually and help contribute to the 4x800m relay. Since coming to UVic my goal has been to help the team win a 4x800m relay so that would be great if I could finally get that accomplished in my final year here.
Do you have any set plans for after you graduate from UVic in the spring? How about your post-university athletics career?
I will continue to run post-university this summer as part of the UVic track club. I am moving to Calgary at the end of next summer for a job, and I am not sure what my future athletic plans are, however, I would like to continue with the sport if available.
Aside from running, what are some of your other hobbies?
Aside from running and school I spend time just hanging out with friends or watching sports. I am an avid fantasy sports player and consume more than enough time with fantasy football during the fall.

---
Hosted by New Brunswick-born track runner, administrator, and coach Brandon Scott LeBlanc, AtlanticU23 is an interview series with upcoming Atlantic Canada track and field athletes under the age of 23.
Facebook: @AtlanticU23
Twitter: @AtlanticU23
User

Comments