AtlanticU23 #049 - Emily Doucet (New Brunswick)
Posted 9 months ago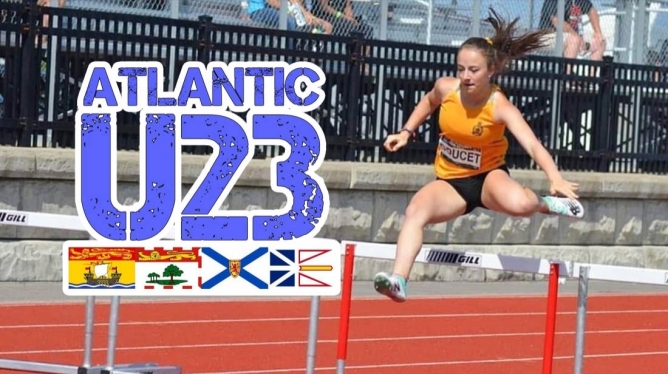 AtlanticU23 #049 – Emily Doucet (New Brunswick)
Hometown: Saint-Louis-de-Kent, NB
Birth Year: 2003 (U18 age class)
Club: Athlétisme Sud-Est / South-East Athletics
Coach: Peter Stuart
Personal Bests (as of January 6th, 2020): 400m: 1:01.88, 400mh: 1:07.52, 800m: 2:21.97, 2000m Steeplechase: 7:30.37
5 quick questions with Emily:
Favourite music genre? I like a wide variety of music: pop, R&B, country, and even some French musicians. I guess you could say my taste in music is as vast as my interest in track events
Card games or board games? Card games
What is something that you collect? Silver medals
Would you rather the room you're in always be too cold or too hot? I prefer cold, since you can always add on layers
If you could be an animal of any species, which would you choose and why? A shark, so I could be on Shark week and star in Sharknado
How did you first get involved in track and field?
I started doing cross country in fourth grade. My first introduction to actual track and field was when I was in sixth grade and I qualified for the 1200m race at Jeux de l'Acadie. During this time, my main focus was volleyball and I had never really trained in track and field. I was very nervous prior to my race and I didn't want to run, but a lot of people encouraged me to. I faced my fears and ran the race – it was a very positive experience since I came out with a bronze medal. The following year, I qualified for Jeux de l'Acadie once again, this time in the 800m and 1200m. I came away from there with 2 gold medals. This changed my focus from volleyball to track and field. The closest indoor track is in Moncton, and so it was a very hard decision to start training since it would mean I'd have to give up a lot of my time and it would take a lot of dedication.
Born and raised in New Brunswick's Kent County, you have represented Team Kent at four consecutive editions of the Jeux de l'Acadie, capturing 5 gold, 1 silver, and 1 bronze. Tell us about your experience growing up as a francophone athlete in New Brunswick, and competing at the Jeux de l'Acadie.
I feel fortunate that I was able to represent Kent at les Jeux de l'Acadie for those 4 years. This event opened my eyes to all the opportunities track and field has to offer young francophone athletes. I can definitely say, this is where my love for track and field began.
Additionally, you represented Team New Brunswick at the 2017 Jeux de la francophonie canadienne, hosted on home soil in Moncton-Dieppe. At these games, you captured gold in the 800m – smashing the former meet record by nearly ten seconds – and silver in the 2000m. Take us through your experience competing at this Canada-wide event. What were some of the highlights?
Looking back at les jeux de la francophonie canadienne, I can definitely say that the biggest highlight was breaking the record and capturing the gold in the 800m. I had worked very hard and it was a very challenging race. The athlete from Québec was very fast and on my heels the entire race. This event is very well organised, it was one of the best experiences of my life. The competitions was just one part of it, there were also many cultural events that allowed me to make new friends.
At the NBIAA Track and Field Championships in June of last year, you captured gold in the 300mh and silver in both the 800m and triple jump. Just over five month later, you won silver in the Senior Girl's 5km race at the NBIAA Cross Country Championships. What do you attribute to your ability to succeed in events of such large variance?
This brings me back to every practice I had last year. When I would arrive, the first thing I would ask my coach, Peter Stuart, was "what am I today? Am I a distance runner, long sprinter, short sprinter, hurdler, or jumper?" This became a running joke with us. I had many goals and I wasn't really sure what I wanted to focus on. I had some success in the 400m and 800m at the Hershey Canadian Indoor Championships. Once I started preparing for NBIAA, I decided to focus on hurdles and triple jump. Once practices started up in the fall, Peter told me that I no longer had to ask him what I was – I was a distance runner because I had been doing it for so long and was not ready to give up.
At last year's Canadian Legion Track & Field Championships, you ran on Team New Brunswick's 4x100m and 4x400m relay teams that finished 8th and 5th, respectively. With provincial relay teams being comprised of athletes from all around the province, and thus not usually having relay experience with one another, how do you and your relay teammates prepare for the transitions?
I am very fortunate to be able to represent Team NB with such great athletes. For the 4x100m, we do get a little practice time in. Even if our exchanges aren't the best, we have to trust each other and, like Nike says, "Just do it." If we trust each other everything will go right! For the 4x400m, the exchange is a lot easier since the runners don't come in as fast as the 4x100m.
You train and compete as a member of Moncton-based Athlétisme Sud-Est / South-East Athletics and train under coach Peter Stuart. Take us through a typical day in the life of an ASEA distance runner. What does a typical week of training look like for you at this time of the year?
A typical week is 6 days on, 1 day off. I try to do some weight lifting 2 to 3 times each week, and go to Moncton 3 times each week for practice indoors. The drive is one hour each way. At practice I still ask Peter what I am – I have been concentrating more on the long sprints since the end of cross country. When the weather isn't good for my long runs outdoor, I run on the treadmills.
You've contested – and excelled at – a myriad of events both on the track and in the field, including sprints, mid-distance events, distance races, hurdles, steeplechase, relays, and jumps. Which event has been your favourite, and which your least favourite?
My favorite event would have to be the 400m hurdles. My least favorite is most definitely high jump. After attempting to compete in the high jump at jeux de la francophonie canadienne, it occurred to me that high jumping definitely wasn't for me.
Which events do you plan to focus on in 2020?
My main focus will be on the 400m hurdles, 400m, and 800m.
With 2020 being your final year in the U18 age category, what are your goals for this year?
Like every runner, my main goals would be to get some PB's in all my races.
This year will also be your final opportunity to compete at both the jeux de la francophonie canadienne and the Legion Championships. What are your goals for these events?
First I'd like to qualify for both meets. I would really like to medal at the jeux de la francophonie canadienne, and for Legions would love to get PB's on this national stage.
Aside from running, what are some of your other hobbies?
Most of my time is used for my studies and I also have a part-time job. When I do have free time, I hang out with my friends.
---
Hosted by New Brunswick-born track runner, administrator, and coach Brandon Scott LeBlanc, AtlanticU23 is an interview series with upcoming Atlantic Canada track and field athletes under the age of 23.
Facebook: @AtlanticU23
Twitter: @AtlanticU23
User

Comments
Currently, there are no comments.