AtlanticU23 #050 - Micah Landry (New Brunswick)
Posted 1 month ago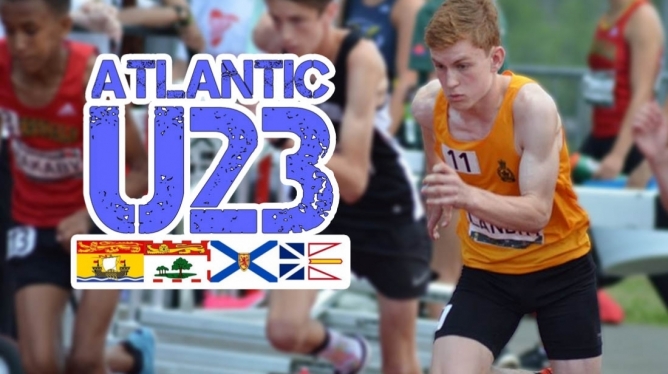 AtlanticU23 #050 – Micah Landry (New Brunswick)
Hometown: St. Stephen, NB
Birth Year: 2004 (U18 age class)
Club: Saint John Track Club
Coach: Bill MacMackin
Personal Bests (as of January 20th, 2020): 800m: 2:08.73, 1200m: 3:19.95, 1500m: 4:28.02, 1500m steeplechase: 4:35.27
5 quick questions with Micah:
Favourite Marvel movie? Into the Spider-Verse…although it's made by Sony it includes Marvel characters, so I'd say it counts. MCU fans spare me.
Skittles or M&Ms? Skittles over M&M's any day.
What is the biggest mispronunciation of your name that you've ever heard? My name was once repeatedly butchered to the point of "Michala" by a substitute teacher. I'll give her the benefit of the doubt that it was a long day.
Would you rather change the past or be able to see into the future? I'd much rather see into the future so I can learn from mistakes that I've already made.
If you could hang out with any cartoon character, who would you choose and why? Goofy, on the sole basis that I would question him on the ethics of owning one of his own kind. Pluto is a dog like him but forced to wear a collar and treated like an animal the entire series, whereas Goofy is treated like a human. The implications of this are alarming…justice for Pluto.
How did you first get involved in track and field?
I was first introduced to track and field in the 6th grade after finishing my final elementary school cross country season. My dad and I had long discussed how if I continued, I may be able to become faster than those already consistently winning (I believe my best finish at that point was 3rd). He suggested I try track, and Saint John Track Club was our best option since it was the closest club to my town, so I agreed. We drove up for a 'trial run' and I did fairly well so it became a regular thing. After that is a bit of a blur. In the following years I began to take it increasingly seriously and prioritized it more and more. This led to a temporary obsession, so after a cumulative year-and-a-half sidelined by injuries I settled down and learned my lesson. That leaves me where I am today, soul fully consumed by sport and all.
From the moment you started the sport, you have gravitated towards cross country and the mid-long distance track events. What initially sparked your interest in these particular events?
We typically did 200m-400m repeats throughout middle school so I became extremely familiar with the shorter distances. I took a liking to the 1200m as per a suggestion by my coach, Bill MacMackin, where I struggled to break the provincial record in the bantam division for a couple years, eventually falling short by a measly two seconds or so. The 800m has also been one of my main events since I can remember. I never thought of it as my primary event, although it does now seem more attractive to me considering my training and physical structure. As for cross country, I was never a huge fan. It's great aerobic conditioning, which I now understand, but XC used to seem a like nothing more than a burden to me. For that reason, I didn't compete during the 2018 season, only to realize my absurdity and run quite well the following year.
You made big strides in your performances between the summers of 2018 and 2019. In 2018, you recorded a best time of 3:40.64 in the 1200m, but were not selected to the New Brunswick Legion team. Just one year later, you recorded a best time of 3:19.95, and not only were you selected to the Legion team, but you captured bronze in the 1500m steeplechase at the national championships. What do you attribute to such a successful jump in your performances?
My progress in the past year has been the culmination of a total mindset overhaul. I'm unable to pinpoint the exact moment or date when I decided to say, "you're making too many sacrifices to be slow, stop being a coward", but I can vaguely remember there being a turning point of sorts. I'd have garbage race after garbage race (still not too uncommon unfortunately) and beat myself up over it. I soon worked my head around the fact that although being unsatisfied is good, being unsatisfied because you weren't willing to put the work in to achieve your already unrealistic goals is insanity. So, after tormenting myself for the following months, I began treating my training like a responsibility and to my surprise I actually became consistently faster. Funny how that works.
The 2019 Canadian Legion Track & Field Championships were your first national championships and presented you with a wide range of new experiences. Looking back on the experience as a whole, what stands out as your favourite memory from the Legion Championships, and what aspect of the experience do you believe has been – or will be – most beneficial for your athletic development?
Legions as a whole opened my eyes to the level of competition I'll be facing over the following years. The experience of competing against the best in the country was phenomenal and much was learnt from it. Most importantly was that if I'm willing to run hard, I can actually compete with them. Running one fluke race in the middle of the season means nothing if you can't compete when it truly matters – that's not to say the small races don't matter, because do they ever to me at least, but being able to race effectively and intelligently when the time comes is an absolute necessity. I've now realized that I am well capable of racing when the pressure is on. If I gained anything substantial from Legions, it's that when faced with the proposition that every rep from the past year could culminate into one mediocre race, I run fast. Depending on your perspective that could be a positive or negative attribute and I personally believe the latter. I believe it's more beneficial to my development as an athlete and person if I am able to recognize bad habits or traits from the source. That's why my races at Legions (the 1200m specifically) were so valuable. It taught me that when faced with a fight-or-flight scenario, I fight without reason, which is an invaluable characteristic if I want to even graze my goals. The only logical next step is learning to apply this execution mindset to all of my races – I think that's going to be the necessary progress if I want to reach my goals.
This indoor season, you've been able to train and compete at the recently completed Irving Oil Field House in Saint John, featuring a 200m synthetic track. Compared to the indoor gym at the University of New Brunswick – Saint John (where SJTC athletes previously trained during the indoor season), tell us about the training environment at the new fieldhouse.
The Field House is an absolute gift. During the past seasons we've been forced to run around turns more brutal than Moncton's CEPS (which I despise with passion) so the transition from last indoor season to this year has been a welcome change. I almost feel guilty training in there when my coach casually tells us stories about doing mile repeats down 100m hallways. Big shout out to Bill MacMackin for being one of the main factors it exists today – my knees appreciate it greatly. As for the facility itself, it has to be one of the best in Canada. The place emits an aura of pure speed, as does the track itself. The dark blue, light blue alternating colours on the track are also a nice change from the typical red that is found outdoors. It'll be exciting to see what sorts of events are going to be hosted there in the coming years. I imagine it should be the home of many national events.
Though living in St. Stephen, you train and compete as a member of Saint John Track Club, located over an hour drive away. Considering the travelling distance, how often are you able to attend practices, and what sorts of workouts do you get in on your own when unable to make it to Saint John?
In terms of a regular week, I'm typically in Saint John 2-3 times. Although, if we are in the midst of peaking for a race, or just trying to get some extra work in, this can increase to 4 trips each week. It undeniably makes for a massive load of driving, but my parents are gracious enough to take me regardless of time if need be. Their work definitely doesn't go unnoticed, but it does get a bit monotonous for all of us driving 8+ hours per week, regularly. As for my training on my own, I'm given a schedule by my coach broken into weeks, which I've learnt to follow religiously. Obviously if my body is screaming otherwise, I'll adapt, but I have a coach for a reason and altering or adding unnecessary mileage is a great way to get injured. When it wasn't literally -20°C, I was running at my high school's essentially abandoned gravel track – I still intend to utilize it as much as possible when the weather gets a bit better, as it's great on the joints and makes me feel like Quenton Cassidy so that's a bonus (if anyone gets that reference). I've more recently been doing the bulk of my training on a treadmill which is more than adequate for what I should be doing. Most my runs outside of the track are easy-tempo pace, so the treadmill is perfect for holding me back and allowing me to finish my runs controlled every time. I do look forward to training on the track though, as it becomes quite boring staring at a wall for several hours each week.
While primarily a mid-distance track runner, you've also seen some success on the cross country scene, capturing gold in the Junior Boys' 4km race at last October's NBIAA Cross Country Championships. Looking towards the future, what are your plans for cross country?
Cross country this year was probably the cleanest season I've ever had. Every race played out how I intended and expected (excluding the last) and I was able to walk away without a loss in my age category which was quite cool. As for next year, I'm almost definitely not going to reach that level of success as I'll move up to the Senior category, but I don't see myself falling very far behind. Ideally I'd like to win the majority of my races, but I'll most likely be coming off a solid outdoor season, shouldn't be extremely difficult. Winning NBIAA's again is definitely within my reach though. I look forward to competing against those few top guys who I've been watching battle it out for the past couple years.
Having moved into the U18 age category on January 1st, many of your usual race distances have increased in length – the 1200m is now the 1500m, the 2000m is now the 3000m, and the steeplechase has grown from 1500m to 2000m and now includes a water jump. What distances do you plan to specialize in this year?
My choice in events this year is really going to depend on what I'm able to produce early in the season. If I break 2:00 in the 800m, I'll most likely end up specializing in the shorter stuff more, maybe even dropping to the 400m as well. If I break 4:10 in the 1500m, I'll make that my main event regardless, as I loved running the 1200m this past season. I doubt I'll go much higher than the 2000m steeplechase though, as I neither enjoy running the 3000m, nor am I built for it – I personally think it would be too big of a transition to tackle with the couple years I have left in high school. My choice in distances also depends on what the provincial Legion team standards are – If I'm not far off in the 2000m steeple, I'll most likely double down on it until I hit standard like I attempted last year. It becomes much easier to settle on an event when I simply make the goal to qualify for nationals. That allows me to identify my strengths and weaknesses and prevents me from bouncing from event-to-event in a haze of indecisiveness.
Having to adjust to new distances and a new level of competition this year, what are your goals for the indoor and outdoor track seasons?
My main goal is to qualify for nationals again, but that will come anyways if my training (and more importantly my racing) goes well. I figure that if I've been able to regularly drop my personal bests by 10+ seconds in the past few years, I'm not even close to performing at my fullest potential. This coming year could very possibly be another breakthrough year for me. I'm not going to concern myself very much with hitting certain times if I'm racing my best every race (although if that were the case, I'd almost definitely hit those marks anyways). Good things to come.
Aside from running, what are some of your other hobbies?
Aside from running, work, and school, I'm not left with much time for leisure activities, but when I get the chance I do revel in being sick.

---
Hosted by New Brunswick-born track runner, administrator, and coach Brandon Scott LeBlanc, AtlanticU23 is an interview series with upcoming Atlantic Canada track and field athletes under the age of 23.
Facebook: @AtlanticU23
Twitter: @AtlanticU23
User

Comments