AtlanticU23 #051 - Allie Sandluck (Nova Scotia)
Posted 11 months ago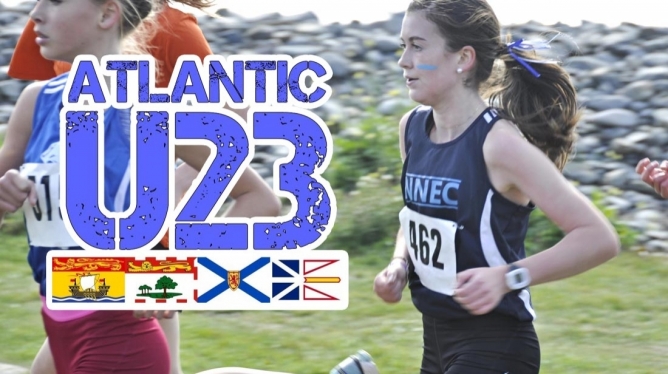 AtlanticU23 #051 - Allie Sandluck (Nova Scotia)
Hometown: McPhersons Mills, NS
Birth Year: 2002 (U20 age class)
Club: Pictou County Athletics Club
Coach: Pat Carty and Dave MacLennan
Personal Bests (as of February 3rd, 2020): 1500m: 4:54.62, 3000m: 10:33.86
5 quick questions with Allie:
Favourite animated movie? Frozen
Summer or winter? Summer
What was your favourite childhood toy? Webkinz
Would you rather live in a big city or a small town? Small town
If you had a personal assistant that followed you around all the time, what would you have them do? Make me food!
How did you first get involved in track and field?
In elementary school there was a program called the running club. It was run during lunch hour and you would run the 2.5 km trail loop that was in back of the school. You would get a certificate after every 10 runs. I was a very competitive kid and I always wanted to have the most certificates, so I would run every chance possible. This developed into a love of running and going into middle school I joined the Pictou County Athletics team! Also my two older sisters (Breanna and Caitlyn Sandluck) both were involved with track, so it seemed inevitable that I would also fall in love with the sport.
As a U16 athlete in 2016 and 2017, you contested the 1500m steeplechase, recording modest times in the 5:30s. What was the reason for dropping the steeplechase events once you entered the U18 age category?
The steeplechase was an event that was always something I did for fun. In the U16 event there is no water pit but, in U18 there is. The water jump is something that I find very intimidating. I debated on doing it last year and even did a little bit of practice. I think that it may be an event that I will compete in a couple of years. I just have to get over the fear.
Your personal bests of 4:54.62 and 10:33.86 in the 1500m and 3000m, respectively, come from the same competition last year, the NSSAF Track and Field Championships. Take us through your races at the Championships – what went right at the competition?
In my grade 10 year I didn't have a good NSSAF weekend due to injury, so I wanted to have good races in grade 11. Last year I had a lot of good training weeks in, so I went in being very thankful and prepared to compete. Most of the girls I was racing against were ones that I had raced in the past, so I knew it was going to be a close and fast race.
While your PBs in your primary events have seen rather significant drops in recent years, you haven't raced the 800m since 2016, and your PB remains at 2:43.21 from 2015. Do you have any plans to test out your speed and see what you're now capable of over this distance?
I don't have any plans to test my speed in the 800m but it would be cool to see where I am. The 800m is a very hard race, mentally and physically, and I give kudos to all who compete in the event.
You placed 3rd at the NSSAF Northumberland Regional Cross Country Championships, and 7th in a competitive field at the NSSAF Championships. Having being your last high school cross country season, were you happy with the results?
I was very pleased with my performance at regionals, for it was a good race for me. Going into provincials I was very excited for it was my last NSSAF XC Provincials. My race wasn't the best but luckily, I was a part of an amazing senior girls team and we were able to place 2nd in the team event. Though the race itself wasn't what I was hoping for, it was one of my favourite XC championships because my school was hosting and it was incredible to see it all come together, considering the work that went in to making it happen.
You opened your indoor season at the Athletics Nova Scotia Indoor Open on January 18th, recording times of 5:11.93 in the 1500m and 11:07.26 in the 3000m. How did you feel about your performances?
My performances weren't anything special but I believe they are both good starting times for the rest of the season. Hopefully I will be able to build on these times and set myself up for the outdoor season.
You recently announced your commitment to attend St. Francis Xavier University in the fall, where you will join the X-Women cross country and track and field teams. Academically and athletically, what contributed to your decision to attend St. FX?
My mom went to St. FX and growing up it was always the school that I wanted to go to. When trying to decide where to go for school next year I thought of a couple of other places, but nowhere else did I feel the same sense of community that I do when I'm at St. FX. The fact that St. FX is a small school and that it is close to home were also huge factors that came into my decision. Also, I was heavily persuaded by my older sister and favourite running partner Breanna – she is a current member of the X-Women's XC and track and field teams.
You train and compete as a member of Stellarton-based Pictou County Athletics Club and train under coaches Pat Carty and Dave MacLennan. Take us through what it's like to be a distance runner at PCA – what does a typical week of training look like for you during the indoor season?
Training with PCA is a lot of fun and I definitely consider my teammates family. Training is pretty busy with PCA: we have three practices a week, two of these practices we do our workouts outside on the sidewalks or even somethings in parking lots (Toyota parking lot is the best). We also will have one practice at the YMCA where we do intervals on the treadmill. The rest of our runs will be on our own or I will even get together to go running with my teammates: Kristen, Cara, and Taylor. Last year Coach Pat Cardy thought it would be smart to get some cross training in to prevent injury, so a few of the runners meet Tuesday nights to do some swimming and pool running.
For the popularity of the sport in Nova Scotia and the geographic size of the province, there is a lack of indoor track and field facilities, particularly outside of the Halifax area. Without an indoor track to train on, what are some of the difficulties that your club experiences in training?
Some difficulty that our team has trouble with is finding a place that is acceptable for all events. In Pictou County we are fortunate enough to have an indoor soccer facility that is good for jumpers and throwers. The distance group tries to go outside as much as possible, but sometimes there is too much snow and the roads are too icy – this means we have to run inside. If we are inside we usually run at the wellness center where they have a two lane 100m track, but there are usually people walking, which makes it hard to do a workout. We also will do runs on the treadmills – although dreadful, they are convenient for workouts.
With their always being at least one active competition season (indoor and outdoor track and field, cross country, and road running), endurance athletes can often feel overwhelmed and burnt-out from too much work over too many consecutive seasons. How do you and your coaches manage yearly training to incorporate proper rest time?
PCA always starts their season at the first of January and continues straight until the end of outdoor season, then into cross country for the distance runners – it can be a long and hard year. The way that I manage rest time is to take a couple days to a week in between each season. Then at the end of XC I will take a couple weeks just for my body to recover. Then the cycle repeats!
What are your goals for this indoor season?
My goals for indoor this year is to come close to where I was last June. I would like to run a couple good and fast races that will build my confidence going into the spring season.
Still several months away, but how about goals for your final high school track and field season and the NSSAF Championships?
This NSSAF Provincials are being hosted at my home track in Stellarton. I think being able to finish my high school track career where I started will be one to remember. I am hoping for another podium finish at this year's championship but would also be happy with a new personal best.
Aside from running, what are some of your other hobbies?
Running takes up most of my time but I also play hockey for my high school. Hockey and track are very opposite sports, but are both that I enjoy very much.
---
Hosted by New Brunswick-born track runner, administrator, and coach Brandon Scott LeBlanc, AtlanticU23 is an interview series with upcoming Atlantic Canada track and field athletes under the age of 23.
Facebook: @AtlanticU23
Twitter: @AtlanticU23