AtlanticU23 #052 - Carley Birrell (Nova Scotia)
Posted 1 month ago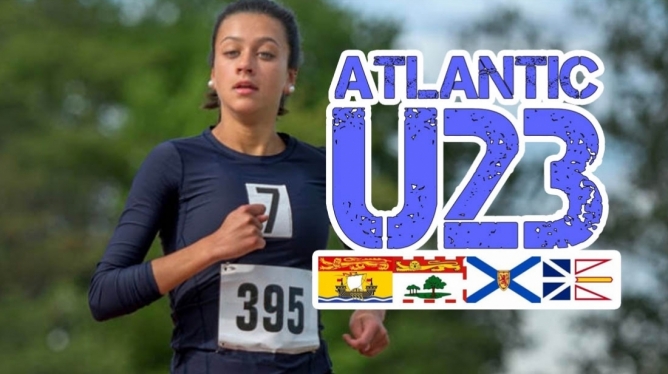 AtlanticU23 #052 - Carley Birrell (Nova Scotia)
Hometown: Hammonds Plains, NS
Birth Year: 2002 (U20 age class)
Club: Unattached
Coach: Alex MacEachern
Personal Bests (as of February 3rd, 2020): 1500m: 4:44.88, 3000m: 10:04.81
5 quick questions with Carley:
Favourite Marvel character? Captain Marvel
Amusement park or waterpark? Waterpark
What is your least favourite subject in school? French
Would you rather race in the wind or with snow on the ground? With snow on the ground
If you could be on a reality TV show, which one would you choose and why? I would like to be on the Amazing Race so I could travel the world
How did you first get involved in track and field?
I first got involved in track and field in our annual elementary school meet in grade 4. I was lucky to be chosen to attend, the selection process was picking the names of the kids who wanted to compete out of a hat – I still wonder what would have happened if my name wasn't drawn. But I really started getting involved with the sport in junior high, and officially started to train for the sport in grade 8.
Ever since beginning the sport, you've gravitated towards the endurance events – 1200m/1500m, 2000/3000m, and cross country. What initially sparked your interest in the distance events, and what has maintained your passion all these years?
In junior high I loved anything that kept me moving, I was a pretty athletic kid and I loved trying new sports. I pretty much tried out any sport my junior high (Madeline Symonds Middle School) offered which helped me quickly figure out that basketball definitely wasn't for me, but running was. I ran my first cross country meet in grade 7 and ended up coming third at NSSAF provincials that year. When spring time rolled around I signed up for track and field and signed up for the events most similar to cross country, which were the distance events. I am a very competitive person and I like to win, so I when I won the 3000m junior girls race at NSSAF provincials that year I knew endurance events were what I was best at and what I was going to enjoy the most – that is still the same attitude that I have towards those events today.
Aside from running, you also have an impressive resume in your second sport of soccer, capturing medals at the provincial and Atlantic level, and placing 4th at last year's U17 National Championships as a member of the Halifax County United Soccer Club. What are some of the shared skills between these sports? How does playing soccer make you a better athlete on the track, and track make you a better athlete on the field?
On the soccer field one of my biggest strengths is my endurance. I am able to last an entire 90 minutes while still effectively doing everything I am responsible for on the pitch. I play mainly wingback which means I am a defensive player who also gets involved in the attack but must track back when we are defending. My endurance from track really benefits my ability on the field as I am able to get involved when my team is attacking by either carrying the ball up the field or making overlapping and underlapping runs while still being able to recover quickly to defense when my team loses possession of the ball. Soccer makes me a better athlete on the track because it is mainly where I get my speed training for track, and willingness to compete is brought out in each sport.
You had a series of breakthrough performances at the 2018 Canadian Legion Track & Field Championships, achieving personal best performances to place 4th in the 3000m and 10th in the 1500m, and capturing a bronze medal as a member of Team Nova Scotia/Nunavut's 4x400m team (alongside teammates Katie Blunden, Mikayla Boucher, and Maggie Smith). Take us through your events – what were your goals heading into the Championships?
Heading into that Championships I truly wanted to push myself as hard as I could and see what I could accomplish. Since it was my third time attending the Canadian Legion Track & Field Championships, I had a better idea as to what I should expect compared to my first or even second time competing. I wanted to really go out on the track to prove that I could compete and that I should be on the start line. After all my events I felt like I pushed myself and left nothing on the track, and my results from that weekend showed that. I was very pleased with myself and very proud of our relay team of what we accomplished.
Despite being a medal favourite in the distance events, you were largely absent from last year's NSSAF Track and Field Championships. What was the reason for this?
Unfortunately, the weekend prior to the Capital Regional Championships, I was taking part in the 2019 Umbro Soccer Showcase in Toronto as part of Nova Scotia's U18 Women's provincial team where I got injured. As I was unable to qualify at Regionals, I could not compete in my individual events at NSSAF provincials. But since my school (Charles P. Allen High School), qualified in both the 4x100m and 4x400m, I was able to compete as part of those relay teams and test out my speed in the shorter distance events, which was a pretty fun experience!
At last year's AUS Relays, you and fellow Nova Scotians Maggie Smith, Katie Blunden, and Cara MacDonaldjoined forces to smash the national U20 indoor record in the 4x800m, running a time of 9:16.16. This was an interesting combination of athletes considering that each of you attend separate schools, and mostly train apart as members of separate clubs in separate cities – how did the plan for you four to challenge the national record come together?
Only a couple weeks before the meet, I received a message from Rich Lehman asking if our Team Nova Scotia/Nunavut 4x400m relay team from the Legion Championships that past summer (that was coached by Rich) would like to reunite to try and break this record. We all excitedly agreed with the exception of Mikayla because she had already made a commitment to compete in this same event with her club team. As we needed another member, Rich reached out to Cara who helped out our team a huge amount by agreeing to compete with us and now we have a national indoor record!
Though training and competing with no club affiliation, you follow the training of your high school coach, Alex MacEachern. What does a typical week of training look like during the outdoor track season, and how do you keep yourself accountable to your training?
During the outdoor track season, my soccer season is also in full swing, and so a typical week of training looks different every week for me. I usually have 2-3 soccer practices a week plus a game. Along with playing for Halifax County United, I've also worked the past couple summers for the club by being a Junior coaching staff which involves working day camps for kids as well as running sessions at night. With that heavy soccer schedule I try to make it out to the track for one good workout with Coach Alex a week, two if I'm lucky. The rest of my training I do alone whenever I can. Alex has helped me to find creative ways to get long runs or tempo workouts in by running to or running home from coaching – the field I mainly work at is about 5kms away from where I live. To get the speed component in for my training, whenever we are doing any type of drill with longer sprints I make sure I am paying attention to my running from as I am playing. I keep myself accountable for my training by setting goals for myself to achieve, this keeps me very motivated to keep working every day to get better.
During the months of fall, you both play soccer and run cross country. How do you juggle these two sports, and how often is there conflict in which games and races are scheduled on the same day / weekend?
Juggling the two sports has been one of the biggest challenges in my experience with sports. Luckily, Coach Alex has done an amazing job at being creative and flexible when training for cross country during my soccer season. We have worked together to find many ways to incorporate running into my soccer training, and get at least one good workout in a week for cross country where ever it fits into my soccer schedule. I've been very fortunate to not have too many conflicts with soccer games and cross country races. If there is a race and a game on the same day, as long as they are not at the same time – because I can't be at two places at once, which I sometimes forget when it comes to my sports. My parents have been amazing to drive me to both, even if they are on opposite ends of the province (which has happened before), which I am extremely grateful for.
At 18 years of age this year, you are eligible for the 2021 Canada Summer Games in track and field, but not soccer (a U17 sport at the Games). Do you plan on trying out for Team Nova Scotia at next year's Team Trials, and if so in which events do you have your eyes on?
Canada Games has definitely been a goal of mine ever since I attended the 2017 Canada Games in Winnipeg to watch my sister compete for the Nova Scotia women's soccer team. Unfortunately I didn't get the chance to go for soccer but I am very excited to be eligible for track in 2021. I am not completely sure what events I will be trying for but I will end up running the 1500m and potentially the 5000m in the trials next summer.
You recently announced your commitment to attend Dalhousie University in the fall, where you will join the Tigers soccer and track and field teams. Academically and athletically, what contributed to your decision to attend Dal?
Dal was always on my list when looking at universities. With my sister joining the Dal women's soccer team in 2017 I got a good look at what playing for the Tigers would look like. I had also been coached by both Cindy Tye (Head Coach, Women's Soccer) and Rich Lehman (Head Coach, Cross Country and Track and Field) previously in each sport. I really enjoy both of their coaching styles and the way they will work together so I can be a multi-sport athlete at the university level. I was also a fan of Dal academically, they are one of the top universities in the country and have great science programs, particularly their health sciences and nursing programs, which I am hoping to be accepted into. Overall Dal just felt like the best fit in all aspects for me and I cannot wait till the fall.
While academics and soccer will certainly make for a busy fall while at Dalhousie, what does your future look like in cross country?
As much as I love cross country, I love soccer a little bit more so during the fall I will just be playing soccer and going to school. With the university soccer season being very short it makes a very busy and high-load schedule during the first few months of school. Realistically, competing in both sports during the same season would not be manageable as the high workload demands would put me at a high risk for injury, and I also need some time to focus on my school work, as I am a student as well as an athlete. I look forward to being able to solely focus on soccer then after that is complete jumping into running on the track – in my opinion I am getting the best of both worlds.
How excited are you to play soccer alongside your sister (Haley Birrell) at Dal next year? Considering the 3 year age-difference, do you two have much experience playing for the same team?
I am very excited to play alongside my sister at Dal next year. With her being 3 years older we haven't gotten a chance to play on the same team before, until this winter season we finally are teammates on the Halifax County United premiere women's team. So far we have been combining and working well together on the field which makes me extremely excited to see what we can accomplish together next year as Dal Tigers!
In both soccer and track and field, what are some of the athletic goals that you hope to accomplish while a member of the Tigers varsity teams?
In both sports I want to continue to improve and be a faster runner and a better soccer player. I would like to win AUS as a team but also individually in my events, and have the chance to compete at USPORTS in both sports, and hopefully get on the podium there as well.
Still several months away, but how about goals for your final high school track and field season and the NSSAF Championships?
For my final high school track and field season I want to be as healthy and as fit as I possibly can. I want to leave my high school track career with no regrets, or feeling that I could have done more. I am looking forward to getting back into training for this season and ending high school track off with a bang!
Aside from running and soccer, what are some of your other hobbies?
Running, soccer, and school takes up a lot of my free time so when I'm not in the classroom, at the field, or on the track, you'll likely find me spending time with family and friends.
---
Hosted by New Brunswick-born track runner, administrator, and coach Brandon Scott LeBlanc, AtlanticU23 is an interview series with upcoming Atlantic Canada track and field athletes under the age of 23.
Facebook: @AtlanticU23
Twitter: @AtlanticU23