AtlanticU23 #053 - Lorena Heubach (Nova Scotia)
Posted 3 weeks ago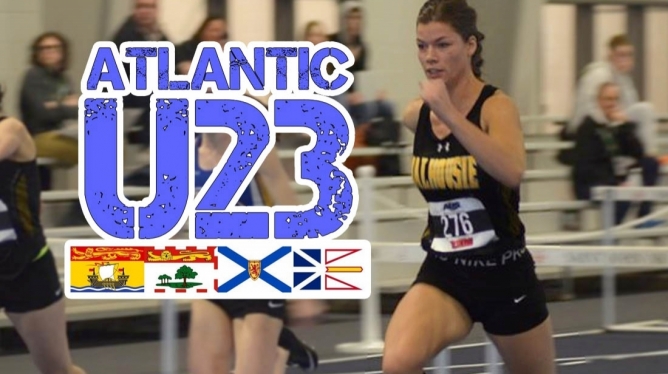 Photo Courtesy: Photographer, Sharon Peabody
AtlanticU23 #053 – Lorena Heubach (Nova Scotia)
Hometown: Annapolis Royal, NS
Birth Year: 1999 (Senior age class)
Club: Halifast Athletics
Coach: Simon Watts
Personal Bests (as of March 2nd, 2020): 60mh (33 inch): 8.89, Long Jump: 5.97m, High Jump: 1.71m, Shot Put (4kg): 11.77m, Pentathlon (Senior specs): 3853, Heptathlon (Senior specs): 4433
5 quick questions with Lorena:
Favourite sport to watch on TV? I don't typically watch sports on TV, but I love watching FIFA when it happens.
Netflix or Disney+? Definitely Netflix, Brooklyn 99 is my all-time favourite show.
Who can you best impersonate? My roommate Maya Reynolds. Ever since we moved in together, our mannerisms have become way too similar.
Would you rather travel into the past and meet your ancestors, or travel into the future and meet your great-great grandchildren? Into the past. My parents immigrated from Germany when I was young so I think it would be interesting to learn more about my family's history.
If you could write a book that was guaranteed to become a best seller, what would you write about? I would like to write about female empowerment, whether that's in sports or in STEM. Personal experience makes these topics very important to me.
How did you first get involved in track and field?
In high school, I started off with cross country which eventually led me to running the distance races in track and field. Our track team was very small so if you were on the team, you basically did every event you could. I quickly realized I liked all the other events much more than distance running which is how I ended up in multi-events.
In high school, you played (and excelled at) a many number of sports, including badminton, basketball, soccer, volleyball, and of course track and field. How has this multi-sport background helped you develop as an athlete, particularly one that specializes in the multi-event?
This definitely gave me an all-around fitness to give me a good foundation for multi-events. The strength from basketball and volleyball, combined with the endurance from soccer and badminton, gave me a great start as an athlete.
How did you narrow your focus and determine that you wanted track and field to be your primary sport?
I was most drawn to track and field because I really liked that it gives you back exactly what you put into it. It's all on the individual to better themselves – you can control exactly how well you do, whether that's getting stronger, faster, or recovering better.
After graduating from Annapolis West Education Centre in 2016, you immediately enrolled in the Bachelor of Engineering program at Dalhousie University. What contributed to your decision to attend Dal?
I have loved Halifax ever since I was very young: its location by the water and small city feel. I wanted to move here and Dalhousie was well known for its academics and science program. I actually started in the Bachelor of Science program, but I realized it wasn't for me when it came to picking a major, and calculus was my first choice. I am now in the Bachelor of Engineering program and am working on a degree in mechanical engineering.
At last weekend's AUS Track and Field Championships, you achieved virtually all that one could possibly achieve at a single edition of these Championships – gold medals in the 60mh, long jump, high jump, and 4x200m relay, two Championship records, Women's Field Athlete of the Year, Women's Championship Most Valuable Athlete, and to top it all off the Dalhousie Tigers won both Championship banners. Take us through the meet – overall, what went right that weekend?
I think my recovery leading up to AUS was a very important factor. I struggle with shin splints so when I don't recover well, they tend to really affect my performance. I also did individual events as opposed to multi-events, which made it easier to focus on the individual event rather than a final score.
The multi-event is obviously very different from the other events in track and field in that it is a collection of distinct events, and to be successful in the multi-events one must reasonably excel at each event within. How do you prepare for the pentathlon, and how do you structure training for each event within?
My practices throughout the week consist of one technical training day for high jump, long jump, and the 800m, and two technical days for hurdles and shotput. The rest of my practices are normally speed and weights, which involve sleds and exercises like squats, cleans, and hurdle hops. A lot of my preparation requires consistent training and recovery.
Success in the multi-events often requires the expertise of a number of coaches, and while Simon Watts serves as your primary coach, particularly for speed and jumps, you've also listed the support of Heather Bawol (jumps), Rich Lehman (endurance), Andrew Conrad (hurdles), and Kirk Jessome (throws) in your training. How does this team of coaches collaborate to best support you in your training?
Coach Simon sends out a schedule every week of my jumps and speed training and it's normally up to me to contact the other coaches to set up other practices for that week. I have a very busy school schedule so a lot of the time I must get in a workout on my own when my coach's schedule doesn't line up with mine.
The multi-events remain an area of the sport in which male and female athletes do not contest the same events – men contest the heptathlon indoors and the decathlon outdoors, while women contest the pentathlon indoors and the heptathlon outdoors. What are your thoughts on women competing in the heptathlon indoors, and the decathlon outdoors?
I absolutely think women should be able to do the heptathlon indoors and decathlon outdoors. To me this sends a message that women can't handle that many events, or that they aren't tough enough, which is not a message that should be sent. It took women decades to solidify their place in the world of athletics and therefore a serious discussion should be had on the inequalities in multi-events. This division is outdated and this change is well overdue. I understand that this change would threaten a lot of current multi-athletes careers, so a change like this would have to be done carefully.
In the same time frame that women have moved from the 2000m to the 3000m steeplechase (the same distance that the men run), and cross country distances have become more equal among genders, the only change to the multi-events has been in the opposite direction – at the USPORTS level, men and women formerly both contested the pentathlon, but in 2016 the men moved up to the heptathlon. Do you think that we will soon see meaningful discussion of men and women contesting the same configuration of multi-events?
I think we will see this discussion very soon. With multi-events being the last of the events that men and women contest in different events, it's only a matter of time until the governing athletics organizations, such as USPORTS, are forced to move away from outdated notions that women cannot compete the same number of events that men can. Especially in university sports where young women are just getting into a world of high performance, there should be no pre-conceived notions of what they can do; they should be told they can do anything.
Through conference titles and top 12 rankings nationally, you are eligible to compete in four individual events at the upcoming USPORTS Championships: 60mh, long jump, high jump, and pentathlon. Which events do you plan to contest at the Championships?
I plan to compete in long jump, high jump, and the pentathlon. I am not ranked very high in the 60mh so it would not be worth it to compete in and take away from the other events where I'm likely to place better in.
With their clocking of 1:42.60 at the AUS Championships, the Dalhousie Tigers have achieved a top 12 ranking nationally and qualified a team in the women's 4x200m relay. Having been a member of the quartet that achieved this performance, are you also planning to partake in this event at the upcoming USPORTS Championships?
Unfortunately we have decided not to compete in the 4x200m at USPORTS due to it being in the middle of the pentathlon, and Dalhousie not having an alternate runner.
What are your goals for the USPORTS Championships?
I really want to come away from USPORTS knowing I gave my absolute all in every event. I hope to medal in at least one of the events that I'll be competing in, or a personal best in the pentathlon. Regardless of how I place, I will be satisfied with results that reflect the work I've put in all season.
Aside from running, jumping, and throwing, what are some of your other hobbies?
Track and school don't leave a lot of time for other things during the semester, but I love hiking, spending time outdoors, reading, camping, and spending time with my friends.
---
Hosted by New Brunswick-born track runner, administrator, and coach Brandon Scott LeBlanc, AtlanticU23 is an interview series with upcoming Atlantic Canada track and field athletes under the age of 23.
Facebook: @AtlanticU23
Twitter: @AtlanticU23