AtlanticU23 #054 - Thomas Docherty (PEI)
Posted 8 months ago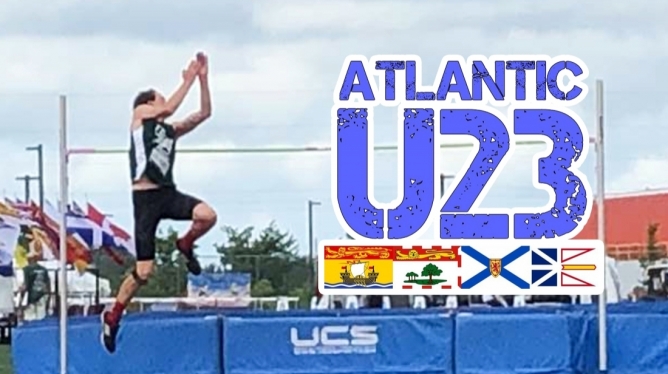 AtlanticU23 #054 – Thomas Docherty (Prince Edward Island)
Hometown: Stratford, PEI
Birth Year: 2002 (U20 age class)
Club: Islanders Track & Field Club
Coach: Rick Cuttell and Stanley Chaisson
Personal Bests (as of March 16th, 2020): High Jump: 1.89m
5 quick questions with Thomas:
Favourite card game? Crazy Eights
Lays or Doritos? Lays
What famous person would you most like to meet? Lebron James
Would you rather be able to detect any lie you hear or get away with any lie you tell? Detect any lie I hear
If you could instantly become fluent in any language, which language would it be? French – my job potential would be more widespread and it would really help in the field of work I'm most interested in
How did you first get involved in track and field?
I first got involved in track and field when I was in grade 4. I started off as a sprinter – it was easy for me as I was a lot taller than all the other kids. The person that got me started was my gym teacher Ms. Sanderson. Having three brother's kept me competitive as well, as I wanted to play more sports than them.
While you have tried out, and commonly contested, numerous events in track and field, it is in high jump that you have excelled at. What first sparked your interest in the event?
I got into high jump in grade 5. What got me into it was that the first time I tried it, I was able to jump over what the older kids were jumping over. Having the ability to be better than the kids that were older than me made me strive and love high jump even more.
You are also an accomplished hockey player, a member of the Pownal Taco Boyz Red Devils. How do you find hockey and high jump work with one another? What are some of the shared skills or commonalities in training?
I find that the two work well together. As the league of hockey I play in has contact, I tend to strengthen my core to keep me more sturdy on the ice. Conditioning for hockey involves running/skating. The strides you take in hockey have to be quick and precise, just like in high jump the steps you take also need to be precise. In a run up for high jump, I need to take nine very important steps, and to get there I need to measure-out nearly the same approach every time. Hockey helps keep my conditioning up. For a typical high jump practice I'll take around 25-60 jumps, so the conditioning I get from hockey really helps with that. Hockey and high jump are very different – hockey is a team sport, while high jump is an individual effort, working together as an end team goal. Skills are speed, flexibility, power, and reliability.
At last year's PEISAA Track and Field Championships, you captured gold in the high jump with a clearance of 1.89m, a nearly 10cm personal best. Overall, what went right that day, and what led to such an impressive performance?
That day was actually not a great day. I almost got out at 1.70m, but I think that after my third attempt at that height my adrenaline just started pumping – there was no way I was getting out at a height I had cleared in grade 9. For the rest of the competition after that jump I found a bounce that I didn't know I had. My body was making it possible for me to reach new heights. During the previous year I also didn't have a proper coach, so going into this competition I was more confident and was ready to compete.
At last year's Canadian Legion Track & Field Championships, you came up just one centimetre short of your personal best and tied the bronze medal clearance of 1.88m, but was positioned 5th on countback. What were your goals headed into the Championships, and were you satisfied with your performance?
I worked really hard last year to make it as far as I did, and my realistic goal was to place in the top 3. Being an athlete from Prince Edward Island, it's not expected that someone from such a small province will compete for a medal. Yes, we're there, but others expect us to fill in the bottom spots. Overall I wasn't satisfied with finishing 5th at nationals, and I know I'm close I just have to take that extra step and work harder than I ever have before.
Alongside the high jump, you've frequently contested the javelin throw, including at both the 2018 and 2019 Legion Championships where you placed 16th and 15th, respectively. What does your future look like in this event?
I got into this event as I used to play flag football and the track coach thought I'd be decent at it. I tried it for my first time and placed first at provincials. I can see a future in it, as I have plans to become a decathlete. I've struggled with pain in my elbow when I pull the javelin too hard so that's limited my ability and made me start to lose interest in throwing.
You train under Coaches Rick Cuttell and Stanley Chaisson at the Islanders Track and Field Club in Charlottetown. What does a typical week of training look like for you during the summer months?
Typically in the summer I tend to work quite a bit. I try to jump at least 4 times each week, pending the weather. The workouts tend to be on Monday, Tuesday, Thursday, and Friday.
Playing hockey throughout the winter, jumping in track and field in the summer, and then running cross country in the fall, how do you manage the transition phase between each season?
I generally don't take a massive break in between sports. The only real time I take off is after track, there is about a two week time period where I recover.
Throughout the calendar year, there are no competitions hosted in PEI during the indoor season (due to a lack of facilities), and only a few during the outdoor season (despite a rather modern facility in MacAdam Field). What are some of the challenges that the lack of competition presents to athletes in the province?
One challenge for sure would be that I have to go away to compete, which costs money and takes up a lot more time than just staying on the island. This makes us feel out of place at competitions and affects us, as we may not feel as prepared as if we competed more.
You are set to graduate high school in the June upcoming. What are your plans for athletics and post-secondary education?
Like was stated earlier there's not a lot of competitions on PEI, so this summer will be mostly training under the wing of my coaches. I have plans to attend Holland College and take Sport and Leisure Management in kinesiology. A friend of mine and I were planning on trying out for the basketball team at Holland College.
What are your goals for the upcoming outdoor season?
My goal is to train hard, beat the PEISAA senior men's high jump record (1.96m), and help train others so that they can compete at their best ability.
Aside from jumping, what are some of your other hobbies?
So as was discussed earlier, I play hockey. I've been playing hockey for 13-14 years and have enjoyed it all throughout that time. I also play volleyball, basketball, and rugby, all at the AAA level, besides hockey as I decided to play with my little brother for my final year. I also enjoy reading and hanging out with friends.
---
Hosted by New Brunswick-born track runner, administrator, and coach Brandon Scott LeBlanc, AtlanticU23 is an interview series with upcoming Atlantic Canada track and field athletes under the age of 23.
Facebook: @AtlanticU23
Twitter: @AtlanticU23
User

Comments
Currently, there are no comments.