AtlanticU23 #055 - Clint Steeves (New Brunswick)
Posted 1 year ago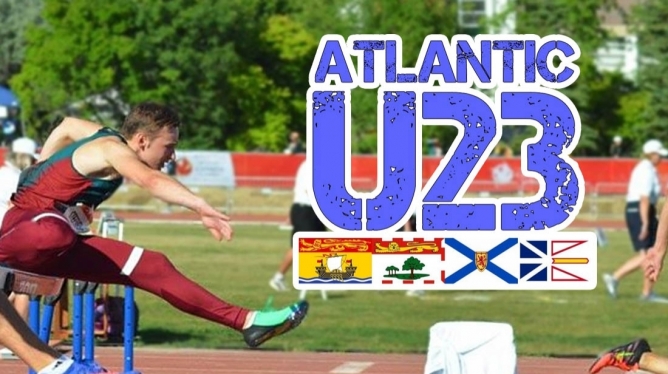 AtlanticU23 #055 - Clint Steeves (New Brunswick)
Hometown: River Glade, NB
Birth Year: 1998 (Senior age class)
Club: Athlétisme Sud-Est / South-East Athletics
Coach: Alex Stuart
Personal Bests (as of March 30th, 2020): 60mh (42 inch): 8.73, 110mh (42 inch): 15.21
5 quick questions with Clint:
Favourite animated TV show? I'm not really a TV watcher but, let's say Family Guy
Oreos or Fudgee-Os? Definitely Oreos
Career aspirations? As of right now I'm not really sure what my ambitions are, but as long as work is keeping me happy that is good enough for me
Would you rather set a world record or win Olympic gold? I would rather set a world record because that would also mean I would without a doubt win gold as well
If you could have dinner with any famous person, who would you choose and why? Honestly no one comes to mind, I guess I would rather eat alone
How did you first get involved in track and field?
I think it was grade 8 and I tried out for the school team. I went to provincials and later on received a notice from Athlétisme Sud-Est / South-East Athletics (ASEA) inviting me to join the club. I wasn't too interested but my mom forced me to go – here I am 8 years later, I must love it!
In 2012, you represented Region 6 at the now-defunct Hershey North American Finals, placing 4th in the 4x100m relay alongside New Brunswick teammates Nicholas MacLean, Nicholas Arsenault, and Ryan Ellis. Very few athletes get to partake in international competition at such a young age – tell us about your experience at the event.
That is digging back deep in the vault jeez! I don't even think that is a thing anymore which is a shame. It was a scary experience for me because I was a shy kid and never really left the country before, nor had I ever been in a plane at that point. On the plus side I did have Nick MacLean who I made good friends with over the summer leading up to the event. Besides that it was super-hot all the time my goodness, and of course the air conditioner didn't work in my room so I literally slept out in the halls. The race itself, to this day I still think, "we could have had 3rd place." I was the final leg and I was right on 3rd – it was exhilarating!
Representing New Brunswick at both the 2013 and 2015 Canadian Legion Track & Field Championships, you contested a myriad of events – 110mh, 400mh, 4x100m, 4x400m, high jump, long jump, and triple jump. Quite simply, how did you manage to train and contest such a variety of events in a span of just two Championships?
Wow, I actually never stepped back and looked at the amount of events I did. I did what I was told and I did every event that my coaches thought I should do. I also try my best to learn rather than take it as a joke. Even in events I don't normally train, I take seriously, and I think that's how I managed to train a wide variety of events.
What are some of your favourite memories from the Legion Championships, and how did competing at these early-national events help prepare you to compete at the larger national events, such as Canada Games and the Canadian Track and Field Championships?
I always enjoyed the plane rides! I would say my two most fond memories are when I triple jumped 12.10m in 2014, and when I made the finals in the hurdles in 2015, even though I later tripped over the first hurdle. Back then I didn't have a lot of self-confidence (I'm getting back to believing myself now) and I would be scared to compete because I was worried more about how fast or far the others would jump, rather than focus on myself and what I can do. I would find myself crying because I made a great achievement for myself. This is what I carried to Legions but, I still have a lot of mental work to do.
At the 2016 NBIAA Track and Field Championships, you sustained a hamstring injury while warming up for the 110mh, but managed to recover in time to record a 4th place finish in the 110mh at the Eastern Canadian Espoir Championships just two months later. What did your successful recovery plan consist of, and how did you manage to get some training in while prioritizing recovery?
Well first off thanks to my coaches Alex Stuart and Jocelyn Cliff, and a couple others, that stopped me from running the race – I was so determined to run. How I recovered so fast, we had Physiotherapist Mark Davidson working with our club, and he still does to this day. He gave me exercises to do three times each day. I did them religiously and combined with a good diet I was able to recover enough to run. So pretty much, do as your told and don't push yourself when you're injured.
You achieved a high degree of success as a U20 athlete at the Canadian Indoor Championships, capturing bronze in the 60mh in 2016, and silver in 2017 (both of which took place on your birthday weekend). Take us through your experiences competing at these Championships. Aside from medals, what were some of the highlights?
It's funny that the meet would always land on my birthday week. I don't actually remember much about these events other than in 2016 I didn't dive at the line so that's how I ended up 3rd. The three of us were right on top of each other – there was a picture of that and Coach Peter Stuart got his hands on it, and made it the cover photo on the Facebook club page... needless to say, I now dive at the line. Other than that, I PB'd both times from what I remember, and I also had my parents with me in 2017 so I felt more comfortable because of that.
You competed for Team New Brunswick at the 2017 Canada Games, placing 10th in a big personal best time of 15.21. Believing then that this would be your one and only Canada Games experience, what goals did you have heading into the Games? Were you happy with your performances?
I was looking for 15.00. I was being unrealistic with myself, but I was very happy with 15.21 – it's progress and that's good. Before I knew there was going to be another Games, I was thinking I would only train for a few more years and re-evaluate later, but at this point I'm doing it until it's no longer fun, so I'll be around for a while.
Last summer you learned some very exciting news in that the Canada Games Council had changed the age restriction for the sport of athletics from U23 to U24 – born in 1998, this instantly made you eligible for the 2021 edition of the Games. What were your thoughts once you heard this news?
I thought this was the best change ever! I didn't think it was fair that I would have really only had one chance and that my brother who is a year younger than me would have had two chances (because he was born in 1999 – he doesn't run anymore, I may have taken his event). I'm so thankful that they made the change though.
Now knowing that you have another shot at the Canada Games, have you thought about goals for 2021?
I do have some goals, but you'll have to stay tuned to find out what they are!
While predominantly a short hurdler, you've also shown yourself capable of strong performances over the long hurdles, recording a 400mh time of 56.97 over the 33 inch hurdles in 2016. What does your future look like in the 400mh?
As of now I have no plans to get back to the event, but after the Games I might open up to training for it again.
Beyond the hurdle events, you had an impressive high school career in the long jump, nearly breaking 6 meters as a 15 year old, and breaking that mark multiple times as a 16 year old. Excelling in all the events that you did, what helped you narrow down what would become your primary event, and what led you to drop the long jump?
I don't know what it is with long jump, but I would find myself getting extremely frustrated with the event. Not only that, but my hamstring injury came about because of long jump. The impacts are hard on the body and I'm not a fan of the dirt. I am currently planning on starting to train for it again this summer. Hurdles... yes they can also be frustrating, but I enjoy the hurdles a lot.
While most athletes of your caliber enter university and compete in USPORTS, you instead chose to enter the workforce directly out of high school. Do you feel that you've missed out in anyway by not participating in collegiate athletics?
I have no regrets with my choice. I found a job that I enjoy going to everyday, am able to go to track stress free, and I go home and have my free time, which I value a lot. Yes, I've missed out on USPORTS related stuff, but I'm fine with that. I'm making a name for myself in the working world and you have to pay for track somehow. Being in debt doesn't sound appealing.
You train and compete as a member of Moncton-based ASEA and train under Coach Alex Stuart. Throughout this year's indoor season, what has a typical week of training looked like for you?
So this season's plan started with a goal. The goal is simple, and Alex commonly says it, "14 what?" So the goal is to run sub-15.00 at Canadian senior nationals. Alex made up a schedule for the year that we roughly follow. A typical week would look something like this:
Monday – Hurdle intervals
Tuesday – Block starts and short intervals
Wednesday – Gym
Thursday – Normal hurdle practice
Friday – Gym
Saturday – Block starts or short intervals
Sunday – Sit back and relax
While not competing indoors this year, you were in the midst of a long block of training leading up to the outdoor season when facilities suddenly began closing due to concerns of COVID-19. How has your training been affected by the ongoing pandemic, and what has your training consisted of since Moncton's CEPS closed?
Everything was going so good, now I'm just trying to stay in shape. I'm jogging and doing small interval workouts on the road until this hopefully goes away, but everything is postponed so I have time to get collected and get back in the swing of things. Just a small bump in the road, but we work through it.
The pandemic has also led to an evolving degree of uncertainty about the outdoor season – something new seems to be postponed or cancelled each day, most recently being the Canadian Track and Field Championships. What are your thoughts on continuing to train through this uncertainty?
I still have goals to meet, whether it's this year or next...I still have to train to get them, and if it means I have to wait another year or however long, I'm more than happy! Just means I have more time to work out the kinks.
Assuming that the schedule for the outdoor season comes along and all works out, what are your goals for the season? Have you adjusted your goals at all since this pandemic began?
Same goals, just a different timeline, and that will depend on what dates things end up on. I know what I want and I'm going to do what I can with what I've got to get where I desire.
Aside from running, what are some of your other hobbies?
I don't really have much for hobbies other then I love gaming and I do a lot of building on Minecraft – I'm currently recreating Château de Chenonceau. I like playing badminton and I'm glad Alex has let me incorporate it into my warm-up.
---
Hosted by New Brunswick-born track runner, administrator, and coach Brandon Scott LeBlanc, AtlanticU23 is an interview series with upcoming Atlantic Canada track and field athletes under the age of 23.
Facebook: @AtlanticU23
Twitter: @AtlanticU23
User

Comments
Currently, there are no comments.