AtlanticU23 #056 - Nick Beaulieu (Nova Scotia)
Posted 10 months ago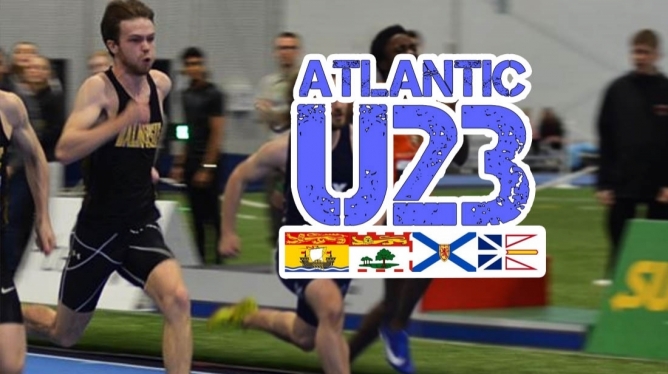 AtlanticU23 #056 – Nick Beaulieu (Nova Scotia)
Hometown: Bedford, NS
Birth Year: 2001 (U20 age class)
Club: Chebucto Athletics
Coach: Mike Bawol, Heather Bawol, and Simon Watts
Personal Bests (as of April 14th, 2020): 60m: 6.98, 100m: 10.82, 200m: 22.33, Long Jump: 6.90m
5 quick questions with Nick:
Favourite comedy show? Pretty much everything written by Michael Schur, but I think The Good Place is my favourite
Pineapple on pizza, yay or nay? Definitely yay
What is a movie or TV show you watched in your childhood that your parents don't know about and would not approve of? Probably The Butterfly Effect. I thought it was a really cool concept but I was admittedly probably a little too young when I watched it
Would you rather swim in a pool full of Nutella or maple syrup? Maple syrup
If you had to delete all but three apps from your phone, which ones would you keep? Definitely Spotify, Google, and probably Snapchat
How did you first get involved in track and field?
I had always been a fast kid and I played some team sports growing up and found myself to always be the fastest on the team, so running competitively was a logical step. Although my middle school/high school, École secondaire du Sommet, didn't have an NSSAF track team at the time, there's a great sports program run through all of the French schools in the Maritimes called Jeux de l'Acadie, and my school had a small team for that program that I joined in sixth grade. Although I wasn't anything special at first, by the time I had aged out of the program in ninth grade, I had improved a lot and proved to have some talent in the sport. So, that year, I joined Chebucto Athletics and convinced my high school gym teacher to start an NSSAF team, and I've been part of the track and field community ever since.
At the 2018 Canadian Legion Track & Field Championships, you pulled off an impressive trio of performances: silver in the 100m (10.82), and bronze in both the 200m (22.61) and long jump (6.71m). This being only your second time competing at the Championships, what were your goals going into the event? Did you surprise yourself?
The 2018 Legion Championships are what I consider to be the biggest breakthrough I've ever had in track and field. At the time I was still relatively new to the sport – although I've technically competed since 2013, I had only really started training two years prior. When I qualified for Legions the first time, the previous year, I was happy just to have made the team – I think I finished like 14th in the 100m that year and hadn't even qualified for the 200m or long jump. So in 2018, I just hoped to improve on the previous year. Being seeded in the low double digits in all my events, my goal was just to make finals; medals weren't even a thought in my mind. After a 10.85 in the heats of the 100m I was shocked. I thought it was some miraculous fluke, but event-after-event, I kept pulling out performances unlike I had ever done before, and by the end of the competition I was absolutely stunned to have three medals.
It was announced just last week that the 2020 Legion Championships have been cancelled as a result of the COVID-19 pandemic. As a Legion Nationals alumni, what was your response to hearing the news, and how do you think this missed year will impact young athletes across Canada?
I can't say I was surprised to hear that the Legion Championships have been cancelled this year. I would have been incredible disappointed if I had had to miss a year, and I empathize with the young athletes that are missing out, but health should always be the first concern, so I completely support and understand the Legion's decision. Unfortunately, I think in the short term some young athletes will be affected pretty badly – it can be devastating to work all year towards something and to be stripped of that chance. But I know the Canadian track and field community is resilient, and I know young athletes can push through this and recover strongly.
What is one piece of advice that you would give to fellow Atlantic athletes who will be missing out on this year's Championships, particularly those who will be missing their final year of eligibility?
I know that if I had missed my last year at the Legion Championships, my trajectory in track and field might've looked a lot different than it did. Without the big performances that I got, I might not have had the same drive and the same confidence as I do, and so I might not have been where I am today. But I also know that it wasn't those performances that made me better, it was the work I put in because of them. So, my advice to those who are missing their final year is to just keep working hard. There are many more great years of competition past Legions, and you can only make the most of it if you make the most of your time right now. If you stay motivated, stay confident, and stay driven, you can come back from this stronger than ever and you can still move on in your track and field career as the best athlete you can be.
After graduating from École Secondaire du Sommet last year, you immediately enrolled in the Bachelor of Engineering program at Dalhousie University. Aside from sticking close to home, what contributed to your decision to attend Dal?
When I was deciding on a school, there were a lot of factors at play. Dalhousie has a really good Engineering program, and the student culture and the size of Dal lined-up more with what I wanted than the schools I explored elsewhere, like in Ontario. Track and field also played a big role in my decision. Since I didn't want to switch track teams midway through my education, and Dalhousie is the only university in Nova Scotia to offer the full Bachelor of Engineering program, I had to rule out all other schools in the province. I was also drawn to Dal in large part due to the great talent that the team has generated in the sprints program, such as Matt Coolen and Josh Lunda. I was inspired by those athletes and wanted the chance to rise to the same level as they had, and having heard great things about the Dal Tigers sprints program and its coach, Mike Bawol, I thought Dal was my best chance of doing so. Dalhousie has a great track program without the hindrance of the large teams they have in Ontario, and so Dal could offer me top quality personalized training like no other school could.
At the AUS Track and Field Championships, you captured gold in the long jump, bronze in both the 60m and triple jump, was named the conference's Rookie of the Year, and contributed to Dalhousie capturing its sixth consecutive Championship banner. Take us through the meet – overall, what went right that weekend?
It was a little unlike any meet I had been to before. I had never been part of a team in contention of winning, so the drive to win as a team was a new and exciting experience. I went into the meet unsure about how I could perform – I had just recovered form a minor injury, so I had missed out on some training, and I was riddled with aches and pains. But I was driven to help Dalhousie win the Championship banner, and I knew I needed to win gold in long jump to qualify for the USPORTS Championships. So, I pushed through and made the most of the situation. Although I didn't get any personal bests, I managed to win long jump with a 6.70m, and I got the performances that I needed to support my team in an exciting 6.99 60m final.
Following the AUS Championships, you competed at the USPORTS Championships, something very few Atlantic athletes have the opportunity to do in their rookie year. Take us through your experience at USPORTS – what was the competition like? Were you nervous?
Traveling to Edmonton for the USPORTS Championships was definitely one of the best opportunities I've had so far in my track and field career. It's always great to compete among the best in the country, and I'm glad to have been able to do it alongside my fellow Dalhousie Tigers, and to see some of them take home gold medals. Competing in long jump, I had certainly never been among such a high caliber of competitors – it was very strange that suddenly a 7 meter jump was so normal. Being seeded eleventh out of eleven, the pressure to perform wasn't very high so my nerves were surprisingly calm. Still, I managed to put out very consistent jumps with a best of 6.87m and come top eight to make finals, a performance that I'm overall happy with. I'm already looking forwards to USPORTS next year, I know what I have to work on, and I want to come back even stronger.
In joining the Dalhousie Tigers, you've had the opportunity to be coached by Mike Bawol and train alongside USPORTS medalists Matt Coolen, Maya Reynolds, and Lorena Heubach, as well as various other up-and-coming sprinters and jumpers. Throughout the indoor season, what does the team-bonding and training atmosphere look like?
The Dalhousie Tigers track and field team is a great community. As a rookie on the team (and a bit of a shy one at first), the more senior athletes went out of their way to make sure I was well integrated and included in the team. Being both a sprinter and a jumper, I got to train with a lot of great athletes and coaches. Having such accomplished athletes to train with really made me want to better myself in the sport, and great coaches such as Mike Bawol, Heather Bawol, and Simon Watts made sure I was doing what I need to on and off of the track to get to where I want to be. It's also been a really great experience to be able to improve alongside other up-and-coming athletes, and I've had the chance to grow close to a lot of the other rookies. Between the coaches, volunteers, and teammates, it really is a great atmosphere to be a part of.
Next indoor season, is it fair to say that your main target will be to clear the 7 meter barrier in the long jump?
The 7 meter barrier is certainly the next barrier on my radar, and, with a personal best of 6.90m meters, I'm already not far off. I'd also really like to hit 7.15m next indoor season to break the Nova Scotia indoor record (7.13m by Simon Watts in 2011). Both targets certainly aren't easy, but my technique is far from perfect, and I think that with a little bit of improvement in my take-off, another 10 to 25 centimeters is definitely achievable.
You contested the triple jump for the first time at this year's AUS Track and Field Championships, soaring 12.63m to capture bronze. Beyond scoring team points, what was your motivation to try out this event? Is this an event we can expect to see you contest again in the future?
Although I'll probably compete in triple jump again here-and-there in the future, I think that it's unlikely that it'll become as much of a focus as sprinting or long jump. I wanted to try it out because it's an event that I'm naturally pretty good at and that I enjoy. But unfortunately it can put a lot of stress on the body, and, at least for the foreseeable future, it's not worth putting a lot into triple jump to the possible detriment of my other events. That being said, whenever I do triple jump in the future I will give it my all, and I think I've got more in me than 12.63m.
Beyond athletics, you have also been very successful in the classroom, having been a standout in numerous mathematics competitions, a recipient of various academic achievement awards at École Secondaire du Sommet, and a recipient of the Lieutenant Governor's Education Medal in 2018. What sort of routine do you follow to allow yourself to participate in both academics and athletics at such a high level?
My routine is pretty simple; it all comes down to a basic principle that I try to live by as much as I can: to never do nothing. I don't structure my day-to-day life very rigidly, but my routine, if you can call it that, is to fill as much of my day as I can. Beit with schoolwork, training, or even hanging out with friends or exploring a hobby, I try to spend all my time doing something. If I happen to have a few hours to spare, or even a few minutes, I educate myself, I train, or I do something productive. It means I have to be aware of deadlines and make sure to block out time for practice. But I find that if I minimize my time doing nothing, I tend to have everything I need to do done, with time left over to dig deeper and do other things I take joy in. There are a lot of hours in a day and making sure to utilize them all can go a long way.
Now finishing your first year university, what are some of the academic goals that you hope to accomplish while at Dal?
Although track and field is important to me, I always keep academics at the forefront of my focus. My main academic goal is to achieve at least a 4.0/4.3 GPA during every semester. It's certainly not an easy target to accomplish, but I think with enough hard work it's realistic. My more ambitious academic goal is to win a USPORTS Top 8 Academic All-Canadians award, although I don't think that my grades are quite good enough for it this year, it would be a very rewarding accomplishment for me to achieve at some point.
With virtually all of this year's outdoor season cancelled, what do you anticipate your training to look like here onward?
Training is definitely going to have to be a lot more creative in the coming months. A lot of my training is likely going to involve short distance hill climbs, since there's not a lot I can do to work on sprinting technique, this can at least help build some explosive power. As for long jump, since I likely won't have access to a pit, I'll be focusing pretty much exclusively on take-off with various jumping exercises.
Aside from running and jumping, what are some of your other hobbies?
I like to spend a lot of my free time outdoors and many of my hobbies reflect that. In the summer, I like to go hiking and camping when I can, and every year I spend at least a couple weeks sailing around the Maritimes with family. In the winter I try to go cross country skiing, snowboarding, and snowmobiling, although I haven't had much time to do so lately. When it comes to indoor hobbies, I like to play guitar and write some poetry from time-to-time. I'd also consider my personal education a hobby, I try to put some time aside to learn beyond what is taught in class, which lately involves a lot of programming.
---
Hosted by New Brunswick-born track runner, administrator, and coach Brandon Scott LeBlanc, AtlanticU23 is an interview series with upcoming Atlantic Canada track and field athletes under the age of 23.
Facebook: @AtlanticU23
Twitter: @AtlanticU23
User

Comments
Currently, there are no comments.