AtlanticU23 #057 - Cara MacDonald (Nova Scotia)
Posted 5 months ago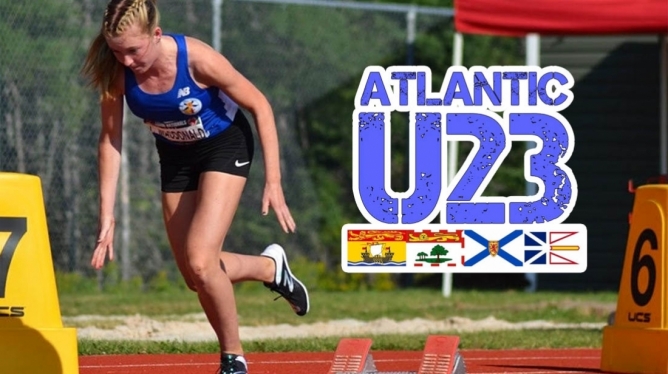 AtlanticU23 #057 - Cara MacDonald (Nova Scotia)
Hometown: New Glasgow, NS
Birth Year: 2005 (U16 age class)
Club: Pictou County Athletics Club
Coach: Pat Cardy and Heather Beaton
Personal Bests (as of April 27th, 2020): 200m: 26.77, 300m: 41.32, 400m: 58.99, 600m: 1:39.19, 800m: 2:17.16
5 quick questions with Cara:
Favourite food? Chicken stir-fry
Scariest nightmare? Can't think of any, so I guess the feeling of falling and waking up before I hit the ground
What is the most annoying question that people ask you? "What are you thinking?" When it's asked randomly and I don't know how to answer
Would you rather win $25,000 or your best friend win $100,000? Selfishly win the $25,000
What would be the most annoying thing about having yourself as a roommate? When I don't get enough sleep I can be cranky
How did you first get involved in track and field?
Starting at the age of two years old, I would run annual races at the Joe Earle Memorial Victoria Day races in Trenton, as well as the Johnny Miles kids' races in New Glasgow. I joined Pictou County Athletics (PCA) when I was ten years old because my brother (Ethan MacDonald) was on the team. I watched his track meets and figured I should run if I'm going to be there anyway!
At the 2018 Canadian Legion Track & Field Championships, you had the rare opportunity of competing as an underage athlete, just 13 years old contesting events in the U16 age category. Take us through your experience at the Championships – were you at all intimidated by the level of competition?
In 2017 I actually had the opportunity to compete at the Legion Championships as an open athlete representing PCA (at 12 years old), which at the time was intimidating running against girls up to three years older than me. The track meet was a whole different atmosphere than any track meet I had been to before. Going again the following year was a different experience, as it was with Team Nova Scotia/Nunavut, but I had an idea of what the competition was like.
You followed this up with yet another rare opportunity: Competing at Legion Nationals on home soil (hosted in Cape Breton, NS in 2019). In recording 6th place finishes in both of your events, you were notably the only 2005 birth (lower age of the U16 age category) to advance to the finals of the 300m. Having been to these Championships the year prior, what were your goals headed into the event, and how did the experiences compare?
Legion Nationals last year was an awesome experience, and Cape Breton University did an amazing job hosting. Having another year of training, I felt more confident. After placing 12th in the 300m in 2018, my goal for the 300m was to make it to the finals, so I was very pleased when I did. I didn't run the time I was hoping for in the finals, but overall I'm happy with the way the race went. I competed in the 800m at the Championships in 2017, but not 2018, and my goal going into that race was just to run a personal best. I was within a second off my personal best, so I was still satisfied with the race.
At last year's AUS Relays, you and fellow Nova Scotians Maggie Smith, Katie Blunden, and Carley Birrell joined forces to smash the national U20 indoor record in the 4x800m, running a time of 9:16.16. As the fourth and final member of the relay quartet to appear on AtlanticU23, I would love to get your insight on this historic accomplishment. Can you tell us the story of how this monumental performance unfolded?
Rich Lehman had contacted my coach, Heather Beaton, to see if I'd be interested in running in a 4x800m relay with Maggie, Katie and Carley, so of course I said yes. At the meet, there wasn't any talk of the record, although I believe Maggie and Katie were aware that it was a possibility. I really enjoy relays because it brings a team aspect to the sport, which is mainly individual, so it was a lot of fun to run with some of the best female runners in Nova Scotia, and hearing that we broke the record was even more exciting!
You were set to compete at the Canadian Indoor Championships in Montreal last month – an event in which you captured a pair of silver medals at last year – but just nine days prior to its start, the competition was abruptly cancelled as a result of the COVID-19 pandemic. Did you see the possibility of cancellation coming, or was this a complete surprise to you and your teammates?
As the talk of COVID-19 grew, I wondered if the Canadian Indoor Championships would be cancelled, considering people would be traveling from all across Canada. It wasn't a complete surprise because many other big events were being cancelled as well. A group of us from PCA were going to go to the Atlantic Indoor Championships in Saint John, then to Ottawa for a week to train, because it was our March Break, and then end the week in Montreal. We were all disappointed when our plans were cancelled, but I understand that the decision was necessary to keep all of the athletes, coaches, families, and volunteers safe.
Beyond National Indoors being cancelled, the remainder of the indoor season was cancelled – in hindsight, the final meet of the season for Atlantic athletes was the Athletics Nova Scotia Club Championships, held February 29th – March 1st. How would you describe the emotions in finding out that you would not have the opportunity to complete the season?
After the cross country season, I had taken quite a bit of time off because of knee injuries, so I had a slower start to the indoor season than most other years. I was definitely looking forward to competing at some more meets this season, so it was upsetting to hear that the season was cut short.
On the track, you've dropped some fast times over a fair range of distances – 26.77 in the 200m, 58.99 in the 400m, and 2:17.16 in the 800m – not to mention some quick times on the cross country trails. Which track event would you say is your favourite, and do you consider yourself more of a sprinter or a mid-distance runner?
I have only ran the 200m a handful of times and I enjoy the event, but I feel it's too short for me. My favourite events are definitely the 400m and 800m – I'm not sure if I can pick between the two, I like them both for different reasons. I like to consider myself a long sprinter because I've never done a 100m, and only a few 200m, races but I'm not a big fan of anything longer than the 800m.
Between the junior and intermediate categories at the NSSAF Cross Country Championships, you have steadily progressed to record your first podium result last year – 5th in 2017, 4th in 2018, and 3rd in 2019. Being substantially longer than your standard track events, how do you approach the cross country distances, and what role does the cross country season play in developing your abilities on the track?
Cross country season is certainly not my favourite. I discuss with my coach, Pat Carty, if I'm going to take it seriously or just do it for fun. This past season I believed I had a shot at a podium finish, so I decided to continue to be competitive and train for it with my school and club as I had done in grade 7 and 8. I feel that cross country not only helps keep me active in the off-season but it also improves my endurance for the 800m.
What are your thoughts on racing some of the longer track events, such as the 1200m/1500m, 2000m/3000m, or even the steeplechase?
I don't want to limit myself to only the 400m and 800m, although I definitely feel that those are my stronger events that I enjoy. I may do a 1200m or 1500m sometime, but I can't see myself doing too many longer distances on the track. I've never really thought about doing the steeplechase – the idea of jumping over barriers while running a longer distance than I'm used to doesn't appeal to me, but I have a lot of respect for anyone who can.
As a result of the COVID-19 pandemic, the 2020 Legion Championships were officially cancelled a few weeks ago. What was your reaction to hearing the news, and how do you believe the event's cancellation will affect young athletes in Nova Scotia?
The Legion Championships are a great opportunity for young athletes to compete at the national level. I know many of us were training and hoping to go this year, but unfortunately cannot. I was upset because this year I'd be at the top of my age category and I had goals set that I was working hard to reach. I also feel sorry for all of the athletes who would be competing for the last time this year. As disappointing as it is, I know that there's bigger problems in the world right now, so I hope that all eligible athletes will be healthy and ready to compete in 2021.
Currently, the outdoor season looks virtually non-existent – almost everything on the calendar has been cancelled, and the few meets remaining are also expected to be. At this moment, what are you planning for your spring/summer seasons?
I'm still training in hopes of racing later on this summer, although I understand that there is a lot of uncertainty in if there will be any summer season. Because the track is closed, my training is all on the roads and trails. As time goes on, I may switch my focus to cross country training.
Despite uncertainty in what you are training for and when you might next get to compete, how have yourself and fellow PCA athletes continued to train? What have the workouts looked like – has there been a degree of creativity put into getting your workouts in?
Our coaches have still been sending us workouts every week that we can do almost anywhere, and checking in with us. The sprinters and jumpers even do a FaceTime call twice a week to do core and see how the workouts have been going. I think we're all trying to stay fit and hopeful that we'll be able to compete again soon.
While still several years away from graduating high school and evaluating next steps, what are some of your general thoughts on what you would like to do post-high school, in terms of athletics, academics, and career choices?
I'm currently undecided in terms of career choices. I do know that I would like to continue track and field into university, wherever that may be.
Aside from running, what are some of your other hobbies?
Some of my other hobbies are hiking, reading, painting, biking, and spending time with family and friends.
---
Hosted by New Brunswick-born track runner, administrator, and coach Brandon Scott LeBlanc, AtlanticU23 is an interview series with upcoming Atlantic Canada track and field athletes under the age of 23.
Facebook: @AtlanticU23
Twitter: @AtlanticU23
User

Comments
Currently, there are no comments.