AtlanticU23 #059 - Samantha Taylor (New Brunswick)
Posted 9 months ago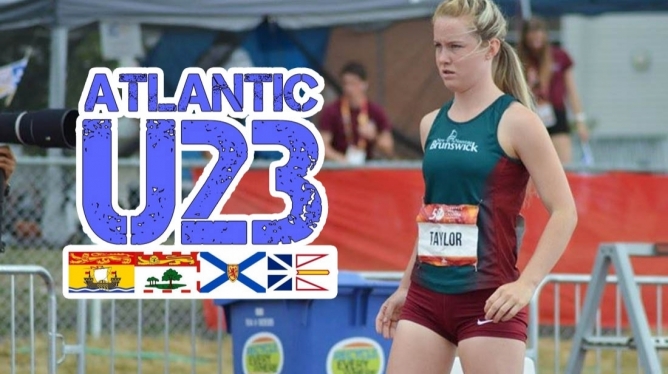 Photo Courtesy: Sharon Peabody
AtlanticU23 #059 - Samantha Taylor (New Brunswick)
Hometown: Canterbury, NB
Birth Year: 1999 (Senior age class)
Club: Fredericton Fast Tracks
Coach: Greg Allan
Personal Bests (as of May 25th, 2020): 60m: 7.92, 100m: 12.33, 200m: 25.36, 300m: 42.02
5 quick questions with Samantha:
Favourite holiday? Christmas for sure
Android or iPhone? iPhone
Most romantic film couple? My favourite romantic film couple would be Zoe and Stan from The Back-up Plan (I don't watch too many romantic movies but this one has a lot of humour in it)
Would you rather never eat your favourite food again or be forced to eat your favourite food alongside every meal?I would definitely rather eat my favourite food (Chinese food) alongside every meal
If you could have an unlimited supply of any one thing, what would it be? Perhaps gummy bears, I love them
How did you first get involved in track and field?
I got involved in track and field by accident. I used to play basketball, and that was my focus. We had track and field days at my school in Canterbury, but all we did was run around the bases of the softball diamond. As a grade 6 student, I didn't even know what a track was or that there was an actual sport dedicated to just running. My school took its middle school athletes to a district track meet in Florenceville, and this is where I first raced people outside of my school. Without knowing a thing, I managed to win the 100m, 400m, and 800m on the dirt track. I was informed the next day by my Phys. Ed teacher that I could and should compete at this provincial track meet in Saint John the next weekend. I didn't even realize it was a thing, that people could actually go places and race. But I agreed, and I went to this track meet. Here in Saint John now, it was my first time ever seeing a real track. I was very confused. I didn't even know which line on the track was the finish line. I competed in the 80m, 150m, and 800m all in the same day. I agreed to do all three events because I did not know which events I was suited for, and also at the time I did not realize that it would be best to choose between the sprints and longer events. I competed in my basketball shoes and clothes. I got 2nd in all three events. After this meet I knew that I wanted to do more. I wanted to try and do better. I was hooked after this one meet.
From your very first days in the sport, you've gravitated towards the sprint events. What in particular do you enjoy about this event group, and what made it so easy to choose to focus on the sprints?
I learned pretty quickly that I enjoyed the sprint events best. Like I said, in my first track meet I competed in an 800m, and right then I realized that I did not want to do it again. I was so tired and hurting after the event. It just didn't feel fun to me. The sprints, however, were so fun. I always felt joy going as fast as I could, even when I played basketball. I enjoy this event group because there is a special feeling in knowing that you gave absolutely everything you had for the whole race. There was no time to leave anything behind, it was all or nothing. That feeling made it easy to choose to focus on sprints.
From 2013 through to 2016, you represented Team New Brunswick at three consecutive Canadian Legion Track & Field Championships. Take us through your years in the Legion program. What are some of your favourite memories from Legions, and how did the program help you develop as an athlete?
I went to my first Legions at 14 and my last at 17. I was very nervous and timid for my first Legions: at the time I wasn't on a club team that got together and trained. I went to this Legions having no training other than a few runs I would go on in my own time. I was shy, I didn't know many people on the NB team. Everyone had teammates there with them from their club, except for me. This is an important memory for me as it helps me see how far I have come thanks to this program. The next year I joined a club (Fast Tracks) after going through a knee injury during my winter basketball season. I managed to make another Legion team, and this year I made some of my favourite memories. I managed to come in the top 10 in both of my events at this Legions, which helped me develop as an athlete by helping me realize what practice and training can do – it helped me realize what was possible. My last two years in the Legion program were amazing. I had a lot of competition, which helped me improve as an athlete. I really enjoyed being part of relay teams – this part was always a highlight for myself. It was always fun to come together as a team and compete. This program helped show me what is possible through this sport. I went from a shy 14-year-old knowing no one to a 17-year-old, now knowing people on the team and having a drive to keep improving in this sport.
After graduating from Canterbury High School in 2017, you immediately enrolled in the Bachelor of Science in Human Kinetics program at St. Francis Xavier University. What contributed to your decision to attend St. FX?
Growing up I always knew that I wanted to leave my home province for some time and see what else is out there. I came from a very small school in a very small town. I wanted to experience more. I toured St. FX and attended an indoor track meet with the team that weekend. Here I discovered how inclusive and dedicated this group of athletes was. I have never seen more support for fellow teammates in my life than I had by watching these guys cheer for one another. I knew that by coming here, I would have teammates that would be family. Also, because I come from a small town and am used to going to a school with less than 20 classmates, it was important to me to go to a smaller university. I also knew that one of my childhood friends was planning to attend St. FX, so by coming here I would have someone to help support me.
You represented Team New Brunswick at the 2017 Canada Games, placing 12th in the 200m, 14th in the 100m, and 7th as a member of the province's 4x100m team. Tell us about your experience competing at the Canada Games. Were you satisfied with your performances?
Going to Canada Games has been one of the highlights of my track career so far. It is an amazing program with amazing competition. Coming into the Games I wasn't so sure of how I would do. I had been experiencing sharp pain in my lower left side of my abdomen since April of that year. I was in pain every time I walked. My doctors couldn't find what was wrong with me, so I had to try to push through it. With my circumstances, I was satisfied with my performances at Canada Games. I managed to run some personal bests despite my pain. And who can forget the relay?! In the prelims we set a New Brunswick record in the 4x100m which excited us all. We had wanted this record since we started running in the Legion program, so to finally achieve it was a highlight. Of course, though, I knew there was room for improvement in my races, and I wanted to do better. Going to Canada Games has only set me up to want to improve more.
After capturing gold in both the 4x200m and 4x400m at the 2019 AUS Track and Field Championships, you had the opportunity to race both of these events (alongside teammates Megan Graham, Catherine Kennedy, Allie Flower, and Jane Hergett) at the USPORTS Championships in Winnipeg, placing 12th and 10th overall, respectively. Tell us about your experience racing at this national event.
These USPORTS Championships were in Winnipeg, which I was excited for after being at this exact same spot for Canada Games a couple of years prior. My experience was amazing, not only from competing myself but also from watching my fellow teammates compete. Seeing their excitement only fueled mine. Both of the relays went well: we were close to the school record in the 4x200m and we tied the school record in the 4x400m. The level of competition was very high, which I liked. Being in these races helped me, and along with my teammates, run some fast times. I left these nationals wanting to improve even more so I could come back and give it another try.
Alongside teammates Hanna Marmura, Jane Hergett, and Allie Flower, you also contested the 4x800m at the USPORTS Championships, despite yourself and Allie not running in the event at the AUS Championships. How did this relay team configuration come to be, and how would you describe racing the 800m?
Thinking of this race makes me laugh every time. Being in the 4x400m relay was already a stretch in distance for me, so the 4x800m seemed really crazy. At the AUS Championships, Allie and I did not compete in the 4x800m as this is not our event – we were part of the speed power program. The people who were on the team however ran so well that they had qualified for nationals by being in the top 12 nationally. My coach didn't plan on sending the 4x800m team out to nationals that year though because they got 2nd at AUS. Two members of the 4x800m team however were going out to nationals anyways, so the coaches figured that the team may as well run the event since we were already out there and the team had secured a qualifying spot. They just had to pick two more members that were going out for the 4x200 and 4x400 to join the 4x800 team. The configuration came to be me and Allie because Allie ran very well that year and competes in the 600m, so they figured she would be fit for the task. They chose me as I have run longer distances in my past (I have a cross country background) and I was running well that year in my 300m. I had not run an 800m since grade 6, so I was quite nervous for this race, especially since I was doing it at nationals. My mindset going into it was to just focus on myself and what I can do, to run my own race, not to focus on the other more experienced 800m runners. I would describe this 800m as feeling long, and as if it felt like it wasn't going to end. But it went well. I felt like I could have run the race better, but that feeling came from my inexperience at the distance. In the end, we broke the school's 4x800m record and that was awesome. It was fun to be a part of that.
Despite a strong start to your indoor season at the Athletics NS Last Chance Meet last year, in the month following you experienced a hamstring tear that forced you to end your season early. How did the injury occur, and what was the extent of the damage?
Yes, I had taken some time off in the summer and was preparing for this 2019-2020 season. I ran well at the Last Chance Meet but wasn't satisfied. I wanted to do better. Christmas break rolled around, and I was home for a few weeks. I had made plans to train with Fast Tracks while I was on break. I believe it was December 28th, the team had decided to do practice at the new field house in Saint John, as we would be competing there lots. It was my first time there, and I was excited. It was a typical day – I did my typical warm-up routine that I had been doing since the 9th grade; I was doing typical training that I was used to doing. My coach had me run a fly-in 50m. He timed it, and I wasn't happy with the time. So, on my next rep, I pushed it harder and tried switching my stride up towards the end a bit to try to give me that extra boost I was looking for. The second I changed my stride up I felt a pop in my lower hamstring, and I went down. I knew right then what had happened, and that my season was done. I couldn't even stand back up or walk. My mom had to put my shoes on for me. When I had gone back to school a week later and got assessed, I was told that I had partially tore my hamstring and that my season was probably done.
What has your treatment consisted of, and how has the recovery process been coming along thus far?
The recovery process has been slow. Like I said, the day I pulled my hamstring I couldn't even walk. My leg was giving out on me every step I took, it was taking my breath away – I almost screamed every step I tried to take. I used crutches that first week while I was still home. I iced, I used heat, and most importantly I used rest. When I got back to school, they used a lot of heat to help with blood flow to the area. I was going to athletic therapy 3 times a week, where they would use ultrasound and massaging and many other techniques that I can only describe as being painful. I didn't use crutches after a week as I got sick of them and just wanted to walk (which I couldn't really do well but I did it anyways). It used to take my 5 minutes to walk to my classes, but now it took 10-15 minutes. The recovery process has been very long. My team of therapists never let me try running again until a little over 8 weeks went by. It took 8 weeks for them to get my leg to straighten again and for me to be able to walk normally, without pain. Now it has been almost 5 months since the injury, and I am doing a lot better. I have come a long way. Still in some pain though, I've got more recovery to come. But I am doing well and getting into training again.
While obviously there is no good time to be injured, is it fair to say that the ongoing pandemic and accompanying vast cancellation of competitions has been a more ideal time than you had originally anticipated?
I would say yes and no. Being injured during a pandemic where there are no competitions is allowing me to have more time to recover and to not try and rush things. However, it is not ideal as I had to leave school a month early (where I have been getting my treatment), and I have been unable to get the treatment on my hamstring that it needed now that I am back home. The lack of treatment has caused some of my pain to come back, which stopped me from running for a few weeks to rest. I was also looking forward to this outdoor season as I was striving to get my track come back going as soon as possible.
Born in 1999, you are still eligible for the next year's Canada Games, taking place in the Niagara Region of Ontario. While injury recovery is of course your primary concern at this time, having competed in an edition of the Games already do you have any goals in mind for the next edition?
I am very excited to have another opportunity to make another Canada games team. New Brunswick has some talented athletes, and this team will not be easy to make. But ever since the last games, my goal has been to make the next team and try to improve from last time. Even with this hamstring injury, this is still my goal. My goal is to run more personal bests and give myself the best opportunity I can for these games.
Though having frequently ran the 300m indoors, excluding relays you've only ran the 400m just once thus far in your athletic career, recording a time of 1:00.34 at the Atlantic Track and Field Championships in 2015. What is your recap on running the 400m? Is it an event you anticipate on running again at some point?
I ran that 400m as a promise to my coach. He has always wanted me to up my distance and give longer events a try. My recap on that race is interesting, as I remember promising myself that I would never run that again. I thought I was prepared for it but I was wrong. I ran the first 200 of the race way too fast, which set me up for a tough last 200. I remember feeling like I wasn't even moving in the last 100m. I didn't even care how I finished, I just wanted to finish the race. Now though after being more experienced, I believe I will probably break my promise and give the event a few more tries. I have run a few 4x400m relays, and they went much better than the individual 400m. You will probably see me in that event again in time to come.
On May 6th, the St. FX Department of Athletics & Recreation abruptly notified the men's and women's track and field programs that all field events, and track events under 600m, would no longer be within the scope of the program, effective the 2020-2021 season. As a sprinter whose primary events fit within the affected range, what were your thoughts upon hearing the news?
At first, I felt kind of shocked. There had been rumors in the past few years that this might happen, but I never thought that it would ever happen. Of course, I also felt disappointment. I felt as if the news was sprung upon us without warning, and I wish that we could have known that this was a possibility so we could have been prepared. I feel bad for my fellow teammates as well, not just for myself. As someone who has run some distance in the past, I know that I could manage to up my distance if I wanted to. But I know that not all of my teammates have, and some aren't runners at all, which means that they would have no options in this new program. In some respects I do understand the schools decision, but I also think that perhaps some different approaches could have been used.
The controversial decision has been the subject of push-back by many within St. FX and the Atlantic sports community, and has resulted in an online petition amassing over 3500 signatures in just over one week. To your knowledge, since the push-back began has there been any new developments by St. FX, the Department of Athletics & Recreation, or the coaching staff?
To my knowledge, there has not been any new developments. There haven't been any emails sent out directly to the team acknowledging the document made or the petition. I am unsure of what the Athletics Department and coaches are thinking.
In regards to both the ongoing pandemic and the decision of the Department of Athletics & Recreation, how are you feeling about entering the next school year uncertain of what track and field might look like at St. FX?
I feel a lot of uncertainty of what the track and field program will look like at St. FX next year. If the decision is final and no changes will be made, I'm not sure what teammates will stay in the new program and which will leave. It is sad knowing that we all probably won't be a team anymore and won't be competing in our main events. But at the same time, I am focusing on my own training right now and injury recovery through a pandemic, so I am trying to stay out of this situation with St. FX the best I can while still showing support to my teammates and the school. What happens will happen, and I will visit all of the uncertainties when the time comes.
Aside from running, what are some of your other hobbies?
Other hobbies? Well I have enjoyed playing basketball since I was old enough to pick up a ball, so I shoot around sometimes with friends and family. I also do a lot of fishing here at home, both in the winter and spring/summer. I also really enjoy swimming and going to beaches – I love being in the sun.
---
Hosted by New Brunswick-born track runner, administrator, and coach Brandon Scott LeBlanc, AtlanticU23 is an interview series with upcoming Atlantic Canada track and field athletes under the age of 23.
Facebook: @AtlanticU23
Twitter: @AtlanticU23
User

Comments
Currently, there are no comments.