AtlanticU23 #060 - Heath Miller (Nova Scotia)
Posted 4 months ago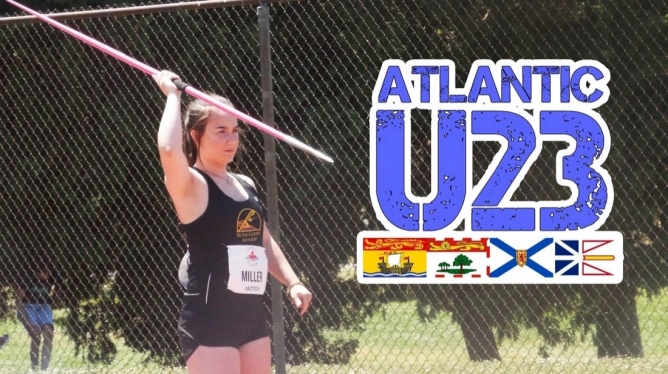 AtlanticU23 #060 - Heath Miller (Nova Scotia)
Hometown: Merigomish, NS
Birth Year: 2000 (Senior age class)
Club: Pictou County Athletics Club
Coach: Ian Lapointe
Personal Bests (as of June 8th, 2020): Javelin Throw (600g): 43.87m
5 quick questions with Heath:
Favourite talk show host? Jimmy Kimmel
Bagels or toast? Bagels
What is the weirdest food you've ever eaten? Flammkuchen, which is not that weird but the way you eat it is pretty different
Would you rather always be stuck in traffic but easily find parking spaces, or never hit traffic but take forever to find parking spaces? Always be stuck in traffic but easily find parking spaces
If you were left on a deserted island with either your worst enemy or no one, which would you choose? No one
How did you first get involved in track and field?
I was first introduced to track and field in elementary school when I was in grade 4. I first started as a runner; I was mostly involved in the sprints, but I did a few long distance runs as well. I really enjoyed the atmosphere at the track, hearing the guns go off, the cheering, and seeing people perform with excellence was all amazing to me. It made me feel very motivated to keep being involved with track and field.
While initially a runner, you quickly found both passion and talent in the throwing events. What led to you trying out the throws, and how quickly did you figure out that javelin would be the event for you?
Throwing always intrigued me, seeing the implements fly was extremely exciting and I knew it was something I wanted to try. Eventually, the opportunity came up for the first time in grade 8 and I really enjoyed throwing. I was back and forth between shot put and javelin being my focus for around a year. Eventually I realized that I wanted to focus on javelin because it is a challenging event – it is a more difficult event then some people realize. There are many things you must consider when approaching the runway to when the javelin hits the ground.
After graduating from North Nova Education Centre in 2018, you immediately enrolled in the Bachelor of Science program at Dalhousie University, and have since been accepted into the Doctor of Pharmacy program. Whatcontributed to your decision to attend Dal?
Dalhousie had the Doctor of Pharmacy program so that was a large contribution to my choice to attend the university.
In selecting a university to attend, were you tempted to head to an NCAA school where you could participate in collegiate athletics in your primary event outdoors?
I was tempted to attend an NCAA school so I could throw javelin. However, I knew that I could still compete here in the summertime.
Between 2016 and 2018, you made strong improvements in the javelin, going from a PB of 39.17m and a 10th place finish at the 2016 Legion Championships to a PB of 43.90m and a bronze medal at the 2017 Legion Championships. The following year, despite progressing from the 500g to the 600g javelin you still threw a distance of 43.56m and captured bronze at the Canadian U20 Track and Field Championships. What do you attribute to such large and consistent improvements?
I wanted to throw farther so I worked extremely hard. My coach (Iain Lapointe) was immensely helpful in obtaining my improvements. I have been extremely fortunate to have Iain from Truro Lions to help with all technical aspects of my throw and to have the Pictou County Athletics facility and resources to practice those aspects.
You are one of a very few number of Atlantic athletes to have captured medals at three consecutive national championships, having captured bronze in the javelin at the 2017 Legion Championships and the 2018 and 2019 editions of the Canadian U20 Track and Field Championships. Which of these medals has been most memorable for you, and why?
The most memorable medal was my 2017 Legion Championships medal. This was so memorable because it was my first national medal. I went with an independent group from PCA thanks to our athletic director, Pat Carty. The group made the trip unforgettable as they were an incredibly supportive group of people and athletes. Before the competition I put in a lot of time training and breaking down my throws to change some critical aspects. During the last round of the meet, I remember the moment I realized I had third place and I was filled with joy because all the long days of training really paid off. It was a moment of pure bliss and it's the most memorable medal I received.
At 20 years of age this year, you are eligible for next year's Canada Games, taking place in Niagara Region, Ontario. Beyond simply earning a spot on Team Nova Scotia, what are your goals for the Games?
My goals for next year's Canada Games are to obtain a personal best and hopefully get on the podium.
While javelin has stood out as your primary event, you frequently contest the discus, hammer, and shot put each year. What is your primary interest in these secondary events, and what does your future look like in these events?
My interest in my secondary events are purely for fun. I am not very good at them, but I do love the throws events and the people I compete with are just the best group of people, so it makes it very enjoyable to do these events. I cannot see much of a future in these events, but I would like to continue with them at meets for fun.
Unlike some of the other throws, javelin is an event that does not have an indoor equivalent. During the indoor season, how do you practice some of the more technical elements of the event?
During the winter months I have javelin balls that I use for throwing. I also practice my runway work and getting muscle memory down for certain aspects I need to fix or improve during my throws.
Prior to COVID-19 and the cancelling of the outdoor season in Canada, what were your goals for your first year of competition in the senior age category?
Prior to COVID-19, my goals for my first year competing as a senior was to improve my distance on my throws and attend the Canadian Track and Field Championships and hopefully place among the top eight.
What has your training looked like since the spring/summer months began, and what will your training look like for the remainder of the outdoor season?
My training has been a majority of weight training, technical aspects of the throw, and throwing outside. This is what my training will look like for the remainder of the outdoor season. I am breaking down certain aspects of my throws that will help improve my distance in the event. Also, I have been able to send videos of my throws to my coach and he is able to advise me about technique, which has been helpful.
Aside from throwing, what are some of your other hobbies?
Some of my other hobbies are painting, skateboarding, hiking, and – since I played competitive hockey for 10 years – I really enjoy skating.
---
Hosted by New Brunswick-born track runner, administrator, and coach Brandon Scott LeBlanc, AtlanticU23 is an interview series with upcoming Atlantic Canada track and field athletes under the age of 23.
Facebook: @AtlanticU23
Twitter: @AtlanticU23
User

Comments
Currently, there are no comments.