AtlanticU23 #061 - Noah James (Nova Scotia)
Posted 8 months ago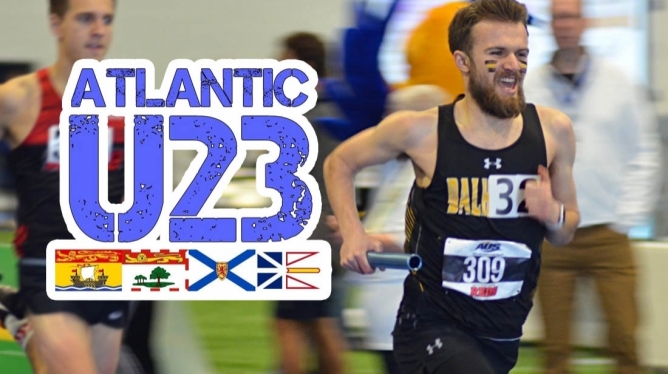 AtlanticU23 #061 - Noah James (Nova Scotia)
Hometown: Windsor, NS
Birth Year: 2000 (Senior age class)
Club: Valley Athletics
Coach: Rich Lehman
Personal Bests (as of June 22nd, 2020): 400m: 49.83, 400mh: 55.43, 600m: 1:23.78, 800m: 1:58.54
5 quick questions with Noah:
Favourite breakfast food? I'm going to have to go with waffles
Cats or dogs? Dogs, without a doubt
Which country would you most like to visit? I'm thinking Greece would be a fun trip
Would you rather have free Wi-Fi wherever you go or have free coffee where/whenever you want? Free Wi-Fi, that'd save me a lot more money in the long run.
If you could add anyone's face to Mount Rushmore, who would it be and why? Taika Waititi would probably be my choice – he's made some of my favorite movies and plays a character who is made out of rock, so I think it would be appropriate.
How did you first get involved in track and field?
Honestly, I guess you could say I first got involved as soon as I was born – my mom and dad got me an Athletics Nova Scotia membership for the year 2000. That being said, I started getting involved in grade 8 when I joined my middle school track team and immediately fell in love with the sport. There's something very appealing to me about the individual nature of the majority of track, while still having a sense of camaraderie with your teammates as you score points.
You come from a family of extraordinary talent in this sport – your mother (Paula Peters) was a nine-time CIAU (now-USPORTS) medalist, and your father (Ed James) the 600m gold medalist at the 1993 Championships. How did your parents' success in the sport influence your decision to take up the sport at a competitive level?
I'm very thankful for my parents' approach to getting me and my sibling in sport, as they never pushed us to do track specifically. Instead, they encouraged us to try a slew of different sports and activities while we grew up, and eventually, I settled on track. Their success helped to inspire me to train hard and push myself, but their support as coaches and parents has been invaluable. My brother and I have been super lucky to always have answers to our questions about meets, provincial teams, and training. Their dedication to our sport has been inspirational to us, and many others.
With your younger brother (Zach) also an up-and-comer in the mid-distance events, both parents coaches at Valley Athletics, and your mother recently making waves nationally in distance running, your entire family remains heavily involved in the sport. How has track and field become intertwined with your personal life, and how do you mentally separate yourself from the sport during downtime?
To say my family lives and breathes track would be a bit of an understatement. Honestly, at this point we have all gotten used to the regular competitions and different workout schedules. Track comes in conversation pretty much every day in our family somehow or another, but thankfully we all love it so I can't complain. While at Dal, separating the two has been much simpler than at home due to not being around my family as much. That being said, regardless of where I am I've found it relatively easy to separate between track and the rest of my life. Having friends and interests that are unrelated to track has been important to keep me from burning out, and keep life interesting.
You had a phenomenal outdoor season in 2017, running a series of personal bests in the 400mh to land a spot on Team Nova Scotia for the Canada Games and Team Nova Scotia / Nunavut for the Canadian Legion Track & Field Championships. What in particular made this season go so right, and what stands out about this season in comparing to others?
I think that season came together for me at the end of school track where I had some races I was super happy with. My teammate and friend Dan Lord and I both were pushing each other to qualify for both of the teams, and with the momentum from school track we were both able to. I was always lucky to have teammates who could push me throughout high school, with Dan on the sprinting side and Jacob Benoit on the distance side of things, as well as my brother who does many of the same events I do. By the end of that season, I was definitely nearing the end of my endurance, but the incredible atmosphere of both the Canada Games and Legions helped to keep me motivated.
The Canada Games and the Legion Championships took place just one week apart and both in the province of Manitoba (Legions in Brandon and Canada Games in Winnipeg). What did your training schedule look like between these two events, and do you feel that you properly prepared for back-to-back national events?
Thinking back, my training between the two events didn't look like much more than warm-ups and strides and lots and lots of sleep. I felt happy with how I prepared between the two, as I had been to Legions the previous year and knew what to expect.
After graduating from Avon View High School in 2018, you immediately enrolled in the Bachelor of Arts program at Dalhousie University. Aside from being both close to home and the alma mater of both your parents, how did Dal fit what you were looking for in both academics and athletics?
Those two are certainly some of the main reasons I picked Dal, but not the only ones. On my recruiting trip to Dal, I was struck by how close-knit the team felt, and during the workouts that we did, I got the sense that I would be happy to be a part of and run for the Tigers. In my first two years at Dal, I can confidently say that I was right, and the culture of the team has been a perfect fit for me.
At this year's AUS Track and Field Championships, you were in a particularly fast heat of the 600m, in which all six athletes finished in a margin of slightly over one second. Running a time of 1:23.78 to finish 6th overall, were you satisfied with this result?
That race was a mixed bag for me, as I would have loved to have made it to a podium position, but managed to get a PB and learn a lot about 600m racing. I'm glad that the AUS has a strong field for the 600m, and am excited to race in it again when we are able.
As a member of the Tigers' podium-topping 4x400m team at the AUS Championships, you had the opportunity to compete at the USPORTS Championships in Edmonton two weeks later, where the team placed 10th with a time of 3:25.61. Tell us about your experience racing at this national event.
The USPORTS trip was a blast for me, especially after a nail-biting race at AUS that allowed us to qualify for the meet. We were fortunate to be able to travel up earlier in the week and get used to the different time zone, as well as the track. Racing against the best of the country was a bit nerve-racking, but I feel like our team handled ourselves well and ran hard.
At twenty years of age this year, you are still eligible for next year's Canada Game, taking place in the Niagara Region of Ontario. Having competed in an edition of the Games already, what goals do you have in mind for the next edition?
I can't say I have any specific goals set for the Canada Games next year, but I would love to be part of the 4x400m relay again along with my teammates and hopefully my brother.
In your high school years, you predominantly contested sprint events of 400m or less, but since transitioning into university athletics have gravitated towards the 600m, and have even started to dabble in the 800m. What motivated you to jump up in distance, and was there any sort of learning curve or growing pains in going from the 400m to the 600m?
With the option of the 400m no longer existing at the university level, my coach and I both decided that my best bet at success would be in the middle distance events. The extra mileage and different workouts did take some getting used to, but I enjoy the challenge that they provide and feel that it was the right choice for me.
Though starting to show talent in the 800m, is the 400mh still the main focus during the outdoor season?
The 400mh will sadly most likely not be the focus of my outdoor season, as it requires a ton of technical hurdle work and time that I will instead put towards adding more mileage and building endurance.
Looking down the road, do you have plans to specialize in any one particular event?
I can't say I've ever thought of picking one single event to specialize in, but I think mid-distance is going to be my focus for the rest of my university career.
You are the first athlete from Valley Athletics to appear on AtlanticU23. Can you tell us about the culture and training philosophy of the club – in a non-pandemic year, what would a standard week of training look like at this point of the outdoor season?
During my years in high school, Valley Athletics had, in my opinion, an extremely strong group of athletes given the relatively small size of the valley. Our training schedule varied for the different event groups, as our club has distance, sprints, jumps, and para-athletes. For me, it usually looked like four workouts a week, with a hill workout on Thursday, speed on Saturday, mid-distance on Sunday, and an unknown workout on Tuesday. The workouts helped build both endurance and speed and had a fair amount of similarities to the workouts I now do at Dal.
What are some athletic goals that you would like to accomplish in your remaining years at Dal?
After this year's AUS I have my sights set on the 600m podium next year and would love to qualify for USPORTS in an individual event. Although I wasn't on the 4x800m team this year, I want to make it next year. At Dal, we have some incredible 800m runners and making that team and taking a stab at a top USPORTS finish is something I think that Dal can achieve in the next few years.
While we certainly don't intend to have you speak on your brother's behalf, do you anticipate that we'll see Zach join the Tigers in the coming years?
Zach has been keeping his cards pretty close in regards to where he plans to go to university, but I know we would all love to see him join us. I feel like the team and school would be an excellent fit for him as well, but I know wherever he goes he will have success in athletics and academics.
Aside from running, what are some of your other hobbies?
I am a massive movie fan and am missing trips to movie theatres these days. I love to film and edit a variety of videos for my YouTube channel along with my friends, whether it be workout recaps or comedy sketches. Besides that, I usually fill my time playing video games and hanging out with friends.
---
Hosted by New Brunswick-born track runner, administrator, and coach Brandon Scott LeBlanc, AtlanticU23 is an interview series with upcoming Atlantic Canada track and field athletes under the age of 23.
Facebook: @AtlanticU23
Twitter: @AtlanticU23
User

Comments
Currently, there are no comments.