AtlanticU23 #062 - Jack Berkshire (New Brunswick)
Posted 10 months ago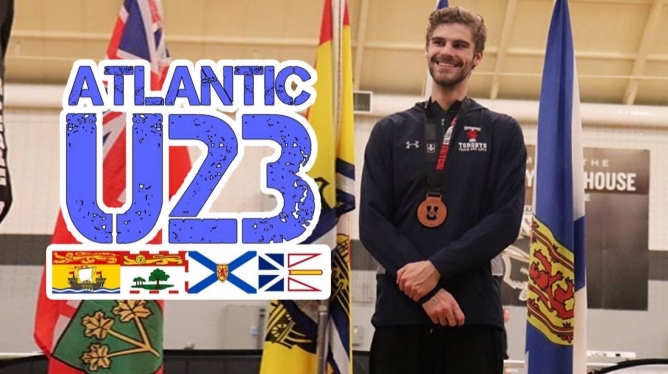 AtlanticU23 #062 - Jack Berkshire (New Brunswick)
Hometown: Fredericton, NB
Birth Year: 1998 (Senior age class)
Club: Fredericton Fast Tracks
Coach: Bob Westman
Personal Bests (as of July 6th, 2020): 300m: 34.12, 400m: 47.72, 600m: 1:19.20
5 quick questions with Jack:
Favourite game to play as a child? Basketball in my driveway
Scariest movie you've ever seen? Don't watch scary movies
Which actor/actress would you want to star in a movie about your life? Tom Hanks
Would you rather spend the next year exempt from all taxes or have a one-month paid vacation? Vacation
If you won a million dollars what would be the first thing you'd buy? Cottage on a lake
How did you first get involved in track and field?
Track and field day during elementary school where I met my long time coach with Fast Tracks, Greg Allan. I trained with Greg and Fast Tracks all the way through to going to University of Toronto. One of my fondest memories in track as a youngster is going to Hershey Pennsylvania for the North American Finals with a few other east coasters who have all had solid track careers themselves, like Andrew LeBlanc, Anthony Cormier, Mike Tate, Nick MacMackin, and Josh Shanks.
After graduating from Fredericton High School in 2016, you immediately enrolled in the Industrial Engineering program at University of Toronto. What contributed to your decision to attend U of T?
Academically, U of T speaks for itself and the engineering program is top ranked not just in Canada but worldwide so I knew I would be in good hands to begin my professional career. Athletically, I wanted to be a contributor to a top team nationally and I knew the Varsity Blues had great success in the sprint relays, so U of T fit the bill in that regard. Also, it was hard to pass up the top tier facilities, coaching, and therapy staff we have in our program.
You represented Team New Brunswick at the 2017 Canada Games, placing 9th in the 400m and 7th as a member of the province's 4x400m team. Believing then that this would be your one and only Canada Games experience, what goals did you have heading into the Games? Were you satisfied with your performances?
I was shooting to get in the mix and try to come out with a solid time, I wasn't super pleased with the way my races turned out. Nonetheless I still had a great time out in Toba hanging with the NB lads.
Last summer you learned the exciting news that the Canada Games age restriction for the sport of athletics has changed from U23 to U24 – born in 1998, this instantly made you eligible for the 2021 edition of the Games. What were your thoughts upon hearing the news?
It is interesting, Canada Games is sort of strange in the way different sports have different age categories. It feels odd to me that one sport can be U24, like athletics, but others are U17, like basketball.
Now knowing that you have another shot at the Canada Games, have you thought about goals for 2021?
I haven't put much thought into them yet, it is hard to say what the 2020-2021 season will be like with all that is going on right now so it is difficult to come up with any sort of goal.
You took up the 600m in December of 2018 and saw near instant success, racing to a national-leading time and a bronze medal at the 2019 USPORTS Track and Field Championships. What prompted you to take up this event? Were you surprised with how quick the success came?
Bob and I had chatted about giving the 600m a go sometime during my second year in 2018 as we both realized my strengths as a 400m runner would translate well into the 600m. What sold me on Bob's approach to the 600m is that I wouldn't have to convert to a distance runner to do the 600m. No tempos, no long runs, none of that, just one extra longer interval session a week and longer specific sprints every once in a while. After adopting the "new" (hardly different than before) program, we had done a few specific runs where I was clocking in some solid times in 500s and 300m+300m runs, so I felt I was ready to rip a 600m when the time came.
Any thoughts on racing the 800m?
The 800m is a whole different monster.
You capped off this year's USPORTS Championships with a bronze in the 600m and a silver as a member of the Toronto men's 4x400m team, and two weeks prior were also named the OUA Male Track MVP. After capturing your first individual national medal the year prior, what were your goals for this season?
I was hoping to improve upon my season before with some better and more consistent times in both the 600m and 300m. Also, our program has a history of 4x400m success with USPORTS podiums in all three of my previous years – this year we had two rookies on the team and therefore part of my season's goal was to get the boys ready to get after a fast one when it really mattered (which they did).
During the latter half of the indoor season, what does a typical week of training look like as a member of Coach Bob Westman's sprints group at the U of T?
For me a typical training week while we are in racing season has a speed day with a lift, a fast interval day which is usually a few 300s and 200s, a longer interval day with a mix of 5s, 4s, 3s and 2s and a race specific day with a lift. More often than not I will substitute one of these workouts with a cross training day on the elliptical. Lastly and most importantly, I do about 30 or so mins of mobility and stretching a day for injuring prevention on top of seeing my two favourite physio and massage therapists Nikita and Frank.
How has the COVID-19 pandemic impacted your day-to-day life and athletic goals this year?
Since May 2019, I have been working full-time for a co-op term with my program where I work downtown in the Financial District, but now since mid-March I have been working from home in Toronto still which has certainly been a change. Athletically I had to throw all my goals out the window for this summer as training has been difficult and racing is not happening. Luckily, I have been able to train at turfs, parks, and some public tracks that have opened up nearby.
Beyond athletics, you have also been very successful in the classroom: a regular Academic All-Canadian, an executive member of Blues Engineering, and the male recipient of U of T's U SPORTS Top Scholar Award for the 2018-2019 academic year. How have you successfully managed being a student-athlete (in that order), and what are some things you've learned about balancing these two commitments along the way?
It is difficult but managing my time well and sticking to my schedule are the keys to success. Also, my coaches and professors have always been accommodating when I need to prioritize one of my academic or athletic obligations over the other.
Before starting this interview, you mentioned that you are heading into the end of your track career, expected to conclude following the 2021 outdoor season. Why do you feel that this is the right time to hang up the spikes?
I will be graduated with my degree, out of USPORTS eligibility, and hopefully be working a full-time job, so at that point I think I will be ready to move my focus onto my career. Also, I have some hip issues that require surgery and the longer I keep sprinting at a high level the worse they are likely to get.
Thinking back to your first years in the sport, living and training in New Brunswick, what are some athletic opportunities that you wish you had, and would like to see the next generation of athletes have access to?
Being from Fredericton the biggest pain point for athletics is the lack of an outdoor track in the city (Oromocto is hassle to drive to). I would like the next generation of athletes to have more opportunities to go to high caliber competitive races – learning how to execute a race and race against faster and stronger athletes is a great skill and will usually improve performance.
With just one more university season to contest, what are some final athletic feats you hope to achieve by the conclusion of the 2021 USPORTS Championships?
Under the large assumption that a regular season will happen, I would like bring my PBs in the 600m and 300m down and help the lads to more USPORTS relay medals.
Aside from running, what are some of your other hobbies?
Craft beer, high quality coffee, and intermediate lounging beside the lake.

---
Hosted by New Brunswick-born track runner, administrator, and coach Brandon Scott LeBlanc, AtlanticU23 is an interview series with upcoming Atlantic Canada track and field athletes under the age of 23.
Facebook: @AtlanticU23
Twitter: @AtlanticU23
User

Comments
Currently, there are no comments.